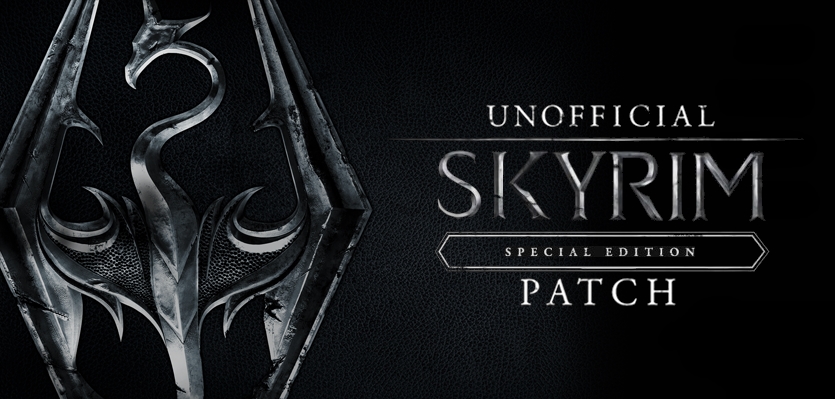 Requires Skyrim Special Edition 1.5.80 or greater.
NOT SUPPORTED ON OLDER VERSIONS!!!
A comprehensive bugfixing mod for The Elder Scrolls V: Skyrim - Special Edition. The goal of the Unofficial Skyrim Special Edition Patch (aka USSEP) is to eventually fix every bug with Skyrim Special Edition not officially resolved by the developers to the limits of the Creation Kit and community-developed tools, in one easy-to-install package.   
   Features:
   - Hundreds of gameplay, quest, NPC, object, item, text and placement bugs fixed.
   - Created by the authors of the Unofficial Oblivion Patch series.
   - No unsafe changes (such as deletions of stock objects).
   - Designed to be compatible with as many other mods as possible.   
   For more information (ie the recent changelog, mods that USSEP replaces) see
USSEP's threads on the AFK Mods forum here
.     
The complete changelog is posted here
.
If you're experiencing a bug with Skyrim Special Edition, please report the bug to us in as much detail as possible on
the USSEP bugtracker
. Please use search to ensure that you aren't submitting something that is already there.
Frequently Asked Questions - BUGS
Frequently Asked Questions - About the Project
Mods Made Obsolete by Unofficial Patches
Bug Fixes Recommended in Addition to the Unofficial Patch
Are you using Creation Club DLCs? If so, you need to get Garthand's
Unofficial Skyrim Creation Club Content Patches
and install them alongside the USSEP. This will prevent errors induced by the CC DLCs making changes to the base game records that USSEP then overrides. Please refer all questions about these patches to Garthand on his threads. In addition to the unified patch linked to here he has several individual ones for them all which he has links to on his page.
DO NOT extract the contents of the BSA file into your Data folder as loose files, or let your mod manager perform an equivalent function on the contents of the file. Doing so will cause things to load in the wrong order and break the game. Skyrim is intended to load a BSA alongside it's ESM/ESP file. Circumventing this causes issues which I will not provide support for. If you insist on going against this advice, you will receive no support for the problems you generate as a result of this.
Installation Requirements
Skyrim Special Edition 1.5.80 or greater.
After installing the mods, the following general load order needs to be followed:
Skyrim.esm
Update.esm
Dawnguard.esm
Hearthfires.esm
Dragonborn.esm
Unofficial Skyrim Special Edition Patch.esp
[The rest of your mods]
For getting load order set with other mods loaded, please use
LOOT
. It will provide you a solid starting point for everything that you can then tweak as needed.
Errors During NMM Installation
If you get the following error:
BOSS_API_ERROR_INVALID_ARGS: Master files must load before other plugins. The mod was not installed.
You need to perform the following steps:
- Uninstall and delete all the Unofficial patches in NMM.
- Exit NMM.
- Launch NMM again.
- Download and install all of the updated Unofficial Patches.
- Run LOOT to sort your load order.
Cannot Absorb Dragon Souls
Make sure your load order is right!
Skyrim.esm
Update.esm
Dawnguard.esm
Hearthfires.esm
Dragonborn.esm
USSEP
[The rest of your mods]
Use LOOT - you'll enjoy life more.
Loose Scripts in DataScripts
Check for: dragonactorscript.pex and/or mqkilldragonscript.pex. Remove them if present. They are from dragon mods that came as loose files.
DSAMG - Dragon Soul Absorb More Glorious, and Diversified Dragons are known to cause this. Those mods need to be updated with a Dragonborn patch that incorporates the fixes from USLEEP.
Others may be a factor as well.
Note too that the offending mod may have the script packaged inside a BSA. That will need to be handled by that mod's author.
Disclaimer
This mod is not made, guaranteed, or supported by Zenimax, Bethesda Game Studios, or any of their affiliates.