File information
Created by
Sindora79
Virus scan
Some manually verified files
About this mod
New, small, Fantasy style home with 2 versions available . One for 4 Followers and one For Hearthfire Multiple Adoptions of up to 4 kids.
Requirements

Permissions and credits
All DLC's requiredLocated near Cradle Crush Rock, Hearth Fire is a small, fantasy style home, nestled into an old, ancient tree trunk. Included you will find a hot tub, a garden with a green house and an Armory in the basement.  There are two versions because I am not good at scripting enough to make a magic button that changes the rooms. The HMA version is compatible with HearthFire Multiple Adoptions and can sleep up to 4 children. The regular version makes the former mentioned child's room a followers quarters for up to 4
.
Do not install both. You either want kids or you don't. I do not recommend switching to a different version in the same game.If you do change your mind and decide you want to try the other one, Remove your belongings (and your family if thats the case) and then you need to disable or remove the old one before installing the new. If not the world may explode.
You have the option to fast travel here and it will drop you off right at the front gate with the for sale sign. Cost of the property is 2000 septim
Your fridge in the kitchen and the trunks in the house are safe storage . Also anything that is empty like a knapsack is also safe.
There is an alchemy bench in the green house for those times you don't want to go inside. Also , 12 soil piles in the planter for you to plant as you wish. The garden has plenty of veggies that will respawn.

The hot tub is seated for 5 and has a feature to let you get naked but you do have to redress yourself. Your followers should also remove clothing and redress themselves. Children may go in and take a while to redress but seem to do so eventually. Also you can activate and disable the water and steam by using the faucet. The tub will un-fill upon disable.

There is a place to chop wood at the stable, as well as a fire pit for you and your followers to enjoy.

There is a forge along with a tanning area and a few ample supplies and potions for your convenience. The supplies given from crates and etc are based on level so will vary upon that. 

Inside you will find a cozy living room with a place for some books and your Elder Scrolls , along with a few alters scattered about. 

In the kitchen there is some food, storage, a place to cook and bake. Barrels are not safe storage and will respawn making  your stuff disappear , so don't add anything to them .

If you have the adoptions version there is also a way to set the table or unset it by going to the shelves where the dishes are. The water in the sink also turns  on and off. 

The Armory door is a Trap Door under the staircase. Inside you will find plenty of displays for special Items and mannequins for armor. There are special displays for the Thieves Guild Leader Armor and the Dark Shroud set from the Dark Brother hood. 

In the middle of the room is your treasury. It's dynamic . Put money in the ledger and your treasures show up.
WARNING: PUTTING LARGE AMOUNTS OF GOLD IN AT A TIME WILL MAKE YOU CTD SO DON'T DO IT.
  The reason for this is because it is too many items for the game to generate at once. So keep deposits under 100,000 at a time and you should be fine. 
Upstairs there is an enchanting and alchemy table with storage. There is some items for your taking in the storage but they will not respawn so you are free to store your own items here. There is also storage for unique jars, paragons , the black books and the Arch Mages clothes and necklace. There is also places for masks and a couple of daedric items. You will find the Master bedroom up the stairs in this room.
Small but cozy and has a custom made bed for you and your spouse. This works for both versions. The dresser is safe storage and there is an amulet storage rack on the wall. The strong box in this room does respawn treasure based on your level.

On the other side of the house is the kid's room or follower's room based on what version you get.  

Kid's Room : Sleeps up to 4 children. There is a sword basket and a doll basket you can collect toys from in case you forget to bring your kids a gift. 

Follower's Room: There is wine and ale storage here 
There are no incompatibilities that I know of except of course any mod that changes the same location.Known Issues1. Your followers get stuck in spots in the house.-
It's a small house and it's bound to happen. They eventually figure it out.
2. The kids don't go outside. -
I have noticed this but it seems if you ask them to play hide and seek they find their way out there. So try that out first. 
3. My kids won't.. my wife won't.. blah blah. 

Most of the time this has to do with npc A.I. and there is nothing I can do . I have set this up according to ---  Phoenix's modders instructions. If something isn't working I suggest looking for the answers on his page. You may find your answers there. 
4.
There are wolfs and bears nearby.
-Yes there is . This is Skyrim, it's a dangerous place. I did move the marker for these further away but you still may get aggroed. 
Requirements

The dlc's and Hearthfire multiple adoptions if your getting kids. I also use The Unoffical Skyrim SE Patch.
If you do not use USSEP there may be a couple of missing decorations but nothing else. So choice is yours. 
Enjoy the new home!
Thanks to Febrith Darkstar for the wonderful Video!


Check out my other Mods


Sindora's Morthal Black Smith
Sindora's Cottage in the Woods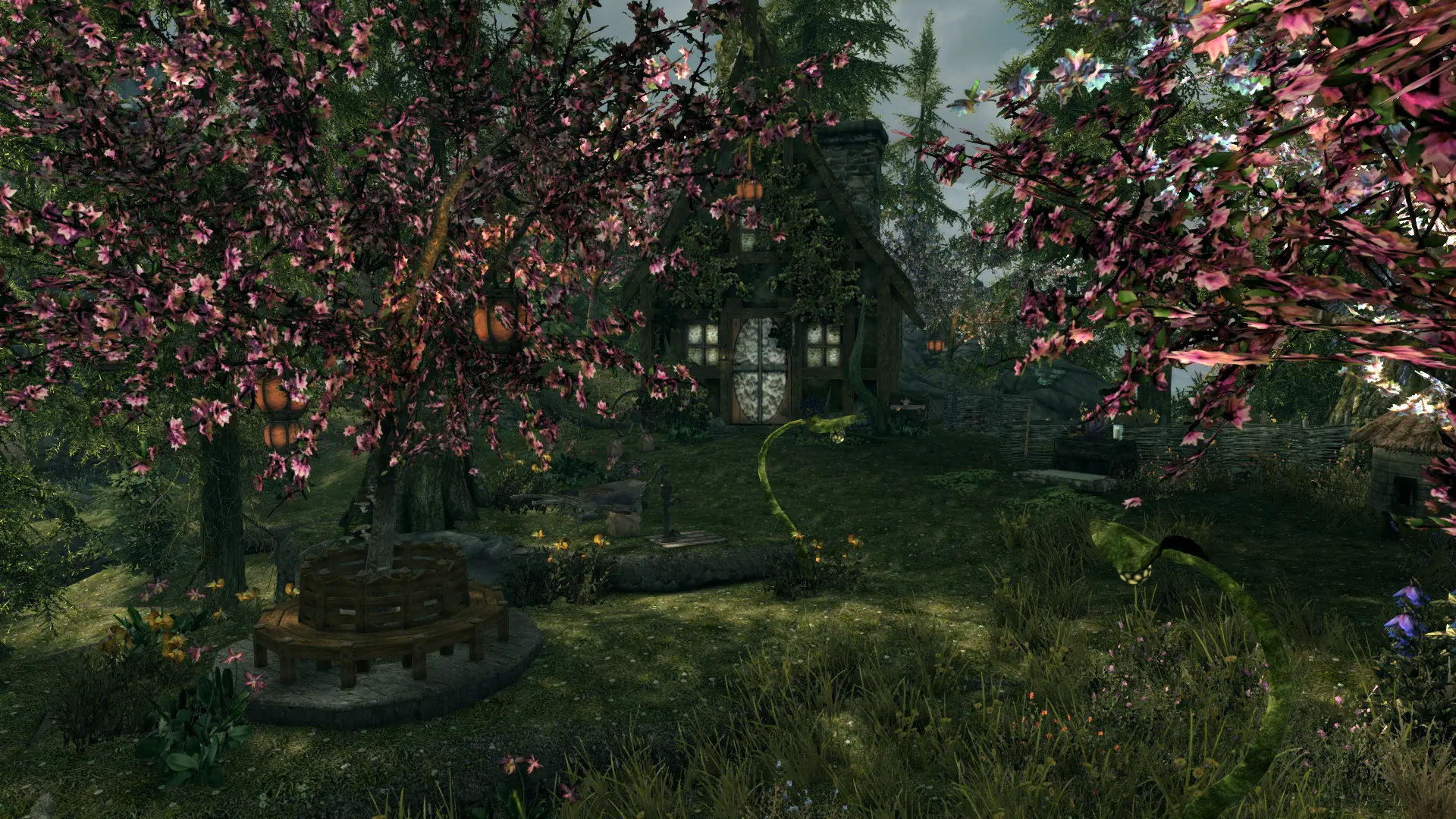 CreditsDarkFox127 
Elianora 
InsanitySorrow 
Oaristys 
Jet4571 
Runspect 
 EvilEyedKyo 
Gutmaw 
Lwatson95 
lolikyonyu 
LorSakyamuni 
Phitt  - 
Stroti 
Tamira
Nickorasu 
LilithQueenacadameBethesda
Nifskope 
Gimp 

I think that is everyone. If you see something of yours and I didn't credit you I am so sorry. Please let me know and I will give you proper credit ! 

OTHER MODS SEEN IN PHOTOS :

Brumbek - Static Mesh Improvement Mod (SMIM)
Moraelin - Clear Weather Only 

Music by : Music in the background from FesliyanStudios .  If you're planning on using my mod in a video on YouTube, read the policy for details on how to do so. I appreciate you making one but Don't get upset with me if YouTube police get you.