File information
Created by
Pat Mahoney
Virus scan
Some manually verified files
About this mod
A Lore-Mindful Makeover of all Skyrim's Characters.
Vanilla Hair Edition available.
Requirements

Permissions and credits

Translations

Changelogs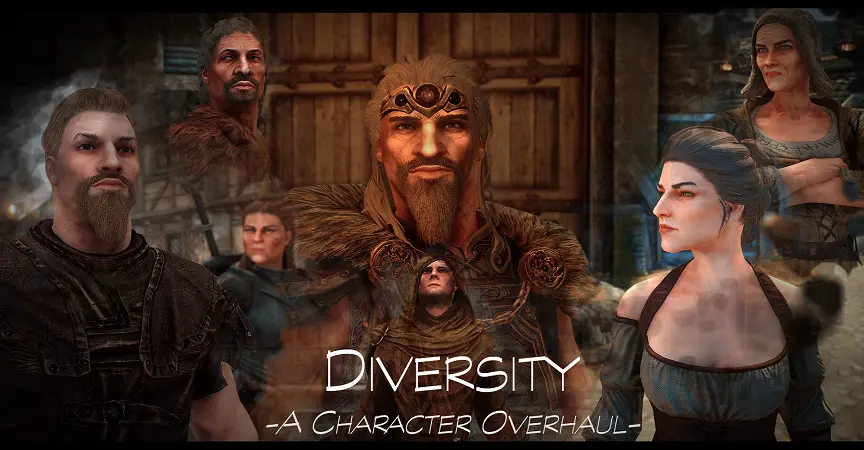 Bethesda broke new ground with TESV.  Not only did they write well-developed characters, but included a great variety of them. But the sands of time have withered their once decent complexions.  These low-poly remnants of a bygone era look awful by modern standards.  SSE deserves better.  

If you want attractive faces that steer clear of flashy anime looks, this mod is for you.

2 versions:
"Diversity - A Character Overhaul"
and
"Diversity - Vanilla Hair Edition"

Improved facial Structures
-All DLCs covered-  

Lore-based changes to character's ages
 

Race, class, and personality-based hairstyles 
 

Selective implementation of ApachiiSkyHair and KS Hairdos  


Improved vanilla hair meshes
 
Refined Skin Textures, makeup, and warpaint


Vanilla Hair Edition Available,
heavily inspired by WICO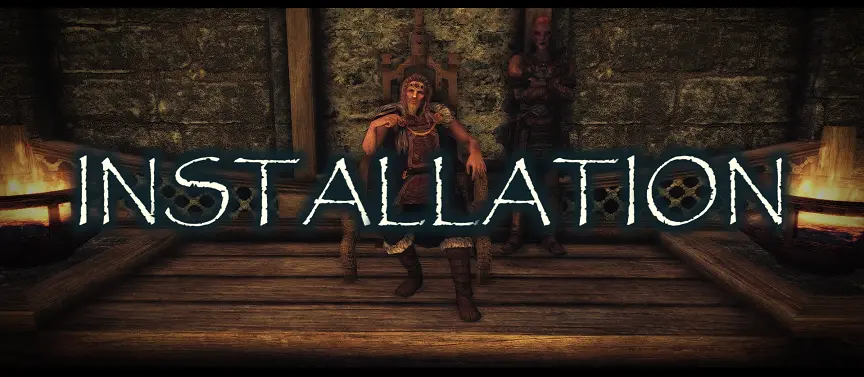 STEP 1:
  Install my mod via Vortex (or manually).
Load Diversity's assets last.

STEP 2:
Check your load order.  If using LOOT, it will NOT yet recognize my mod. 
Go to your plugins.  Find "Diversity - A Character Overhaul.esp" and drag it to the bottom. 

STEP 3:
Enjoy!   

Diversity is a STANDALONE mod, including new meshes and textures.  If using others, uninstall or allow Diversity to overwrite everything.  
It is highly recommended that you uninstall all other hair and face mods.  This mod is NOT compatible with other overhauls that change FaceGenData.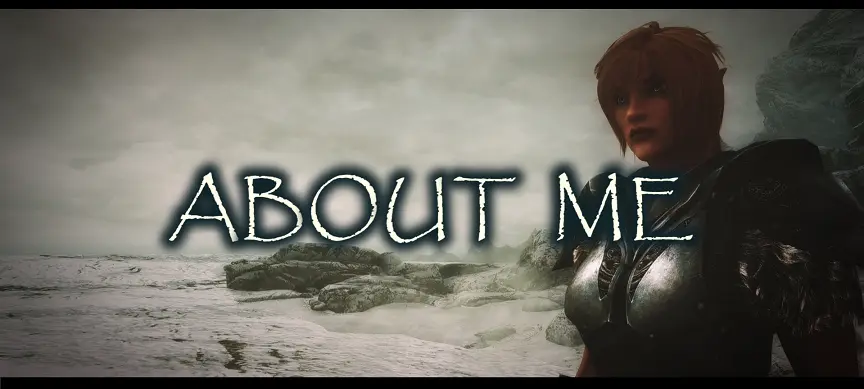 I am a Fitness Professional, Actor, Musician, and mod author.
 The former have been passions of mine for years, while the latter is a newer endeavor.
My Other Works Include:
SKYRIM/SSE:
-The Southerner Diaries - A Soundtrack Expansion
-
Interesting NPCs - Skyrim
(Arelthor, Gromash, miners)
-
Opening Scene Overhaul - Skyrim
(Hadvaar)

FALLOUT 3: 
-
Interesting NPCs - Fallout 3

(Scientist, Doctor Watkins)
FALLOUT 4: 
-
Shades of Gradient

-NukaBill and FatBob
-
Faded Glory


Follow me on soundcloud for updates!




'Diversity' is the product of a lot of research, troubleshooting, collaboration, and artistic license. 
I couldn't have accomplished this mod without help, inspiration, or assets from the following modders. 
Please support them: 

-Apachii for ApachiiSkyHair

-The KS Team for KS Hairdos

-Fadingsignal for SkySight Skins and Better Male Feet

-Xenius for Xienus Character Overhaul (XCE)

-ruirno for Beast Hair Horn and Beard

-Urshi for Fine Face Textures 
-Geonox for High Res Face Maps
-Zonzai for Real Girls Body Textures


-DomainWoolf for Enhanced Female Head Mesh

-Niroku for Expressive Facial Animation 

-Nuska for Ethereal Elven Overhaul

-WindsongHS for WICO - Windsong Immersive Character Overhaul
   ('Diversity' was heavily inspired by this mod)

-MissJennaBee for Improved Eyes Skyrim

-gobbldygook for Painterly - A High Res Vanilla Warpaint Retexture

-BETHESDA for continuing to suck me back in.

-The modding community for being supportive