img 3 loading...
img 4 loading...
img 5 loading...
img 6 loading...
img 7 loading...
img 8 loading...
img 9 loading...
img 10 loading...
img 11 loading...
img 12 loading...
img 13 loading...
img 14 loading...
img 15 loading...
img 16 loading...
img 17 loading...
img 18 loading...
img 19 loading...
img 20 loading...
img 21 loading...
img 22 loading...
img 23 loading...
img 24 loading...
img 25 loading...
img 26 loading...
img 27 loading...
img 28 loading...
img 29 loading...
img 30 loading...
img 31 loading...
img 32 loading...
img 33 loading...
img 34 loading...
img 35 loading...
img 36 loading...
img 37 loading...
img 38 loading...
img 39 loading...
img 40 loading...
img 41 loading...
img 42 loading...
img 43 loading...
img 44 loading...
img 45 loading...
img 46 loading...
img 47 loading...
img 48 loading...
img 49 loading...
img 50 loading...
img 51 loading...
img 52 loading...
img 53 loading...
img 54 loading...
img 55 loading...
img 56 loading...
Description
Last updated at 12:30, 22 Mar 2016 Uploaded at 22:52, 10 Nov 2015
Contributing artist: Sarinia
Contributing modders: madduma & HinaNekoL
Beauty is how you feel inside, and it reflects in your eyes. It is not something physical
- 
Sophia Loren
QUICK START VIDEO
QUOTE
Beauty is in the eye of the beholder with this character mod from 
Lograam
. Installing The Eyes of Beauty will give your avatar new, realistic eye textures that greatly improve on the vanilla eyeballs that come free with the game. As you can see in this 
video
, you can swap between quite a few different eye textures and you'll be able to do this with either male or female characters.
- Eurogamer.net
First of all, welcome to our mod: The Eyes Of Beauty.  TEOB started with Skyrim in 2012 and THANKS TO EVERYONE, the mod is still in the 
MOST ENDORSED FILES OF ALL TIME !!!
The mod feature textures from eye pictures where some are from medical picture repositories, others are digital paintings and some are from real players that took pictures of their eyes and sent them to me.  The textures are 512x512 in resolution, meaning that it's twice the resolution of Fallout 4 Vanilla's.
Contributing artist:
----------------------
For the first time I welcome an artist into the making of this mod.  Her name is
Sarinia.  
She will be contributing by creating new high quality content for this mod.
A request to the community:
----------------------
The new standalone pack that allows you to use around 151 + 10 eyes from expansion pack at same time without replacing anything has been added to main download page(there is now 2.4 version that includes custom lashes of their own and older version without custom lashes if you wish to combine this mod with some other eye replacer mod like 'True Eyes' for example).
There is a lovely green eye texture included in the mod named Helena, which was created from an actual photo that Helena submitted. If any other members of the community would be interested in submitting a high quality close-up photo of their own eye, we would love to add them to the reference repository. Provided that the iris color is not nearly identical to one of the existing textures, we will create a new texture from it and credit the submitter. While the final textures are 512 x 512, the higher the resolution on the submitted photo, the better. Also, please be sure to have the eye open as much as possible to capture the details of the iris color and pattern. Unfortunately, a photo with an almost closed eye won't provide enough details to make it usable. 
Detailed instructions on how to submit your photo will be added soon. Thank you in advance and we look forward to seeing the beautiful eyes of the community.
But wait! Why 512x512?  Why can't you create 4K textures?
---------------------------------------------------------------------
In fact, we can.  
But we won't.
Sarinia has been giving some thought to my observations about the game down-sizing the resolution of the eye textures and whether it actually makes any difference when played at various resolutions of the games, so before diving too far into creating a higher res texture, she spent some time testing it.
She ran the game with The Eyes Of Beauty's green eye texture at 3 resolutions: 1920 x 1080, 2560 x 1440, and (full 4K) 3840 x 2160.
She took screen shots of the eyes in the character creator at each resolution and then swapped out the eye texture for one of Jesters which has a base texture resolution of 1024 x 1024 to see if it made a difference at any of the resolutions.
Here's her thoughts about it: 
"[...] You are welcome to use all or part of this sample test as an image on your nexus page to answer those people who ask about resolutions or are not using your mod because they think the 512 base resolution makes a difference. To be honest, after looking over this, I agree with you that it really doesn't seem to make much difference if the texture is 512 vs. 1024. [...]"
And here's the test sample: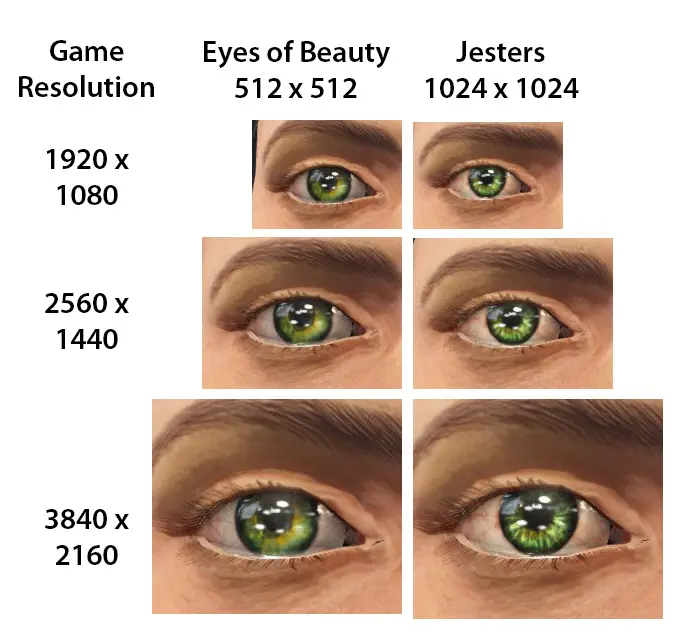 Version 2.0 changelog:
--------------------------
- Added new eyes textures
- Added a special blind eye replacer
- Included optional Helena eye texture.  Helena is a player that sent me a closeup of her eye for the Skyrim version of TEOB.
Feature:

----------
- New eyes texture, mostly heterochromia;
- This mod will REPLACE some Vanilla eyes for new eyes textures;
- Lore friendly. Brighter unique eyes for men and women;
- New textures will be added in future release...  Keep in touch!
KNOWN ISSUE:
----------------
Issue: sometime the eye texture will overlap the model like if its pasted on top of Vanilla's.  Unfortunately it's a bug from Fallout.
Solution
: just alter the shape of your eyes and it will push back the texture to the right place.
Issue: eyes are too bright!
Solution
: probably you are using ENB or saturation/brightness enhancement mod.. In a future update I plan to publish a low saturated texture kit for ENBs.  For now, you'll have to live with or or shut either TEOB or ENB.
Eye Normal Map Fix, please install 
THIS MOD
Installation:

--------------
 - 
Manual
= Copy the content into DATA folder;
 - Using 
More Custom Eyes Options
= This mod adds more options for eyes color to the character creation menu without replacing the vanilla eyes;       
 - 
Installer
= Run the installer and follow the instructions;
 - 
Mod Manager
= Uses Nexus Mod Manager (NMM) or other mod installation tool;
 -
Experimental FO4Edit Plugin
= Allows you to choose eye colors in character creation menu. Read details below before using.
Installing and Running the Replacer Tool
(detailed instructions):
 1. This is a separate tool, not a mod itself, so you cannot run it in NMM or any other mod installation tool (Mod Manager instructions below). You will only need to run the tool once to set-up your choice of eye textures, although it can be run multiple times if you want to makes changes or as new textures become available.
 2. Once you download the file, simply unzip it into any folder or onto your desktop. It does not need to be unzipped inside the Fallout 4 directory, and should probably be kept someone where else for ease of use.
 3. Once unzipped, run the TEOB Replacer Managemnt Tool.exe file. If your system is not configured to make file extensions visible, you can also tell by the size of the file (5,531 KB). The other files in the zip folder are much smaller.
 4. When the exe is run, you will see additional instructions at the top of the screen. 
 5. You will be asked to select the folder where your Fallout 4 replacement eye textures are to be stored. The default path is provided to make it easier. Note for Steam users, the default path will normally be in your applications folder under \Steam\Steamapps\common\Fallout 4\. For other users, it will be where ever you chose to install the game.
 6. If you have not yet installed any previous eye textures, the folder path for modded eye textures may not exist. If so, you can either create it in your Fallout 4 directory before running the tool or use the Make new folder option under "Browse" in the tool to build the series of required folders.
 7. The correct folder path should be: ...Data\textures\actors\character\eyes

Selecting your new eye textures:

 1. There are 2 sets of pictures for each eye texture. When you first open the tool, all sets of texture will be identical (meaning that everything is set to the default textures). Please note that if you run the tool multiple times, it does not store your previous selections and will go back to the default state.
 2. For each texture that you want to replace, click on the image to the right. This will bring up a scrolling view of all eye textures available from the Eyes of Beauty Skyrim version (including all the additional human colors and the Wood Elf eye textures). Scroll through the selection and when you see the color you would like to use as the replacement, click on it. It will now show in the image on the right. 
 3. If you decide that you want a different texture for the that eye type, simply click the right image and select again. 
 4. If you decide that you want no replacement after choosing one, simply click on the original image on the left side and it will reset that eye color.
 5. When are finished selecting all the new eye textures you want to replace, scroll to the bottom and click Apply! You can now run the game and see your new eye textures.
Installing with a Mod Manager (
NMM Recommended
)
1. Once you download the file, open it in the mod manager.You can also use the "Download with Manager" button.
2. The installer includes two texture replacer options:
(Option 1) Pick All Textures: if you select this, the installer will have 27 pages that follow (one for each vanilla texture). On each page, browse through all the options and select the TEOB texture you want. If you don't want to change the vanilla file, do nothing or select the vanilla texture at the top. Author's Picks files are also marked.
(Option 2) Author's Picks: this will replace some of the vanilla eyes with options picked by LogRaam.
3. Experimental Plugin Option. See details below.
4. Once you have selected the options, click finish and allow the mod manager to overwrite the files.
Notes: 
For anyone not familiar with viewing replacement eye textures outside of the game, please note that the images will appear much darker in the selection screen than they appear in game. When they are seen in game, the lighting greatly affects the way you will see them. For examples of how eyes textures look in-game, please see some of the sample images on this mod page.
For now, you have to edit the Fallout4.ini file in your ../my games/Fallout4/ folder.  Add/modify the following edit:
[Archive]
sResourceDataDirsFinal=STRINGS\, TEXTURES\
(note, you do not need to make this edit if you follow the ini edits under Experimental Plugin Installation below)
Here are 2 videos explaining the manip:
Experimental Plugin:
This experimental plugin will add all 150+ eye textures to your character creation menu and plastic surgery menu.  You can open the surgery menu in the console by typing (without quotes) "~", hit enter, and then "showlooksmenu player 1".
DISCLAIMER: This plugin was made with FO4Edit (Version: PreReleaseAlpha - FO4Edit 3.1.3 - 1b8db5e). Plugins made with FO4Edit MAY affect your save games. Backup save games before using.
We will update/recreate this plugin once the Creation Kit is released.
Compatibility: this should be compatible other eye texture mods but let us know if that is not the case.
This DOES NOT fix the double-eye bug. For more info, see bug reports above.
1. Required INI Edits (
thanks Gopher
)
    a. Go to the folder ../My Games/Fallout4/
    b. BACKUP Fallout4Prefs.ini and Fallout4Custom.ini
    c. Add the following lines to Fallout4Prefs.ini file below the section marked[Launcher]:
                        bEnableFileSelection=1
    d. Add the following line in Fallout4Custom.ini: 
                        [Archive]
                        bInvalidateOlderFiles=1
                        sResourceDataDirsFinal=
(Optional but Recommended) Set all ini files to
Read Only
. This will prevent Fallout4 from overwriting your changes.
2. Installing with Mod Manager: Just open the file in the mod manager. Make sure TheEyesOfBeauty.esp plugin is enabled.
3. Manual install:
            a. Copy the content into the DATA folder
            b. Go to the folder \AppData\Local\Fallout4
            c. Add the following to plugins.txt:
                        TheEyesOfBeauty.esp
Manually Uninstall Plugin:
1. Delete the TheEyesOfBeauty.esp from DATA folder
2. Delete …DATA\textures\actors\character\eyes\TEOB.
Miscellaneous versions:
These are converted textures from the Skyrim edition.  You can use them as replacers.  All you have to do is to choose the ones you like, then give them the name of Vanilla ones you want to replace.  Then place them in the ..\Data\textures\actors\character\eyes folder.  All these eyes will be available when .esp editor will be available for F4.
Console command to bring back face editor ingame:
Within the console, type tfc and place the camera in front of your character.  Then type: showlooksmenu player 1
Making Of:
SHOWCASES






















Spanish: