File information
Created by
keke-bu
About this mod
This MOD replaces the appearance of 43 female NPCs. There are LooksMenu preset files as an option file.
Requirements

Permissions and credits

Donations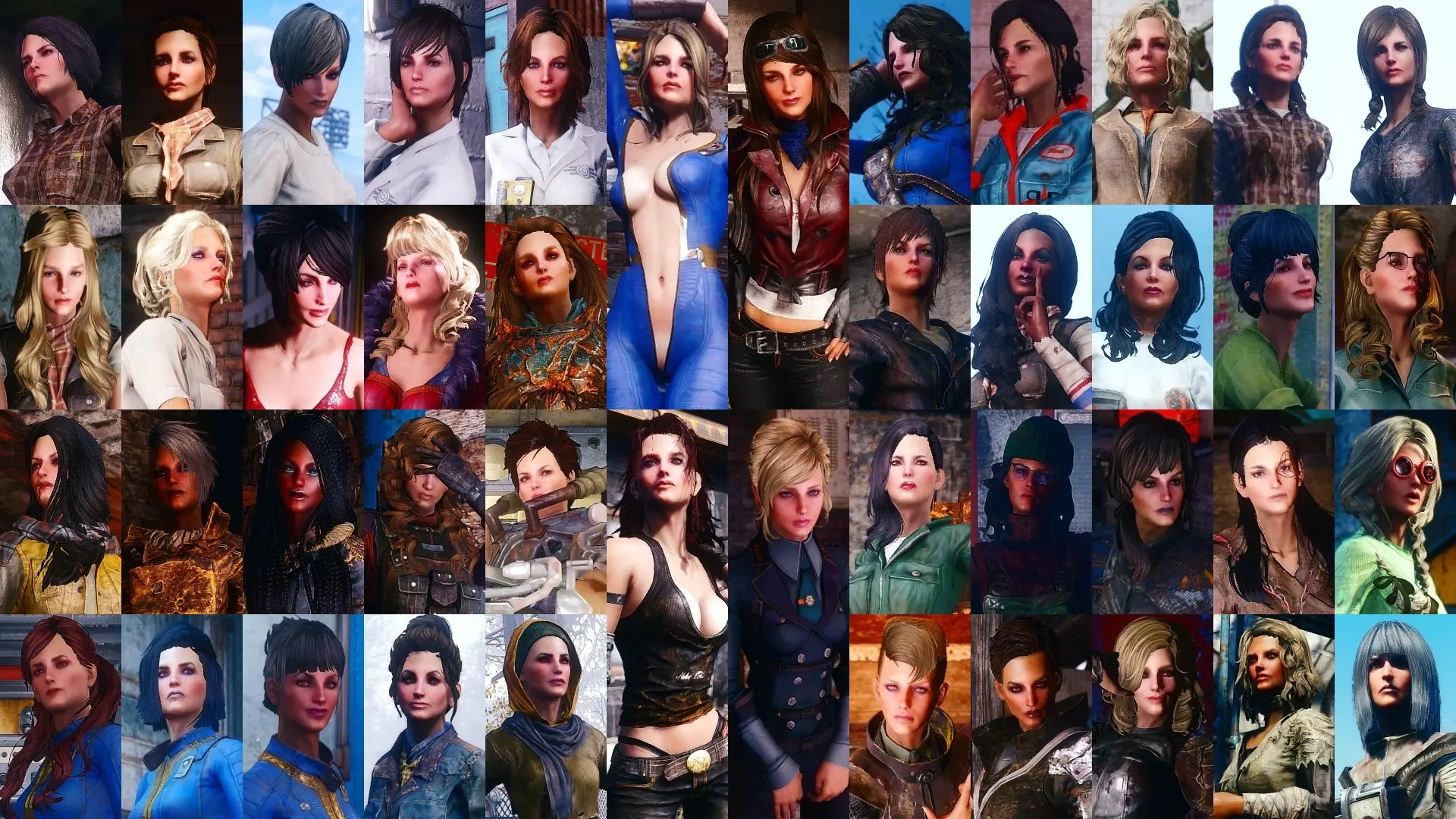 This MOD replaces the appearance of 43 female NPCs.
There are LooksMenu preset files as an option file.
Based on the past my "Wasteland Heroines Replacer" series, this MOD modifies or adjusts most characters, and adds new characters.
NEW IN 2.0!
Due to popular request, Misc Hairstyles 1.6 is no longer required.

Many users have asked about removing the Misc Hairstyles 1.6 requirement.  The mod has been updated using only Commonwealth Cuts hairstyles.  We tried to stay as true to the original designs as possible, some slight variations will be seen against the screen shots.

Notes:
The following NPCs were updated:  Cait, Curie, Dara Hubbell, Darcy Pembroke, Deb, Doctor Duff, Geneva, Glory, Janey Warwick, 
Kasumi Nakano, Kessler, Mackenzie Bridgeman, Marcy Long, Piper, Proctor Ingram, Professor Scara, Rowdy, Scarlett, Scribe Haylen, Sister Mai

Special notes on Piper:  Because Piper wears a hat with visible hair, additional modifications were needed.  The mod now includes a new hat called "Piper's Press Cap", which she be wearing when you first meet her.  Due to limitations in the game engine and the designs of the Commonwealth Cuts hairstyles - this was a necessary addition.  Piper's Press Cap includes her hairstyle visible while wearing it.  A "non hat hair" variation has been set as Piper's real hair and the engine will automatically switch this for you when removing Piper's hat (or if she puts it back on).  Why does this matter to the player?  If a female player wears Piper's Press Cap, their hair will be swapped with Piper's chestnut brown hair.  The original Bethesda Press Cap was unaltered and freely available to wear for the player.  Male players wearing Piper's Press Cap will appear to bald while wearing the hat.

TLDR:  Don't try to wear Piper's hat unless you want to have her hairstyle if your character is female or be bald if male.
1.0 Users looking for Misc Hairstyles 1.6, it can be found here:  http://fo4-mischairstyle.tumblr.com/post/139169515871/mischairstyle16-download-47-new-hairs-for-male
▼Highly Recommended MODs
If you want exactly the same as SS, please use these MODs.

Caliente's Beautiful Bodies Enhancer -CBBE-

FSM Body Textures - CBBE Texture Mashup

HN66s and XAZOMNs Distinctive Teeth for FO4

Wasteland Salon - Hair Texture Improvement Mod
▼Outfit MODs

JumpSuits
 (Nora)

Goggles on Forehead
(Piper)

Just another Piper Outfit
(Piper)

Waster Armor - CBBE - Bodyslide
(Cait)

Asuka officer Uniform
(Curie)
▼ENB
Candy EYE - The Anniversary Edition - Sweet FX- ENB

Enhanced Lights and FX
▼Others
LooksMenu
The target NPC is as follows.
No.00Nora (This is a bonus.Preset file only.)
No.01Piper Wright
No.02Cait
No.03Curie
No.04Marcy Long
No.05Ellie Perkins
No.06Geneva
No.07Professor Scara
No.08Doctor Duff
No.09Scarlett
No.10Darcy Pembroke
No.11Magnolia
No.12Irma
No.13Fahrenheit
No.14Desdemona
No.15Glory
No.16Boxer
No.17Scribe Haylen
No.18Proctor Ingram
No.19Gwen McNamara
No.20Tina De Luca
No.21Katy
No.22Trashcan Carla
No.23Cricket
No.24Trader Rylee
No.25Deb
No.26Kessler
No.27Lucy Abernathy
No.28Janey Warwick
No.29Rowdy
No.30Roxy
No.31Eve
No.32Penny Fitzgerald
No.33Anne Hargraves
No.34Kasumi
No.35The Mariner
No.36Chase
No.37Sister Mai
No.38Sierra Petrovita
No.39Mags Black
No.40Nisha
No.41Dixie
No.42Mackenzie Bridgeman
No.43Dara Hubbell
This MOD was made with personal preference of the author.
So, it may differ significantly from the original impression.
If you dislike this, please close gently this page.

On the other hand, if you like this MOD please endorse it.
I am very encouraged.

Thank you!