About this mod
This mod originally belongs to HudsonThe8 .
I just did revamped version of his mod by my taste with his permission of course.
Requirements

Permissions and credits
READ DESCRIPTION(I WILL KEEP IT SHORT LOL)

First take note this mod isn't originally mine.
'Cute Julia' belongs originally to HudsonThe8, I just did revamped version of his mod according to my taste with and was asked by some to re-upload my version and I got author's permission for it.
For better comparison here is what I mean.

Here is how original 'Cute Julia' mod looks:
And here is how my revamped version looks: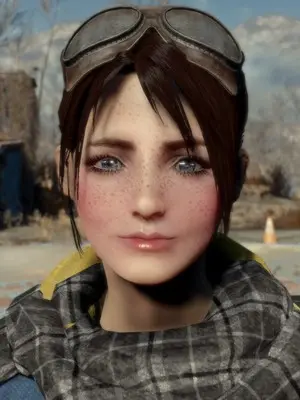 (Changed To Azar's hair)
Anyway before installing anything, download all required mods. Without any mention you will need latest 'FO4' version and F4SE(
Get F4SE In Here
 ) in order to make mods work with latest 'FO4' version. For those who are installing 'FO4' mods for first time then read this: 
How To Install Mods
REQUIRED MODS:


Ponytail Hairstyles
by Azar
More Hairstyles For Male And Female(Mic Hairstyles)
by Atherisz
True Eyes - Just Get It For Better Eyelashes
by JimtownIrish
The Eyes Of Beauty - Standalone Pack
by LogRaam and "Standalone Pack" by Me
Valkyr Face
by Fuse00
deLuxe Makeup
by Cilbas
Appealing Moles
by ANiceOakTree
Vivid Hair Colors
by GothikaGeist
ORIGINAL MOD:
Cute Julia Original mod
 by HudsonThe8
PERMISSION:

QUESTIONS YOU MAY PERHAPS ASK
Q: Why did you do your own version in first place?
A: Author asked for feedback so they can see what they can improve. I showed my version of their mod, then some people asked me to upload my version and that is that.

Q: Why didn't you include 'TEOB-Standalone Pack' in mod since it was created by you?
A: It is true I made 'TEOB-Standalone Pack' but author of 'TEOB' mod is still LogRaam and while I could have included my own pack without any issues, still that was created to be part of 'TEOB' mod and as that it shall be downloaded from it's official page.

Q: Why is this in 'Saved Games' category when it is just preset?
A: Because original mod is located within 'Saved Games' category, I thought it would be good that this revamped version was in same place.

Q: Can you make this face to replace some kid in 'FO4'?
A: I did planned to make this face replacer for Nat, but replacers for kids don't work that way. You either get 'The Hell???' face or huge neck gap. So you can only use it as face preset if you wish.

Q: Why did you made her look as kid?
A: I didn't! As I said mod isn't mine, I just did revamped version of original one according to my beauty/cute standards while trying to keep original author's design.

Q: This could be -insert some companion replacer-.
A: Make it if you wish....I'm only interested in somehow making this as Nat's replacer, so unless you are willing to help me with that...then don't care =).