See Through Scopes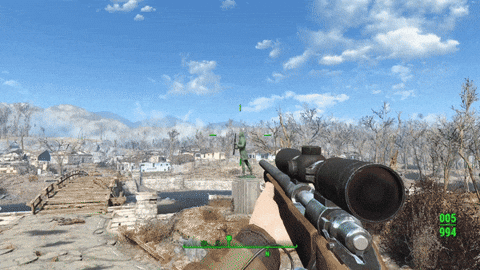 In Short
This mod either adds new scopes or replaces the short scopes, depending on your choice.
This applies for pretty much all of the vanilla weapons that can be equiped with scopes.
Includes 2.5x, 4x, and 8x scopes, both normal and recon variants.
The 4x and 8x scope variants are affected by the sniper perk, the 2.5x scopes are NOT.
Furthermore, this mod has the following features:
- Customizable reticles
- Optional forced first person perspective when aiming
- Optional blur effect when aiming
- Possibility to customize the default reticles (See Articles section)
- Addon-support for many existing weapon mods (See Add-on section below)
!!!FOR A MANUAL INSTALL GUIDE SEE THE ARTICLES SECTION!!!
The video below showcases the scopes. All scopes seen in this video are the scopes included in this mod.
Changelog:
DescriptionInstallationUpdating from version 1.21 or lowerKnown IssuesAdd-onsCredits
First of all: all people who made suggestions to improve this mod. To many to name them all here in the credits.
Without them, you would still be looking through a pipe, and not have the awesome .44 scope on your hunting rifle.
Second, a special thanks to 
Fliegenaffe
 for donating a premium membership.
Third, a thanks to the creators of the various tools:
- the NifSkope Team
- the FO4Edit Team
v1.18 High Quality reticles made by mancika
89f33dc4db52a13c 3235cec9907584d5
e60601e21d1042c2 85666e934ff6f2db
f947d433264fdd90 64452a28ccbf33bb
12050cb2f23c601c 252c5404303b3e0e
6bbd2c70cabeedbb 4664b21c9917a5a6
99786ce92960fb65 ec27cdd360a1e377
766ebf545d137fdd abb9dedf2efabbdb
dd621a879c49d6b7 2ead9f9d6c7baa78
494b74ca61fb3ed8 12c23c146d8cc124
Some models, most likely for add-on weapons, are edited models of said add-on mod. Thus, some 'custom' scope models are not my own.
I merely made some very small edits so you would be able to see through them. Therefore, I take NO credit for these models.
If I am using one of your custom models and do not see your name listed below to acknowledge it is yours, please let me know.
Also, if you don't want me to use your model, please let me know aswell.
Other Mods I Made: