img 3 loading...
img 4 loading...
img 5 loading...
img 6 loading...
img 7 loading...
img 8 loading...
img 9 loading...
img 10 loading...
img 11 loading...
img 12 loading...
img 13 loading...
img 14 loading...
img 15 loading...
img 16 loading...
img 17 loading...
img 18 loading...
img 19 loading...
img 20 loading...
Description
Last updated at 10:06, 2 Jun 2017 Uploaded at 12:42, 4 Feb 2016
4x Magnification Combat Scopes
I always was annoyed by the fade-out-fade-in black screen when using scopes.
This made quick aiming with a short scope nearly impossible in an intense fire fight.
Therefore I created this mod.
In Short

This mod either adds new scopes or replaces the short scopes, depending on your choice.
This applies for pretty much all of the vanilla weapons that can be equiped with scopes.
Includes 8x, 4x, 2.5x and 4x Recon scopes.
Further more, you can customize the reticles of these scopes in-game.
There is also an option to force first person mode when aiming with these scopes.
Important Notes
(in case you experience errors)
Adding Combat Scopes to your own weapon mod
I just released the framework standalone which includes a tutorial/document on how to add Combat Scopes yourself.
I would really appreciate it if other mod authors included these scopes by default in their weapon.
I hope this framework, combined with a tutorial, makes it a lot easier to do so.
Framework
This framework is included in this mod. As a user, if you already have this mod installed, you do not need to download the framework seperatly.
UPDATE TO V1.18
If you are experiencing issues with the 1.18 update, try checking the 'install old scripts' under the Framework section.
Changelog:
How do the scopes look ingame?

See for yourself: (click the spoiler button to display all the videos)
Patch Comments

What does this mod do?
This mod either ADDS Combat Scopes or REPLACES Short Scopes, affecting the following weapons:
- .44 Magnum
- 10mm pistol
- Assault Rifle
- Combat Rifle
- Combat Shotgun
- Deliverer
- Gauss Rifle
- Hunting Rifle
- Institute Laser
- Laser Rifle
- Laser Musket
- Plasma Rifle
- Pipe Guns, any variant (Bolt-Action, Gun, Revolver, Syringer)
- Railway Rifle
DLC:
- Lever-Action Rifle
- Radium Rifle
- Handmade Assault Rifle
- Western Revolver
The scopes are remodeled versions of the in-game scopes. Therefore, they are lore friendly, and fit the guns they are mounted on.
Right now there are 8, 4, and 2.5 power scopes and 4 and 2.5 power Recon scopes.
It is possible to force first person mode when aiming while using these Combat Scopes.
This is particularly useful when you as a player like to play in third person, but also want to utilize the Combat Scopes
In your inventory, look for a holotape named 'See-Through Scopes Settings'.
This holotape allows you to enable and disable the Auto Change Perspective at will.
Mods that already include Combat Scopes by themselfs:   
.233 Pistol
by Skibadaa   
Alien Assault Rifle
by henkspamadres   
Desert Eagle
by stabcops   
Gatling Rifle
by henkspamadres   
IF-54
by Skibadaa   
Jaguar MSX 200 LMG
by DOOMBASED   
Modular Kalash Assault Rifle
by DOOMBASED   
Pipe Shotgun
 by Elgoes   
SCAR-LK
by Doom   
WH-77
by Skibadaa
The mod comes with additonal plugins for standalone weapons:
  .233 That Gun by Skibadaa
  AK2047 by FF7CloudStrife
  AS Vektor by doobot
  Crossbow by TrickyVein
  G3 by Z06Frank
  G67 Battle Rifle by Junnari
  Glock 20 by Z06Frank
  LK-05 by Doom
  M14 by FF7CloudStrife and Moniterman
  M2216 by FF7CloudStrife and thespaceman0915
  M4A1 by SkyrimForDaWin
  R91 by FF7CloudStrife
  Spetsnaz Rifle by Undyne77
  UMP45 by DDProductions83
  USP .45 by Wretched89
  WH-77 by Skibadaa
  XM73 by tumbajamba and Azrael_wtf
More additional plugins coming up.
But my favourite vanilla/stand alone gun is not in that list D:!

At the moment, i'm working on creating add-ons for several standalone weapons published here on NexusMods.
Stay tuned!
For a demo of the v1.0 scopes (which is still available since tastes differ) look at the bottem of this page.
I do not like the reticle, can you change it?

Since version 1.11 you can change the reticle in game yourself!
Add a combat scope to your gun. This should add two new mod slots to your weapon, right below the muzzle slot.
With these two mods slots you can customize the crosshairs and the dot, remove them, or reset them to their defaults.
How do I get these scopes on my gun?

All the scopes are craftable. Look for them in the 'Sight/Scope' slot when using the craftingstation.
Do these scopes show up on NPC's?

That depends on the choice you make during the installation.
If you are using the REPLACE version, then the short scopes are replaced with the new scopes, and thus will show up on NPC's.
You can either enable or disable it.
Disabeling it is always the safest choice: there should be no conflicts what so ever.
Does this mod eliminate the fading when using vanilla scopes?
It does not eliminate the fading on un-modified scopes, which means:
- If you're using the ADD version, no fading is removed.
- If you're using the REPLACE version, the fading for the short scopes is removed. The medium and long range scopes are unaffected.
Are there any known conflicts with other mods?
If you do not select the 'spawn on NPC's' option, there should be no conflict at all.
If you DO select this option, there might be conflict with mods that add other scopes/reticles to the game.
An example of such a mod is Custom Weapon Mods Restord, which adds several optics to the game.
Because this mod also adds these mods to the 'spawnlist', there is a conflict between CWMR and this mod (with 'add to spawn' enabled).
If you are using this mod aswell, make sure you also install the patch, and load the patch esp both after this mod and CWMR.
I already installed the ADD version. How to switch to the REPLACE version, or vice versa?

Before you attempt the switch, make sure you have a backup save game.
- Switching from REPLACE to ADD:
  - Make sure you're 10mm pistols do not have a short scope equiped.
  - Save your game.
  - Uninstall the mod
  - Reinstall the mod and select the ADD version during the install process.
  - Done!
- Switching from ADD to REPLACE:
  - Remove all Combat Scopes from any weapon you own.
  - Save your game.
  - Uninstall the mod.
  - Reinstall the mod and select the REPLACE version during the install process.
  - Done!
Mods with compatibility patches for this mod
- 
Better Weapon Mod Description
- Changes the description of your weapon mods to display actual numbers instead of just 'better recoil'
Credits
First of all: all people who made suggestions to improve this mod. To many to name them all here in the credits.
Without them, you would still be looking through a pipe, and not have the awesome .44 scope on your hunting rifle.
Second, a special thanks to 
Fliegenaffe
 for donating a premium membership.
Third, a thanks to the creators of the various tools:
- the NifSkope Team
- the FO4Edit Team
v1.18 High Quality reticles made by mancika
89f33dc4db52a13c 3235cec9907584d5
e60601e21d1042c2 85666e934ff6f2db
f947d433264fdd90 64452a28ccbf33bb
12050cb2f23c601c 252c5404303b3e0e
6bbd2c70cabeedbb 4664b21c9917a5a6
99786ce92960fb65 ec27cdd360a1e377
766ebf545d137fdd abb9dedf2efabbdb
dd621a879c49d6b7 2ead9f9d6c7baa78
494b74ca61fb3ed8 12c23c146d8cc124
Some models, most likely for add-on weapons, are edited models of said add-on mod. Thus, some 'custom' scope models are not my own.
I merely made some very small edits so you would be able to see through them. Therefore, I take NO credit for these models.
If I am using one of your custom models and do not see your name listed below to acknowledge it is yours, please let me know.
Also, if you don't want me to use your model, please let me know aswell.
Non-vanilla models:
Deliverer scope mount : from Z06Frank Glock 20 mod, scope mount made by Krycek & 4Echo.
Spetnaz Rifle Scope : Tigg
AK2047, M2216, M14 and R91 Scope models: ff7cloudstrife 
Installation Instructions
Since I switched to an installer for this mod it is not recommended to install the mod manually.
Instead, download the NexusModManager and download the mod with the manager.
Next, install the mod using the manager.
If this is your first mod, make sure you check the following AFTER you installed NexusModManager.
NexusModManager should make the following changes for you, but I'm not sure it will always do that:
1. To make sure if your game is able to load the mods, go to your My Documents folder, then My Games and finally Fallout4. 
    Open the file "Fallout4Custom.ini". If that file isn't present, create it.
2. Make sure the following line is in that ini file:
   [Archive]
  bInvalidateOlderFiles=1
  sResourceDataDirsFinal=
   Yes, that last line should be EMPTY after the '='
3. In that same folder there is a file "Fallout4Prefs.ini". Scroll down to the [Launcher] section and make sure "bEnableFileSelection" is set to 1.
Other Mods I Made:

M54 Gatling Rifle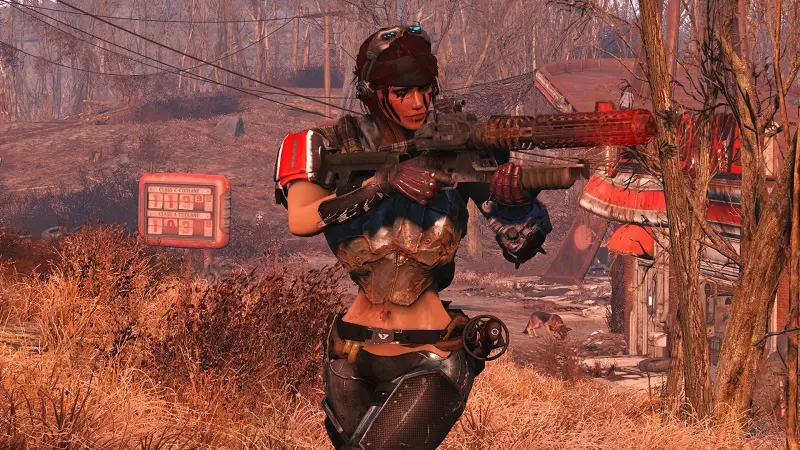 Screenshot by: Becerra9
Alien Assault Rifle
V1.0 Demo (Old Pipe Gun Scope) : 
Credits for the ingame-demo : DemonEnrager