File information
Created by
Gabriel Mailhot as LogRaam
About this mod
Feature:
- New realistic and lore-friendly eyes textures;
- Player only or player+npc replacer;
- Fully compatible with other eyes textures;
- Include Humans, Elves, Orcs, Khajiits and Argonians;
- Male and Female;
- Fast-paced updates gives you more choice.
Requirements

Permissions and credits

Translations

Donations
NOTE:
Steam Workshop
version have been closed after an update that corrupted the archive.  Only the
Nexus
version will be supported now.
Image from Jacy Jordan. You can meet her
here
THE EYES OF BEAUTY
by LogRaam 
support me

**LET THE WORLD SEE THESE EYES!! IF YOU LIKE THIS MOD, MAKE A CLOSEUP SCREENSHOT OF YOUR CHARACTER AND POST THE IMAGE ON SKYRIM!!
Note: Vampire eyes fix can be found here: http://www.nexusmods.com/skyrim/mods/3374/?
NEW FROM VERSION 10+
- New packs featuring a specific race will be uploaded into the files section. You can install them along with the main PLAYER and/or REPLACER pack.
The Eyes of Beauty offers many new eyes textures for player and NPCs. All texture are high resolution and are made for the best result in Skyrim. No other eyes will be so real and unique.
The download section offers you many choices:
- The Player pack (Install this one to add more eyes to your character creation)
- The NPC pack (Install this one to replace NPC Vanilla eyes)
- Dawnguard (Change vampire eyes texture)
- ...
**You can either install one or several packs. If you want Player eyes AND NPC's, then you'll have to install BOTH.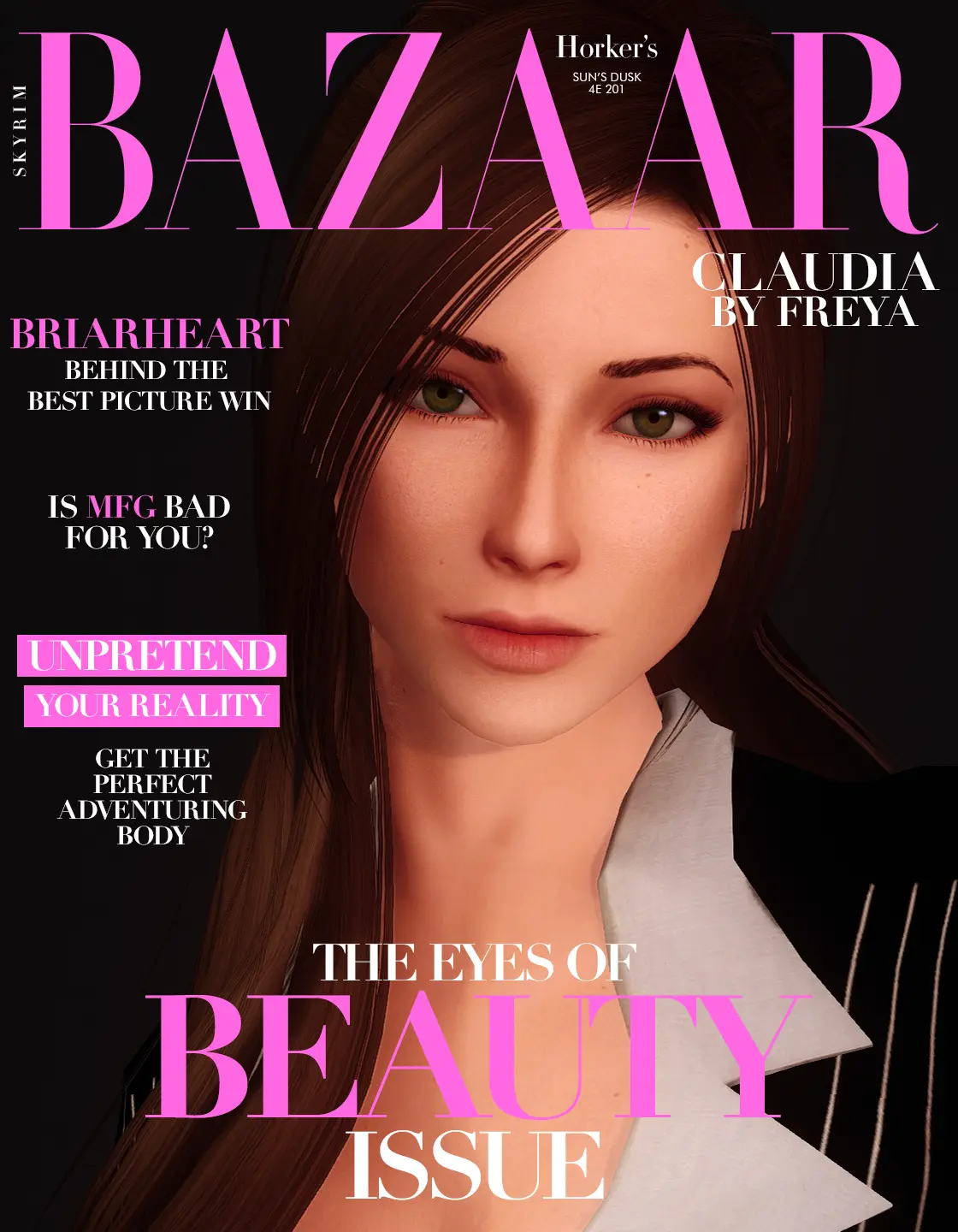 cover by Freyadiin
[SUPPORT]Invisibility Eyes Glitch Workaround if your eyes disapear when using invibility: check this patchFeature:
- New eyes texture, mostly heterochromia, for humans, argonians, elves, khajiits, orcs.
- Standalone, this mod will ADD new eyes to male and female player character AND/OR will replace vanilla eyes, depend on what you install.
- Lore friendly. Brighter unique eyes for Elves available as well as darker ones.
- New textures will be added in futur release!
Installation:
- Manual = Copy the content into DATA folder.
- Use Nexus Mod Manager for auto-install
Download my other mod, Duel Combat Realism, The Eyes Of Beauty Viking Conquest Edition (Mount & Blade Warband)THE EYES OF BEAUTY
You are a sky of autumn, pale and rose;
But all the sea of sadness in my blood
Surges, and ebbing, leaves my lips morose,
Salt with the memory of the bitter flood.
In vain your hand glides my faint bosom o'er,
That which you seek, beloved, is desecrate
By woman's tooth and talon; ah, no more
Seek in me for a heart which those dogs ate.
It is a ruin where the jackals rest,
And rend and tear and glut themselves and slay--
A perfume swims about your naked breast!
Beauty, hard scourge of spirits, have your way!
With flame-like eyes that at bright feasts have flared
Burn up these tatters that the beasts have spared!
(by: Charles Baudelaire)
* Please take note that some of the eyelashes have been originally created by TKTK1.  You can find his mod here "https://www.nexusmods.com/skyrim/mods/13076"
*NEW version by wammy: 
The Eyes of Beauty Ai Remastered
 check it out!