File information
Created by
CaptainLaserBeam
About this mod
Add a nostalgic splash of color from the old world to your settlement! Confuse your enemies with aliens, crab monsters, and the strength of ghoulrillas! Crank out booze, donuts, and coffee to power your settlers through the harshest of Wasteland tribulations! With Jampads, anything is possible.
Requirements

Permissions and credits

Changelogs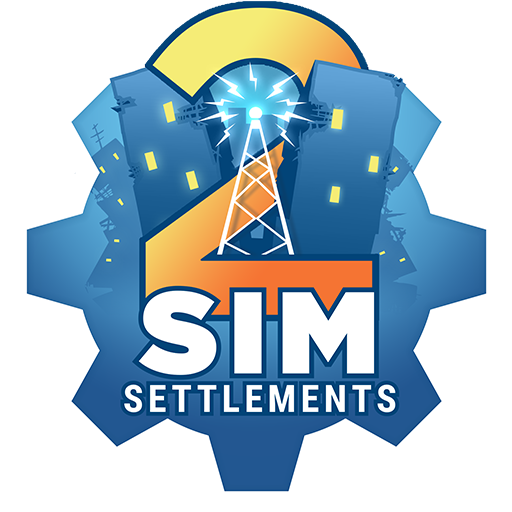 Requires all DLCs and version 1.0.5 or greater of Sim Settlements 2
Contents – 23 building plans and 6 Pets
Homes: 2
Farms: 5
Industrial: 3
Martial: 6
Recreational: 3
Shops: 4
Pets: 6
Building Features
Building plan Unlocks: Yes
Building plan Themes: Yes
Holiday Décor: Yes
NPC Preferences: No
Settler Job outfits and Titles: Some
Settler Navigation: Yes
Construction Stages: Yes
Randomized Clutter: YNo
Performance Settings: Yes
Summary of Plots (See Articles for More Details)
Homes: 2
Glory Days
(2x2 - Single Settler)
- a lair for the true baseball fanatic. 
I'll Be Home for Xmas (Int - Single Settler) -
Get shelter from the cold winter outside next to the fireplace and the festive decorations. (Requires CC Holiday Workshop) -
UNLOCKABLE -
Previously included in Yuletide Add-on
New Shops: 4
East Wasteland Tea Company (Int - Custom Vendor)
- a shop for trying out all the latest tastes in steeped, mutated herbs
Old World Diner (2x2 - Custom Vendor)
- Where nostalgia and questionable foods come together in beautiful harmony
Old World Diner Deluxe (3x3 - Custom Vendor) -
When the regular Old World Diner is not enough, add this big boy to employ two settlers and rake in even more caps. 
Winter Wonderland (3x3 - Bar) -
A Christmas Bar(n) to throw the perfect holiday bash. (Requires CC Holiday Workshop) - 
UNLOCKABLE - 
Previously included in Yuletide Add-on, but new and improved
New Factories: 3
Donuts
(3x3 - Production) -
Sugar, coffee, and tasty treats for everyone. Consumes oil and produces more and better donuts for sale at settlement bars. (Requires CC Slocum Joe's Workshop) -
UNLOCKABLE

Down in Moonshine Holler (1x1 - Production) - 
The finest artisanal distillers sometimes have humble beginnings. Consumes oil and glass and produces moonshine and some surprises for sale at settlement bars. -
UNLOCKABLE

Yagisan Industries
(3x3 - Building Materials) -
Tribute to and based on a design from expert City Planner and FO4 modder
Yagisan
, a Building Materials industrial that grows to three stories and provides jobs for up to 5 settlers. 
New Farms: 5
Beans for Breakfast (2x2
 -
Basic) - 
A silt bean agriculture plot that produces beans for your settlement general stores and coffee tins at level 3. 
Yardbird Suite (Int
 -
Advanced) - 
A small chicken coop that gets bigger! Supplies settlement general stores with eggs. Also some chickens that are a bit on the free-range side. 
Fever (3x3
 -
Advanced)
- A recreational and agricultural hybrid. A place to sit back and watch those glowing blossoms take over the world. Provides a variety of flowers for settlement general stores. 
Screaming Trees (3x3
 -
Advanced) - 
Your own private slice of the Far Harbor wilderness. Provides sap, blight, and asters and a special surprise at level 3 for settlement stores. 
Where the Brahmiluff Roam (3x3
 -
Advanced)
- A micro-ranch where you can get plenty of Brahmiluff cream and, at the highest level, provides Brahmiluff cheese for sale at your settlement stores. 
New Rec: 3
One More Cup of Coffee (Int - Endurance)
- An interior plot where your settlers can kick back for a coffee break and sample all the latest and greatest Slocum Joe drinks and treats. Trains settler endurance. (Requires CC Slocum Joe's Workshop) -
UNLOCKABLE

All Mixed Up (1x1 - Intelligence) - NEW TO JAMPADS 2 -
Fix up a nuka-cola mixer and discover a new galaxy of flavors. Trains settler intelligence.
Only one settler trained.Silent Night (Int - Relaxation) -
A toasty nook to contemplate what you've been through in the past year - and to prepare for the next one. (Requires CC Holiday Workshop) - 
UNLOCKABLE - 
Previously included in Yuletide Add-on
New Martial: 6
I
ntergalactic Planetary (2x2
 -
High Tech) 
Salvaged bits of Nuka World bring animatronic Zetans in to the picture to guard and fight for your settlement. 
Rock Lobster (2x2 - Advanced) 
- Saving a few of those nukalurk eggs from Nuka-World has gifted you with your own band of nukalurk warriors as settlements guards. Not much is more intimidating than a glowing crab monster.
- UNLOCKABLERobot Parade (2x2 - Advanced) -
Combine the ingenuity of the Mechanist with volatile soda chemicals! Spawns Mr. Frothies to defend your settlement. -
UNLOCKABLEGhoulrillaz (2x2 - Advanced) -
Nuka World's Ghoulrillas have found a new home, and they're ready to fight for it. Make any invader pass through a serious gauntlet to enter your settlement. -
UNLOCKABLEMiscellaneous Debris (Int - Basic)
- Sort out all the leftovers from your many, many battles and recycle them. 
Atomic Tan (Int - Advanced) 
- Deliver unto the primitive savages the glory of energy weapons! Energy-weapon themed armory  -
UNLOCKABLE
Pets: 6
Glowing Devolved Radstag -
Spread holiday cheer and violence with the new Glowing Devolved Radstag pet! Available at Level 3 Pet Stores to join your slaying tonight! Name it Rudolph if you want (added to Pet Names pool). 
Nukalurk, Nukalurk Hunter, and Nukalurk King -
After clearing out the Nuka cola bottling plant, there were tons of nukalurk eggs. They're now ready to fight by your side. Basic Nukalurk available at Level 2 Pet Stores, with the Hunter and King available at Level 3 - 
UNLOCKABLE

Creation Club Dogs
- Currently Shiba Inu and Border Collie (plans for more soon). If you have the Creation Club content and complete the appropriate Dog Rescue quests for these breeds, they will be available in the Level 2 Pet Store (Requires respective Creation Club Dog content) - 
UNLOCKABLE
TREMENDOUS THANKS!
The entire Sim Settlements team and especially
XV-Versus
 and
Tinuvia
 for all of the advice and assistance while I converted my mod, to
Yagisan
 with help testing and for the inspiration behind the Yagisan Industries building plan, and to
Pra
 for the scripting wizardry that made it all possible. Also Also thanks to Special thanks to Damanding, MsRae, Frogprincess, Evanpox, and Dinozaurz for the wonderful 
CREATIVE Clutter Modder's Resource
 for letting me use some additional assets from the 
CREAtive Clutter
 mod, to
Rycekaeks
 for making the incredible
Fallout 4 Additions Packs 1

and 2
, which this mod uses assets from,and to Old Hand for giving me permission to use some food and drink assets from 
Wasteland Imports
!