File information
Created by
Vor
About this mod
A flat and modern interface replacer mod based on Dear Diary Dark Mode. This mod focuses on modernizing Skyrim's interface while feeling similar to its original style.
Requirements

Permissions and credits

Translations

Changelogs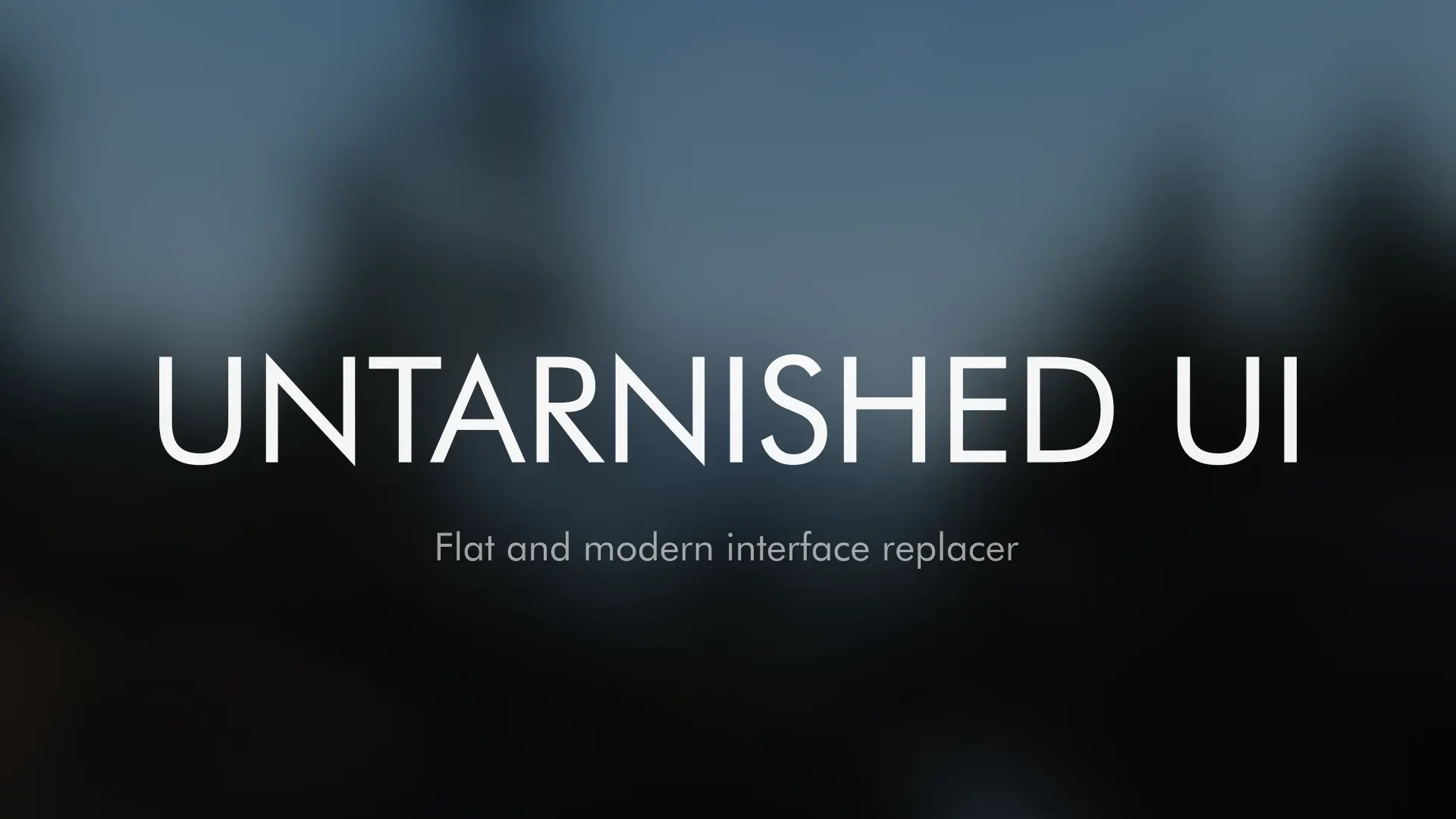 Why does this mod exist?
Skyrim's interface style is "flat" according to
some sources
, but its graphic design choices are dated. I observed a few flat-styled game interfaces and noticed they are mostly void of text drop shadows, fake gloss, and radial blur effects—all of which are still present in Skyrim's interface. I simply wanted to correct some of these issues with this mod.
And while there are many great options for interface replacers, I personally wanted an even simpler aesthetic that did not compromise too much on usability. Therefore, I created this mod for personal use and built up the confidence to release it after showing it to some people.
Why is this named "Untarnished" UI?
I played Elden Ring and enjoyed it, along with the mods that introduce Souls-like gameplay to Skyrim. However, I never found any HUD preset that accurately replicated that game's HUD layout, so I decided to do it here. In Elden Ring, you play as a "Tarnished" and because this mod has a similar HUD with a clean interface, using the word "Untarnished" seemed fitting for this interface replacer.
And if Souls-like gameplay is not your thing, I am not forcing you to play Skyrim that way, as you have the "Vanilla Style" HUD option.
Features
Flat and modern interface style
All improvements from Dear Diary Dark Mode
Compatibility patches for interface mods
Simple plugin that enables Gaussian blur in menus
Main font replacer with Futura Book BT
Completely redone button art
PlayStation icons option
Modular and descriptive installer
RequirementsInstallation
Install with a mod manager such as Mod Organizer 2, Vortex, etc.
The installer is fully modular in a similar way to Dear Diary Dark Mode's installer. For each option, descriptions and pictures have been included to ease the installation user experience. Therefore, a step-by-step guide is redundant to include here because the installer helps with that.
General rule: each option in the installer will require Dear Diary Dark Mode's equivalent option enabled if it exists.
Settings
You can configure this mod's Dear Diary Dark Mode settings file found in interface/deardiary_dm/config.txt.
Restore quicksave button
Lockpicking cheat mode (with optional timer)
Hide lock level
Map markers size and alpha
Directionless player map marker
Hide player map marker
Show additional weapon stats in inventory item card
Scrolling speed in inventory menus and favorites menu
Hide book UI or some specific buttons
Hide lockpicking UI
Max sleep-wait timer
Time on loading screen
Hide 3D object and/or text on loading screen
Configurable dialogue menu
Disable CC message of the day in start menu
Set transparency (alpha) of any menu
You can configure this mod's SkyHUD settings file found in interface/skyhud/skyhud.txt. A restart is needed to apply the settings.
Hide/show activate button
Hide/show stealth text
Hide/show stealth meter
Make HP/MP/SP bars persistent
Scale and move almost any element
If you use TrueHUD (strongly recommended), you can tweak its settings in its MCM.
Enable/disable actor info bars
Enable/disable boss bars
Enable/disable player widget
Enable/disable recent loot widget
Hide/show vanilla target bar
Set display criteria for any element
Scale and move almost any element
Compatibility
Let this mod overwrite everything because it will likely include compatibility patches for files it overwrites. However, there are a few exceptions.
Better SkyUI Config - Smart sorting by type (DDDM option)

Tweak that mod's file with these two changes
colors.text.enabled = 0xffffff
colors.stolen.enabled = 0xffffff

Any SkyUI category icon replacer
Any SkyUI map marker icon replacer
Any SkyHUD compass marker icon replacer
Any start menu wallpaper
Any font replacer
Any cursor replacer
Included mods (modified versions, does not require the original mod)
Included patches (requires original mod)
Please see Dear Diary Dark Mode's
mod page
for a more comprehensive list of redundant, included, compatible, and incompatible mods.
Complementary mods. Pick and choose which ones are right for you
Final Remarks
If you like what you see here, give this mod a download. And if you enjoy using this, feel free to give an endorsement (and to
Dear Diary Dark Mode
).
Feel free to let me know if you have any questions or concerns.