File information
Created by
Elianora
About this mod
Mod ads 50 new lore-friendly armours, 20 accessories, tons of moddable colours. Institute, Settler, Wastelander, Raider, Vault suit. Both sexes. Vanilla and CBBE body, with BodySlide compatibility.
Requirements

Permissions and credits

Translations

Spanish
Russian
Portuguese
Mandarin
Italian
German
French

Mirrors

Changelogs

Donations

:: BASICS :: 
This mod adds 50 unisex armours, 20 accessories and infinite amounts of armour colour mods to the game.
These items are (mostly) made by mashing up and recolouring vanilla items, so most of them are very lore-friendly and blend into the world well.
ALL EQUIPMENT WORKS FOR BOTH FEMALE AND MALE.
Please look at the image gallery carefully to see all the items in the mod!

:: REQUIREMENTS ::

Fallout4.esm !





:: COMPATIBILITY ::

I don't recommend using this with my old Armour Collection Remade. While they would work, you'd get a lot of duplicates.
A location in Tales from the Commonwealth is nearby. Both work fine though, it's not a conflict that causes problems, they're just both using the same building.

:: GENERAL INFOS ::
- There are a lot of settler-type outfits, some vault suit mashups, a few raider armours, and a bunch of Institute clothes. There are scarves, mufflers, gloves, eyeglasses, bags etc. You can change the appearance of these items at the regular armour workbench.
- You can wear armour pieces over these outfits, so I recommend
Concealed Armours
or similar, so you can hide any pieces that clip.
- The main supplier in this mod is Ellie, a custom-voiced NPC. She is a vendor for the armours and provides you with designs to make your own.
- You craft new armours at the "Armour Crafting Workbench", new crafting furniture added by the mod. You need to buy schematics from Ellie to get craft the workbench in settlement. There is also a workbench at Ellie's shop.
- To get all the crafting recipes to show up, you also need to buy designs for them from Ellie. There are 5 types: Vault suit, Raider, Companions, Wastelander and Accessories. Some of them require basic components like leather and cloth, some are using "immersive recipes" (for example, crafting Gunslinger hat requires a Minutemen hat and pilot goggles from Ellie).
- Ellie's shop is just outside Diamond City, next to the parking lot with the mongrel dogs. She sells almost all the clothing that this mod adds, apart from Institute outfits, those are found and purchased from the Institute merchant. If you do not have access to the Institute, you can find a dead synth who has the blueprints inside Mass State House (Boston Commons). There is a mapmarker you need to discover. in order to fast travel.
- A lot of the items in the mod can be modded (change their colour or graphic): They're marked with [M]. If you don't like the name, just rename the item at the vanilla armour workbench where you apply mods. The items you can mod to different colour are:
Muffler, Scarf, Eyeglasses, m
ost
t-shirt based outfits, Armoured and Unarmoured Jumpsuit and the Institute Casual Outfit
- All clothing can be modded with lining and ballistic weave
- Textures are mostly 2-4K, based on vanilla stuff and the UHD DLC
- Leveled lists alter NPCs from Minutemen, Institute, Railroad and settlers
- Most of the wastelandish outfits have been added to leveled lists so they should appear on NPCs throughout the Commonwealth, especially on dead NPCs that spawn with random clothes. The unfortunate side-effect of this is that it will conflict with other mods that edit those same distribution lists. 
- This mod includes my companion armours from my Companion Overhaul, some pieces from Armoured Jumpsuits, Armour Collection, Sleeveless Outfits and Apocalypse Accessories. The meshes are improved and this is meant to replace those mods.
PLEASE, DO REALISE THAT THE BODYSLIDE FILES ARE NOT PERFECT. These are not sexy, skimpy outfits that morph nicely to extreme body presets (7B etc.) and make your character look like a sex bomb. The outfits are designed for the vanilla body / CBBE base shape, using the low-poly vanilla assets. They aim to make characters look bad-ass, not like they sell their bodies for caps. So, the armours don't necessarily look good when shaped to your particular CBBE preset. I don't have the time nor the knowledge to make the BodySlides any better than what I've now provided.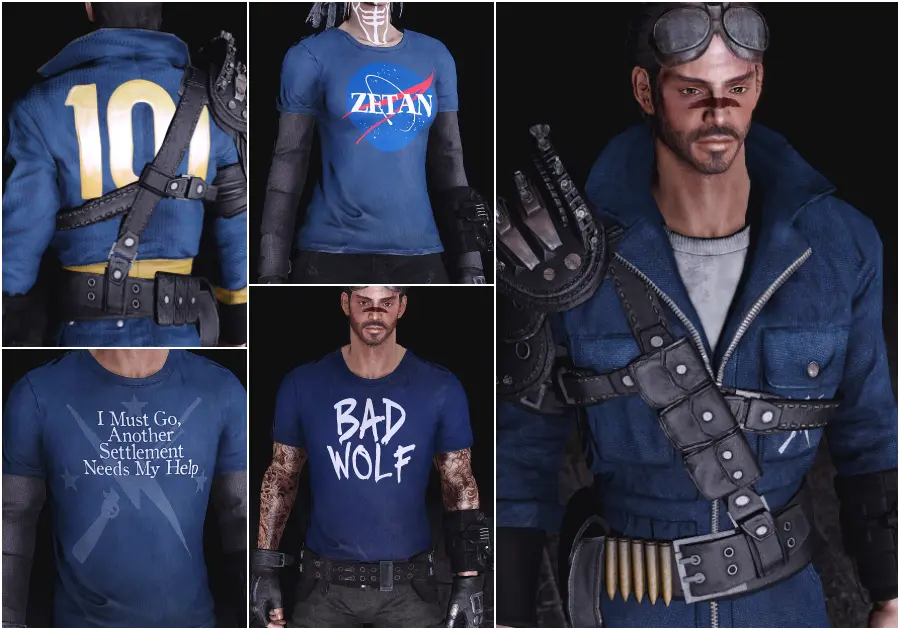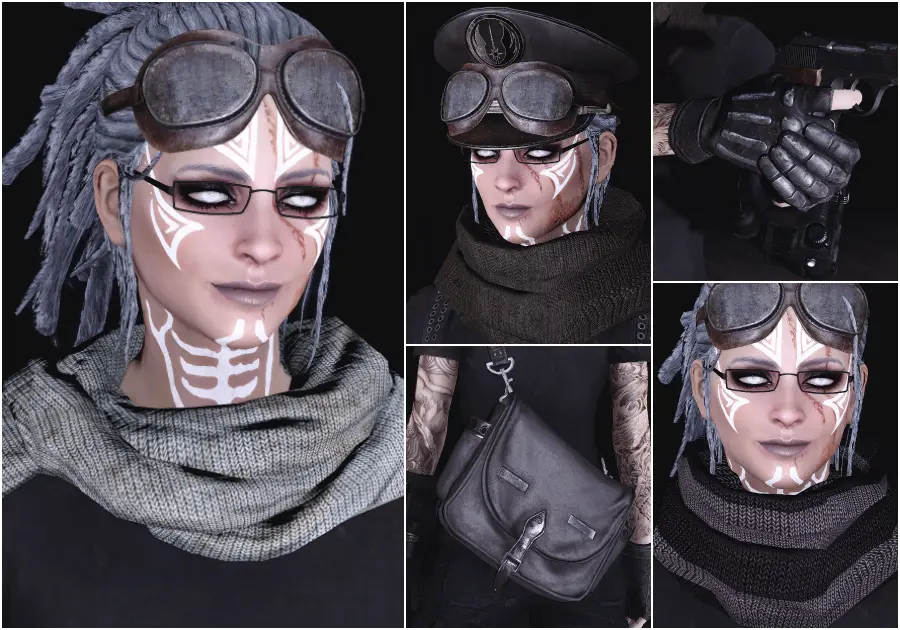 MEGATHANKSIES:

Cameron August for the banner image of Ellie <3 U amaze <3

- Kris Takahashi for helping me with Ellie's dialogue (he made it pretty much entirely)
- CDante for helping me make the item colour swap mods
- Ousnius for BodySlide and Outfit Studio <3
- jonwd7 for Nifskope <3 :: RECOMMENDATIONS ::


Better Settlers by Thom293
Proto Vault Suit by nitronizer
Read Ellie's terminal for background story
Use
Quicktrade mod
if you want to skip talking to her
Dreadlocks are from
Azar ponytail hairstyles
Warpaint is
Viper's Warpaint
______________________________________________________________________________________________
To get some of these t-shirt designs IRL, you can visit my RedBubble!


Modding is like a second (dream) job for me, and takes up most of my free time (♥). If you want to support my artistic endeavours, or thank me for something that has enriched your game, you can donate so I can buy more coffee to fuel my creative engine! 




You can also donate through Nexus, or join my Patreon.

Follow me on social media for WIP pics and stuff-stuff:

______________________________________________________________________________________________

PLEASE ADD YOUR SCREENSHOTS TO THE GALLERY !