File information
Created by
RMK
About this mod
Adds custom quickslots/hotkeys to the bottom of the screen for consumables, grenades, and cyberware abilities. Fully configurable with in-game menu. Supports controllers and keyboard/mouse.
Requirements

Permissions and credits

Translations

Turkish
Russian
Polish
Mandarin
German
French
Czech

Changelogs

Donations
OverviewFirst, a HUGE thanks to psiberx, who helped me with several UI issues and wrote a module I'm using to auto scale the added UI elements based on resolution.
This mod gives quickslots for consumables, multiple healing items, cyberware, grenades, basically everything. It fully supports gamepads and any keyboard/mouse bindings, and has an easy to use menu in-game.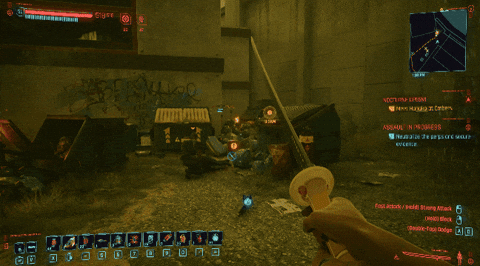 Item Types
Food, Drinks, Alcohol: These slots are are filled automatically with one from your backpack. Cat food is chosen last. Otherwise highest quality is chosen first (according to the quality level set in the game files - doesn't matter in base game, but could matter if another mod differentiates the items). Pressing the key/button causes the item to be consumed.
Boosters (Health, Stamina, Ram Jolt, Carry Capacity, Oxy): These items will be consumed if you press the key/button.
Max Doc / Bounce Back: These slots will instantly change the equipped item in the normal healing item slot, use it, and then change the equipped item back. Therefore you only need to use one of these two slot types, while keeping the other healing item variety equipped normally and bound to X/dpad up. (Note: Do not use these slots along with Blood Pump as of version 4.0.0 - just a bug with that interaction at the moment, will try to fix soon. Blood Pump will also be added back as a slot type when that is fixed).
Optical Camo: Using the slot will activate the item.
Grenades and Projectile Launcher: There is one slot type for each grenade (frag, flash, incendiary, etc.) and the projectile launcher cyberware. These slots just equip the item in the normal gadget slot, so they let you quickly change between multiple gadgets. The reason they don't activate the items is that animations and everything only work when the item is equipped. I'm sure it's possible to get it working differently, but I'm not willing to invest the time in that.
Each consumable item has a sound effect (food and drink actually have sounds if you consume them directly instead of picking them up when looting, did you know that??).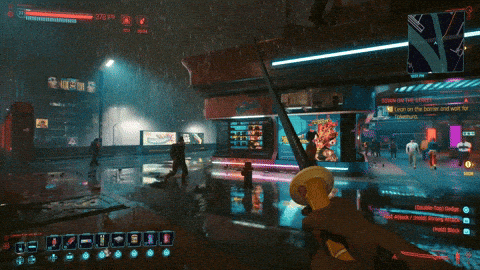 Configuration
With the Native Settings UI dependency (big thanks to keanuWheeze for this!), this mod is configured from the "
Mods
" menu in the Settings menu. This can be done any time, including in the middle of gameplay. The slots will update automatically. Some elements of the menu are translated for different interface languages automatically.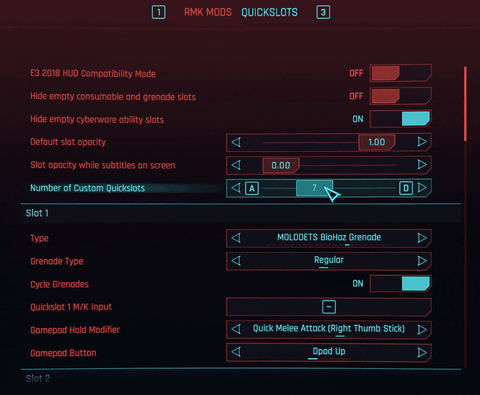 General Settings
At the top are options for controlling slot opacity (defaults to hidden while subtitles are onscreen), hiding empty slots, and choosing the number of slots.
By default there is a limit of 20 slots, which should be enough for everyone. There are 21 item types but one of those is Oxy Booster :) . At standard aspect ratio I think you can fit 19 slots, but it should be different on ultrawide.
On gamepad there are only 12 distinct input options (3 hold modifier buttons times 4 dpad directions), but you could set multiple slots to the same buttons (for example, food and drink on the same button) to get a few more useable slots.
Slot Settings
For each enabled slot you can set the slot type, keyboard/mouse input, and gamepad inputs (hold modifier and dpad button).
Keyboard/mouse inputs have to be duplicated in the CET bindings tab (open the console, click on "Bindings" tab, then "Inputs"). The Mods menu part controls what button hints appear in-game, the CET bindings are required to actually activate the slots.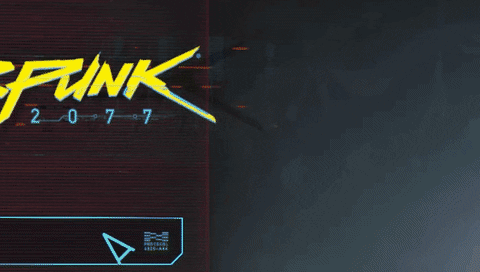 Installation:Compatibility
This mod should work fine with any other mods that change or add to the food, drinks, and other consumables. Highest quality (according to names in game files) items are chosen first.
Support for other Mods' items

Other mods must be enabled in a section at the top of the menu. This will allow those categories to appear in the slot settings.
Currently supported other mods:Credits:
Thanks to the maintainers of, and all contributors to, Wolvenkit
Thanks to the authors of all required mods
Check out my other mods:

New Features/Systems
Difficulty and Balance TuningBug FixesQuality of Life