______________________________________________________________________________________________________________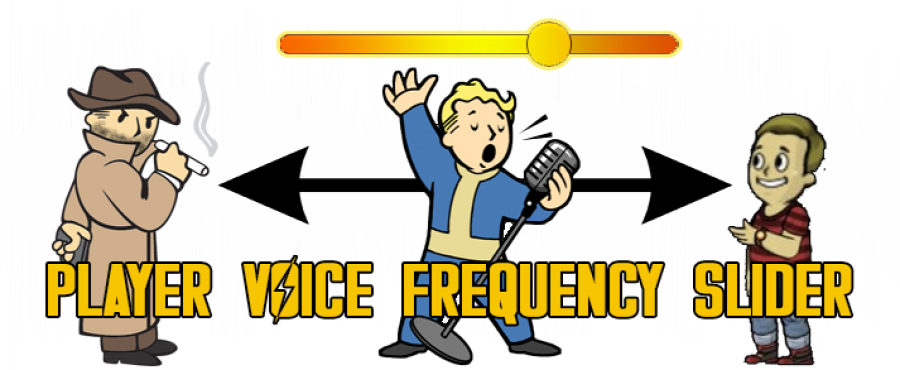 let's you change your character's voice (for example in case of a second or subsequent playthrough)
works with both male and female characters
works with any languages of the game
works with any additional player dialogue added by mods
set any frequency with a slider or a holotape
4 presets included as well: Teenager, Young Adult, Heavy Smoker, Very Deep
Mod Configuration Menu settings (requires MCM)
holotape settings - Inventory / Misc / [Settings]Player Voice Frequency (or craft at Chem Station / Utility)

The "TEENAGER" preset (male)



From v1.1 the mod requires the latest version of F4SE.

It is HIGHLY RECOMMENDED to use my tool: Fallout4.exe Auto-Backup as this mod needs to be updated with each new version of the game.
Use a mod manager like Nexus Mod Manager.
OR
Extract the contents of the rar file to your Fallout 4 Data folder.
Enable
PlayerVoiceFrequencySlider.esp
using a mod manager or manually.
MCM IS NOT REQUIRED, ONLY SUGGESTED!
If you have trouble installing mods, check these tutorials by Gopher:
- 
Enabling Mods for FALLOUT 4
- 
FALLOUT 4: Installing Mods on PC (MANUALLY)
Change the frequency of the Player's Sound Category via the Settings Holotape: Inventory / Misc / [Settings]Player Voice Frequency.
You can also craft this holotape at Chemistry Stations under Utility. From v1.1 a dialogue sample will be played constantly while you're fine-tuning frequency in the Pip-Boy. The dialogue sample will stop when you exit the Pip.Boy.
If you're using MCM there's a much more comfortable way of controlling the mod.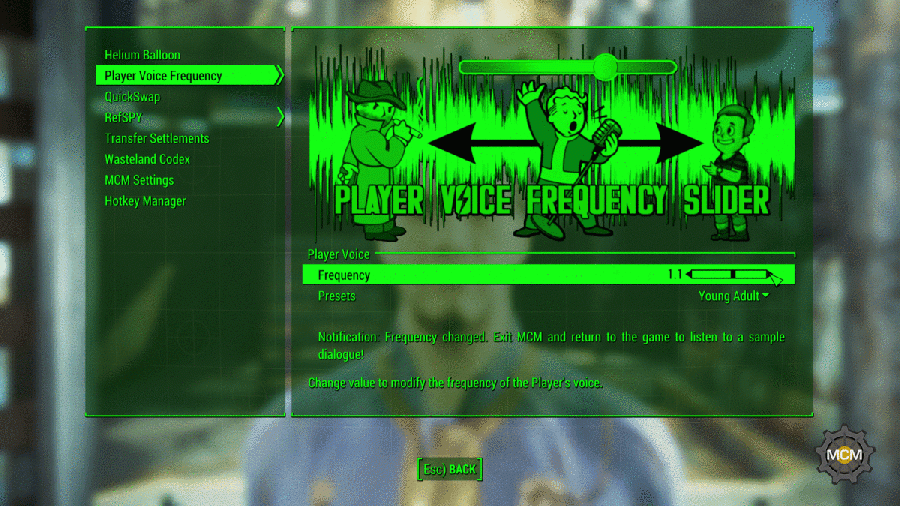 From v1.1 there's a button in MCM to Start/Stop an example dialogue that's constantly playing while you're fine-tuning frequency.

Craftable items use vanilla categories.
No vanilla records have been modified.
No known possibility for any compatibility issues with any mods.
SINCE THE MOD DYNAMICALLY CHANGES THE SOUND CATEGORY OF THE PLAYER IT IS COMPATIBLE WITH ANY OTHER MODS THAT REHASH, REUSE PLAYER LINES, OR ADD NEW LINES TO THE PLAYER, AND IT IS ALSO COMAPTIBLE WITH ANY LANGUAGES OF THE GAME.
From v1.1 there're no compatiblity issues with slow motion effects such as Jet, VATS, VAFS, dying, etc.
From v2.0 there's an added dynamic compatibility with any mods adding new Slow Time effects to the game - a new native function dynamically finds all Slow Time effects currently installed for the Player (vanilla, DLC, CC, or other mods) and makes the mod automatically readjust voice frequency after these effects ended, making PVoFS automatically compatible with any additional game content.

Any value below 0.95 may cause a visible delay between sound and lip movement! Additionally, the lower the value the higher the chance that your next dialogue line or a response by an NPC might interrupt your current line of dialogue! Use beyond the suggested frequency interval at your own risk.
Some sound effects attached to the Player may follow the voice frequency settings if you setup a value higher than 1.0, meaning they will be slightly higher pitched. For example the sound of loading a holotape in your Pip-Boy or the lore entry unlock sounds of The Wasteland Codex mod. These are currently some minor downsides of PVoFS.

Mod idea suggested by 
e1grey
.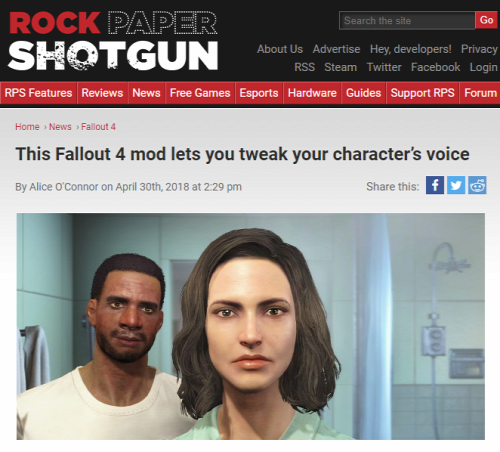 FEEL FREE TO JOIN
MY DISCORD
IF YOU WANT TO KNOW MORE!