This is the official port of Campsites in Skyrim from original Skyrim to SSE by jet4571.  He has given me full permission to port and modify it.  Many thanks for allowing me to do this!  All credits go to jet4571 for the design,  scripting and implementation.  The original mod can be found here:
Campsites in Skyrim
---------------------------------------------------------------------------------------------------------------------------------------
All of the  .esp's have been run through the CK and saved in form 44.  I also ran the azzendix water fix script and it cleaned 40 records so players and users of Realistic Water Two by isoku should have no problems at all.  Please read all important information below regarding changes and compatibility. 
Do not ask jet4571 for support.  Any support for this mod will be offered by me.   I was given permission to modify the original files for a specific reason.  Please read the information below for that. 
This is a straight port from Oldrim and is offered as-is.
Pertinent information:
I have included 4 .esp's in the port:
Campsites in Skyrim SSE:  Normal main file where the map markers are visible when you run the game and can be fast-traveled to immediately. 
Campsites in Skyrim Hidden Map Markers SSE:  Hides the map markers so you have to discover the campsites. Only use one version.
Campsites in Skyrim SSE non CRF:  Install this file if you do NOT use Cutting Room Floor. 
Campsites in Skyrim SSE non CRF HMM:  Same as normal Hidden Map Markers and you do NOT use Cutting Room Floor.  Only use one version.
Important information 1:
One of the campsites that was in the original mod had to be removed because it was occupying the same space as the Barleydark Farm that was added by Arthmoor's mod Cutting Room Floor.  Since A LOT of players including myself use that mod,  I removed it because of a long string of posts that were added to the post section of the Oldrim page stated that neither Arthmoor or jet4571 would move or modify either item in their respective mods. 
Do NOT ask Arthmoor to move his Barleydark Farm under any circumstances!  He will flat out tell you "no".  I will not ask him to move it for obvious reasons. I have an enormous amount of respect for him as a mod author and contributor and I use about 90% of his mods for SSE.   This is why I took the time to make the other 2 .esp's in the off chance that players don't use CRF.  Please,  no requests for a version that I move the Campsite somewhere near or by the Barleydark Farm in the Main version for users of CRF.  There are still plenty of other campsites in the world to discover and taking away one campsite does not make that big of a difference in my opinion.  If you want to move the Campsite yourself in the CK for personal usage,  go for it but DO NOT upload a modified version of that file to another website or here on the Nexus.  I got specific permission from jet4571 to port and modify this for SSE.  If anyone violates this rule,  it will be reported to a Nexus moderator immediately.  If you want to move the Campsite and have it posted as an optional file here on the Nexus,  please send me a PM and I will be more that happy to upload it as an optional file and give that modder full credit for taking the time to include that campsite in the original version.  Thank you for your cooperation and understanding. 
Important information 2:
Since this mod adds a lot of campsites to the world,  many other mods that add items and places to the world may conflict with this mod.  Everybody's load order is different and this should be taken into account when installing this.  Please consider this before submitting a bug report.  Currently the only mods that were converted to SSE that will conflict with this mod are:
I will not be making any compatibility patches for these mods as I do NOT use them at all.  If anyone would like to make a patch for these mods or any other mods that players discover that cause compatibility issues then by all means do so and I will be more than happy to give full credit to said player for helping out with this mod's compatibility. 
NEW!!!!  Important information 3:
I have added 3 optional files from the original mod and have converted them to SE.  These files add Hunters and other NPC's to the campsites.  Please read the options below to determine which one is best for your game.  Only install one of these .esp's!!!  I have included a Cutting Room Floor version and a non-CRF version for the Camp Users and Camp Users and Hunters .esp's.  
1. Camp Users:  Optional add on mod included in the optional files that adds 6 NPC's with 3 pets to some of the campsites. They are basic NPC's and travel in
pairs with a pet between 2 campsites per group. They are set as protected and will stay several days per week at 1 of 2 campsites. Groups consist of 2 Nords and a small bear pet, 2 Bretons and a pet fox and 2 Khajiit and a pet sabre cat. The NPC's are vendors, 1 food vendor and 1 general goods vendor per group. This option has a CRF and non-CRF version.
2. Camp Users Hunters Only:  Optional add on mod that adds 6 hunters with 3 pets that use some of the campsites. they rotate around to different ones and spend 2 days per week in The Drunken Huntsman.
3. Camp Users and Hunters:  Optional add on mod that combines 1 and 2 so you have both the vendors and hunters.  This option has a CRF and non-CRF version. 
These .esp's are provided as-is
They have been saved in the CK as form 44 and I also ran the Azzendix Water Fix script through all of them and it cleaned the appropriate records in the area they are placed at.  One of the NPC groups had to have their AI package removed because of a travel script that was sending them to a Campsite that I deleted in the CRF version where the Barleydark Farm is.  This group will simply sandbox at that camp and not move.  This DOES NOT apply to the non-CRF version and that group will travel back and forth to the camp that their AI package sends them to. 
I have tested all of the .esp's in my game except the non-CRF versions and they all work fine for me.  Please keep in mind that everyone's load order is different and other mods may affect these add-ons.  Please remember this before submitting a bug report.  Thanks for looking and enjoy the add-ons.
Many thanks to KainXavier for helping me with the AI package issues!!   You rock!
Important information 4:
This mod was to be used as a compliment to Vilja although she is not required.  I use Vilja myself and she seems to behave normally for me when I visit the campsites where I have gone.  I highly recommend installing her as she is one of the most amazing and bestest companions on the Nexus.....period.  A lot of work has gone into her and she can be found here:
Vilja in Skyrim
So without further ado,  here is the description by jet4571 from the original Skyrim page:
---------------------------------------------------------------------------------------------------------------------------------------------------------------------------------------------------------------------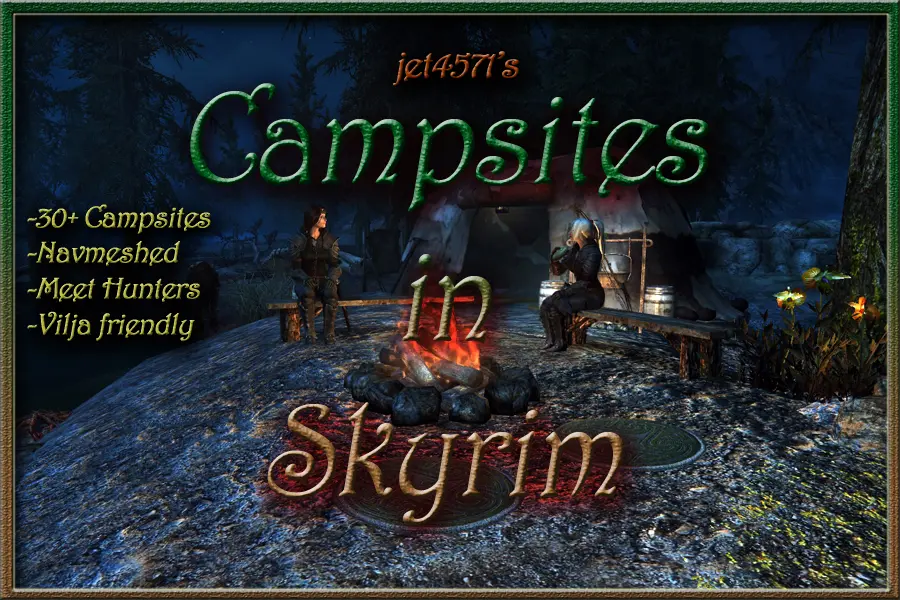 This mod adds 30 campsites throughout Skyrim along roads or in the wilderness for use with the Vilja Follower mod or one of the many realism mods. These campsites were done with the idea that other travelers help maintain and create them for use by other travelers. Sort of a community campsite for travelers to get some rest, warmth and cook some chow. So I will not be adding safe storage to them.
Each campsite has a tent, 4 bedrolls, campfire, cooking fire, benches to sit on, and idle markers for followers. Most include a tanning rack or a wood chopping block or both. They are navmeshed so a follower will not walk across the fire or attempt to walk through the tent to get to a bedroll. Each campsite has a barrel with food or drink for Vilja and another barrel of food for her pet Leifur, so when you are out you can grab something for them to eat and maybe Vilja will cook
something for you as well. Those containers are NOT safe to store things in. Each campsite can be fast traveled to and are already marked on the map, named "Camp site" with a tent icon.
This mod is not meant as a replacer for camping mods where the player sets up a campsite, It does work good with them by adding 30 campsites
ready to use and the setup your own for when you are not near one.
Known issues:
Oddities that you can find are instances of floating grass or a couple of ore veins in the campsites. This is an issue with Skyrim itself and saves. Why is grass saved in a savegame i dont know, it just is. the ore veins are so the game knows if you used it or not.
If you find those issues go inside an interior and wait 30 days, the cell should reset then and those items moved to the new location. New games will not have those problems.
Conflict issues:
There are 30 campsites so it is bound to conflict with another mod that changes exterior locations in Skyrim. There should be no compatibility issues with other mods that do not change exterior locations, so please don't report a conflict with a mod that changes the weather or perks because there is no conflict from this mod for those types of mods. Check the date of the conflicting mod and if it is newer than this one, please ask them to move before asking me, that is only fair.
Version 1.3 now has lights for the campfires and a script to turn them on and off automatically.
--------------------------------------------------------------------------------------------------------------------------------------------------------------------------------------------------------------------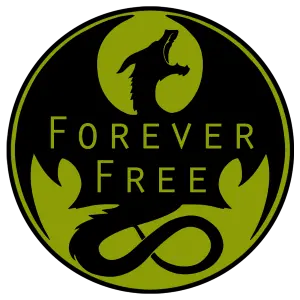 Load order: 
I highly suggest using LOOT to place this in your load order to avoid any conflicts with other mods you may be using. 
Credits:
jet4571:  For the original mod and giving me permission to port it and modify it for SSE.  Many thanks for this!!
Apogee777:  For the original banner image
bchick3:  For making a great guide that helped me port over a cool mod like this
Bethesda:  For making Skyrim SE
The Nexus Community:  For a great bunch of people that have been supportive and have made gaming and modding fun.  Thanks so much!
My other ports from Oldrim:

Underwater Treasures SSE

Freshly Picked SSE

Cake O'Clock - Hearthfire Bakery SSE

Dwemer Fairies SSE

Exposed Armors - He-Man Outfit SSE
Freshly Ground SSE

Alternate Book Fonts SSE

Collect Ivy SSE

Shields of Skyrim SSE
Tempest Snow Elven Sword SSE
The Honey Spirit - Liquor Shop in Solitude SSE

Amulet of Auriel SSE
Hidden Treasures SSE
Seedy Merchant SSE
The Mystery of Icebound Crypt SSE
Hamvir the Ghost Follower SSE
The Golden Hen Restaurant SSE

Freshwater Cave Player Home SSE
Mushroom Soups SSE

Harvestable Elves Ear and Frost Mirriam SSE

Lumberjacked SSE

Psilocybin Mushrooms SSE (Psychedelic Shrooms)
Filled Pots SSE

Golden Egg Treasure Hunt SSE
Bau Pet Supplies for SSE

Frostflow Lighthouse Player Home SSE
Archmage Necklace SSE
The Drunkards Drinks SSE
The Bloody Tankard SSE
Buyable Decorative Daedric Shrines SSE
Gourmet Gourds SSE
Chaurus Egg Cooking SSE
The Merry Snowberry SSE
The Golden Rose SSE
Breezehome Basement 3x2 SSE
Disclaimer:
This mod is not to be uploaded to another website or sold under any circumstances.  It is a Nexus exclusive and its going to stay that way.   I am not the original author,   jet4571 is.  If you want to show appreciation,  please consider endorsing the original mod.  If you like this mod,  please endorse it.
Final Thoughts:
Once again,  many thanks to jet4571 for allowing me to modify and port this over.  This is a great mod for Hunters and for serious role-players.  I like how they add to the immersion of Skyrim.  If you see this mod on any other website,  it was stolen and an illegal copy and should be reported to a Nexus Moderator immediately.  I will try and look over the post section everyday for comments,  criticisms and issues.  Please keep in mind that I work full time but I will try and help out whenever I can.