File information
Created by
Kinkojiro
Virus scan
Some manually verified files
About this mod
A few quality of life features from Expanded Galaxy Mod (ME3) ported to LE3. As EGM will take a long time to be ported, a few behind the scenes features that improve the gameplay are being added earlier. Over time this mod will gradually become more like the full EGM experience, as more content is added.
Requirements

Permissions and credits

Translations

Changelogs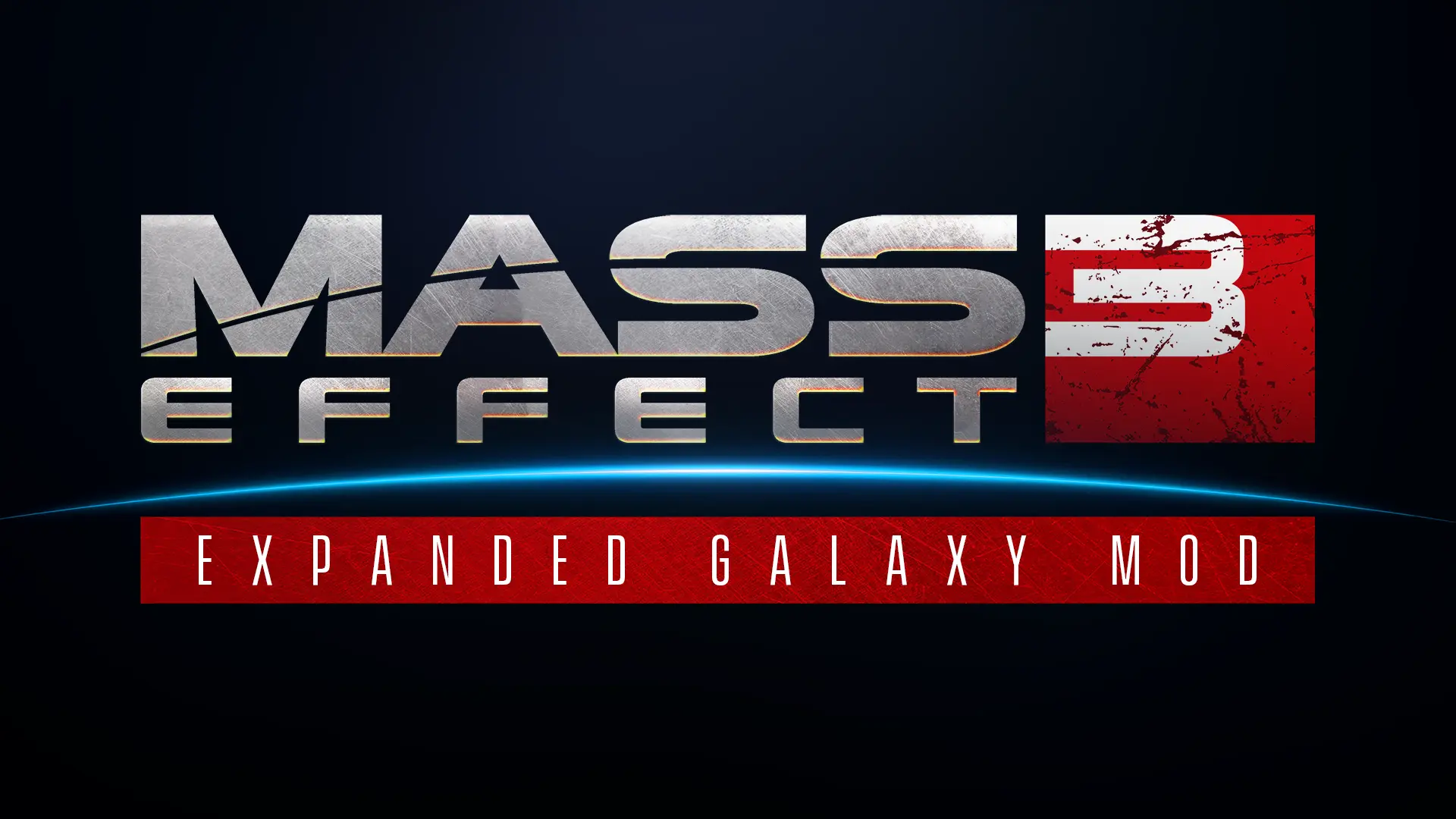 EGM for LE3
These features have been ported from
Expanded Galaxy Mod (ME3)
.  The core EGM functionality, a few immediate changes have been ported that generally improve quality of gameplay, plus optional modules that overhauls the Normandy, creating an evolving and lively base and improves the war asset system to create the sense of the ship being a small refuge in a vast and changing galactic conflict.
NEW Visitors and Conversations Module (Optional, English Only)
Visitors that stop by on the Normandy and conversations including: EDI Holo in the cockpit, Jack and her Students, Grunt and Aralakh company, Geth Fighter, Geth Primes, Shadow Broker Wet Team, comments in the Normandy Range and more.  Some visitors require loyalty from ME2. Requires Normandy module.
Check the Normandy map to see their location.
EGM Core Quality of Life Features New Weapons
- Collector SMG, Collector Sniper, Geth Spitfire, Gladius M-57
Gameplay improvements
- Change armor at mission launch, change loadout at any time, portarms, cutscenes use the proper weapons.
Mission Timings
- Preset when DLC and other missions unlock
Normandy Conveniences
- Sprint/walk through scanner, CIC war assets terminal, visible engine room as in ME2.
Normandy Immersive Overhaul (Optional - requires Community Framework)
New and evolving Crew
- Set your XO, Marine Officer, decide on numbers of Marines, Medics, Engineers and other crew.
Customisable Normandy
- Add a firing range, vehicles and other equipment all controlled from the new ships manifest.
Normandy Radio
 - Optional Radio with multiple different background musics and playlists to collect. Optionally can be used in cabin and/or galaxy map .
Cabin Romances
- Get an interactive picture from Shepard's love interest, invite them up to spend time with Shepard in the cabin.
ME2 Weapon Imports
- Import weapons at the correct level from ME2. All weapons reach level X on first playthrough if ME2 imports are used.
Immersive improvements
- Restored conversation beween Ashley and Liara, unblocked windows, new cabin models and much more.
Galactic War (Optional - War Asset System is in BETA)Immersive Galactic War
- The Normandy becomes a small part of a galactic spanning war. Read customised Intelligence and see a map that reflects the war situation.
Expanded Galaxy Map
- All the systems from all the games.
Revised War Assets (BETA)
- Improved war asset system which reflects better the lore and Shepard's choices in previous games.
Map Settings
- Choose whether to switch Reapers on or off, show assets % always or only after scanning, shorter relay video and other conveniences.
Normandy performance
- Buy upgrades that impact the Normandy's performance in the map or recruit Engineers whose skills can further enhance the ship.
Note:
It is best to use the Galactic War module from the start of a new playthrough. Otherwise war asset values will be out of line and cannot be retro-actively changed.
Squadmate PackSquadmate Casuals
- Set squadmates casuals that the use on the Normandy and Citadel, adjust via EGM Settings in Mod Manager Tools menu.
New Armor for Tali
- Additional "hood down" armor.
Bonus squadmates
- Select from ME1/ME2 additional squadmates on N7 missions. (requires Normandy Module to be installed).
Extras (Optional small add-ons)Bonus content for LE2 - Fix Weapons in Cutscenes
In addition the cutscene weapon fix code has been ported and adapted for LE2. This can be downloaded as an qol add on for that game.
Installation
If using, install the
Community Patch & Framework
first.
Make sure you delete from Mod Manager any early versions of EGM called "Expanded Galaxy Mod (QoL)" these are now defunct and can break your game if you try to run them alongside current EGM.
Drag and drop onto
Mod Manager
and Import, requires the latest version. When you "Apply" the mod EGM Settings will automatically run.
You can also access EGM Settings at any time from the Tools menu - EGM Settings LE.
Language LocalizationModule - Localization
Core - Completely Localized  (English / French / Italian / German)
Squadmate   - Completely Localized  (English / French / Italian / German)
Normandy     - Audio conversations (e.g. Liara/Ashley, Mission timings) are completely localized. Text is in English.
Visitors          - Not Localized.
Galactic War - Not Localized.
Extras- All are localized except the Gasbags.
Compatibility
EGM is not compatible without patching with mods that make changes to the Normandy.  Other mods that change the galaxy map will generally not be compatible with the Galactic War module.
Mods that change NPCs need to use the
Community Framework v1.6.7  or higher
to ensure compatibility.
Compatible and recommended Mods by the EGM team:
EGM Armors LE3
- add MP N7 armors and Ark Mod armors. An extra visitor is possible.
Miranda Mod (LE)
- adds Miranda to the Normandy as a full squadmate post Horizon. Requires Normandy module.
Sil's Spectre Expansion Mod
- extends the Galactic War module including lots of new mini assignments and new systems from the extended lore. Requires Galactic War.
Compatible and recommended Mods by friends and collaborators:
Beccatoria's Liara Mourns the Dead (v1.1)
- this adds a new conversation and cutscene for Liara post the coup. There was a similar convo in OT EGM but this is a big improvement on that, so we suggest using this instead of us porting it. This mod will delay Ash's visit to Liara's office until the next time you visit the Crew deck, as long as that is before a couple of missions are completed.
Herobrine's Expanded Key Bindings - allows user to change keybindings including EGM's. (In development)
Future versions of EGM
Thanks to the efforts of Mgamerz, SirCyrtyx and HenBagle among many others the Legendary Explorer toolkit is a much improved version of the modding tools. However we cannot simply just convert files from OT to LE.  We have to remake every change by hand.  Our intention is to slowly rebuild EGM. The scale and timeframe of the rebuild will be totally dependent on how much time life affords us.
If you have any features that you think are a top priority then please drop us a comment. We cannot be port any parts that included assets from multiplayer (which include the Ark Mod missions).
MADE WITH LEGENDARY EXPLORER
Credits
There are way too many people to thank who have contributed to EGM and its sub-mods over the years.  Apologies if I have forgotten anyone.
The original EGM team (2014-2016)
Lead Designer, Original Script and Programming: Kinkojiro
Writing, Testing and Concepts: Rusm0
Writing and Editing: lmorri8165
Additional Writing and Design: Sil
Lead Artist: Mellin 
melllin.deviantart.com
Lead 3d Artist: Patadepocho 
www.artstation.com/dblanque
Lead Video Artist: Orikon
Additional Design: Realsurvivor, IceWaterKraken
Toolkit Programming:
Mgamerz
SirCxyrtyx
Content Contributors:
Deager - Vocal compositions
Mgamerz - Technical and Controller Compatibility
Giftfish - Thanemod content, and plenty of moral support
Art:
Euderion - 
euderion.deviantart.com
MandyAlenko - 
mandyalenko.deviantart.com
nach77 - 
nach77.deviantart.com
Reis1989 - 
reis1989.deviantart.com9
Sebdoom (End Fleets Music) - 
Mass Effect Andromeda Interpretations | Sebdoom (bandcamp.com)
Additional huge thanks to:
Audemus, Aquadron, BladeZero, Bluephoenix73, Cheeseycom, CreeperLava,  Deadspear, Forgetti, Khaar, Ledbetterman, Valmar, Viper, WarrantyVoider
LEX Conversion by Kinkojiro 
with art by Mellin 
melllin.deviantart.com

Contributors: Audemus, Sil, Scottina
with massive thanks to:
Mgamerz, SirCxyrtyx, HenBagle, Khaar, Grixdale, Thalia