Take ownership of any local workshop, consolidate all owned workshop inventories, disable settlement attacks, keep ownership of raider vassals plus a bunch of survival utilities when you just use settlements for stashing stuff.
[ aka SKK Workshop Utilities ]
Created for survival exploring to avoid repetitive workshop unlock quests along with irritating settlement attacks and inventory/load management. This mod will set you up with a [ .SKK Workshop Utilities ] holotape automatically generated in your MISC inventory to: 
(1) Take ownership of a local unowned workshop or disown a local owned workshop.
(2) Take ownership of all workshops and enable map markers.
(3) Consolidate all owned workshop inventories to the local workshop.
(4) Disable or enable irritating settlement attacks.
(5) Disable or enable settlement ownership loss due to low happiness.
(6) Disable or enable Minuteman settlement radiant quests (kidnapping, problem with) 
(7) Disable or enable raider vassal workshop automatic ownership.
(8) Show Workshop ownership stats to detect corruptions in your workshop lists. 
Not only that, there is more survival stuff ...
(9) Sleep & AutoSave anywhere with a magic sleeping bag.
(10) Enable Survival fast travel between owned settlements.
(11) Fill all inventory water bottles at once from clean or dirty water sources.
(12) Auto scrap junk items to components as they are added to player inventory to save weight.
(13a) Enable or disable workbench construction without local leader perks to save 5 Charisma points for something more survival.
(13b) Deploy a cooking pot anywhere outside of a settlement to improve your raw products.
(14a) Cook Wild Vegetable Starch for more gluey glue.
(14b) Cook Wild Mutfruit Puree for yummy rad free health and energy.

User Notes (RTFM)
(1) You can only take ownership of workshops registered with the base game WorkshopParent script (check your settlement mods), but they can be in any unowned state:  neutral, hostile, Raider vassal, BOS farm ... 
If you take ownership of Finch Farm, the associated quest DN121 Out of the Fire will not start when you talk to Abraham so talk to him *first* if you want that sword. All other settlement related quests still work OK (Returning the Favour, Troubled Waters, Taking Independence).
Taking ownership will count towards the 
MinutemenOwnedSettlements
 trigger (taking and defending the Castle) when there is at least one settler. If you take ownership and *also* complete a Minuteman unlock quest, the settlement may be counted twice towards the MM quest trigger. If that's a problem, don't force ownership or don't initiate unlock quests or just 
kill Preston
and dump the MM.
After taking ownership of a workshop, you still need to clear hostiles or you will be attacked by the locals (you know The Castle, Hangman, Jamaica etc). You can hide from the hostiles, take ownership from a distance then build turrets so the settlement cleans itself out which is like, totally amusing and saves ammo.
(3) Consolidating workshop inventories collects and moves everything to the current workshop, not just crafting components. With settlement attacks disabled your ever useless settlers will not need to steal stuff out of that workshop, so miniguns and ammo are safe. To include interior (player home) workshops like Home Plate you must register them with WU by consolidating to them when you are in their interior spaces. This is similar to the basic function of
SKK Quantum global workshop Storage
which dynamically links workshops and all workbenches, but does not conflict.
(5) The workshop happiness mechanic is complex and a bit broken. It affects the possibility of losing workshop ownership plus the resource production rate and new settler recruitment. If you are not recruiting and don't care about resources there is no need for beds, food or anything.  Some quest related workshops can NEVER be lost through low happiness.
(8) If workshop list problems are reported read this article: 
SKK Workshop Utilities - Corrupt Workshop Lists
  https://www.nexusmods.com/fallout4/articles/1343 
(9) The magic sleeping bag will allow a full 8 hours for the Well Rested bonus, because when I go camping I sleep really well. Autosave after sleeping only happens when you exit the PipBoy menu. If you have 
FO4 HOTKEYS
 installed (PC only) you can hotkey Sleep & AutoSave with an appropriate keybind: [HotKeys] F1= cqf SKK_WU "SKK_WUMainScript.SleepSave"  
(12) Automatic scrapping player inventory junk items into components to save carry weight does not scrap any quest unique or most crafting junk items. If it scraps something you want to keep (like pre-war money or smokes), use this article
SKK Scrapper editing list items
 to edit the SKK_WU*ItemLists scrapping lists.  This is a simplified function from 
SKK Scrapper
, if that mod is installed this function is disabled.
For performance, junk scrapping is batched looking for several seconds delay after adding the last item before scrap components appear. If the display does not keep up, close and reopen the player inventory to refresh.
(13a) Rather than hacking base objects, this just adds and removes the LocalLeader perks if the player does not already have them.  
(13b) You can only deploy one mobile cooking pot at a time. There is a warning message if it can't find a safe place to unpack. It automatically packs up when its 3D unloads, over 10K game units from the player.
Compatibility

The mod has no dependencies on extenders or DLCs and does not change any existing base game scripts, assets or objects. Yes that's right, this mod does not hack any base game quest or scripts to work. As with 98% of SKK mods, its 100% pure new Creation Kit forms and scripts. This means that it has no load order dependency and can be safely disabled when you get bored with it. Any cooked wild products will vanish from inventory.
If you are running another SKK mod that already enables any of these functions, that is detected and the specific function is disabled in this mod to avoid duplication or conflict. The holotape menu entry changes to indicate which function is being manged by which mod.
Known Issues

(1) Do not enable the fill all bottles function if you use a mod that enables water bottle filling outside of survival mode (like Anyone Can Fill), they will conflict.
(2) Disable auto junk scrapping when you are doing quest Painting the Town or you will not be able to make green paint. 
(3) Children may sometimes flee from farms (Nordhangen, Sommerville) when ownership is forced.  Boo-hoo, shouldn't be in my PEGI18 game anyway.
Nexus PC manual download installation:
 Copy SKKWorkshopUtilities.esp and  SKKWorkshopUtilities – Main.BA2 to your...\Fallout 4\Data directory, enable in the Bethesda mod menu, mod manger or whatever.   
Nexus PC manual disable: 
You can disable the mod at any time. Owned workshop settings will stay persistent on the last setting, but any Wild* cooked products will disappear from inventories. Only remove mods if you are happy to accept potential conflicts from load order changes in a save game. If that is unclear, be safe and don't ever remove mods from a savegame.
Bethesda.net users: 
Disregard PC manual install, removal and console sections. I use this same description text on nexusmods.com and bethesda.net for PC & XBOX as I CBA to maintain multiple edits. 
Nexus snowflake FAQ

> Why is there no ESL version ? Because maintaining quality scripted mods already involves enough hassle. 
> Why holotape rather than MCM ? Because 90% of SKK mod users are on Xbox which does not support F4SE.
*** THANKYOU FOR HELPING RATE THIS THE NEXUS HOT MOD ***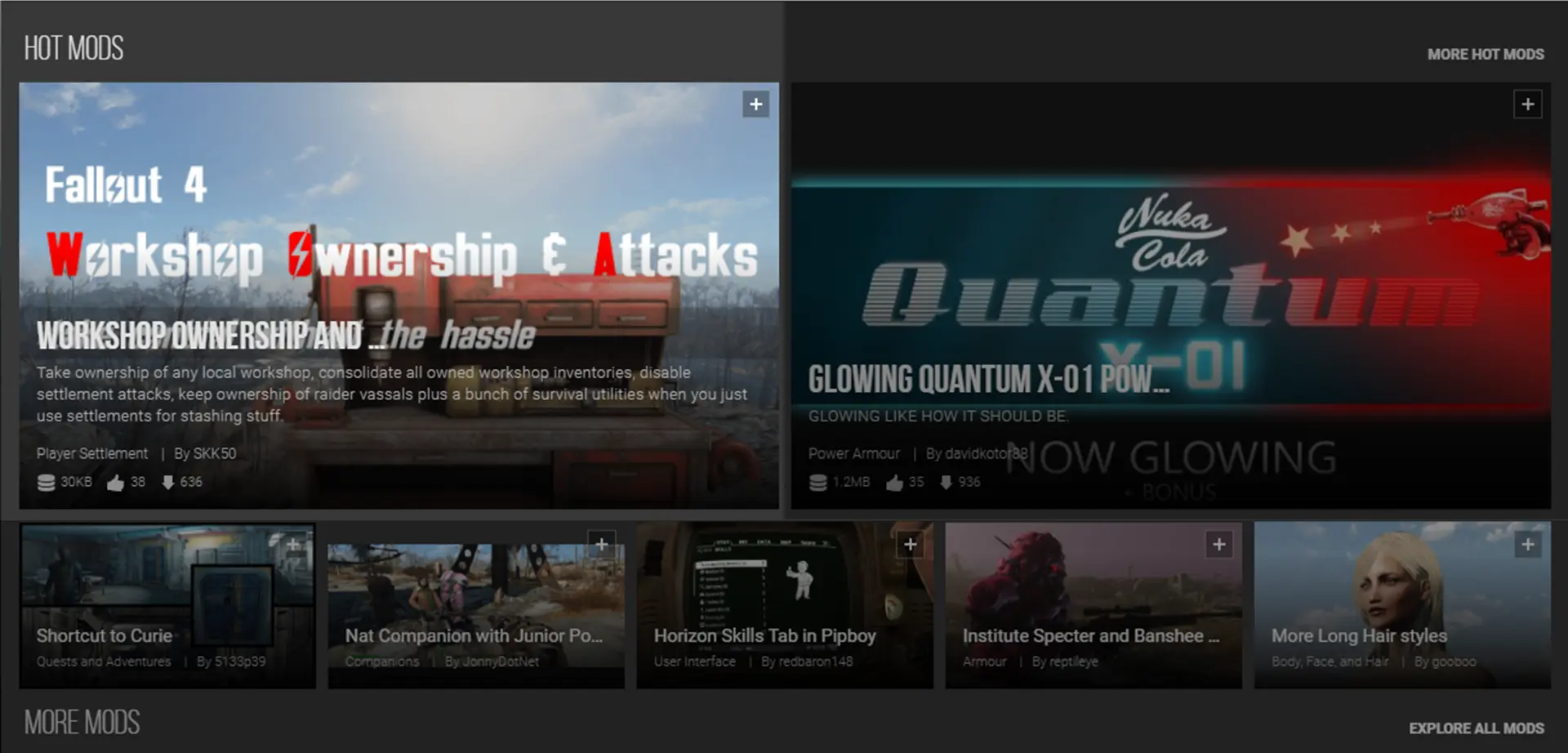 Platforms:
PC nexusmods.com or bethesda.net
XBOX bethesda.net
PlayStation® can not be supported due to Sony Corp. scripted content restrictions.