File information
Created by
isoku-TechAngel85-SparrowPrince
About this mod
With this mod creek, lake, marsh, pond, river, and ocean water are once again visually and aurally distinct from one another.
Requirements

Permissions and credits

Translations

Turkish
Spanish
Russian
Portuguese
Polish
Mandarin
Italian
German
French
Czech

Changelogs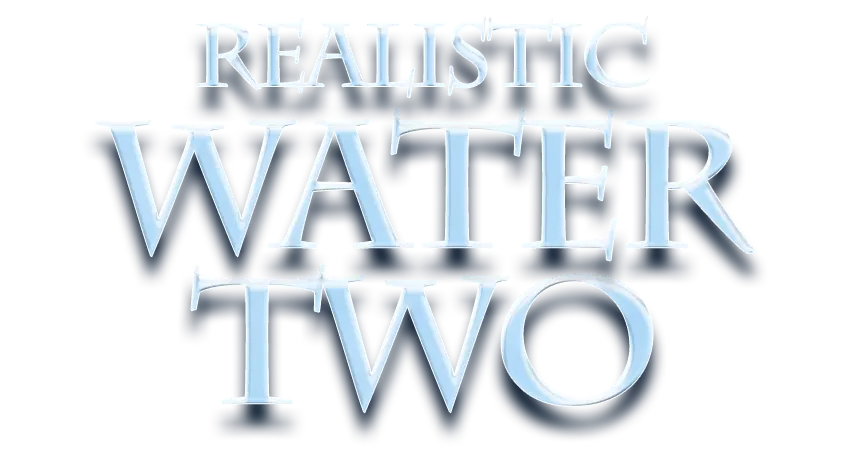 Legendary Version
|
Xbox Version
| 
Frequently Ask Questions
Realistic Water Two Patch Hub
Featured on PC Gamer's "
The Best of Skyrim Special Edition mods
".
Overview
One of the many upgrades to Skyrim Special Edition is the new water flow system that allows water to bend around turns and change speed depending on the environment. While the water is much improved over the original edition of Skyrim, flowing water was applied to nearly all bodies of water, indiscriminately, resulting in odd looking water in certain situations, such as small marsh pools that flow like rivers. Realistic Water Two's (RWT) goal is to correct these issues; thus, providing realistic bodies of water. Lake, marsh, pond, river, and many more waters are provided to create visually distinct bodies of water.
Features 
Lakes and ocean water share the same water, visually. This fixes most distant LOD issues.
Lakes, ponds, marsh, and small bodies of water no longer flow in any particular direction.
Ponds, marsh, volcanic, and other waters have unique colors.
Lakes, rivers, and oceans have new, ambient sound effects. Ponds are silent.
Animated water for blacksmith troughs.
Icebergs and ice chunks will sometimes crack and gurgle.
Waves from the Dragonborn DLC have been added to the coastline of Skyrim.
MCM to support RWT features and to expand those features to other mods.
Water activators don't receive ripples during rainfall in vanilla. This is why small pools of water often don't have ripples during rain. RWT has a lightweight feature for adding ripples where these activators are used. It includes a lightweight script that enables/disable the ripples during/after rainfall. Thus far this feature has only been expanded to: Clearspring Tarn, Whiterun city pools, creek ends in Tundra around Whiterun, and Markarth Warrens area.
Assets
Large waterfalls now have improved textures, smoothed 3D geometry, faster animation, added particle splashes, expanded steam cloud particles, color edits, and increased effect distances.
Waves were slowed down, retextured, and now have a crashing water sound effect. The splash/foam effects were made more visible.
Foam effects have been retextured and were generated from a high resolution 3D water simulation.
Splash effects have been retextured and captured directly from high quality 3D particles.
Fog and steam cloud textures have been retextured.
Rapids have been changed to remove ugly lines and seams. Particle splashes have also been added to rapids near rocks.
Churning water and fountains have been edited to reduce visible seams. They have also been retextured.
Character splashes have been retextured and reworked. Their 3D model has also been tweaked to provide further realism.
Rain ripples will no longer slide across the surface of the water. They've also been retextured and transparency has been increased.
The green reflections emitted by some meshes when viewed at a certain angle is a bug that was introduced with Skyrim Special Edition. This bug is now fixed.
New meshes for volcanic water vents that have a heat wave effect.
New sound files for water, waterfalls, waves, and ice.
Optional Options
 (available in the main archive)
Waves: New hand-placed waves added along the coast of Skyrim at locations that make sense. Additional waves have also been added to Solstheim. MCM only.
Extended Ambiance: Extends the lake and ocean ambient looping sound effects from 30 seconds to 50 seconds.
Half Res Textures: These optional textures are provided for users playing on low settings. Textures are 1K; half the size of vanilla.
Smaller Water Drops: These optional textures will produce a smaller water droplet for water drip effects. This is provided for users you feel the droplets are too large in vanilla, however, this could make them difficult to see.
Version Scheme
Since I (TechAngel85) started managing several mods for various authors, I adopted a standardized managing style to keep myself organized while doing so. One of the changes I typically make is to regulate the version scheme with something that is structured and makes sense. The new scheme will be as follows:
Major.Minor.Hotfix
Major = major changes to assets which alter the look and feel of the mod, new scripts (if applicable), new meshes or textures, etc.
Minor = compatibility updates, new patches, larger bug fix roll-outs, existing mesh or texture edits, etc.
Hotfix = hot-fixes, single bug fixes, update to installer code, etc.
Installation / Updating / Uninstall
To install, simply download the file using your respective manager and use the provided FOMOD installer.
File structure supports BAIN.
Manual installation is not supported. Use a mod manager! 
Supported mod managers include: MO2, Vortex, and WB
ENB Users:
The core textures are designed to work out-of-the-box with ENBSeries water effects. Ensure your 
enbseries.ini
file reflects the following:
[EFFECT]
EnableWater=true
[WATER]
DisableDistantReflection=true
EnableCaustics=true (optional but adds a nice effect)
EnableParallax=true
EnableDisplacement=true
The remainder of the
[WATER]
settings are user preference; adjust them to your preference. The following are a few tips for ENB users:
If the water is too clear, turn up the Muddiness setting.
Underwater caustics effect requires ENB Helper SE.
If experiencing water clipping through other planes of water that have been placed on top, please report the location of the issue. Turn off Tessellation to fix this until the issue is fixed on our end.
Updating:
Create a save indoors before updating to newer versions. MO users should choose to "Replace" the mod. Wrye Bash users may need to Anneal some mods.
Uninstall:
Use your mod manager to remove the mod. It is not recommended to uninstall mods mid-game.
Plugin Load Order
RealisticWaterTwo - Resources.esm
mods! mods! mods!
RealisticWaterTwo.esp
RealisticWaterTwo - ModPatches.esp (any patches installed)
CompatibilityCompatibility Patches
All official patches are available on the 
Realistic Water Two Patch Hub
.
Not Compatible
The following mods are not compatible with Realistic Water Two:
SSEEdit Script - Fix Oldrim Mods Waterflow
 - (
link
)
This mod checks for the existence of "RiverWaterFlow" on cell records. RWT intentionally changes some of these records to provide the various custom waters. This script
cannot
be run on any plugins provided by Realistic Water Two; doing so will break intended edits.
RecommendationsINI Edits
Turn off Sky reflection in your INI. Sky reflections will cause the LOD seam to be more visible on the water's surface. 
BethINI
is highly recommended!
Majestic Mountains
- (
link
)
Install Majestic Mountains
before
RWT.
Majestic Mountains includes three meshes that conflict with RWT. Users should overwrite Majestic Mountains with RWT, for the time being. They are two creek meshes and one river rapids mesh.
SMIM
- (
link
)
Install SMIM
before
RWT.
SMIM has one mesh that conflicts with RWT. Users should allow RWT to overwrite this mesh when using both mods or delete/hide the file from the SMIM installation. RWT fixes a green glow on this mesh caused by certain lighting conditions. The SMIM mesh was used as the base for the included, fixed file so users are still getting the SMIM fixes/updates.
ENB Particle Patch
- (
link
)
Install ENB Particle Patch
before
RWT.
RWT needs to overwrite a lot of effect files in ENB PP. If you don't overwrite ENB PP, you will be missing a lot of visual upgrades and features in RWT. The ENB PP fixes for glowing assets are also contained within RWT's assets, so you will be getting the best of both worlds by overwriting ENB PP with RWT.
It has also been noted (thanks noxueaglemail) that the included ENB PP texture
gradwhitewater.dds
can cause black spray on rapids. Please hide or remove this texture, as RWT will not overwrite it.
Recommended ModsWatercolors
The following mods provide alternative water colors for RWT. We provide no guarantee they are updated for the current versions of RWT. Nor will we provide support for them. Seek support on their mod pages.
Other ModsUnofficial Skyrim Special Edition Patch
- (
link
)
An essential mod for everyone.
SSE Engine Fixes (skse64 plugin)
- (
link
)
This mod will fix several issues within the game engine, including some FPS issues with tree LOD, but it's recommended here because it also includes a fix for the new water flow system being tied to the game's timescale. Without this mod, lowering the timescale will slow down the movement of river water. This mod fixes this so that the water flow speed will remain consistent across all timescale settings.
Bug ReportsA quick statistic: 90% of reports are user error!
Before reporting any bugs please ensure the issue has been narrowed down to Realistic Water Two and is not a conflict between mods. To do this:
Remove all the mods except the game's content, the unofficial patches, and Realistic Water Two.
Ensure Realistic Water Two plugins are loaded and the ESP is the last mod. If you have other plugins from RWT, follow the load order above.
Run the game.
At the menu screen, open the console (~)
type in: coc riverwood
Once in game, open the console again and type in: tmm 1
Open your map and travel to the location where the issue was presenting itself. If combat is an issue, you can turn it off with the console command: tcai
If the issue is no longer present, it is either your mod list or your save file that is the issue. If the issue is still there, you've likely found an issue with the mod. Please report the issue using the "BUGS" tab above. If you're able to narrow the issue down between RWT and another mod, please report it so that I can look into making a patch.
Else, if you're not sure whether or not it's a RWT issue, you should simply post in the POSTS section. If it's a bug, we can move it to the bug reports later.
Due to the statistic above, users who don't follow these procedures to narrow down the issue before posting a bug report, will simply have their bug reported deleted. These users didn't take the time to follow these procedures and wasted our time by having to do it for them. We don't have time to sort through bug reports that end up being user error. We will help any users who have diligently attempted to narrow down the issue to RWT.
Frequently Asked Questions
We have put together a
FAQ
for users. This should be the first thing users check when investigating issues. Read it before posting a bug report or posting about issues!