V 1.6 Update
Includes new color called Slow Green (screen shots soon) and a FOMOD installer.
This mod aims to recolor the water in Skyrim to be more colorful, yet retain a sense of realism. Each type of water is carefully colored and tailored for each location and type. Watch the water color and Dynamics change depending on weather and lighting.  
Remember to come on back and endorse if you liked the mod!
This mod includes:

Tweaked water colors and properties
New 2k normal maps
A Realitic Waters 2 Version. This isn't a patch. Use this version if you're using RW2.
 ENB Settings:
Set your ENB water muddiness to around 65 for best results. You won't get neon colors in foggy or rainy weather.

Choose Between Slow Green, Blue or Green Mountain Water

Check out the Rest of Skyland:
Skyland Landscapes
Skyland Towns and Villages
Skyland Whiterun
Skyland Imperial Forts and Dungeons
Skyland Riften
Skyland Nordic Ruins
Skyland Markarth
Skyland HD Road Signs
Skyland Ships and Shacks
Skyland Winterhold
Skyland Watercolor
Skyland Solitude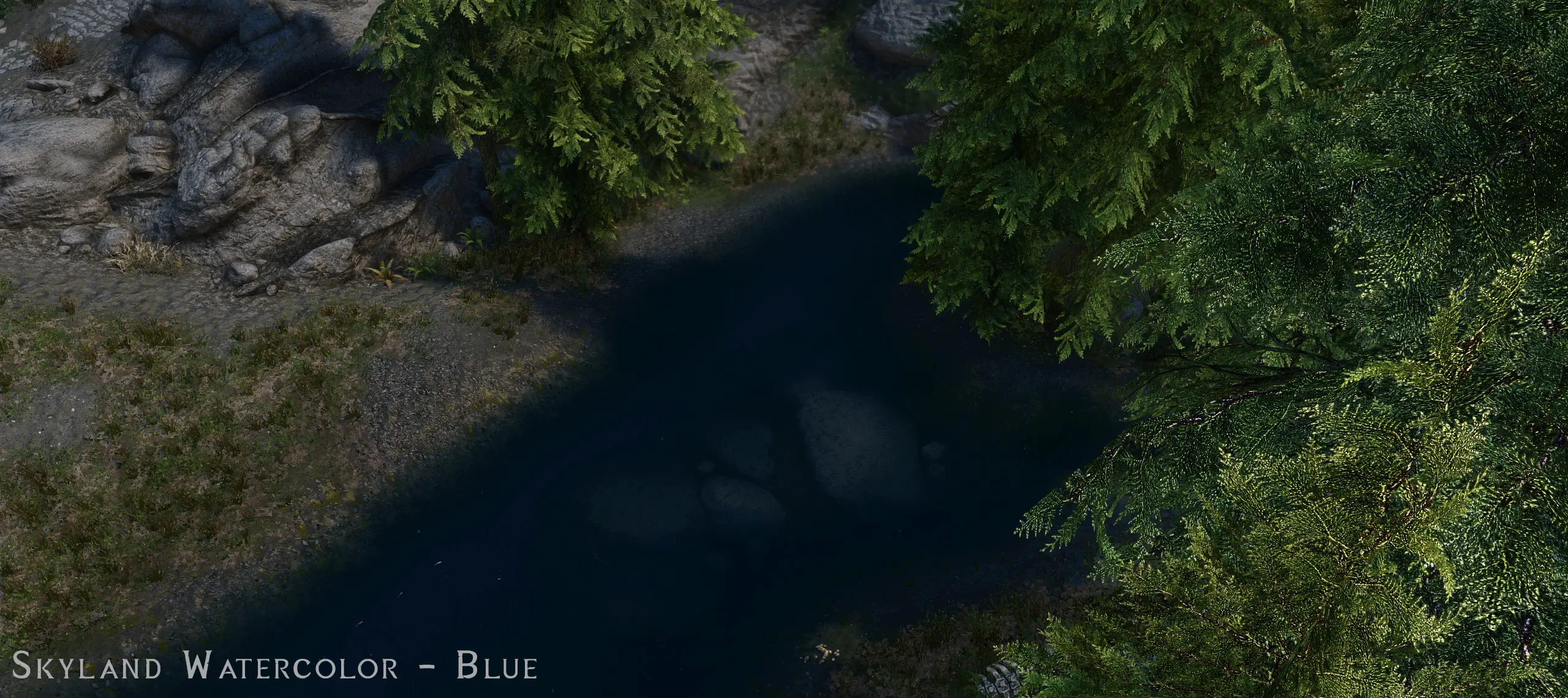 Update:
I understand that no two load orders are the same and that there is no one size fits all mod. So I've tried to cover as much as I could with this big update.
So I have greatly updated this mod. First and foremost, there are now two colors. Blueish water and greenish/blue water. The greenish blue is what's in the video, but seems to be more greenish and to have more or a white halo around the shore during fog and stormy weather. The blue water is a dark to light blue depending on depth, better shores and turns a lighter blue during fog and stormy weather.
To help people with their load order, I've included three types of files for each color. There is the base version that works great with vanilla water. Then there is the Realistic Water Two (RWT) version that you should use if you're also using RWT. This version doesn't include my normal maps. Then there is the iNeed version. Use this version if you're also using the iNeed mod but not RWT. Lastly, there is the RWT/iNeed version. This version is for those of you using RWT and iNeed in your load order. 
I hope I've covered all the bases and I want to thank each and every single one of you that commented and gave amazing feedback and really helped me out with testing this mod. It's people like you that make me a better mod author and it's people like you that have made Skyland the library of mods that it is. Thank you so much for everything you've done and everything you're doing now. 
Works with RW2 and iNeed.
Place after RW2 and iNeed.
Normally with your mod manager as per it's instructions. Manually install by copying the contents of the data folder within the zip file into the data folder of your game.