The Southerner Diaries - A Soundtrack Expansion
The Southerner Diaries - A Soundtrack Expansion
File information
Created by
Pat Mahoney
About this mod
44 professionally mixed, lore-friendly songs to enhance your Skyrim playthroughs. Inspired by Irish folk music and other celtic influences, as well as popular film scores. Over 2 hours of custom music, lovingly composed by Pat Mahoney.
Requirements

Permissions and credits

Mirrors

Changelogs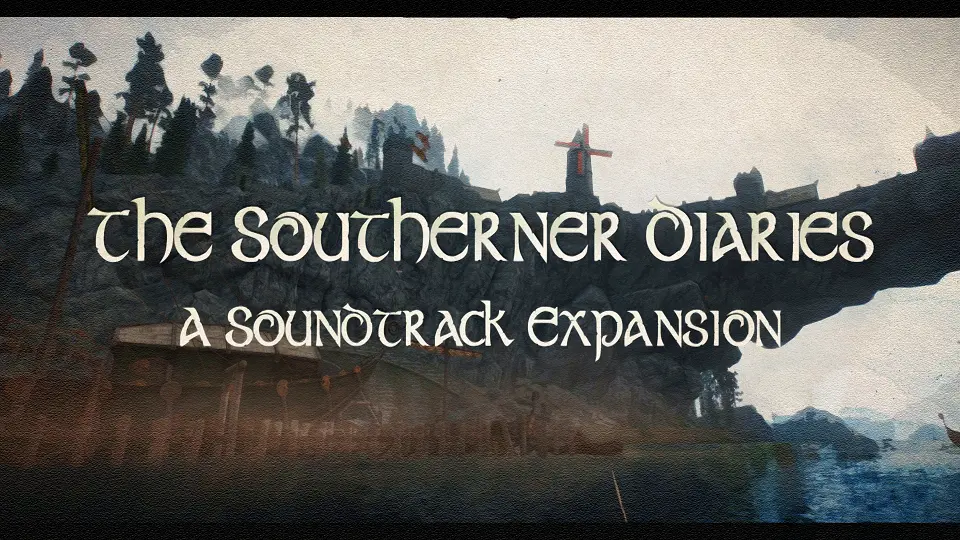 It was an unseasonably warm October morning.
Wandering alone through the Wilds of Virginia, I lost myself in a shady grove.  
In quiet contemplation of my personal growth these past few years, I reflected upon my Irish roots.  
I present to you my musings.
Have you ever listened to Jeremy Soule's iconic score and found yourself wanting more? 
I did.  And since my last soundtrack mod, I've been quite busy learning and growing as a musician.
This mod is my next musical contribution to the Nexus. 
Inspired by "The Northerner Diaries" by Jeremy Soule, this mod is a collection of my emotional contemplation over the last 4 years.

In the early 1960s, my grandparents immigrated to New York from the Republic of Ireland.  
Having traveled to the land of the free with only the shirts on their backs, they worked hard to make a living for themselves. 
The beloved couple were fond of sharing tales of their homeland, including personal anecdotes about what life was like as Ireland confronted difficult choices during WWII.  My favorite story was about the cleverness of my grandmother as she sheltered and fed a stranded Nazi fighter pilot, while secretly sabotaging his planes to prevent further killing abroad.
Since then, Ireland has modernized, growing from a rocky isle laden with farms to an icon of progress in the developed world.  And as my Grandparents reflect on the great country from whence they came, you can still see glimmers of hope and youth in their eyes.  As they get on in years, I know their time to pass on is coming.  Grandpa has cancer and Grandma has Alzheimer's.  
And all I have are fond memories.
"The Southerner Diaries" have been curated from personal projects including
"Faded Glory - A Post-Apocalyptic Soundscape,"
 my recent performance as King Oberon in William Shakespeare's
"A Midsummer Night's Dream,"
 and select tracks from my OST for the upcoming game
"Mount and Blade 2: Bannerlord."


*44 songs at over 2 hours of original music.
*22 Exploration tracks
*10 Dungeon tracks
*7 Town tracks
*3 Castle/High Hrothgar specific tracks
*A special playlist for Blackreach to enhance its mystical creepiness


I am an Entertainer.
A jack of many trades; personal trainer, musician, and actor. 

 I was classically trained by a wonderful piano teacher since age 8, and have been mixing and mastering music ever since. I began doing fitness tutorials for clients and needed free music, so I wrote my own.  Years later, I began extending my talent to the modding community.  Now I have a major role in the upcoming game, "Mount and Blade II: Bannerlord."  The author of a 'Witcher' mod for it contacted me to be a contributing composer.  Please take the time to support the official release, when it comes out.  

 This collection of songs began as a passion project during a dark period of my life.
In 10 years, I've lost a mother to cancer, sold her house, changed careers, confronted dysmorphia, battled depression, rescued my marriage, and navigated the murky waters of political division in my family.  But I've survived. This album is but a snapshot of my journey.

So go forth into the cold of winter, wrapped in the warm blanket of my music.