Ljoss ENB for Cathedral weather - Night Eye - Real time snow cover - Performance friendly
Ljoss ENB for Cathedral weather - Night Eye - Real time snow cover - Performance friendly
File information
Created by
Sthaagg Memnochs
About this mod
Real time snow cover, Support Seasons & Vanilla screen effects (Night Eye, Berserker Rage, fade-to-blacks), Performance Friendly, 4 variations, Support Cathedral Weather and Obsidian, include Horizon fix.
Requirements

Permissions and credits

Changelogs

- Ljóss -
Performance Friendly Preset
with Snow Cover, Vanilla effect and ENB Light support
In Old Norse, ljóss means : light, bright, shining, light-coloured, fair, clear, evident, plain.
Nordic: Main Ljóss preset, Natural color with a nice fantasy touch. Nice and fresh!
Vivid: Vivid color and higher contrast. Ljóss with a stronger fantasy taste.
Stylistic: Desaturated version of the original Ljóss preset with a brownish touch. Warm and very stylish!
Gothic: High desaturated version with a dark & gloomy feeling.
Introduction:
Skyrim is a beautiful place, even more when you follow the amazing
Lexy's Legacy of the Dragonborn: Special Edition installation guide
. But, after I finished configuring my mod list, I had to accept that it's not possible to use the great presets available here and run so many mods on my 1440p screen without facing unpleasant slowdowns. Moreover, I wanted to build a preset exactly the way I wanted because there's always something that didn't suit me ;)
That's how my
Ljóss
preset was born.
My goals was :
Get the best compromise between performance & quality
Support vanilla screen effects like Night Eye, Berserker Rage, fade-to-blacks, etc... and those added by mods (toxicity, imaginator...).
Keep it easily configurable (check installation instruction below)
This preset is for playing not for screen archery, but I think i managed to reach a pretty good mix between performance and beauty. It is very easy to configure to your tastes
Note about performance:
Using a ENB preset always has an impact, including this one. The impact on performance increases exponentially with the resolution you use. The ideal framerate for Skyrim is 60 fps if you don't want game's physics going crazy. This means that on my setup with a framerate locked at 60, I get 53 fps at worst on a 1440p screen (only big cities with full JK Skyrim + Dawn of skyrim Director's cut goes below). This result is very hardware dependent, so it can vary a lot from one system to another.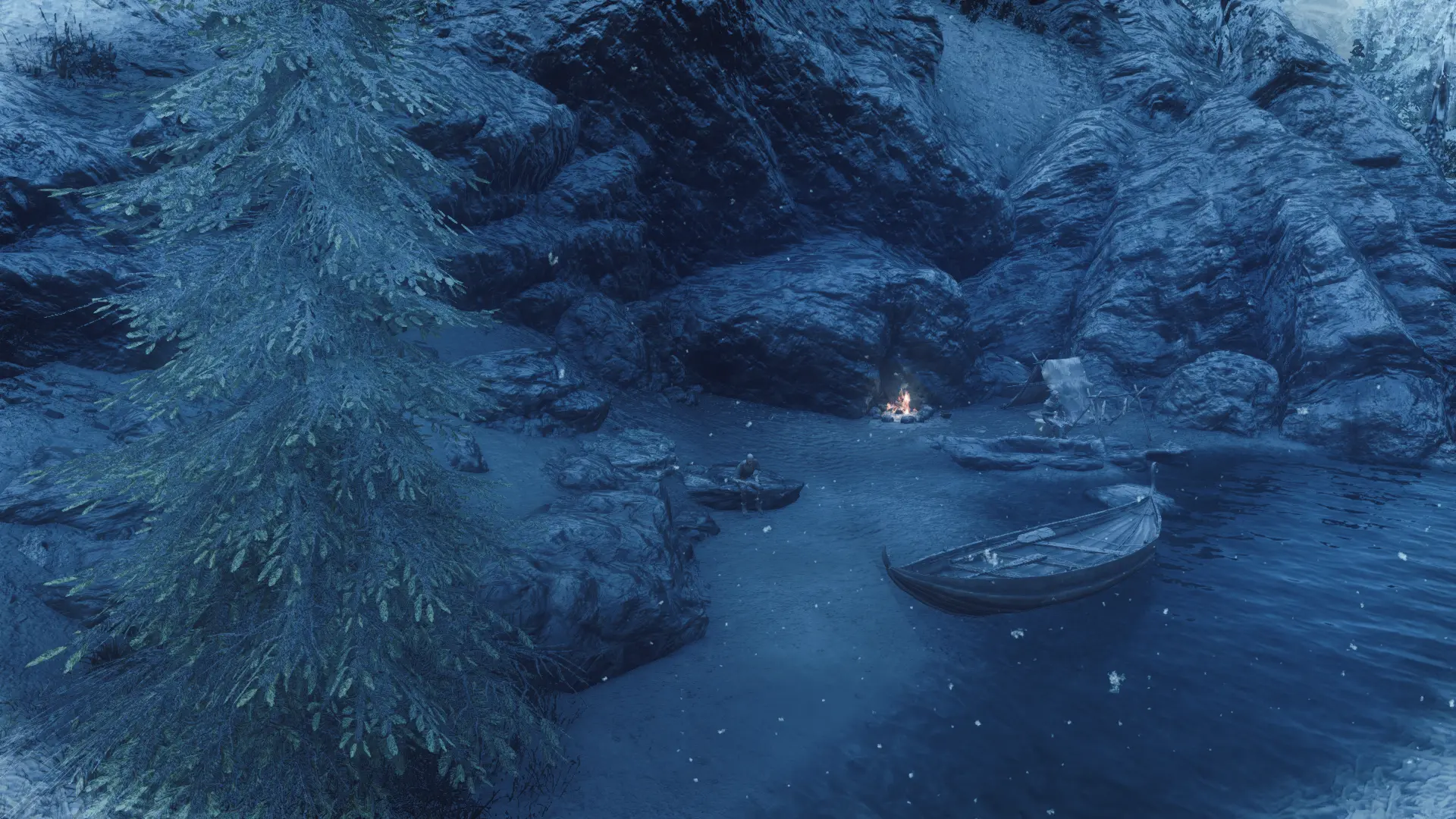 Includes:
4 preset variation : Naturalistic , Vivid, Stylistic & Gothic (Take a loot at comparison screenshots during installation)
Fake snow cover effect (Like screen above)
Lens Weather Effect (frost vignette and raindrops)
Perfect support of vanilla screen effects like Night Eye, Berserker Rage, fade-to-blacks, etc or the ones added by mods (toxicity, imaginator...)
Per weathers preset support Cathedral weather and Obsidian (configuration power are supported)
Horizon fix support
ENB Godrays
Enhanced Colors (Vibrance & Lut 35 pre-installed)
Contrast Adaptive Sharpening
Enhanced Lighting (ComplexParticleLight, Bloom, ENB light support)
Performance friendly Bloom (Reforged Bloom)
Performance friendly Anti-aliasing SMAA
Enhanced Shadows (Detailed Shadows, Distant Shadows, ENB Ambiant Occlusion, Skylightning & Shadows adjustment)
Realistic Skin colors & aspects (Skin Specular & SubSurfaceScatering)
Enhanced Sky & Water
Procedural sun
Deep of Field
Lettterbox (Optional)
Comparison screenshots :
Top Left is
Nordic
, Top Right is
Vivid
, Bottom Left is
Stylistic
and Bottom Right is
Gothic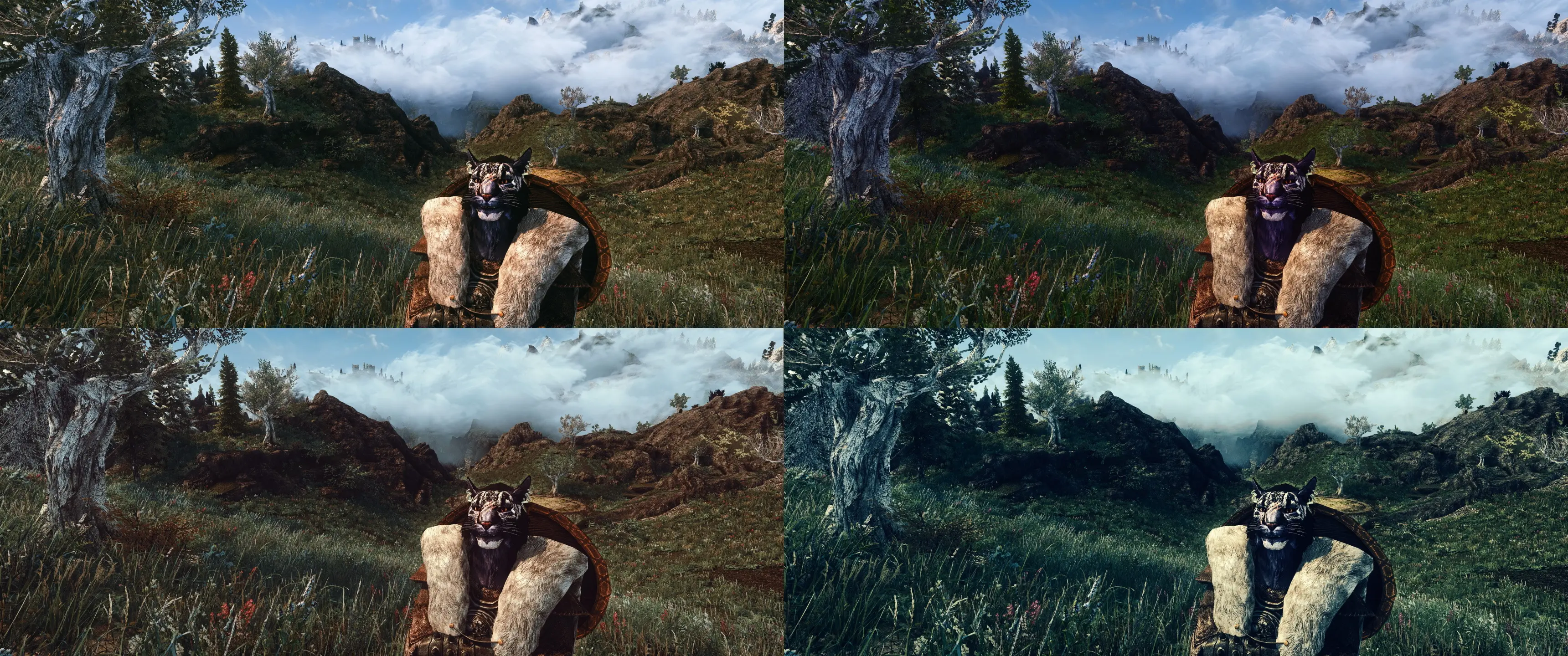 Installation Instructions:Requirement:
For Nvidia users (HDMI / DP users only):
Go to your Nvidia Control Panel (right click on your desktop)
Then go to "change resolution" and find "Output Dynamic Range" and change it to "Full". (if it is grayed out press "Use NVIDIA color settings" first)
For AMD users:
If you're using a AMD/Radeon graphics card you need to do a similar tweak, but you have to change the display pixel format instead. This can
be done by selecting "RGB 4:4:4 Pixel Format PC Standard (Full RGB)" instead of the default "RGB 4:4:4 Pixel Format Studio (Limited RGB)" inside of the AMD Catalyst.
Mandatory :
Calibrate your monitor properly, follow
these instructions
ENB Helper SE
Skyrim Particle Patch for ENB
Special Edition (don't use esp)
Please remove "PrivateProfileRedirector SE" if you use it, Boris mentions
incompatibilities
with enbs as it disables some weathers
Strongly recommended :
Embers HD
by mindflux
Inferno - Fire Effects Redux
by Retrospect
ENB Light
by 4109
InstallationENB files
Go to enbdev.com, click on last version
At the bottom of the page, click the link for the specified version.
At the bottom of the new page, click the download link.
When the file has downloaded, open the Wrapper Version folder enclosed in the archive and extract ONLY D3D11.dll & D3DCompiler_46e.dll.
Place the D3D11.dll & D3DCompiler_46e.dll into the main Skyrim Special Edition directory.
ljóss' preset
Use your mod manager to install ljóss like a normal mod
Follow FOMOD installation to customize it (Please read it carefully, i added a lot of tips to help you to configure to your tastes)
Then copy all files from "To Skyrim Folder" to the Main Skyrim Directory.
Open Skyrim.ini and change the following, if value doesn't exist add them :

[Display]
fGlobalBloomThresholdBoost=5.0000
fSAOBias=0.5000
fSAOExpFactor=0.220
fSAOIntensity=12.0000
fSAORadius=850.0000
fSAOValueDiffFactor=0.3000

Open Skyrimprefs.ini and change the following, if value doesn't exist add them :
[Display]
bEnableImprovedSnow=0
fGamma=1.0000
bFXAAEnabled=0 (you can set it to 1 if you prefer FXAA instead of or in addition to the SMAA included in the ENB settings)
bUseTAA=0 (you can set it to 1 if you prefer the motion-blur of TAA, compatible with any other AA choice)
bIBLFEnable=0
bIndEnable=0
bSAO_CS_Enable=0
bSAOEnable=0 (If you use performance version, set it to 1)
bTreesReceiveShadows=1
bDrawLandShadows=1
bShadowsjavascript-event-stripped1
bUse64bitsHDRRenderTarget=1 (This settings helps to reduce color banding but will cost until 4 fps)
bVolumetricLightingEnable=1
iVolumetricLightingQuality=2




How to configure:Read FOMOD instruction carefully most of important settings are explained during installation process.
It is not advised to change Bloom settings as I use it to simulate fog.

Disable SMAA :
Edit ENBEFFECTPOSTPASS.FX file with notepad and replace
#define Enable_SMAA 1
by
#define Enable_SMAA 0
Enabling ENB SSAO
:
Set
bSAOEnable to 0
in skyrimprefs.ini.
Open ENB GUI, in left menu, enable
AmbientOcclusion
It is already tweaked to preserve performance as much as possible.
All settings below are in ENBEFFECTPOSTPASS.FX

Sharpness
:
Use
CAS sharp amount
to reduce or increase general picture sharpness.
Letterbox
: (not enabled by default)
Add a letterbox effect, bar size and color are configurable
Colorfulness
:
If you want a more or less colorful rendering, a good start is to play with the
Vibrance
settings.
All settings below are in ENBEFFECT.FX
Color Filter
If
vibrance
is not enough, you can adjust color, shadows and luminance here
AGCC Input Mixer
Here, You can adjust vanilla effects strength
Advanced ENB Output Effects Editor
You can adjust contrast and luminosity under this section
For more settings ask, I will try to help you.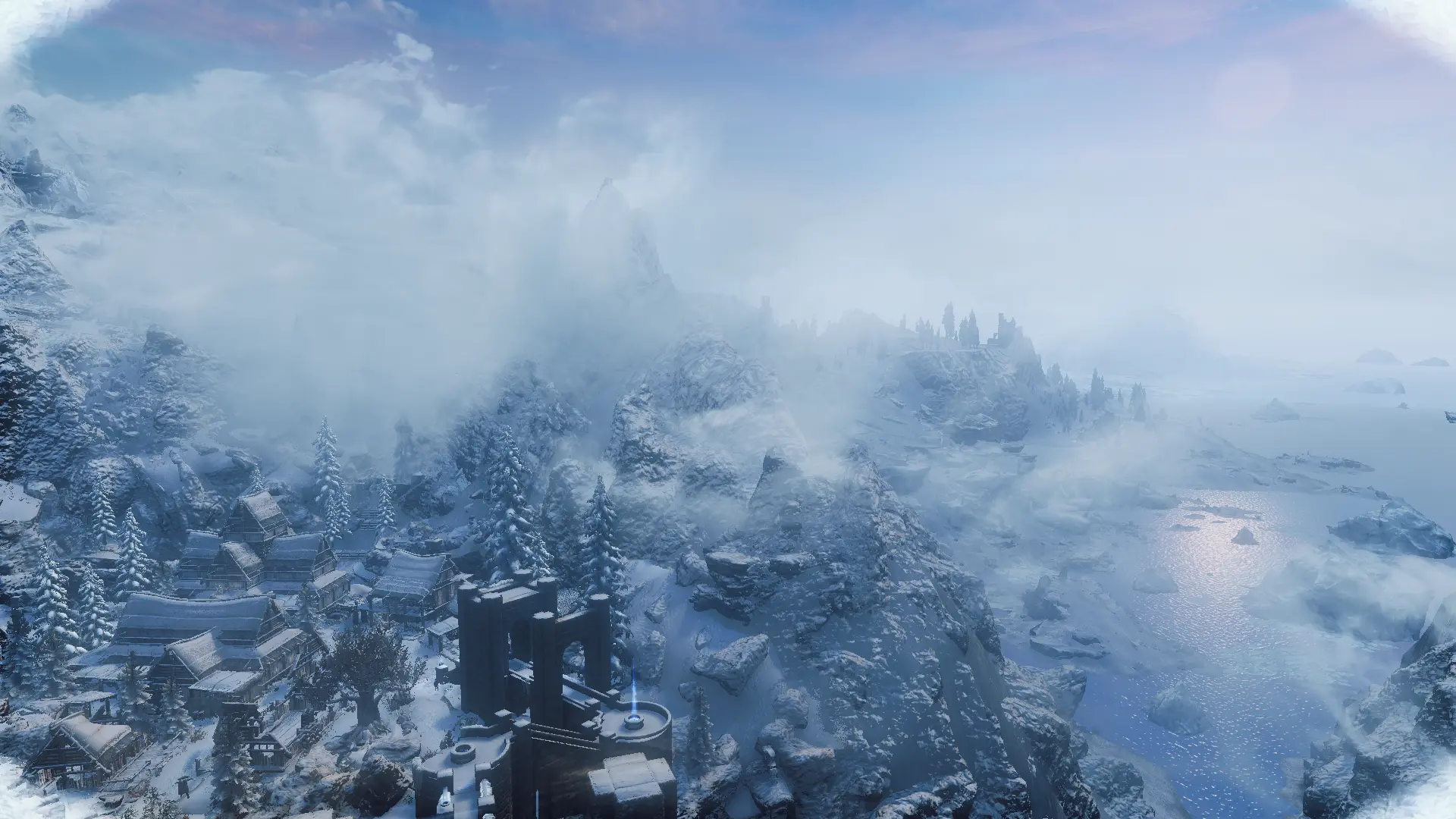 Mod used :
Weather Mod:
Cathedral Weathers and Seasons
Improved Rain and Fog for Cathedral Weathers
by Nawor3565
Storm Lightning for SSE and VR (Minty Lightning 2019)
by Shizof
Lighting:
Enhanced Lights and FX
by anamorfus
Enhanced Lighting for ENB
by --JawZ--
Relighting Skyrim
by --JawZ-- and NovakDalton (Modified version "tailored for ELFX" by neovalen, refers to the Lexy's guide linked below)
Claralux SE
- Controllable Lights Everywhere by MyGoodEye and Scythe42
Texture overhauls:
Noble Skyrim Mod HD
- 2K by Shutt3r
MystiriousDawn's HD Skyrim Overhaul
by MystiriousDawn
Flora:
Skyrim Flora Overhaul SE
by vurt
Enhanced Vanilla Trees
 by SomeRandomGuy83-TechAngel85-Scythe42
Cities Overhaul:
Dawn of Skyrim (director's cut) SE
by BluePianoTwo
JK's Skyrim
by Jkrojmal
Miscellaneous
Better FaceLighting and Conversation
by Sthaagg
Credits:
enbeffect.fx is based on
Phinix's the truth
enbeffect.fx files
Histogram based Adaptation by kingeric1992
Bokeh Depth of Field by Marty McFly
Reforged Bloom by THE SANDVICH MAKER
Color filters by HeliosDoubleSix (HD6)
AGCC tonemap by kingeric1992
ENB itself and various effects by Boris Vorontsov
Day/night/twilight separation by kingeric1992 & Phinix
Additions, in-game options, & formatting by Phinix
Contrast Adaptive Sharpener by rhellct
Vibrance by Ceejay.dk
LUT by Kingeric1992 & Adyss
Letterbox by Ceejay.dk
Lightroom by Marty McFly
SMAA by kingeric1992
Weather Fx lens by Skysan4298 && kingeric1992
Further Credits in .fxh files
12AiN
for his rain texture from his
Viven Rain for ENB
mod