File information
Created by
AlturDrake
About this mod
Imagine a version of Skyrim that doesn't fill your gameplay with cartoony 'BOINK' and 'CLUNK' noises when you cut some leather into strips, or hit someone with a critical hit.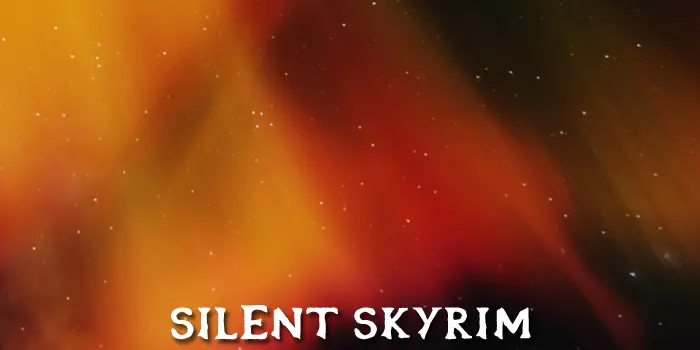 Imagine a version of Skyrim that doesn't fill your gameplay with cartoony 'BOINK' and 'CLUNK' noises when you cut some leather into strips, or hit someone with a critical.
Behold! That fix has finally arrived.
I was asked by several people to make an all-in-one version of my previous small 'SILENT' mods, but this includes much more.
Extremely simple to install or to remove, simply copy the files into your SkyrimData folder.
(NMM works perfectly as well if you prefer)
No .esp's or anything, you can just paste the files and play.
In case you want to bring back any noise this mod silenced, it's as easy as removing any single file from where it was installed in
[...Skyrim\Data\Sound]
Soundfxitmingredientitm_nirnroot_lp - Nirnroot's ringing noise
Soundfxmgkfireboltmag_firebolt_fail - Noise of any spell failing
Soundfxuiui_sneakattack_01 - Critical 'CLUNK' hit noise
Soundfxuiui_startnewgame - Nordic screaming when you start a new game
Soundfxuiui_levelup - Level-up noise
Soundfxuiui_skill_increase - Skill level-up noise
Soundfxuiskillstransitionupui_skills_transitionup_01 - Perk menu [open/close]
Soundfxuiskillstransitionupui_skills_transitionup_02
Soundfxuiui_objective_new_01 - Quest and objective noises
Soundfxuiui_objective_new_02
Soundfxuiui_objective_new_03
Soundfxuiui_quest_update
Soundfxuialchemyui_alchemy_createpoison_01 - Alchemy crafting noises
Soundfxuialchemyui_alchemy_createpotion_01
Soundfxuialchemyui_alchemy_fail_01
Soundfxuialchemyui_alchemy_learneffect_01
Soundfxuienchantingui_enchanting_itemcreate_01 - Enchanting crafting noises
Soundfxuienchantingui_enchanting_itemdestroy_01
Soundfxuienchantingui_enchanting_learneffect_01
Soundfxuienchantingui_enchantrecharge_01
Soundfxuienchantingui_enchantrecharge_02
Soundfxuismithingui_smithing_creategeneric_01 - Smithing crafting noises
Soundfxuismithingui_smithing_creategeneric_02
Soundfxuismithingui_smithing_improvearmor_01
Soundfxuismithingui_smithing_improvearmor_02
Soundfxuismithingui_smithing_improveweapon_01
Soundfxuismithingui_smithing_improveweapon_02
Optional File: SILENT Bugs
Completely mutes all insects in the game, done by request
(97 bug sound files, wtf Bethesda! I love variety but geez) xD
_________________
ALTUR'S FILES





_________________
HIGHLY RECOMMENDED MODS:
Difficulty/Survival:
FROSTFALL: Camping & Exposure
Imp's More Complex Needs
Scaling Stopper
No Health Regen
Lethal Traps
Immersion:
Stop Forced Quests
Hunterborn
Player Headtracking
Scenic Carriages
Compass Modifier/Remover
Improved closefaced helmets
Immersive Armors
Weapons of the Third Era
JaySuS Swords
Fist Weapons
Arrow Crafting
Wearable Lanterns
NPCs Run Out of Arrows
Wildlife Loot And Recipes
Intelligent Wildlife
Fight or Fly
Weighted Items
Gold Weight
Gameplay:
Random Alternate Start
Storage Chests in Major Towns
'Dismissal' Conjuration Spell
Glorious Dragon Soul Absorb
Acquisitive Soul Gems
Permanent Blessings
Auto Unequip Ammo
No Kill Moves
Less Falling Damage
SkyRealism AutoSave System
Faster Battles
(Goes nice with Scaling Stopper)
SHUT UP!!!
No NPC Greetings
(Really wish I'd known about this one sooner)
No Guard 'Skill' Comments
Quiet Restoration Idle
Merchants only reply with 'Take a Look'
Stop Talking To Yourself, Bandit!
Silence Adrianne Avenicci
Silent Whiterun Preacher
Farengar Dialogue Fix
Cosmetic:
Crimson Tide
Cover Khajiits
Beast Race Feet
Sit Anywhere
Spell Remover
Intro Music - Malukah
Intro Music - Jason Yang
Humans Drop Human Parts
Single-handed Run & Sprint for 2H Weapons
Better Turning Animation
Skill Interface Retexture
High Quality 3D Map
Quality World Map with Roads
Birds, Airborne & Perching
Transparent Wine Bottles
Destructible Bottles
Subliminal Traps
Fixes:
No Dialogue Pauses
Remove Enchanting Restrictions
Fix Breezehome Lighting + Enchanting Table
Smelters for Riften and Solitude
Guards Help Against Hired Thugs
No Spinning Death Animation
Sell Stones of Barenziah