File information
Created by
AncientKane
About this mod
Retexture of Petrovichs great UNP Boots. HDT HH System support.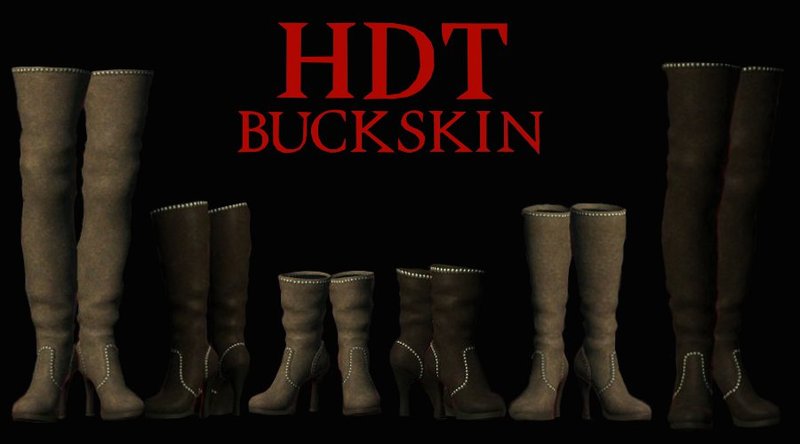 HDT Buckskin. Requires HDT HH System, SkyUI MCM Menu and SKSE.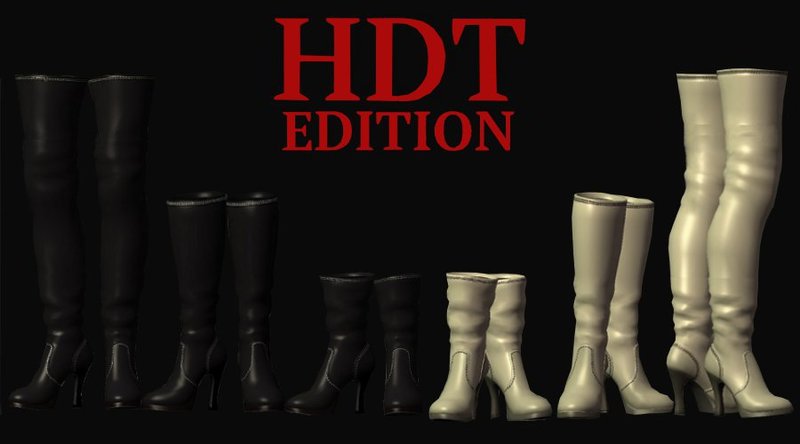 HDT Edition. Requires HDT HH System, SkyUI MCM Menu and SKSE.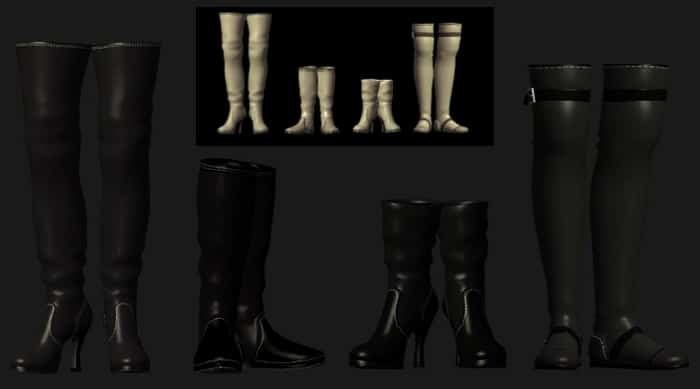 Elegance Edition. 4 pair of dark and 4 pair of white boots.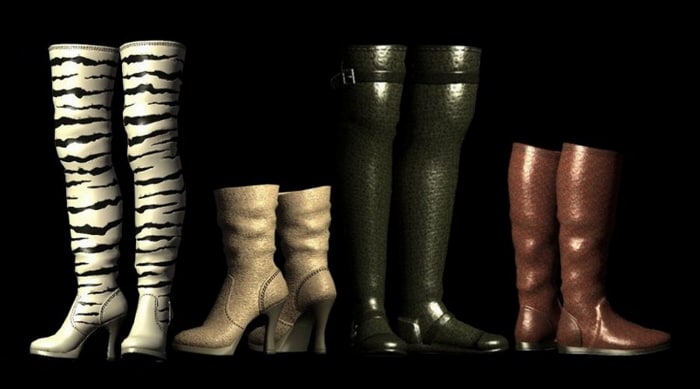 Luxury Edition. Unknown Hammerfell Animal, Human Skin, Argonian Skin, Red Dragon Skin.
Description:
Adds Petrovichs UNP Boots with new textures to the game. All Boots are light armor, craftable under leather and temperable on a workbench.
HDT edition and HDT Buckskin: Download
HDT HH System
,
SkyUI
and
SKSE
first. Then install this mod.
Elegant edition: consists of 4 pair of dark and 4 pair of white boots, crafting materials are normal leather and leatherstrips.
Luxury edition: you need the relevant leather for each of the boots. I have added a pic with the exact locations. Once you have the leather, make some leather strips corresponding to the leather you have found and craft the boots normally on every forge.
For the original boots visit Petrovichs profile page where all his mods are listed.
Installation:
Unzip, copy and paste the esp and bsa into your data folder (or use NMM).
Uninstallation: remove the two files from your data folder.
Changelog:
1.0 Initial release
1.2 Added white long boots for a complete set
1.3 Added luxury edition
1.5 Added HDT edition
1.7 Added HDT Buckskin
Take a look at my other stuff:
Skyrim
Elven Teen Meadery Girls
UNP Dragon Tattoos and more
Skyrim Maples
Pubes Forever
Kagrenacs Mountain Fortress
High Hrothgar alternate Cave Route
Annika - Nord archer girl Follower UNP
Shadows of the past
The lost Dwemer castle
Skyrim Underground
Skyrim SE
Skyrim Maples SSE
Pubes Forever SSE
Skyrim Underground SSE
High Hrothgar Alternate Cave Route SSE
The Lost Dwemer Castle SSE
Shadows of the past SSE
Elven Teen Meadery Sisters
UNP Boots Retexture SSE
Annika - Nord Archer Girl Follower UNP
Credits:
Petrovich
HydrogensaysHDT from ARROW & KNEE MOD Team, China.
Dimon 99 for Dimonized UNP Female Body http://skyrim.nexusmods.com/mods/6709
The SkyUI Team.
The SKSE Team.
Adipsycho
for testing the HDT boots. Thanks again, Man.
Thanks to Bethesda for TES (best games ever).