This mod is outdated, but still usable.
New version
Ver. 1.6 changes:
Added a little quest to make it more interesting to get the house.
Queststart: read the tattered book at the Whiterun Hall of Dead (I added a pic of the location) or directly in the Forgotten Cave.
Reworked the dungeon and parts of the house.
Ver. 1.4 changes:
Added light switches to the mansion.
Added part 3 of the dungeon.
Added summonable Dwemer freaks.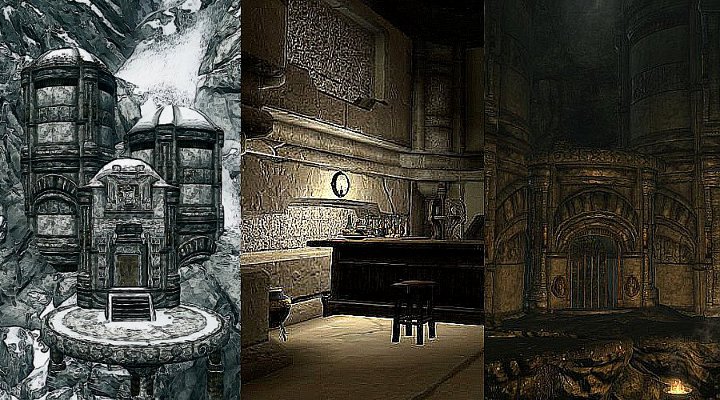 Description:
Kagrenacs Mountain Fortress is a middle sized player home located north of Ivarstead on the hillsides of the Throat of the world. Its front access is more or less blocked because of the unaccessibility of the surrounding terrain, but a cave nearby leads to another entrance to Kagrenacs former residence in Skyrim.
Location:
The Forgotten Cave as the access to the fortress is located right between Whiterun and Ivarstead on a deserted Mountain path. Once completed the cave there will be an easier way to enter the residence.
Features:
-Little quest to get the house
-Unique interior design in fine marble
-Standalone, No other Dwemer building or ruin will be affected
-Follower friendly. lots of ways to dangle about while not following
-Three-part dungeon (mixed Cave and Dwemer ruin) to access the fortress
-New enemies and summonable dwemer ghosts
-Light switches in the mansion
-Mannequins, weapon racks, display cases and bookshelves
-Many containers for safe storage
-Great panorama view over the Ivarstead hills
-Hidden Dwarven treasure
-Last but not least: toilets. Or more precise, Dwarven toilets.
Installation: NMM or manually unzip and paste esp and bsa in the data folder.
uninstallation: remove the files.
If you're upgrading from a previous version remove all stored items, leave the cell and fasttravel to another place. Save, quit the game and uninstall the old version. Reload the previous save and save again. Quit the game once more and install ver. 1.6.
As I made my first Dwemer-style player home for myself I realized that the Bethesda Dwemer style is perfect for dungeons but poor for player homes. I don't want to spend my spare free time in Skyrim in a muddy hole half a ruin. So I started this project, it's an attempt on how the Dwarven interiors could have looked like hundreds of years ago with their residents still alive and moving.
Take a look at my other stuff:
Skyrim
Elven Teen Meadery Girls
UNP Boots retexture
UNP Dragon Tattoos and more
Skyrim Maples
Pubes Forever
High Hrothgar alternate Cave Route
Annika - Nord archer girl Follower UNP
Shadows of the past
The lost Dwemer castle
Skyrim Underground
Skyrim SE
Skyrim Maples SSE
Pubes Forever SSE
Skyrim Underground SSE
High Hrothgar Alternate Cave Route SSE
The Lost Dwemer Castle SSE
Shadows of the past SSE
Elven Teen Meadery Sisters
UNP Boots Retexture SSE
Annika - Nord Archer Girl Follower UNP
Credits: eldiabs for Modders Resource-Weapon Racks-Bookshelves-Plaques-Mannequins http://skyrim.nexusmods.com/mods/11618/?tab=2&navtag=%2Fajax%2Fmodfiles%2F%3Fid%3D11618&pUp=1 (saved me a lot of time- Thanks)
Thanks to Bethesda for TES (best games ever).