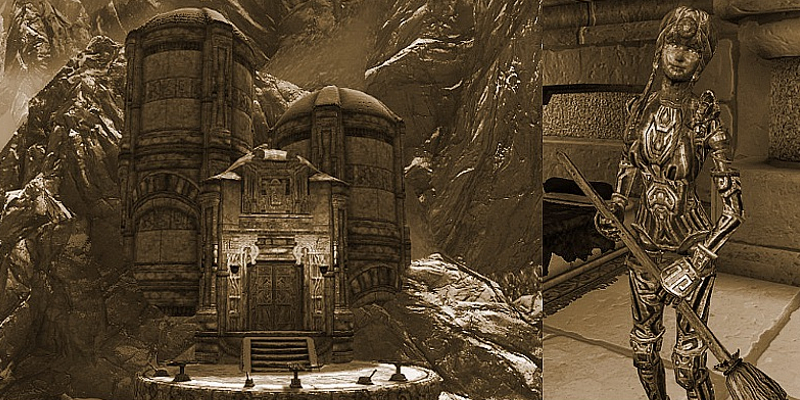 A fully voiced Dwemer quest mod
Story quests and dungeons by AncientKane
Voice acting android voice editing and additional lines for Eliann by SeRidicaLup
This mod uses resources from the Vicn creature pack (link in the credits below) including Gynoid (Eliann) Dwarven Worker Dwarven Worm Dwarven Ripper Dwarven Miner the mighty Dwarven Eggman Mushroom infected Skeever and some new Dwemer weapons.
Intro:
The Dwemer are long gone but they left behind their great technology. The Dwarven automatons are still patroling the Dwemer halls like thousands of years ago. But the Dwarves constructed even more advanced automatons. For example XT 200, or Eliann, the Dwemer android maid.
Description:
Adds a 4 part cave/Dwemer dungeon with new enemies, a custom textured player home, a fully voiced Dwemer android maid and some quests to the game. Queststart: go to the hall of the dead in Whiterun and read the old tattered book there. I added a pic of the location.
Note:
This mod is built on
this one
Don't install both they will conflict. I used the quest and adventures category for the mod but it also covers the following categories: abodes player homes- castles, palaces, mansions and estates- dungeons new- models and textures- NPC and new weapons.
Installation:
For the Bsa and loose files NMM or manually unzip and paste esp and bsa in the data folder.
For the texture hotfix only manually. Copy and paste it in the Data folder or add it to NMM. Only use it if the marble textures is the house are messed up.
Uninstallation: remove the files.
Voice actress credits:
SeRidicaLup
French translation by sofianelelegendaire
Here
(external website)
Video by
KageRedux
Thanks again Man
Video by Zero Period Productions - Thanks
Video by Zero Period Productions - Thanks
Credits:
Vicn for his great creature pack http://www.nexusmods.com/skyrim/mods/65134/?
(dl and endorse it it deserves much more attention than it currently has)
The Gynoid credits
Enhanced Character Edit by ECE Team
DIMONIZED UNP female body by dimon99
Hair packs of TES IV Oblivion for Female Only by Radioragae
REN
Peggy
NewSea
SKS
eldiabs for Modders Resource-Weapon Racks-Bookshelves-Plaques Mannequins http://www.nexusmods.com/skyrim/mods/11618/?
(saved me a lot of time- Thanks)
KageRedux for his help with troubleshooting and the video
The Eggman beep sound is by Marianne Gagnon (Licence Attribute 3.0) and free to use as long as credit is given
Take a look at my other stuff:
Skyrim
Elven Teen Meadery Girls
UNP Boots retexture
UNP Dragon Tattoos and more
Skyrim Maples
Pubes Forever
Kagrenacs Mountain Fortress
High Hrothgar alternate Cave Route
Annika - Nord archer girl Follower UNP
Shadows of the past
Skyrim Underground
Skyrim SE
Skyrim Maples SSE
Pubes Forever SSE
Skyrim Underground SSE
High Hrothgar Alternate Cave Route SSE
The Lost Dwemer Castle SSE
Shadows of the past SSE
Elven Teen Meadery Sisters
UNP Boots Retexture SSE
Annika - Nord Archer Girl Follower UNP
Thanks to Bethesda for TES (best games ever).