File information
Created by
Delicon20
About this mod
New creatures come to Nuka-World in the third official expansion for Mutant Menagerie! Encounter classic creatures, exotic beasts, and returning favorites as you explore Bethesda's final expansion for Fallout 4.
Requirements

Permissions and credits

Translations

Russian
Mandarin
Korean
German

Mirrors

Donations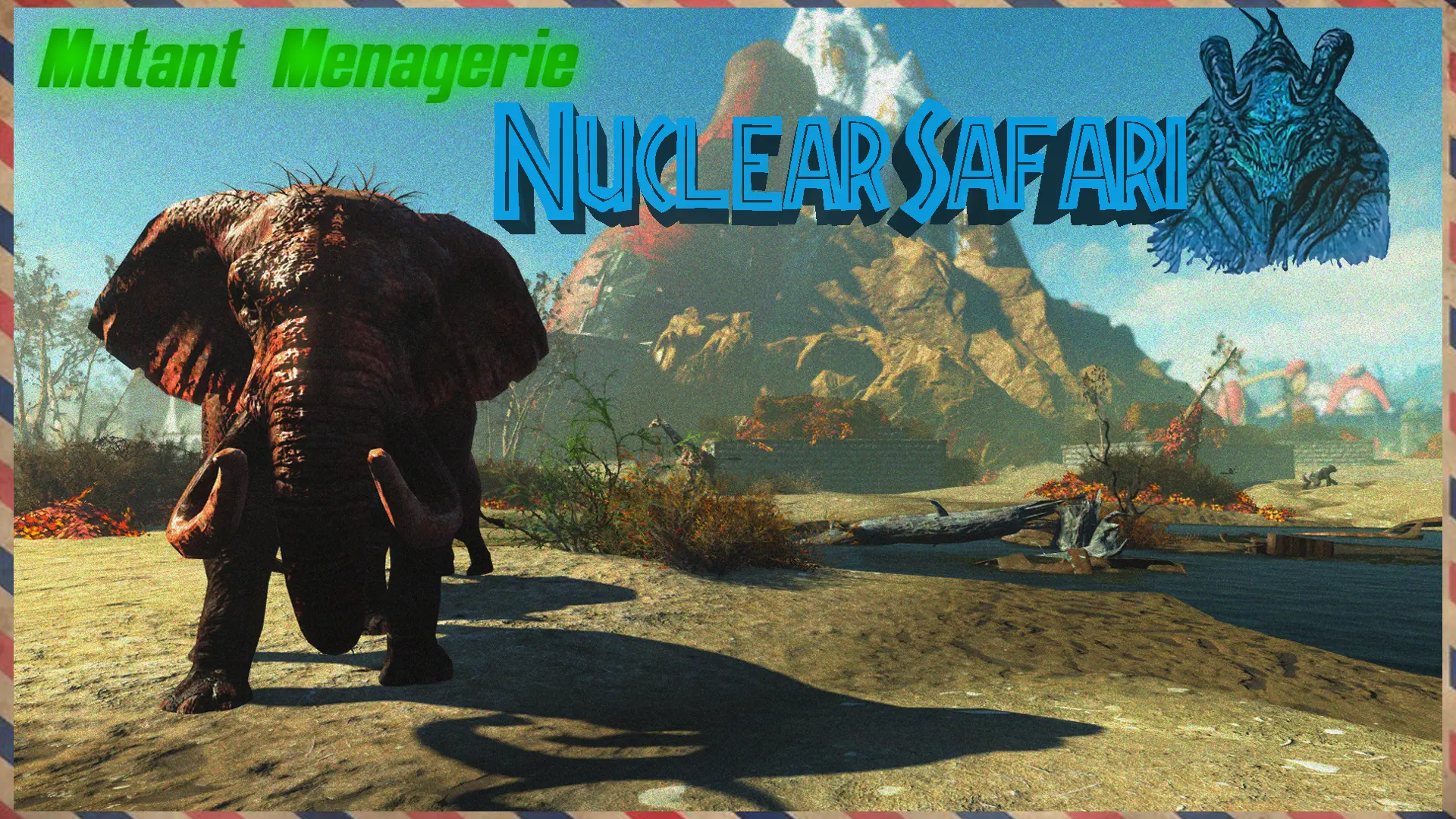 New creatures come to Nuka-World in the third official expansion for Mutant Menagerie! Now you'll encounter new, exotic beasts and returning favorites alike as you explore Bethesda's final expansion for Fallout 4. Track down new recipes, craft new and powerful items, or hunt down and slay the new quantum enemy variants and world-bosses. There's something for everyone, so come on down to Nuka-World and join the Nuclear Safari!
REQUIRES V1.4: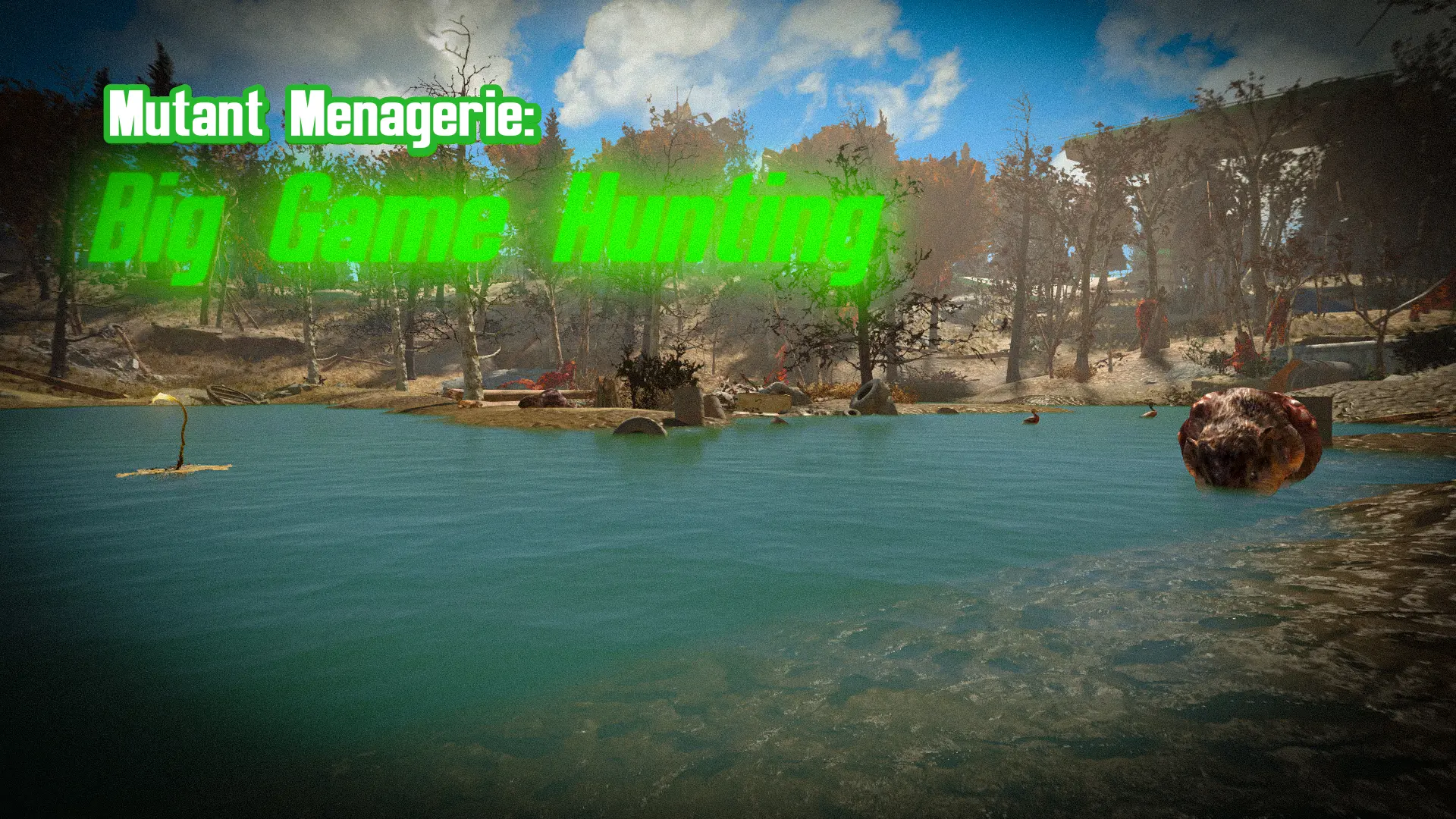 "Book your Wasteland Vacation today!"




Features


1)  Dynamic Spawns
Many of the spawns added in this mod utilize custom leveled actors designed to introduce random, level-appropriate creatures each time the actor respawns. These dynamic levelled spawns are split into predators and prey – with the intent to create fully-fledged and randomized ecosystems throughout the different biomes of the game. Additionally, for the first time in Mutant Menagerie, Nuclear Safari also introduces new dynamic robot spawns!
2)  DLC & Mutant Menagerie Creature Integration
Thematically-appropriate creatures from other expansions - like Gulpers and Robobrains - have been integrated into Nuka-World. Many of these creatures also come with new variants - like the Acidic Gulper. Additionally, a healthy majority of creatures from Big Game Hunting have been introduced to Nuka-World.  Finally, some lesser used creatures from Nuka-World are also integrated into the dynamic spawns. All creatures have been integrated with careful consideration to the worldspace, ecosystem, and lore. Due to the crowded nature of the worldspace, these spawns are placed VERY sparingly.
3)  All-New Creatures

Nuclear Safari brings many mutants from the vast repertoires of both Big Game Hunting and Horrors of the Deep Fog to Nuka-World. However, as with Horrors of the Deep Fog, old faces were not enough. Nuclear Safari also adds 12 new mutants to the roster for Nuka-World, and 1 additional new creature for Point-Lookout (if you have Backwater Beasts). Some of these creatures are inspired by cut or classic creatures, while others are exotic zoo animals tainted by radiation. There's plenty for new and returning players alike to discover!
4)  World Bosses

World Bosses are unique, high-level entities designed as the ultimate challenge for endgame players. Taking most of them on before at-least level 70 is 
not
 recommended. Once killed, world bosses are gone from the game - 
they do not respawn.
Additionally, Nuclear Safari's new World Bosses are always level-scaled 50 percent higher than the player. Good hunting.
5)  Quantum Creatures
Quantum Creatures are a new variation of mutant - a lot like the Fog-Touched from Horrors of the Deep Fog. They are high level, DLC-exclusive variants of creatures that drop special components for crafting. But while the Fog-Touched scaled to the player's level and were always legendary, Quantum creatures are a bit different. While Quantum mutants aren't legendary by default, they scale 25 percent higher than the player's level. This means every Quantum creature will always out-level the player. The automated level scaling can get pretty nasty in Fallout 4 at higher levels, meaning that these creatures should prove a challenge even in the late game - where gameplay usually becomes its most trivial.
   Most creatures from Nuka-World, and many from vanilla Fallout 4 and Mutant Menagerie, will have Quantum variants. All of these creatures will appear throughout the park at random, acting as surprise mini-bosses for you to battle during your travels.
6) New Recipes

As with Backwater Beasts, Nuclear Safari hides a number of crafting recipes throughout Nuka-World's worldspace. Much like the Nuka-Cola recipes, these items will unlock a unique crafting recipe (or set of recipes) themed around the expansion. These range from new mods for your weapons to new food items themed around the park - like the Nuka-Burger. Get out there and find them all! 
7)  Crafting
Just like in Big Game Hunting, Horrors of the Deep Fog, and Backwater Beasts, Nuclear Safari introduces new crafting recipes based on the crafting materials added in the mod. Just like in Horrors of the Deep Fog, new high-level crafting materials can be used to craft powerful endgame items. Everything added in this expansion is themed around Nuka-World and designed to integrate seamlessly into the expansion's zany, nuka-cola and raider-centric atmosphere. And as with previous expansions, many new recipes have specific perk requirements - meaning you may not be able to craft everything right away, or even in a single playthrough. 
[IMPORTANT DISCLAIMER]
Some of the new items use models from modders' resources that don't have fully-functioning collision, I've discovered. So don't drop anything you don't need, you may be unable to pick it up! You've been warned!!!
DetailsRegarding "Lore Friendliness"Why Did I Make This Mod?
Incompatibilies and Bugs


PerformancePermissions
CreditsDonations

FAQFinal Note: 
If you made it this far, you now know everything you need to know for this mod! I always recommend downloading the mod and going in blind for the full, author-intended experience. After you're done exploring, feel free to check out the Bestiary below for lore on all the new critters. If you check out the Bestiary below before playing the mod, be warned - there are 
many 
spoilers below. Enjoy the mod!
Part 2: The Bestiary
"Once you learn what's out there, you might just find you prefer the raiders..."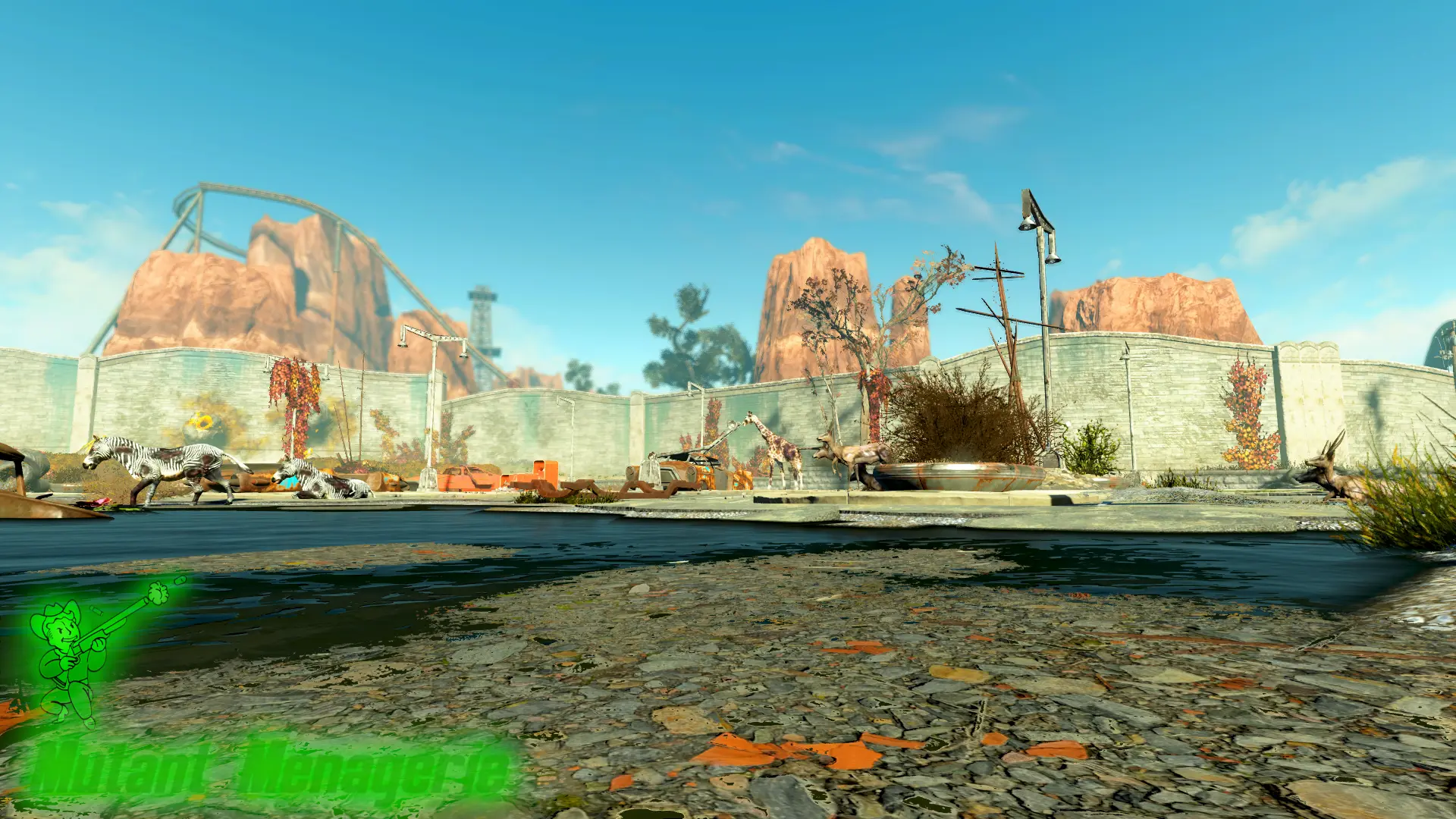 GAME (AMBIENT) CREATURES

"Considering the overcrowding their ancestors faced in that zoo, I imagine gamma radiation and minor mutation's a small price to pay for a wide-open, free-range habitat."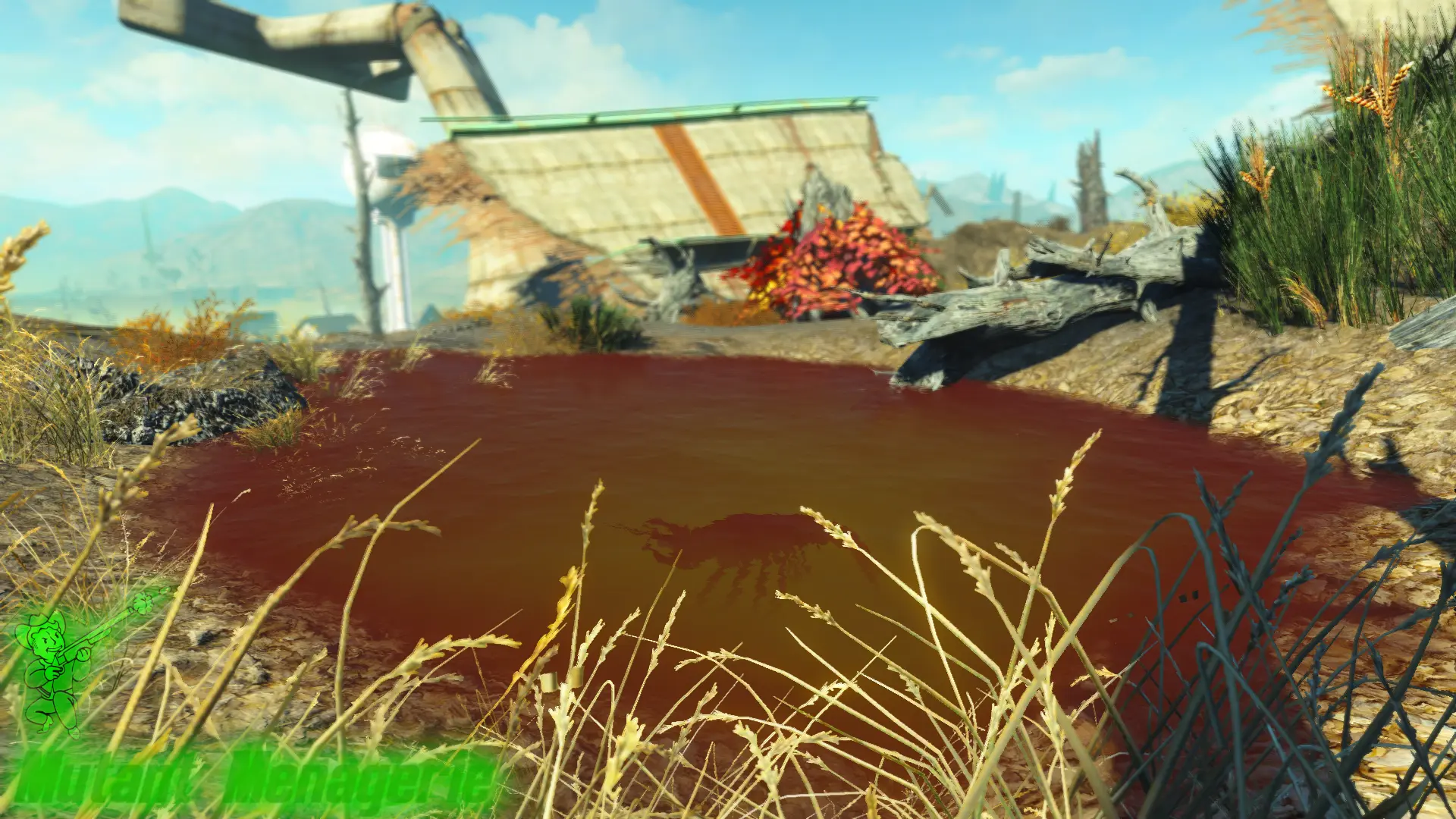 HYBRIDS

"Take a picture or two, sure. Just don't get too close - and NEVER use flash photography!"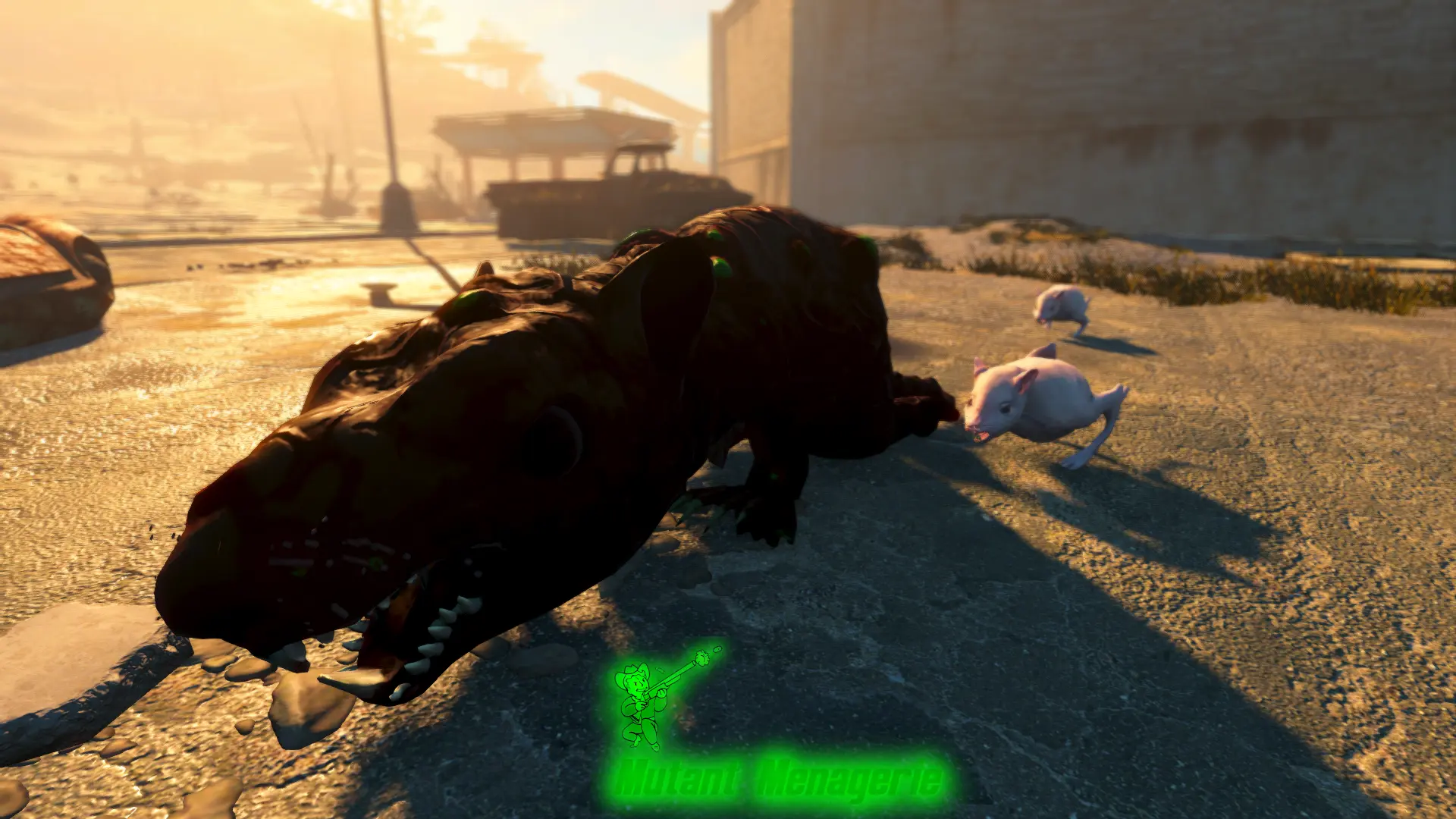 HEAVY HITTERS
"You're about to find out exactly why it behooved the raiders to mass-produce those shovel-guns."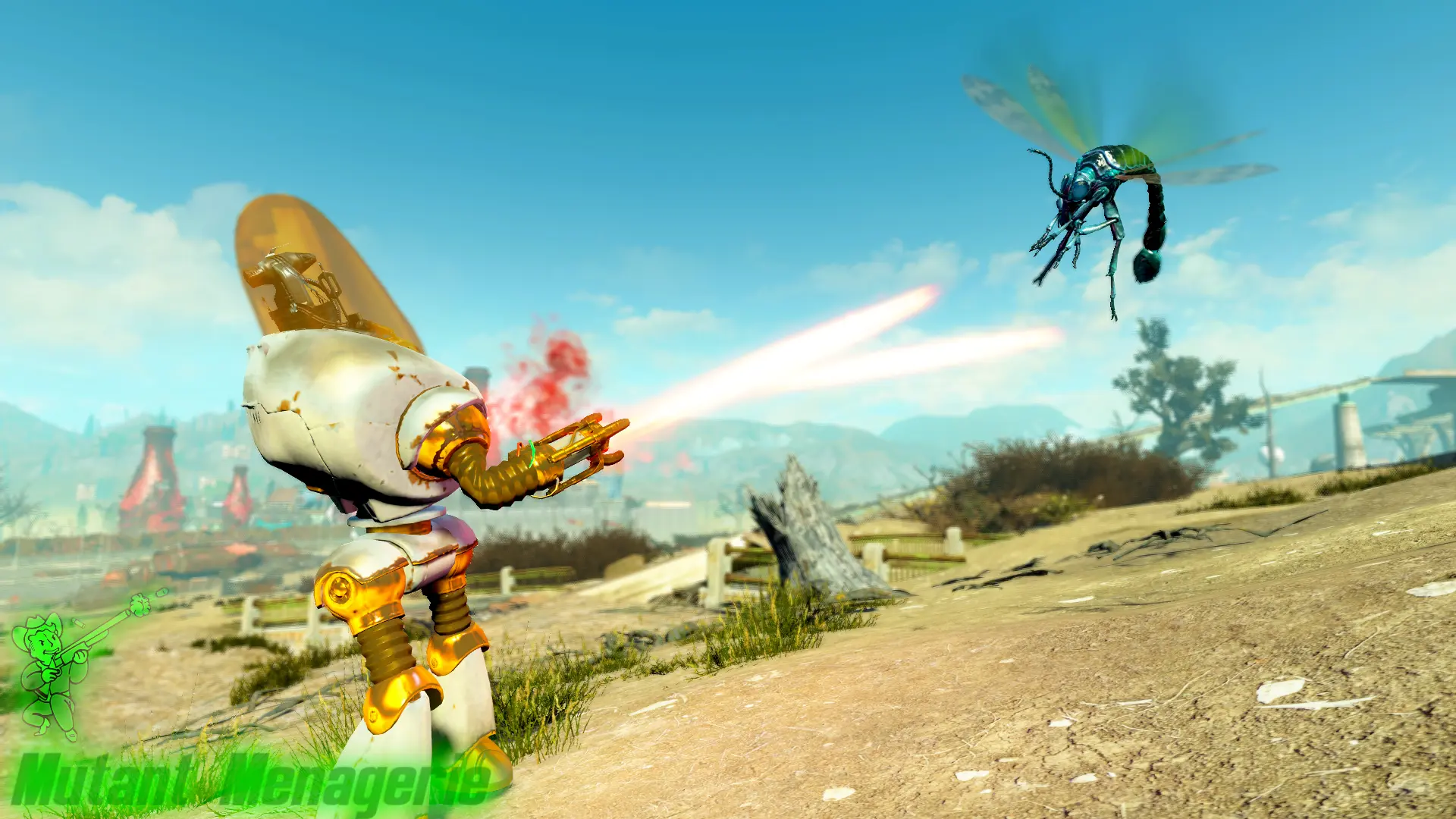 QUANTUM MUTANTS

"Nuka-Cola Quantum may be one of the most insidious inventions of pre-war society. ...Other than the nukes, of course."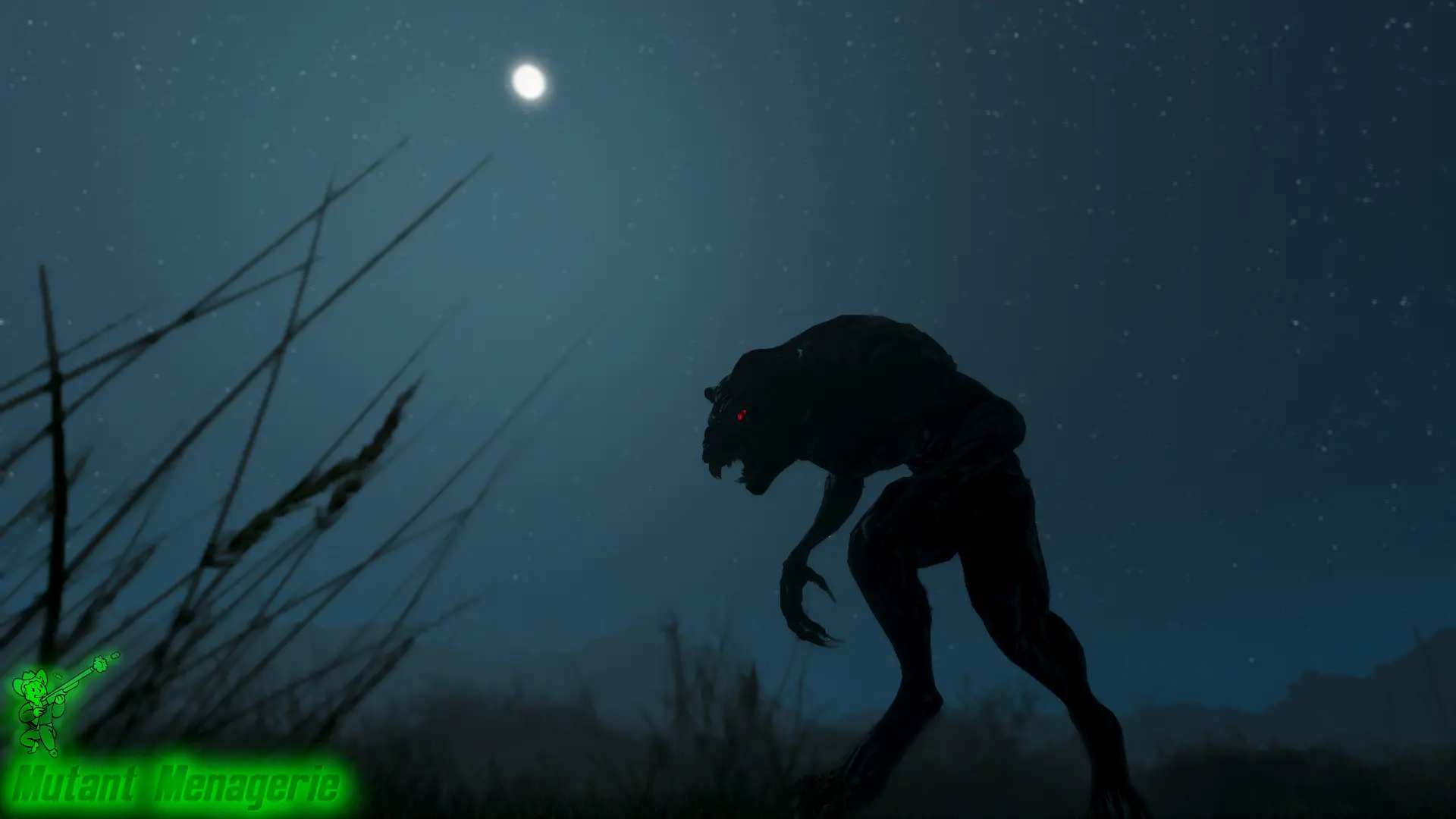 WORLD BOSSES
"When you let a bunch of raider slackers take control of a place like this, there's bound to be some oversights. In Nuka-World's case, the oversight involves dangerous mutants growing, hunting, and evolving unchecked for years on end."







FUTURE PLANS
This will be the last big expansion for Mutant Menagerie before its ultimate release - the end is in sight... kind of. This might be bittersweet to some, but I promise this is actually something worth getting excited for. Because what comes next will be the culmination of a crazy mad science project I've poured 4 years of my life into. 
   The final release of Mutant Menagerie isn't just going to be a repackage. You've been given hints as to all the things I want to accomplish in this final release, but there's a LOT I've also kept under wraps. Here's a small list of some (but not all) of the things I'd like to include in the final AIO release:
- Taxidermy and Creature Cages.
- A Script-integrated overhaul of Fallout 4's creature encounters and creature factions.
- An expansion to the recipe and crafting system Mutant Menagerie has slowly been building.
- Unique 'Legendary Animals' - 1-time killable animals with unique hides and rewards (similar to RDR2).
- An in-game bestiary scattered throughout the world, adding a scavenger hunt element to the mod.
- New World Bosses for the Commonwealth.
- Unique perk rewards tied to progression in the mod, similar to New Vegas's challenges (think Lord Death perk).
- Final passes on all the neglected creatures and rigs I haven't touched in years.
- A FOMOD installer for added modularity (if it doesn't prove too difficult).
Keep in mind that this list is subject to change, but this is where we are right now in terms of planned content.
   The final release of Mutant Menagerie will be an expansion all its own - building on everything I've been establishing in my mods over the last year. And even when the final release is out, I might still release the occasional update. After all, just because a mod is finally complete, does
not
mean it is finished. I have plenty of ideas that I may want to implement someday, even if they aren't possible right now.
Finally, I hope this add-on enhances your experience with Nuka-World in some way - big or small. Enjoy the mod!