File information
Created by
Delicon20
Virus scan
Some manually verified files
About this mod
New creatures come to Far Harbor in the first official expansion for Mutant Menagerie: Big Game Hunting! In Horrors of the Deep Fog, you'll run into familiar and new faces alike as you explore The Island. Fallout 4's most popular expansion has never been more diverse - or unnerving.
Requirements

Permissions and credits

Translations

Ukrainian
Russian
Korean
German

Mirrors

Changelogs

Donations
New creatures come to Far Harbor in the first official expansion for Mutant Menagerie: Big Game Hunting! In Horrors of the Deep Fog, you'll run into familiar and new faces alike as you explore The Island. Fallout 4's most popular expansion has never been more diverse - or unnerving.
REQUIRES V1.3:
REGARDING MUTANT MENAGERIE - PATCHES:
 The patches available for Mutant Menagerie: Big Game Hunting on the
Mutant Menagerie Patches
 page are NOT for Horrors of the Deep Fog. They are designed for JUST Mutant Menagerie: Big Game Hunting. Using them alongside Horrors of the Deep Fog may cause issues and is not recommended - UNLESS the patch description on the description page specifies otherwise. If you choose to proceed anyway, DO SO AT YOUR OWN RISK.
If you use a patch that removes creatures from MutantMenagerie.ESM, and that creature is referenced by MutantMenagerie_FarHarbor.ESM, it WILL crash your game. Simple as that.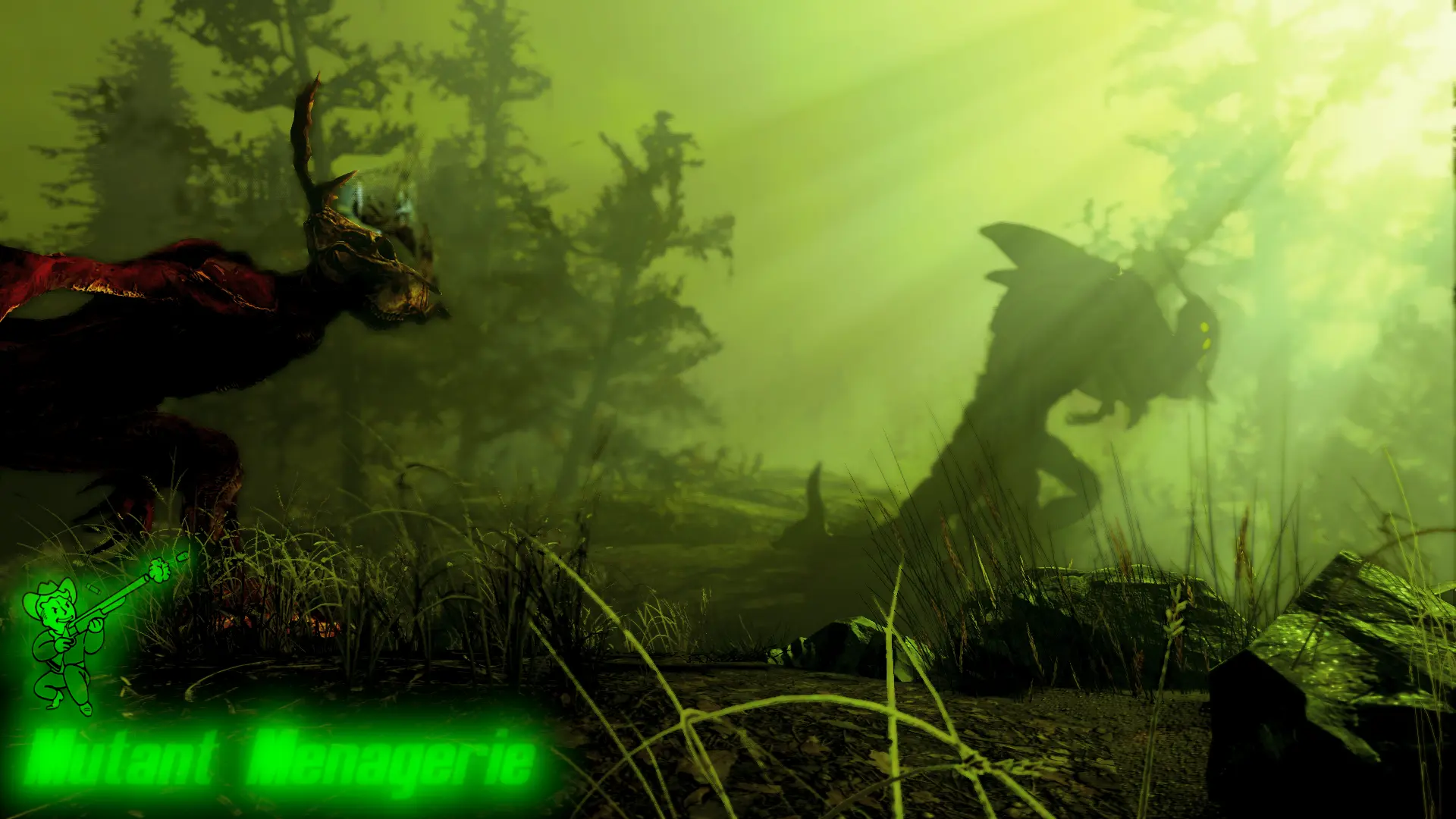 Horrors of the Deep Fog

"The Deep Fog is [___]ing Scary! Like, I didn't even run into too many creatures out here, but holy [____] was I smashing my VATS key nearly every moment that I could to make sure nothing snuck up on me - I was always on edge."

- The Salt Factory


Features

1)  Dynamic Spawns
Many of the spawns added in this mod utilize custom leveled actors designed to introduce random, level-appropriate creatures each time the actor respawns. These dynamic levelled spawns are split into predators and prey – with the intent to create fully-fledged and randomized ecosystems throughout the different biomes of the game. These spawns do not utilize creatures that are already too common in their respective areas, such as mirelurks, vicious hounds, or yao guai, electing instead to prioritize new creatures and creatures from the DLCs. 
2)  DLC & MM Creature Integration
Thematically-appropriate creatures from Nuka World - like bloodworms, rad rats, and cave crickets - have been integrated into Far Harbor. Additionally, a healthy majority of creatures from Big Game Hunting have been introduced to Far Harbor. All creatures have been integrated with careful consideration to the worldspace, ecosystem, and lore. 
3)  New Creatures

Horrors of the Deep Fog brings the vast repertoire of creatures found in Big Game Hunting to Far Harbor. However, being an expansion, just bringing the old faces forward wasn't enough. Horrors of the Deep Fog also adds 15 new critters to the roster. Most of these creatures are heavy hitters - designed for the endgame play Far Harbor offers. From cephalopods to jellyfish, this mod will fill Far Harbor to the brim with new, lovecraftian horrors - all of whom can't wait to jump in the ring with you.
4)  World Bosses

World Bosses are unique, high-level entities designed as the ultimate challenge for endgame players. Taking most of them on before at-least level 70 is
not
recommended. Once killed, world bosses are gone from the game - 
they do not respawn.
 Good hunting.
5)  Fog-Touched
Found almost exclusively in the Deep Fog of the island, Fog-Touched creatures are variations on vanilla and Mutant Menagerie creatures that have been changed by The Island's toxic fog. The Fog-Touched have been changed by The Fog in a way not dissimilar to the madness and corruption humans experience after extended exposure. Fog-Touched creatures appear with ghostly discoloration - a sign that the Fog has altered their bodies and minds. All Fog-Touched Creatures are Legendary
-
 From the radroaches to the deathclaws. These high-level enemy variants promise some serious late-game challenges for returning players. They also drop rare components that are capable of making
Concentrated Fog.
Concentrated Fog is an endgame crafting material used for the most complex and powerful items in the expansion. Some pre-existing materials, like condensed fog, can also be used to craft Concentrated Fog.
6)  Crafting
Just like in Big Game Hunting, Horrors of the Deep Fog comes with a wealth of new cooking recipes based on the mutants and loot added in the mod. But the fun doesn't end there. Horrors of the Deep Fog also adds new endgame weapon and armor variants, as well as new attachments and functionality for a few existing weapons. Everything added in Horrors of the Deep Fog is themed around the Far Harbor expansion and designed to integrate seamlessly into its atmosphere. Most new crafting recipes have multiple perk, quest, and/or magazine requirements. This means you may not be able to craft all the goodies in a single playthrough - based on your choices in the story.



Details

Regarding "Lore Friendliness"Incompatibilies  Bugs

PerformancePermissions
CreditsDonations

FAQ
Final Note: 
If you made it this far, you now know everything you need to know for this mod! I always recommend downloading the mod and going in blind for the full, author-intended experience. After you're done exploring, feel free to check out the Bestiary below for lore on all the new critters. If you check out the Bestiary below before playing the mod, be warned - there are 
many 
spoilers below. Enjoy the mod!

Part 2: The Bestiary
"
Sometimes those shapes you see shifting in the fog AREN'T just in your imagination..."


GAME (AMBIENT) CREATURES

"It's a miracle that these critters manage to survive out here! Well... until you came along."



HYBRIDS

"In the fog, it's nominally better to encounter something that's unsure of you than something that has its mind made up!"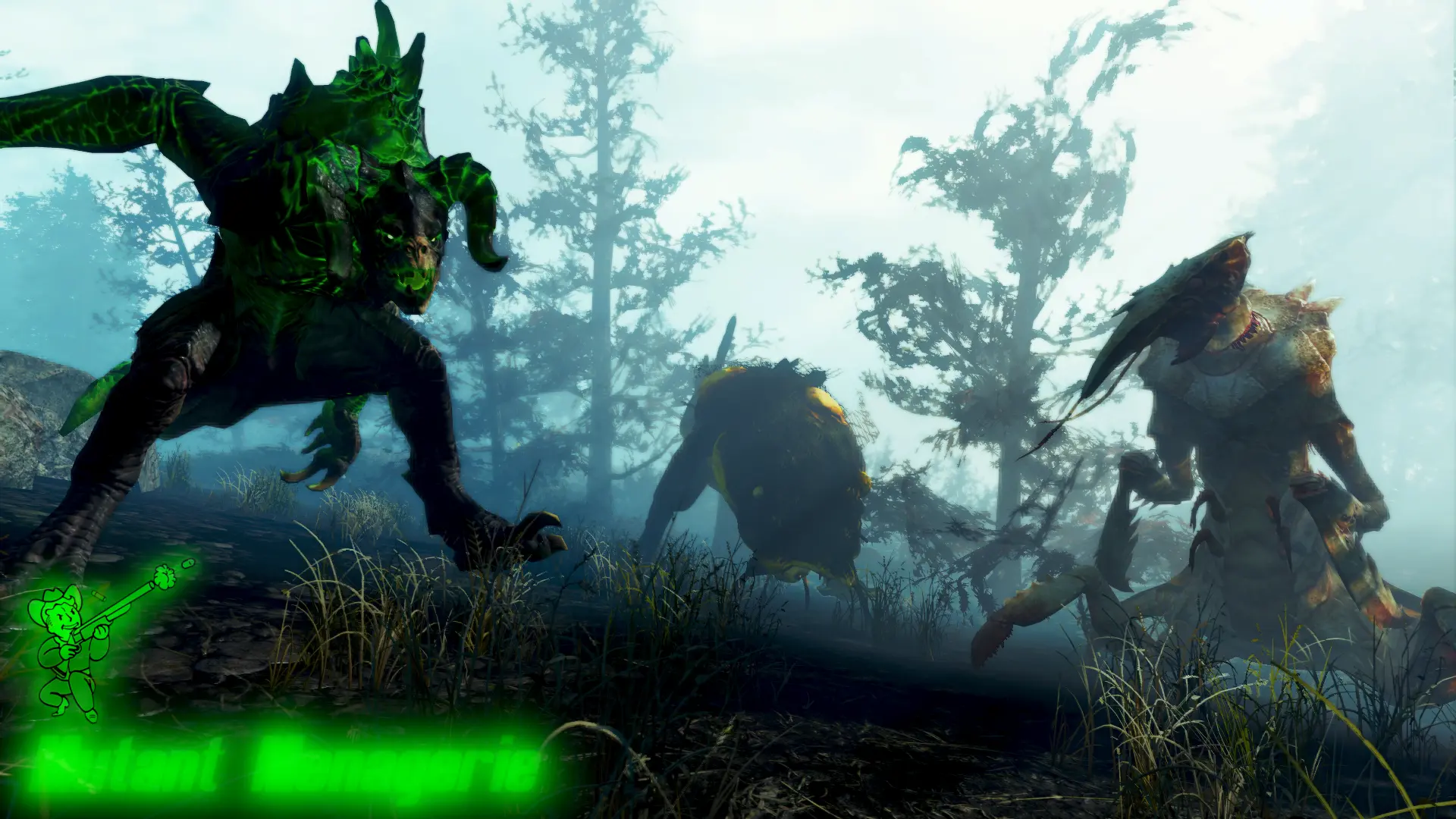 HEAVY HITTERS
"Maybe practice loading that harpoon gun a bit quicker, eh?"


FOG-TOUCHED

"If you see something in the Fog with a strange, ghostly complexion - either run, or open-fire with everything you've got."
 


WORLD BOSSES
"The Island hides some true nightmares. Some roam the mists of the Deep Fog, others lurk in the shadows beneath the waves. And all of em' are better left undisturbed."

FUTURE PLANS
We made it to the Hot Files once again!! Thank you everyone for your support and kind words. It's always so great to hear how much people enjoy this little passion project of mine!
Now, I've gotten a lot of questions as to what's next for Mutant Menagerie, especially in terms of covering other Bethesda expansions. I think this mod makes the writing on the wall pretty easy to read, but for those that want clear confirmation, here it is! YES. Nuka-World is next on my list. The plan is to cover all major expansion content, make a few other add-ons along the way, and eventually release an All-in-One, final edition of Mutant Menagerie. After a well-deserved break, I plan to get cracking on a Nuka-World expansion for Mutant Menagerie (likely sometime in the Spring/Early Summer).
So if you like my work and appreciate what I do, stay tuned! Donating to the cause, be it in money or assets, also helps keep the ball rolling. But please, don't feel obligated to do so! Your support is more than enough!
As a legendary mod author frequently says - Take care, and enjoy the mod!