File information
Created by
Gambit77 - Gernash - Valdacil - Neanka - Thirdstorm - Omega9380 - Spherikal - Khaibit
About this mod
This is the new expanded version of VIS.
Requirements

Permissions and credits

Translations

Spanish
Russian
Mandarin
Italian
German
French

Changelogs

Donations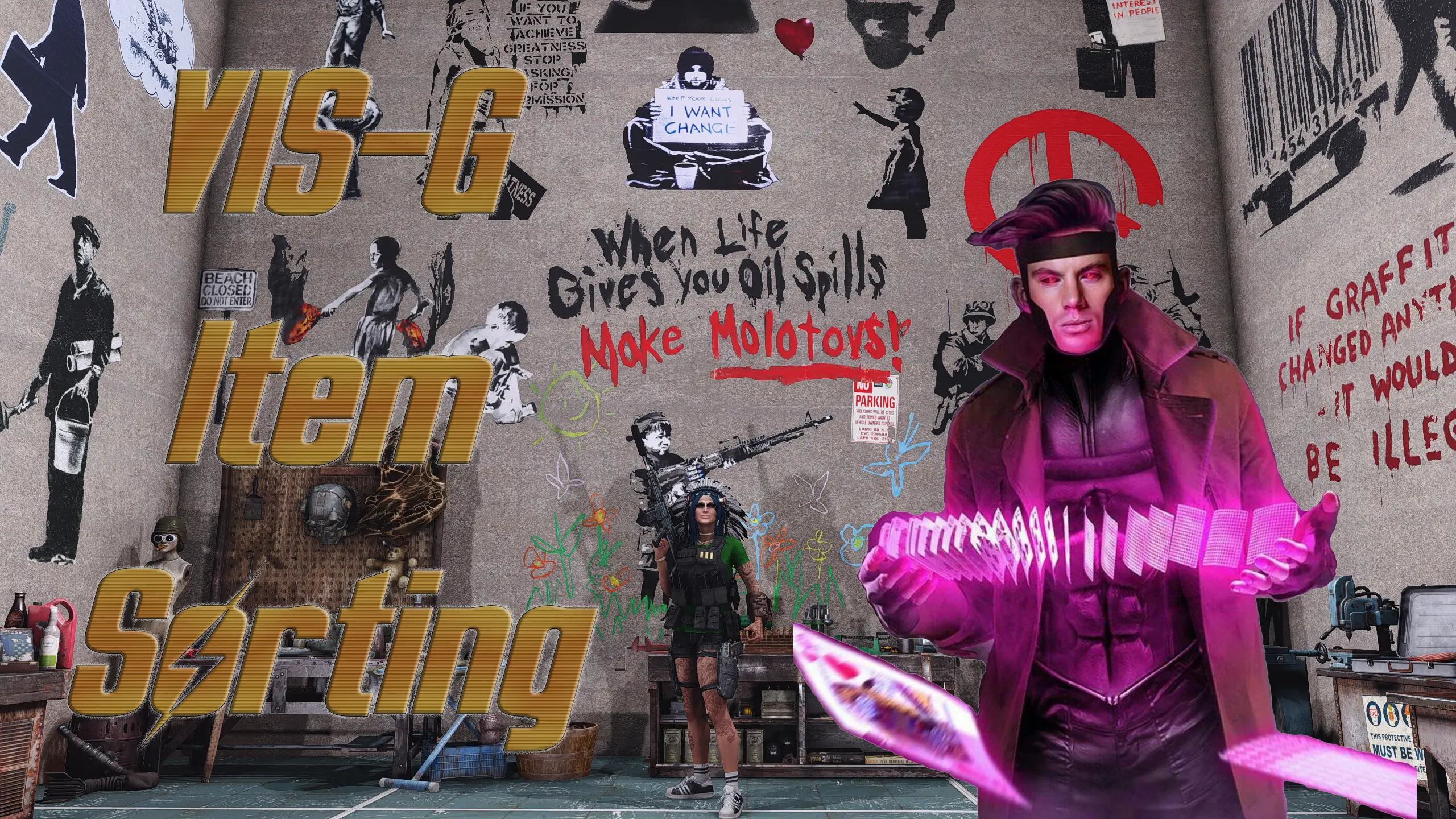 This is my take on item sorting.  The more I worked with INNRs the more I saw ways that I could improve on VIS, and for a while I did that work as updates to VIS.  This is kind of an update, but it was expanded in such a way that VIS patches for mods may or may not be ready to go to use with this.  I've expanded the amount of categories of items so that they are more specific.  I've expanded the amount of rollups so that they're more inclusive of items in order to clean up inventory screens.  I've set up the weapon and apparel tabs in a way so that the items in them are sorted in both logical breakdowns but also in a way to give precedence to items that are more useful.  Halgoth has built a new iconlibs file so we can take advantage of a greatly increased selection of icons.  I think this really shines with the weapon sorting.  My naming rules have built in support for mods like AWKCR, Armorsmith Extended, New Calibers, Raider Overhaul, Super Mutant Redux, etc. 
This mod is just a one plugin setup.  Some people may have prefered the customizability of all the VIS plugin options, but in supporting that mod I came away with the impression that it often led to confusion and made troubleshooting and bugfixing more complicated.  So I chose to go with a single setup that I found most useful.  A lot of things I have setup as weightless items.  I'm of the school that thinks onerous inventory management can take away from the fun.  But for hardcore types that like wasting time making extra trips home to dump off stuff SsmB_92 is working on a patch to add weight back to everything with his added touch to try to make everything's weights as realistic as possible.
Installation Instructions:
First have DEF UI installed.
Then install this choosing yes to overwrite files from DEF UI when prompted.
List of Contributors:
Gambit77
- primary plugin author
Valdacil
- laid the foundation and taught me the ropes
Gernash
 - primary iconlibs2.swf author, rebuilt all swf files for improved features and stability
Neanka
- his DEF UI laid the foundation for the cool features we can implement in a mod like this
Thirdstorm
- assistance prepping naming rules to support RO and SMR
Omega
- helped lay the foundation for the iconlibs2.swf file
Spherikal
- helped lay the foundation for the iconlibs2.swf file
Khaibit
- wrote the script I use to make the vanilla weight patch
RedRocketTV
- contributed
Nuka Recipe Book 2K Retextures (Nuka World)
which was merged in to provide patch-free compatibility.  Go endorse it, the mod puts the finishing touch on a situation where corners got cut.