Atlas Map Markers SE - Updated with MCM
Atlas Map Markers SE - Updated with MCM
File information
Created by
Kronixx and kryptopyr
About this mod
This is an update to Kronixx's classic mod, Atlas Map Markers. It adds MCM options with full control over the new markers, as well as all of the vanilla map markers.
Requirements

Permissions and credits

Translations

Turkish
Spanish
Russian
Portuguese
Polish
Mandarin
Italian
German
French

Changelogs

Donations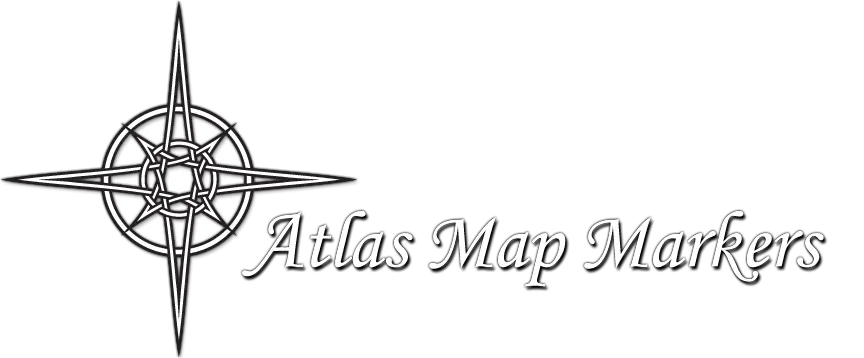 Explore Skyrim and discover hidden and hard to find locations such as wilderness camps, shrines, cave exits, and much more. This is an update to Kronixx's classic mod,
Atlas Map Markers
. It builds on the original mod and adds MCM options with full control over both the new map markers, as well as all of the vanilla map markers.
FEATURES
More than 700 new map markers have been added to the game.
World maps and map markers for Blackreach, the Soul Cairn, and the Forgotten Vale to help you navigate these areas and allow for fast travel.
All map markers can be configured quickly and easily using the Mod Configuration Menu.
Vanilla map markers are also fully configurable, allowing you to completely customize which markers appear on your map.
Map markers can be set to Default, Undiscovered, Discovered or Disabled.
Includes MCM options to adjust Compass settings (values are set to vanilla by default).
Bug fixes and updates to some of the map markers.
Ore mines have their ore type inserted into their name (for example: Embershard Iron Mine).
Compatibility for the Unofficial Patch is handled automatically.
REQUIREMENTS
- 
SKSE
and
SkyUI
RECOMMENDATIONS
- 
Atlas Map Markers SE - Updated with MCM - Settings Loader
- Save, load, and import MCM settings from an existing save.
-
Atlas Map Markers
 - or
another mod that resizes the map icons to make them smaller
(specifically, you're looking for the map.swf file).  However, please note that if you install this mod, you should NOT install the "Atlas Legendary.esp" plugin as it will conflict with my version of Atlas Map Markers.  Likewise, the "Atlas Compass Tweaks.esp" plugin isn't needed since these adjustments can be made using the MCM in my version.  All other options, including the blackreach textures, can be installed alongside my version of Atlas Map Markers without conflict.
LOAD ORDER
- Atlas Map Markers should be loaded after
Complete Alchemy & Cooking Overhaul
and any other mod that edits the Blackreach, Forgotten Vale, or Soul Cairn worldspace records.
CREDITS
Credit for creating the original
Atlas Map Markers
belongs to Kronixx.
CHANGES
The Mod Configuration Menu (MCM) will allow you to select which map markers you wish to have active. Most of the map markers are enabled by default and will only appear once you have discovered that location. However, any and all of the markers can be disabled to remove them from the map. In addition, I have included options to allow you to configure nearly every vanilla map marker as well, so you can fully customize the map with just the markers you want and need.
The process by which Skyrim updates the map is not exactly the fastest function in the game. The map will wait to update until after you exit out of the MCM, and it may take several minutes to complete. This is particularly true if you have edited the settings for a number of different categories and the script has to process a lot of map markers. You can carry on playing while the map updates, but you can't access the Atlas MCM again until it is finished.
I also made a number of minor corrections and bug fixes to both the vanilla map markers and the Atlas markers. These changes mostly consisted of changing the icon used by the map marker so that it was more consistent with the type of location it was representing. A full list of these edits can be found in the Readme file.
Ice caves now use the previously unused "ice cave" icon for a bit of added variation.
The Imperial Fort icon (tower with flag) is now used to represent forts that are occupied (or could potentially become occupied) by friendly or 'legal' factions. This includes bandit-controlled forts that can eventually be taken over by Imperial or Stormcloak soldiers, as well as forts controlled by legally sanctioned groups like the Thalmor or Morag Tong.