File information
Created by
TheBigLidowski
About this mod
Adds classic Fallout 2 style M72 Gauss Rifle with custom animations and leveled list integration to the Commonwealth.
Requirements

Permissions and credits

Translations

Russian
Portuguese
Mandarin
Italian
French

Changelogs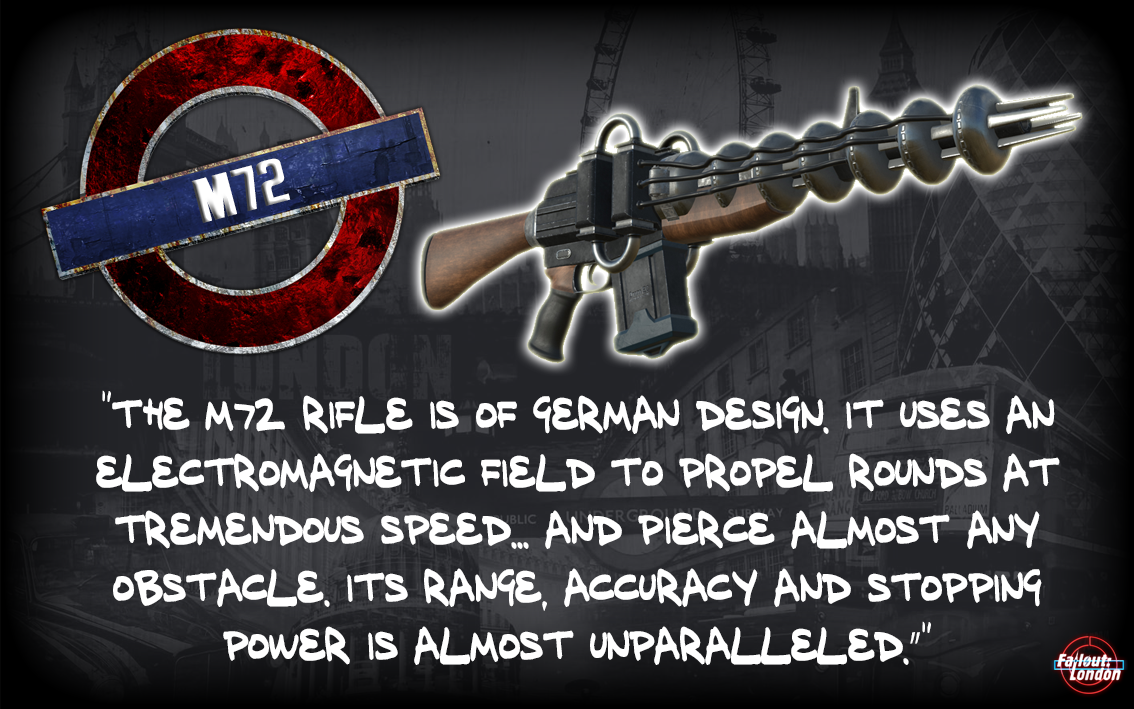 This M72 Gauss Rifle was created for the Fallout: London project. Here's the project contacts:
Discord -
https://discord.gg/GtmKaR8

Youtube: 
https://www.youtube.com/falloutlondon
Facebook: 
https://www.facebook.com/FalloutLondon/
Website -
http://www.falloutlondon.com/

Subreddit -
https://www.reddit.com/r/FalloutLondon/

Twitter -
https://twitter.com/falloutlondon

Instagram: @Fallout4London


You need to keep your Fallout 4 game up to date (
version 1.10.162 or higher
) or this mod won't work for you!
I you aren't able to update your game right now you can try to edit .esp header in FO4Edit - change version in HEDR section to 0.9500 - but no guarantees.


3 Barrels - Default, Shielded and Overcharged (main stats are hip-fire and sighted recoil, range, damage);
2 Magazines - 8-round and 20-round Drum;
4 Scopes - Ironsights, Reflex Sight, Short Scope, Long Scope (with customizable magnification levels);
3 Stocks - Handmade, Handmade Recoil Compensating, Full (classic wooden) (stats are hip-fire and sighted recoil, AP cost);
3 Receiver Improvements - Additional Capacitors (more damage, slower fire rate), Recharge Booster (faster fire rate, less damage, automatic fire mode), Recharge Optimizer (more damage, faster fire rate, but both are slightly less than focused stat improvement mods);
1 Muzzle - Suppressor (and it's quite
T H I C C
).

Fallout 4 version 1.10.162 or higher, Nuka World DLC.


The gun will be distributed through leveled list integration script to the gun vendors such as Arturo or KL-E-0, various Gunners, BoS soldiers, Minutemen soldiers, Railroad agents, Raider bosses.
Or you can as always spawn it with console: get the
<id>
by typing
help m72 4 weap
and add it to your inventory by typing
player.additem <id>






[Placeholder]


TheRizzler
- for his tutorial;
WarDaddy
- for teaching me animation tricks;
Wanaming0
- for the cool sparky FX on the overcharged barrel;
Triangulum, Little Light, SpiffySkyTrooper - for their beautiful screenshots;
Please let me know if I forgot to mention someone else, cuz I tend to forgetting things constantly :D

Have fun with the gun!