Sightseer - Standing Stones
Sightseer - Standing Stones
File information
Created by
tjhm4
About this mod
Adds guidebooks to the different standing stones, with hidden collectables at each stone and a customizable buff if you complete a hidden quest.
Requirements

Permissions and credits

Donations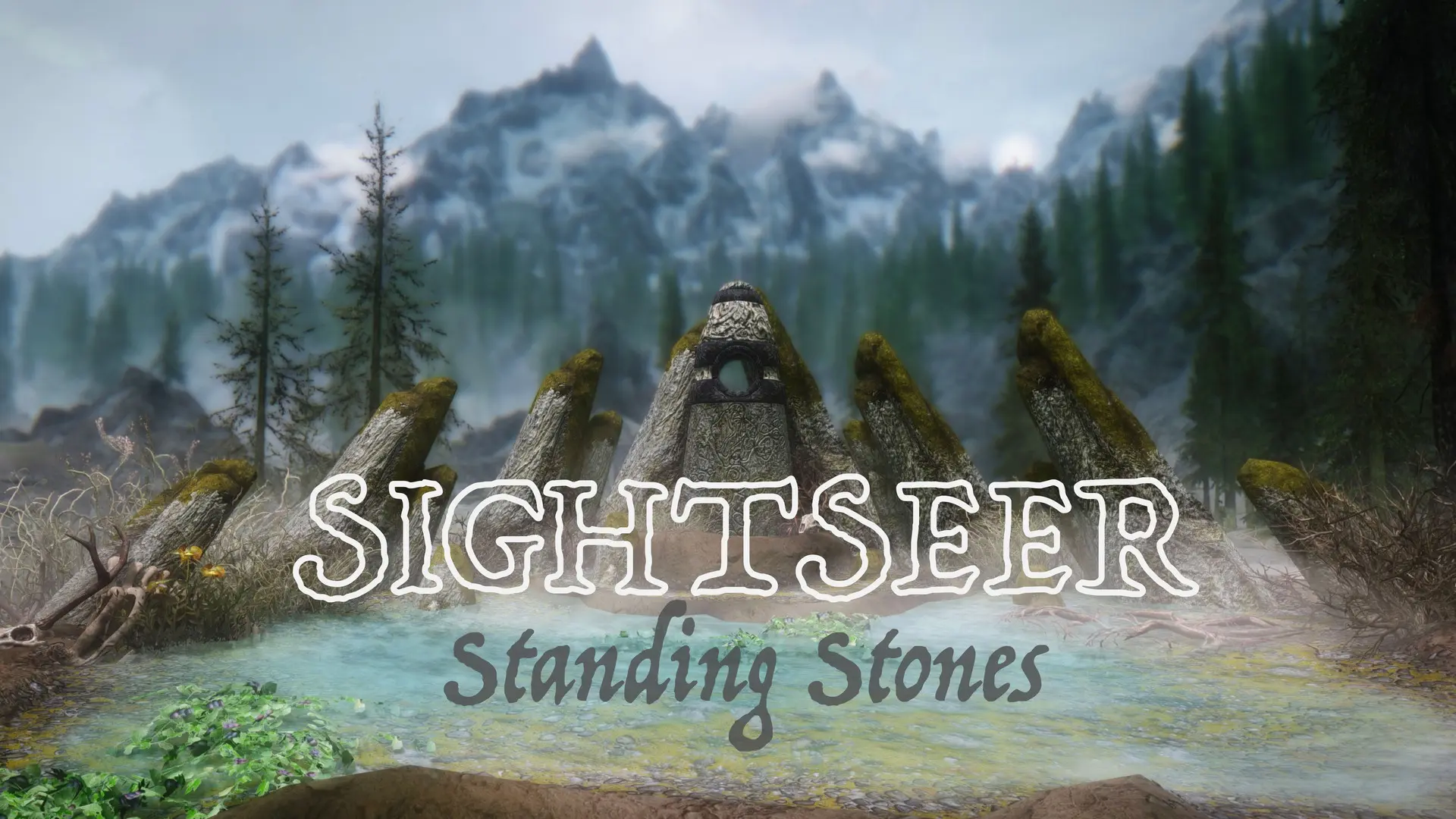 Sightseer offers an immersive, in-game method for the player to target and motivate their exploration of the standing stones. No longer must the player rely on a magic compass (or internet searches) to seek them out. Instead, guidebooks can be bought from vendors that provide guides to their locations.
But that's not all. To motivate the player to explore these far flung reaches, Sightseer adds hidden gems to the standing stones. When in the player's inventory, each gem provides a minor buff themed around its stone. There's also an unmarked quest that gives dedicated explorers a larger reward - the ability to magnify the effects of one gem in return for sacrificing all others.
The guidebooks can be bought from regular shops, though they are most likely to stock guides to the more accessible stones. For the harder to reach stones you should check in with court wizards. They will also sell a book on "Nordic Customs" that will point you in the right direction for the unmarked quest. For spoilers head to the bottom of the mod page.

Requirements

SPID
 - to distribute guidebooks to vendors.
Recommended mods
Favorite Misc Items
 - to favorite guidebooks for quick access.
Undiscovered means Unknown - extreme compass edition (new)
 - so you actually need to pay attention to the landscape. I suggest turning off undiscovered location icons entirely.
Installation

Download and install through your mod manager of choice. It is safe to install on an existing save. The plugin is ESL-flagged.

Updating

Check the update notes. Updates that change script properties will require a new game.
Uninstallation

Safe to uninstall at any time.
Performance impact

None.
Compatibility

Sightseer adds gems to the world space around standing stones. Mods that alter the stones or the landscape around them may cause the gems to be in the wrong place or to be unobtainable. There is a patch for Ryn's Standing Stone Overhaul in the optional downloads.

Building Your Character - diverse and fun builds with strengths and weaknesses
Master of One
 - A perk overhaul that transforms perks from generic character progression into a means to craft unique and specialized builds.
Curse of the Firmament
 - A standing stones overhaul that emphasizes tough choices.
Legacy
 - A race overhaul that bring strengths and weaknesses to each race.
Acolyte
- A progressive-yet-unobtrusive religion overhaul with a long path to divinity.
Enemies and Combat - challenging, varied and fair combat
Know Your Enemy
 (
armor module
, 
patcher version
) - A resistance and weakness overhaul for enemies and armors.
Know Your Enemy 2
 (
armor module
, 
integration patch
) - An upgraded resistance overhaul: more damage types, more configuration, more polish.
NPC Stat Rescaler
 - A patcher that adjusts player and NPC stats for faster, fairer, and less spongy combat.
Enemy Releveler
 - A patcher that adjusts NPC levels to truly delevel the world.
Stats and stat growth - drawing out character growth to stave off premature godhood
Exhaustion - Incremental Fatigue
 - An ultra-lightweight injury/fatigue system.
Exercise - Incremental Growth
 - An add-on for Exhaustion that converts fatigue into stat growth.
Geometric Stat Growth
 - Stats grow by a configurable percentage on level up, instead of a fixed value.
Miscellanea

Challenging Spell Learning
 - Spell Tomes trigger a costly ritual you must pass to learn spells.
Trainers Galore
 - An expansion of the training system designed for "training only" leveling.
Pick Your Poison
 - An alchemical handbook to support strategic foraging.
Configurable Perks Per Level
 - An MCM to edit how many perk points you get on level up.
XP Editor
 - A patcher that adjusts xp gain and leveling.
Sightseer - Standing Stones
- Guidebooks for the standing stones, collectibles to find, and a hidden quest to unite them.
Mod Lists
Thoughtful Skyrim
 - A small, gameplay-focussed modlist that rewards preparation and planning.

Thanks to u/dom_optimus_maximus who created the
image
used on this mod page.