File information
Created by
Stuyk
About this mod
A standalone modification that adds; snapping wallpapers, snapping carpet, walls, flags, roofs, windows, halfwalls, railing, and the list goes on.
Requirements

Permissions and credits

Translations

Changelogs

Donations
If you'd like a supported version of this mod check out
Simply Modular Housing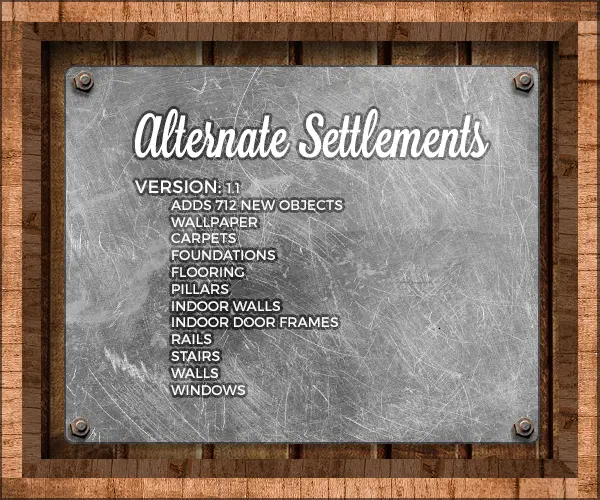 Features:
Adds a total of 712 new standalone items!
- Snapping Wallpapers
- Snapping Carpets
- Snapping Ceiling Wallpapers
- Wood Framing
- Additional Walls
- More Snapping Nodes for Walls (They can be stacked upwards.)
- Additional Flooring
- Additional Foundations
- More Snapping Nodes for Foundations (They can be stacked 40 units higher.)
- Additional Quarter Flooring
- Additional Roofing
- Additional Doorways
- Additional Staircases
- Windows!
- Exterior Detailing
- Vertical Flags
- Quarter Floors
- Quarter Carpeting
- Wallpaper for Windows
- Exterior Decor
- Signs
- And soooooo much more!
Some vanilla items will work with carpeting / wallframes. Not all of them.
Installation:

1. Download Settlement Keywords
http://www.nexusmods.com/fallout4/mods/7259
2. Drag / Drop all Files + Folders into your data directory.
3. Enable AlternateSettlements.esp
4. Enable SettlementKeywords.esm



Getting this to work with Homemaker:
Change the load order between the two. If you want to use homemaker. Load it after Settlement Keywords.
If you want to use Alternate Settlements or any mod that uses (SK) load it after Homemaker.
Where do I find the objects?
They are in the Vanilla sections. Poke around and you'll find them.
Development Document:
Development Google Document

Trello for Tracking Updates
twitch.tv/stuykgaming

Team Members:
Stuyk
SargeMines
Kronos
Special Thanks to:

Romain P.
David M.
Nic W.
Pavel M.
Samantha L.
Jason D.
Paul B.
Brian C.
Ashley T.
Jose V.
Made with FO4Edit
Made with NifSkope