First off, thank you for checking out my blueprint! This is my first upload to Nexus Mods (other than pictures). I've started yet another new playthrough of Fallout 4, and been thoroughly enjoying having the Transfer Settlements mod this time around! I actually started out using another creator's blueprint for Home Plate -
Renovated Home Plate - Transfer Settlement Blueprint
by
Javawalk
. And while I love the work they did, I ended up redoing almost the entire space to my own personal tastes. All that remains of the original blueprint are some of the walls, some of the flooring, the laundry area, the core modular kitchen setup, and the stairs.
I created this space for personal use, which is why there are so many mods used. But since I really liked how it turned out I decided to upload and share it in case anyone else likes the way it looks and wanted to use it as well. Since Home Plate is not my main home in the game, I designed it more as a place for your character to relax and hangout while passing through the city, rather than a place to store and display all your goodies. (It can definitely be redesigned that way however!)
If you decide to download this blueprint, please feel free to use and edit it however you wish. I know there's a lot of clutter and wall decorations (boo empty space!), but that might not be for everyone. I'm also certainly not the best at lighting the space either... "if it's bright, it's fine" is pretty much where I stand on lighting. So please, tinker away and make it your own!
Features:
Usable stove for cooking (with accompanying raw meat plate to catch those slabs you cut!). Working shower, sink and toilet.
Usable bench press to work out while a mini Liberty Prime spots you! (disclaimer: Prime will not actually spot you, but it will stare menacingly at you, providing adequate motivation)
Large workshop area with usable armor, weapon, and chem stations on one table! Also includes armorsmith and weaponsmith benches for users of AWKCR.
Working clock by the blue exit door showing the real in game time! (So you aren't surprised that the market is closed when leaving home)
A looksmenu mirror in the bathroom to change your appearance! (Needs required mod to use. Placed and tested to prevent glitching and provide adequate light.)
A usable gaming desk for all of your holotape fun time!
Comfy bed that should support both you, and a friend ;)
A personal area for Dogmeat!
Nani shimasu ka? Everyone's favorite noodle vendor, ready to serve beside your dining room table!
A cryolator themed beverage storage (that cools your beer and cola!)
*Update!*

I created a retexture of the curved monitor you see in the living room area. It changes the color of the monitor's body to black, and changes the Windows desktop screen image to the Fallout "Please Stand By" film loading screen.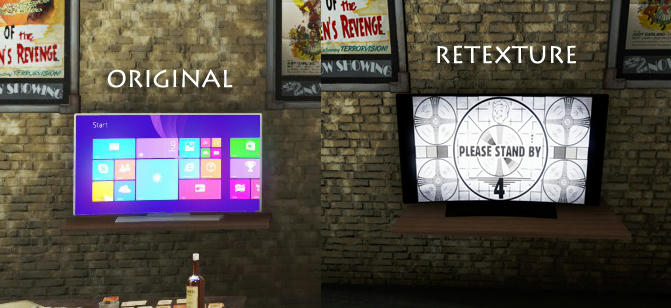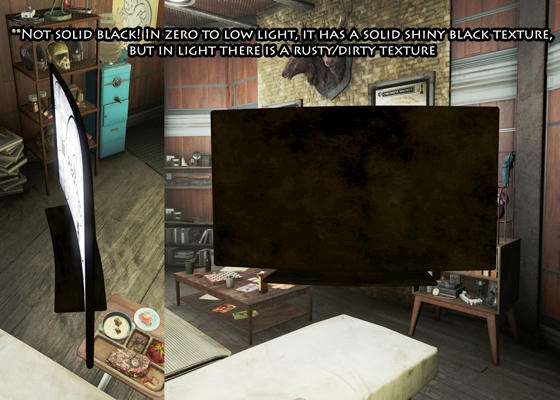 The retexture is available as a miscellaneous file. The zip file includes a readme.txt file, and 3 different options for installation -
-If you only want to change the screen's display from the Windows desktop image to the Fallout "Please Stand By" film loading screen, copy the contents of the "Screen Only" folder.
-If you only want to recolor the monitor body from white to black, copy the contents of the "Monitor Body Only" folder.
-If you want both a black colored monitor with the Fallout "Please Stand By" film loading screen displayed, copy the contents of the "Screen and Monitor Body" folder.
These are loose files and will not physically overwrite any files, but will load over the original installed files. Meaning you do not need to delete, overwrite, or uninstall anything for them to work. Simply paste/move the data folder you chose into your Fallout 4 directory (...\SteamLibrary\steamapps\common\Fallout 4), and merge the folders.
Stats:

item_count" : 365,
player_name" : "Rhiannon",
plugin_version" : 1.49,
Requirements:

Mandatory!
(These are necessary for the mod to work)
Fallout4.esm
DLCWorkshop01.esm
DLCworkshop02.esm
DLCWorkshop03.esm
*While I do have and use all the DLC, the export/import shows only the workshop DLCs as required. Let me know if you have DLC related file issues.
Transfer Settlements - Shareable Settlement Blueprints
Rebuilt Home Plate
Scrap Everything
Place Everywhere
*You may not
need
Scrap Everything and Place Everywhere, but I highly recommend them (and it won't look exactly the same without them)
Homemaker - Expanded Settlements
Objects using this mod: institute floor, hamper, HVAC, light, rug, washer, dryer, fan, towel rack, exit sign, floor mat, potted plant, shelf, medkit, fireplace, steamer trunk, towel
Snappy HouseKit
Objects using this mod: MetalSideA 1x1, HouseKit wall wallpaper full 23, snappy floor carpet 21
Workshop Rearranged

Objects using this mod: sunshine tidings sign, dark stacked stone wall, white federal brick wall, clean high tech ceiling lamp, informational sign, road wall sign, periodic table of elements poster, factory safety sign, food & drink poster, propaganda poster, clean rubber mat, safety poster, factory safety sign, advertisement poster
Settlement Objects Expansion Pack

Objects using this mod: institute wall - multi story, institute wall - half, vault wall - overseer, glass wall - curve multi story, institute clock, fusion core candle, vault 114 blueprint, wall light, liberty prime, vault safety poster, restrict stripe, power armor t60, takahashi, fluorescent ceiling light, curve monitor
Modular Kitchen

Objects using this mod: omelette, modular kitchen counter, bacon and eggs, dishwashing supplies, modular kitchen platform base, mirelobster, modular kitchen stove, small saucepan, modular kitchen refrigerator, modular kitchen upper cabinet, radroast, modular kitchen sink, raw meat on a plate
CREAtive Clutter

Objects using this mod: *most of the furniture and clutter, too much to list
Do It Yourshelf

Objects using this mod: *a lot of the wall shelves and decorations
CWSS Redux v2

Objects using this mod: soap tray, bubbler station, TP holder (regular), toilet station, shower station
Cosmetic
(Not necessary, but you'll lose some decor without it)
Crafting Fury 9000 GTX

Objects using this mod: diploma, coffee set, picture frame, shelf, THIS. IS. SPARTAAAAAAA!!!
Gruffydd's Signs and Posters

Objects using this mod: *signs and posters... pretty self explanatory
Thematic and Practical

Objects using this mod: armchair, couch
Workshop Decorations Pack

Objects using this mod: coat rack, blue box of stuff, coffee table
Extras
(Random, not needed stuff. Great mods, but not at all required for this blueprint unless you need the full package)
Armor and Weapon Keywords Community Resource

Objects using this mod: weaponsmith and armorsmith workbenches
Looks Mirror

Objects using this mod: mirror
NorthlandDiggers Resources

Objects using this mod: wasteland garage
Orphans of the Commonwealth - More Children

Objects using this mod: child themed posters
Vanilla Extensions
Objects using this mod: VE- decorative panel
Red Rocket Reborn
Objects using this mod: RR - nuka cola quantum


Installation:

Manual install of included file - Home Plate by RadStratRadar.json
Find your blueprints folder, which should be located in this file path:
...\SteamLibrary\steamapps\common\Fallout 4\Data\F4SE\Plugins\TransferSettlements\blueprints
If you've already installed and used the Transfer Settlements mod, you should have at least one numbered folder in here. If so, create a new folder, name it the next number after what you have, and paste the .json file in there. If you don't have any folders in 'blueprints', create a new folder, name it "1" (no quotes), and paste the .json file in that folder.
In game, scrap all clutter, including the cinderblocks and lights. I'd also scrap the industrial fan on the wall by the workshop, the power conduits and wires (but not the fuse box!), and the metal beams (the 4 bridge shaped ones near the blue door exit). The blueprint comes with a new stair set, but I'd recommend leaving the original stairs. You can scrap either post import; the new stairs might mess with companion navmeshing. I also moved both the workshop and fuse box, but they won't automatically move with the import. You can move them yourself with the Place Everywhere mod.
When ready, open Transfer Settlements either through the holotape or in the Mod Configuration Menu, and the blueprint should be listed under imports. I've tested the import on a previous save with a fresh Home Plate. Everything imported correctly, but you will have to move the workshop and fuse box yourself, as well as reconnect some of the wiring by/to the fuse box.
**NOTE: I do NOT recommend nuking Home Plate prior to import! It's not necessary, and when I tested it, all it did was remove the fuse box which you need for power. It will not remove the debris. To effectively scrap all debris, use the Scrap Everything mod (and keep it's .esp at the very bottom of your plug-in load order for the most stability).
Thank You:
Please provide comments, questions, and any issues you come across.