I always loved Whiterun and I found myself trying an increasing number of mods to 'flesh out' the surrounding area. 
This is my attempt at adding a little extra life to Whiterun, whilst ensuring that the surrounding area is fully compatible with some of the more popular mods. It will hopefully work well with all the mods that I feel when used in conjunction make Whiterun the kind of place you find yourself not leaving for hours on end.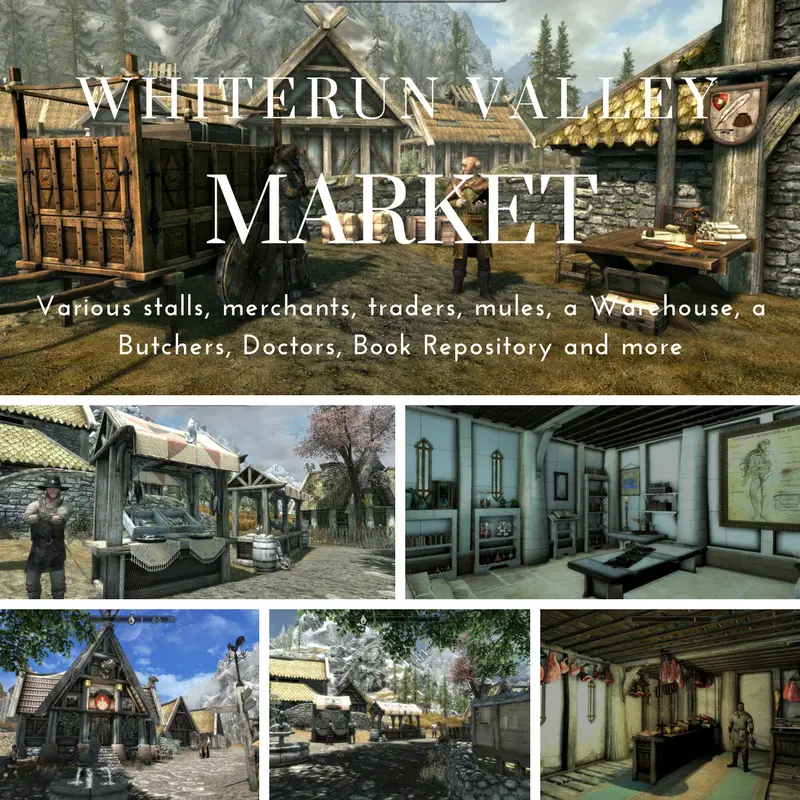 This Mod adds WHITERUN MARKET:
A Market area with a fountain, a central square and The Whiterun Inn complete with beergarden and basement
Several stalls selling mostly raw materials (so as to not reduce the need to travel into Whiterun itself)
A Tailor's Shop and housing for the NPCs
A warehouse to be broken into if so desired and overseen by Mayor Chunderwitt
A Butchers, visited each day by different Herders providing meat.
A Guard house and Townhall
A Stable for Mules, a new farm, and a Fishing Dock
Moon Windwalker's Apothecary
A Healer's Surgery, A Book Repository and Whiterun School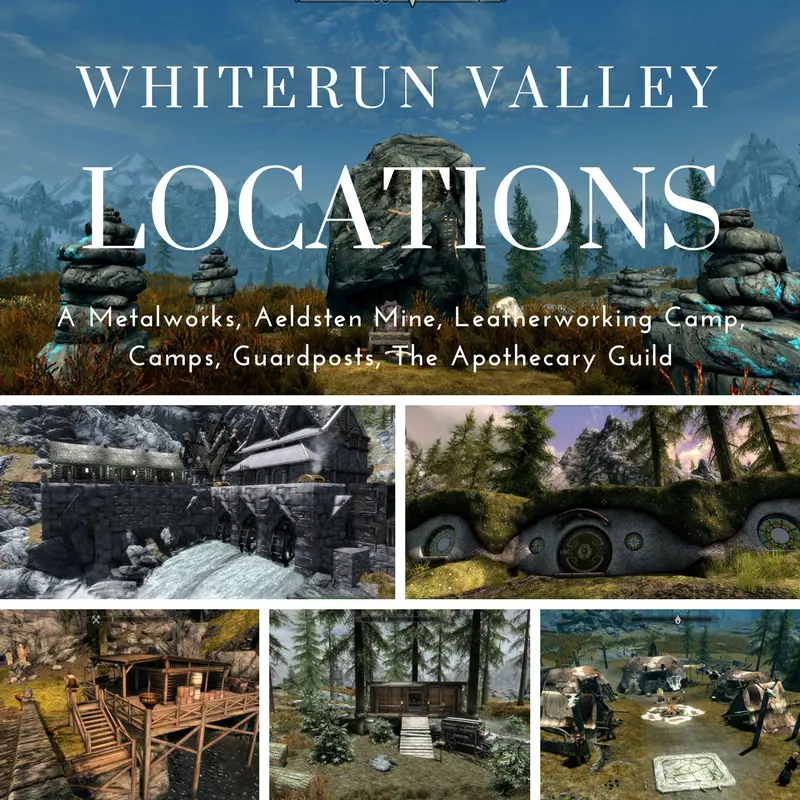 Some locations to explore beyond the Market place:
Whiterun Metalworks and Aeldsten Mine
A Leatherworking Camp
Whiterun Apothecary's Guild
A Dwarven artefact Shop
Many camps for Herders, Lumberjacks and Wandering Traders
Two new Gates, guarding the main road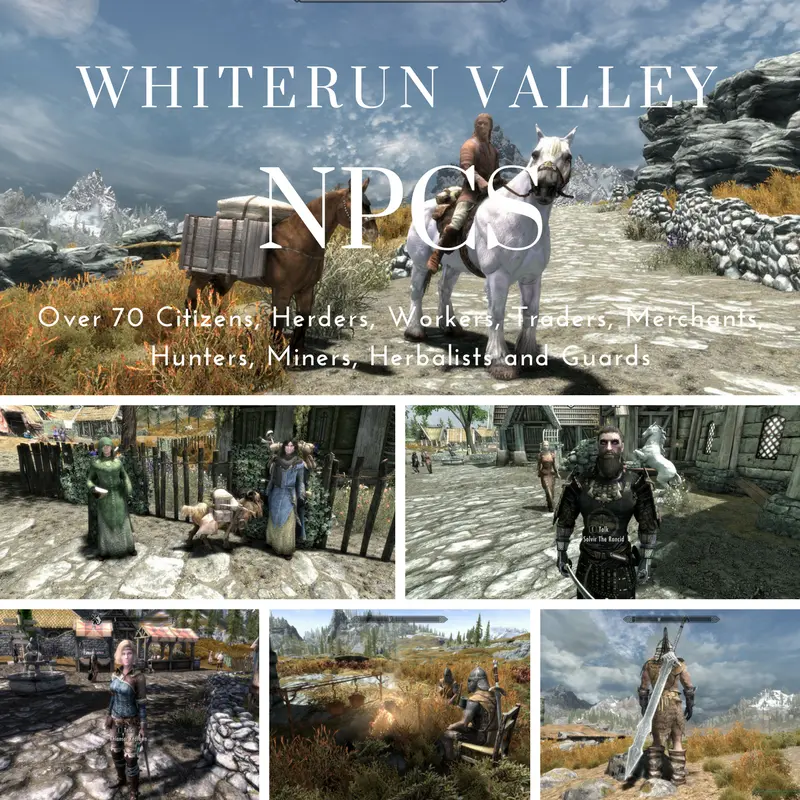 Over 70 new NPCs:
Merchants, Traders who ferry 'imaginary goods' and Citizens
Followers, Mercenaries and Hunters
Herders who bring their flocks into town periodically
Leatherworkers, Miners and Metalworkers
The Mayors Family, a Mystic, Healers and Wandering Herbalists
A Professor and Bookstore Owner
Guards with their Guard Posts
Also - additional dialogue to spice things up a little from Relationship Dialogue Overhaul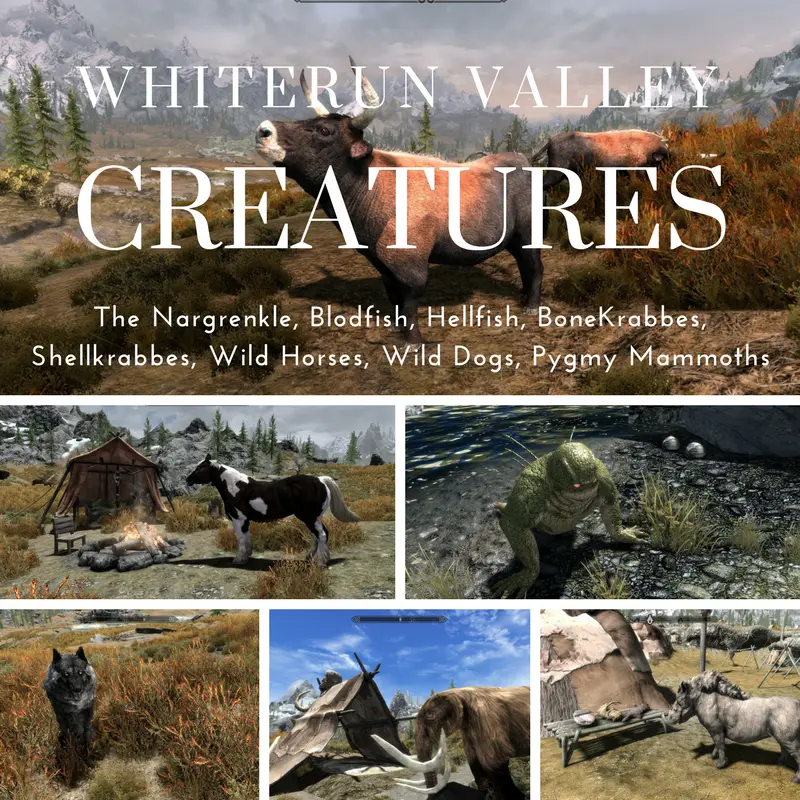 Find new species of creatures native only to Whiterun Hold (cos I'm too lazy):
The Nargrenkle
A wandering pack of Wild Dogs
Blodfish, Hellfish
Shellkrabbes, Bonekrabbes
Tame Slaughterfish and Mudcrabs
Mushi..things..
Wild Horses

Whiterun Valley 1.41: The Market Place



There are currently 2 separate versions of WRV:
Whiterun Valley - FULL Original Version (places the Market outside the City Walls and has all original additional sites)
Whiterun Valley - LITE (by Mnikjom) which cuts back on some locations, changes names and items to be more lore-friendly
Willybach's Whiterun - this is a separate mod - check it out if you would prefer to have a lot of this content and much more within the city itself. Mod available here: 
>>>
Willybach's Whiterun
<<<
There are also plans for additional STANDALONE versions:
Whiterun Market + City Outskirts
Whiterun Metalworks + Aeldsten Mine
Skinner's Leatherworks
Whiterun Apothecary Guild


In this mod I have used some modding resources from the following:
STROTI - Converted by TAMIRA - Various packs including Hobbit House Resource and other buildings
YUGHUES - Converted by TAMIRA - New Plants
TARSHANA - Winterbrook Furnishings
JSNIDER/VICN - 
VICN Creatures
IXWIND - 
The Witcher Cards
JET4571 - Jet Resources
CLOUDEDTRUTH - 
Relationship Dialogue Overhaul

JOKERINE - Misc resources
TAMIRA/PHITTS - Lanterns Mod
TAMIRA - Assorted Resources
MIGHTYNINE - Tap Warehouse
NORTHBORN - 
Northborn Fur Hoods

0Prime0 -
Blades Samurai Armor and Kinono

OARISTYS -
Modder's Resource - The Witcher Extension

LORSAKYAMUNI - 
The Witcher 3 Mega Resource Pack

NORAIMIRONHAND - 
Mule Skinner's Farm

HIFOO -
Basket Backpack

TREASURECHEST - 
Furbag Backpack

JACKNIFELEE -
Velvet Robes and Cloaks

ELINEN & ZTREE - 
Hoddminir Plants and Trees

MIHAILMODS - 
Various Creature Mods

CD Projekt RED
KELRETU -
Alchemist Backpack

MATY743 -
Noldor Content Pack

BLUEBOAR -
Broad-Brimmed Hats

ORIN04 -
Decoration Bag

REFURBMADNESS - Simple Outfits for Men
MM137 - Skaal Santa Suit
YAMIELISA - Ambrosia Fashions
DANKFRENCHTOAST -
DFT's Asset Pack

LEODOIDAO -
Petrogliph and Cave Painting Resource

APEPIofDUAT - Apepi's Art Assets
TRUEDRAGONBORN - More Rugs
KRAETEN - Stormcloak Cabin Resource
TESTTIGER2 - TestTiger's Mesh Resources
RUSEY -
More Triss Armor Recolours

BUDDY1011 - Mega Resource Pack
DARKRIDER - Celtic Decor for Skyrim I
BLARY - Various Resources
FLINTTONE - Orient Set
ELIANORA -
Elianora's Extra Resources

SCARLA - Scarla's Toybox - Modder Resources
ELINEN - Whiterun House Foundations
MAHTY -
Hip Bags

JAYR848 -
Stormcloak Battle Armor Replacer

MINNGARM / KRITTAKITTY - Realistic Horse Breeds
xXTAINXx - Pierced Ears - Earrings
NICKJORASU - Religious Resources of Tamriel
Big thanks

Mods that are Compatible (with FULL Original Version):
JK's Whiterun
Halla - A Whiterun Player home
Better Cities SE
Dawn of Skyrim
Bathing Beauties or Beefcakes
Provincial Courier Service
Dragonborn Village
Elysium Estate (But must be placed AFTER WRV in load order)
Western Watchtower Revamped
Whitewatch Tower Reborn
Perfect Whiterun
EEK's Whiterun Interiors
Kato's Whiterun
Valkyrja Castle Whiterun
Mods that NEED and already have Patches:
The Great Forest of Whiterun Hold - needs original mod here: 
The Great Forest of Whiterun Hold
Cutting Room Floor - needs original mod here: 
Cutting Room Floor
JK's Whiterun Outskirts v.1.4 - needs original mod here: 
JK's Whiterun Outskirts
Greenmount Gardens - needs original mod here: 
Greenmount Gardens

Mods that will hopefully have Patches soon:
JK's Skyrim
Whiterun Gates and Walls Restored
Whiterun Forest Borealis
Peoples of Skyrim
T'Skyrim - Whiterun
This mod WILL be incompatible with:
Whiterun Stable Tweaks (might make patch later)
Holds The City Overhaul
Recommended Mods that I feel work well with WRV:
Cutting Room Floor (needs patch)
Provincial Courier Service
Elysium Estate
The Great Forest of Whiterun Hold (needs patch)
JK's Whiterun Outskirts (needs patch)
JK's Whiterun / Dawn of Skyrim
Western Watchtower Revamped
WhiteWatch Tower Reborn


Translations/Extra files available
German translation by Znerol (big thanks), available here: 
Znerol's German translation
Polish Version (outdated, but perhaps useful for some) here: 
nazg2001's Translation

Whiterun Valley LITE Version by Mnikjom here: 
Mnikjom's Lite Version

German Translation for LITE Version here: 
Znerol's German Translation for LITE Version

RS Children Overhaul Patch for WRV (Old) here: 
RS Children Patch

HD Signs Textues for WRV by LupusHegemonia here: 
Lupus Hegemonia's HD sign textures



THANKS FOR TRYING IT OUT!
:)
My other mods:
Willybach's Whiterun City Overhaul

Willybach's Generic Sign Resource