Daggerfall Expanded Textures
Daggerfall Expanded Textures
File information
Created by
Ninelan
About this mod
DET expands available textures to enrich Daggerfall's environments.
Requirements

Permissions and credits

Changelogs

This mod is a prerequisite to enabling the appearance of new custom assets in other mods. It does not place the assets around the world on its own.
Currently, it makes:-74
region-based tapestries and banners (37 tapestries, 37 banners)
-9
new wildlife animals
-36
new animals
-4
new nobles
-13
new civilians
-3
new vampires
-10
new temple devouts
-5
new scholars
-5
new warriors
-8
new labourers
-5
new entertainer
-4
new decor items

-1
new underground

-4
new notable characters
-14
new food items
-5
new work items
-1
new resource
-2
new nature props
-1
new clutter item
-4
new statues
-32
new biome textures (maquis)
available for modders to utilise in their own creations.
If something is not loading properly, make sure the mod is updated to the latest release first and foremost!
IMPORTANT NOTICE
Due to Daggerfall Expanded Textures being the leading project in expanding texture and model resources for modders, it contains all necessary objects to make mods that utilise it work. Additional mods may exist, either done by me or others that modify some of the textures or archives included in DET.
DET - remastered textures is one such mod. Mods like this should load AFTER DET.
CURRENT DET ADDONS
DET - remastered
(Support discontinued)
Daggerfall Expanded Textures-DREAM patch
HD version of the mod, compatible with D.R.E.A.M!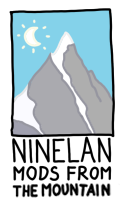 -*credits and praise*-
~NikitaTheTanner~
banner concepts
~Kamer~
deer art on which the deer were based off