PI-CHO ENB for Cathedral and Obsidian v Silent Horizon Custom ENB
PI-CHO ENB for Cathedral and Obsidian v Silent Horizon Custom ENB
File information
Created by
HaeVakSa
About this mod
This ENB was created for balance between Characters and landscapes. Balanced atmosphere and brilliant colors coexist. also it can adjust the tone map and use multiple Luts to create the color you want.
Requirements

Permissions and credits

Changelogs

Donations
My Patreon Site

----------------------------
Tweaked edition

1. KONAN Edition
2. PICHO ENB FOR NLA WEATHER PLUGIN
3. Vanilla Weather Version

----------------------------
INTRODUCTION

This ENB is an Custom version of
Silent Horizon ENB
 ,I worked to make this ENB feel LE.
This ENB used mostly Silent Horizon shaders but Some shaders (Bloom, Postpass)  were taken from
Re-engaged
enb and 
Pictureque graphc overhaul

I customized weather settings,bloom, AGS,  and tonemap values, And I modified the Re-engaged ENB's Postpass.fx to be compatible with Silent Horizon Lut.
This ENB has first rights to lonelyKitsune and firemanaf.
I tweaked Silent Horizon, and made only minor modifications to the shader.
Thanks to them for allowing me to upload to Nexus.!!

Hotkey

Shift + Enter = Turn on ENB settings
Shift + Up = turn off enb
HOME = Enable/Disable FPS Limit

INSTALLATION
Same as other ENB presets.
a. Download the latest binary (http://enbdev.com/)b. Copy d3d11.dll and decompiler_46e.dll to the Skyrim SE installationfolder.c. Install weather mode to use (Catherdral or Obsidian)
Cathedral:https://www.nexusmods.com/skyrimspecialedition/mods/24791
Obsidian:https://www.nexusmods.com/skyrimspecialedition/mods/12125
d. Install ENB Helper and Old Skyrim SE Shader Bundle to fix SSS in ENB onSSE 1.5.80 Both files exist in the link below.
ENBHelper: https://www.nexusmods.com/skyrimspecialedition/mods/23174
e. Unzip the downloaded file and copy the contents to the Skyrim SEinstallation folder.
l ELFXwith Enhancer is recommended as the interior mod.
f. Check the following value  in Skyrimprefs.ini.
bSAO_CS_Enable=0
bSAOEnable=0bUseTAA = 1
bVolumetricLightingEnable = 1
iVolumetricLightingQuality = 0 or 1 or 2 (choose according to your computer's
performance low, Medium high)
g. Launch the game and make sure the brightness slider in the screenSettings is in the middle.

(This is a recommendation, if you are not using TAA, adjust the sharpnessvalue in Postpass.fx in the in-game GUI, and consider using SMAA + FXAA)

H. Install the ELE  or ELFX  or  RLO to your liking.
(ELE is better for personal preference, but it depends on the person.)

Be sure to select the "Interior" option only.

G. (Optional) Install Volumetric Mists - Dense Option

This can alleviate the problem of broken horizontal lines in ENB.

(The effect is clear only when the Dense option is installed.


---------------------------------------------------------------------------------------------------------------------------------------------------

Recommended Plugin

Used for Mod Organizer2.

It's in Fallout 4 Site, but it doesn't matter because it's a MO2 plugin.
Rather, this plug-in works perfectly with the SE while Fallout 4 is not compatible with load accelerators, etc.

Multiple ENBs can be operated at the same time,
Modification, management and backup are also useful.

ENB can be managed by Mo2.

--> https://www.nexusmods.com/fallout4/mods/43814

---------------------------------------------------
Recommended environment mod

For reference only.

This ENB was adjusted in the vanilla environment(texture) except for lighting and weather mode.


1.Skyrim 2020 4.6 by Pfuscher
2.  Northen grass or Grass Field SE or Landscapes-Cathedral Concept
3. ENB Light
4. EEKs Renthal Flora Collection
5.CC's HQ Caves-4K-1.1
6. Unique Flowers and Plants SSE-ESM Version
....
I will continue to add.
  CREDIT & License
Boris Vorontsov –ENB Bethesda – Skyrim
LonelyKitsune – Silent Horiozn ENB –effect,prepass,Adaptation, Luts, etc
-Marty McFly - Depth of Field
-Kyokushinoyama - Lens DirtTextures
-Christoph Peters - Blue NoiseTextures For help or knowledge:
-Timothy Lottes - VDR Tonemapperpresentation
-John Hable - Filmic Worlds blog
                     -Kingeric1992 - Procedural ghost flares,Adaption and SMAA Header
Firemanaf – Re-engaged ENB – Bloom Shader, postpass.
                     - MaxG3D-For his ENB Bloom Shaders
                     - JawZ-for his ENB postpass shaders        
omega2008 -Pictureques ENB – HSL Shift
TheDaedricDoll – D.D Lut 
Meonmeon'  - Meonmeon'  LUT : Blog : http://meonmeon.snowdrop.jp/sims/
Extra Lut Code - l00ping.
tetrodoxin - Senpai, Old World, Aqua Lut Filter 
Contrast Adaptive Sharpener for ENB - rhellctThe TOON ENB of ohway234555 was a hidden gem.
Little was known despite his amazing work.
(https://www.nexusmods.com/fallout4/mods/35027)

All code rights are reserved for their respective authors.
Thanks again to those who gave me permission.

How to activate the WetSurface effect.

I thought the WetSurface effect was awkward. It was also resource intensive.
However, in some scenes it can be very good. So I customized the values and entered them in ENB.
You can always use the reflection effect if you like.
Be sure to follow the process below.
A. Check EnableWetSurfaces and EnableRainWetSurfaces

B. Save the ENB settings.
C. Restart the game.
You must go through this process.


(Optional) d. If you want to apply the cubemap reflection effect, check the marked area.
CHANGE LOG ( N3.0 ~ N5.0 )

   2020/5/10
   N3.0 --> N3.1 Update
Fixed yellow splashing orange.
Fixed interior tonemap.
Cathedral version corrected the brightness ofSunrise-> Day-> Sunset.
   
2020/5/13        N3.1--> N3.2 Update
-add Night Eye Enhacner feature
It won't work if the weather is 0004D7FB.
   Even if you are in the interior, the Night eyeEnhancer will not work if the weather is 0004d7fb.
   you need to change the weather with a codesuch as fw 81a.
   (This is a code design mistake. I realizedthis mistake after uploading. I'll fix it in the next version)
   2020/5/14
   N3.2--->N3.2a
   
fix the night eye enhancer formula.

   2020/5/15   N3.3 Update 


Improved the formula for night EYEenhancements.Added black point adjustment to Postpass.fx.
Saturation and exposure are divided into day,night, and interior.DPX and Technical Strenght are also divided intoday and night interiors.
The Obsidian version has been slightly reducedin daylight contrast.
   2020/5/16   N3.4 Update 

Now, there is a Day, Night, and Interior division for each Lut file in each category.
This allows a larger number of Lutcombinations to be used.
I tweaked it a little in postpass.fx at enb GUI
   2020/5.20   N3.5 Update
Fixed some parameters of Postpass.fx to beadjusted to fade in and fade out when switching between day and night.
Gamma and exposure values can be adjusted forall time periods.
Added Black-White Ratio function
Highlight brightness adjustment function added
Lut interior strength is divided into day and night.
the Eye looks brighter.
SSS figures have changed.
All the [object] values in 3.3 were entered inthe weather file.
Obsidian version apogrypa brightness corrected.
   2020/5/23 
   3.6 Update
Night Eye Enhancer official improvements.
Added some new features.
   2020/5/27
   3.6-> 3.7 Changes
AO was used instead of ENB AO and AO bound toDOF.
I put some luts in the tetrodoxin snapdragon filter
(Thanks to tetrodoxin for permission, OldWorld, Senpai Aqua)
Fixed an issue where weekly brightness was reduced in the 3.6 version of the Cathedral.
Fixed an issue where the peripheral brightness was too bright in the Obsidian version.
Fixed an issue where interior brightness was too dark.
   2020/5/29
   N3.7--->N3.8 Update
Lens is enabled in the default settings.
Fixed the weather in AshStorm slightly.
Added functionality to DOF AO.
Fog, rain, snowy weather and interior can beset separately.
Dawn, Sunrise, Day, Sunset, Dusk, Night AOintensity can be set for each time zone.
    2020/5/31
   N3.8--->N3.9 Update

Now you can select ADOF separately withoutblack fade problem.
       (However, some values need to be changed, seethe data in the file.)
The detail settings of the bloom are dividedinto Night, Day and Interior.
Fixed a bug that the screen fade screen wasnot displayed.
The night vision enhancer formula has been improved.

   3.9---->3.9a
Eliminate the rainbow phenomenon on skin whenusing Demoniac texture.
   
   2020/6/04
   N3.9 --> N4.0 Update
Add DOF mouse focus function
Lens turned off by default.
fixed DOF Shader
Change the Bloom shader to be editable atall times.
Fixed the problem that saturation YZW didnot work in Bloom.
Tweak New Bloom feature.
Default Lut function added. (You cancustomize it by editing txt in enberies folder)
The Obsidian version has been upgraded torework level, and the cathedral has been improved.
   and etc 
    2020/6/18
   N4.0-->N4.1Update

Patch for ENB binary 0.427
DOF numerical outdoor/indoor partitioning
    2020/6/25
   N4.1-->N4.2 Update
Improve Night Eye Enhancer
   Now adjust Enhancer's brightness/contrast
   It is less aggressive and brighter and theshadows are more visible.
Adjusted Bloom levels in Sunset.
Fixed some weather in cathedral version.
   
2020/6/27
   N4.2 --> N4.3
Added "Precise Trigger" functionin night eye enhancer.
   With this function, only "nightvision" is accurately detected.
   Predator vision mod is also compatible.
   (https://www.nexusmods.com/skyrimspecialedition/mods/2777)
Change Defualt Lut Combination.
Changed daylight color similar to the 3.1version.
Changed the Cathedral version night to bebrighter.
Fixed some weather in the Obsidian version.
   
    2020/7/05
    N4.3a --> N4.4
Automatic lens deactivation when using the night vision enhancement function.
Improvement of tone map.
Changed the DOF default blur effect.
Fixed some errors in DOF parameters
Adjusted the God Ray effect, and fixed theoverall weather for the Obsidian version.
   2020/07/16
    N4.5a --> N4.6

Added CAS Sharpener, replaces Luma Sharp.
Contrast Adaptive Sharpener for ENB by rhellct
For more information, I recommend the modedescription:
https://www.nexusmods.com/skyrimspecialedition/mods/38219?tab=files.
Thanks to rhellct for his amazing work andpermission.
Changed SSS figures.
I added the MIx function to the Bloom shader and tweaked it to make the bloom look cleaner than before.
    2020/8/08
   N4.6-->N4.7

Removed the night purple tint from thecathedral version.
   (This applies even in some rainy weather.)
Increased the Interior brightness. A strongercolor is output.
Fisheye effect is available in Postpass.fx.
Changed interior adaptation values.
   2020/8/19
   N4.7-->N4.7a 

This is a simple numerical adjustment update.
Adjusted interior light levels.
Fixed an issue that caused the fog to break insome rainy weather for cathedral weather.
   2020/08/26   N4.7a-->N4.8
Imported cartoon rendering function fromThe TOON ENB of ohway234555.
   Little was known for the surprising results.
   See(https://www.nexusmods.com/fallout4/mods/35027) for more information.
   Thanks for his amazing work and permmision
   Disabled by default. To use, refer to imagesin manual.
Adjusted the Tonemap number.
Fixed some weather bugs.

   2020/08/26/
   N4.8a -->N4.9
Fixed a bug in which only a black screenwas displayed when the ELE and Predator Vision were used together and the night
    vision enhancement function was activated together.
Adjusted the weather lights for 6 of the cathedral versions.
The basic interior color of the Obsidian version has been adjusted to be darker.
Adjusted the basic color of the cathedral version slightly.
   2020/09/08  N4.9 --> N5.0
1. The color grading function has been added to the DOF shader.
2. A function to check the auto focus position has been added.
3. Both versions of the Cathedral and Obsidian have modified the overall lighting.
4. The required binary version has been raised to 0.440 or higher.
  2020/09/09 N5.0 --> N5.0a 
Night vision tint adjustment function has been added in the night eye enhancement function.
As a side effect of removing the weather tint from the cathedral, the night vision tint was also removed.
This was awkward.
Tint can now take an independent value, so the problem is solved.
It also means that the range of customization has been further expanded.
The Obsidian version didn't have this problem, so it's simply a feature patch.
  

 2020/09/14

N5.0a --> N5.1
Contrast, tonemap, and some interior adaptation fixes.
Some fixes to the bloom shader
Added shadow brightness control to Postpass.fx's Simple Tonemap.
Fixed HighLight adjustment function.
 

 2020/09/26

N5.1 --> N5.2
 Default letterbox removed, vignette effect added.
 Exterior weather adjustment-Fully readjusted light source.    -Fixed some weather errors.
 Tonemap modification.
 Adjust grass brightness.
 DOF + AO Shader Internal Optimization
 Basic DOF-MXAO, the specification is slightly reduced, and the shadow is changed to be darker.
 2020/10/03

N5.1 --> N5.2
1. Modify the visibility of the bloom shader, the intensity can be adjusted between 0 and 1.
2. Add x16 texture to bloom shader
3. Changed the basic value of the bloom --> It seems that the interior may feel a little strong
4. Tonemap modification.
5. Fix the light source on a sunny day.
5. Increase night brightness
6. Changed the items such as exposure and gamma in the simple tone map of Postpass to be editable in units of 0.001
7. Change indoor adaptation, reduce light brightness.
8. Modify the color of the sun in some weather, increase the overall sunray intensity
2020/10/03
N5.2--N5.3
Fix for easy viewing of bloom shaders.
Bloom x16 texture added.
Tonemap correction
Weather correction
2020/10/05 - Reupload
Fixed Obsidian version bloom set to Kawas
(Incorrectly entered)
Cathedral version broad day tint correction.
Fixed a problem that was too bright in broad daylight.
Lower indoor bloom intensity
2020/10/05 - Reupload
Fixed Obsidian version bloom set to Kawas
(Incorrectly entered)
Cathedral version broad day tint correction.
Fixed a problem that was too bright in broad daylight.
Lower indoor bloom intensity
2020/10/06

N5.3 --> N5.3a

Bug fixes related to Simple Tonemap function.
CA, letterbox code, function changes.

2020/10/12 

N5.3a --> N5.4
Improved night vision enhancement function
- Now not unlocked when using a dragon or some magic.
(However, in Predator Vision mod, the above may occur in some weather)
The night vision enhancement function has been separated from the AGIS, making it easier to customize.
Improved existing algorithm to enable more tweaking.
---Night vision color filter can now be forced.
---When using night vision, brightness, color, and contrast can be modified, and the intensity of the vanilla night vision processing can also be adjusted.
Addition of a vignetting function that works only when night vision is used (On/Off) is possible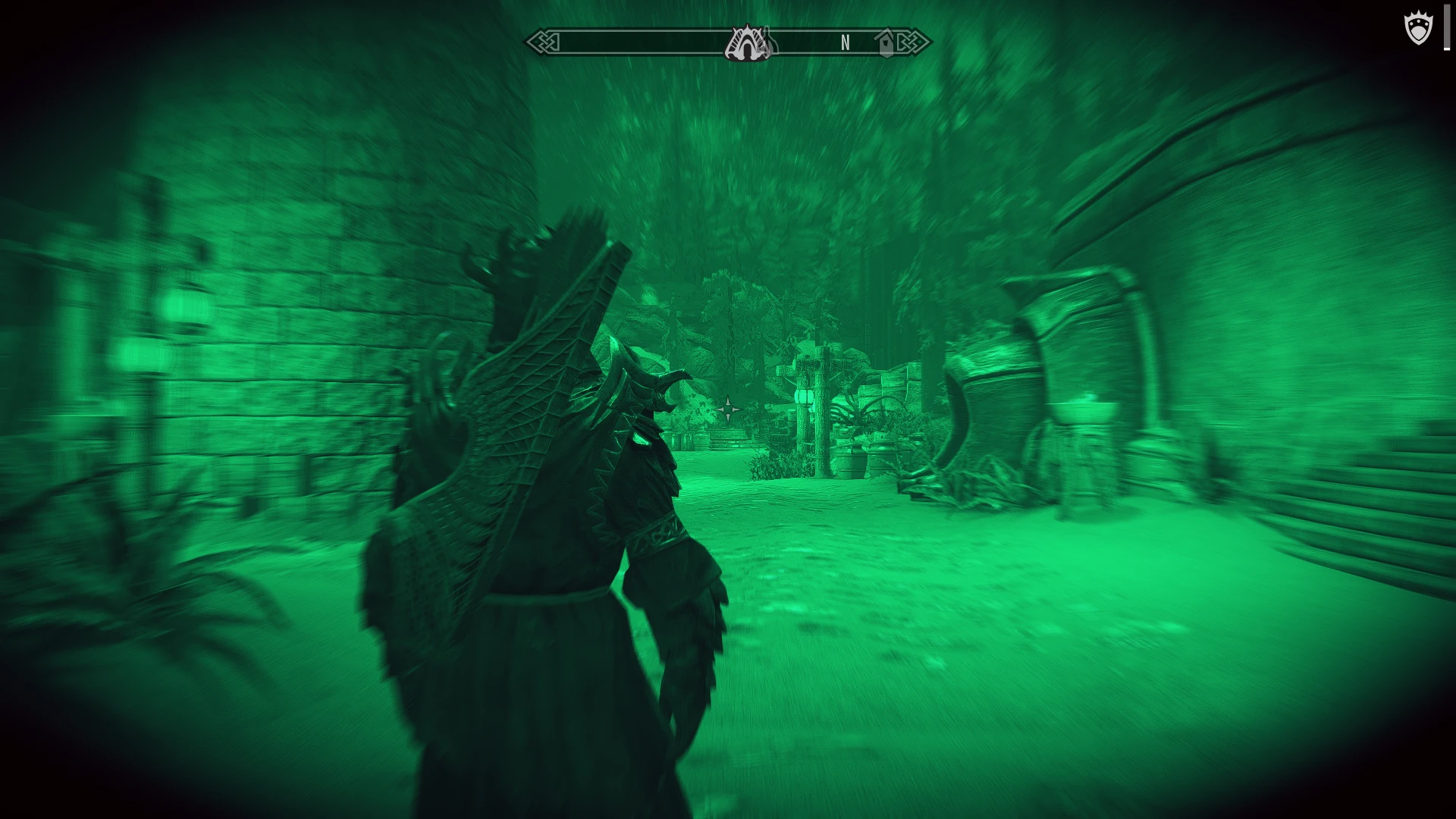 Loading is faster by about 4 seconds.
Organize internal texture files.
In performance options, ultra option added.
It is very heavy and is in a tweaked state.
Tetrodoxin's Lut option added (see manual),  permission was granted in April, but it's been a long time since I'll ask again ,  it may be removed as a patch.
2020/10/12 

N5.4 --> N5.5
Star animation has been activated.
When the lens effect is activated, it is more clearly visible.
A new night vision algorithm added in N5.4
Fix not working in some shells that ELFX , ELE changes
Adaptation works less sensitively in broad daylight.
Corrected the tonemap for smooth gameplay.
Although MXAO has better character shading and detailed shading, i decided that it would interfere with gameplay, so set SSAO to the default.
(It is still easily switchable.)

 
2020/10/30

N5.5a--> N5.6
Night eye enhancer's vignetting shader replacement.
Added grain shader to night eye enhancer.
improved night vision enhancer parameter behavior.
--> You can create a night vision through custom.
Tonemap and bloom values slightly adjusted.
MXAO figure changed to N5.4 figure.
2021/1/18
The MXAO numbers have been readjusted.It's a pretty heavy effect, so it's disabled by default, but you can see a pretty big effect when you enable it. (Refer to DOF-AO in the manual).
 The color of Ultra Tweak has been changed to a photographic feel.