File information
Created by
JohnRose81
About this mod
Skyland AIO combines all of the Skyland mods into a single, easy to install mod for Skyrim SE.
Permissions and credits

Donations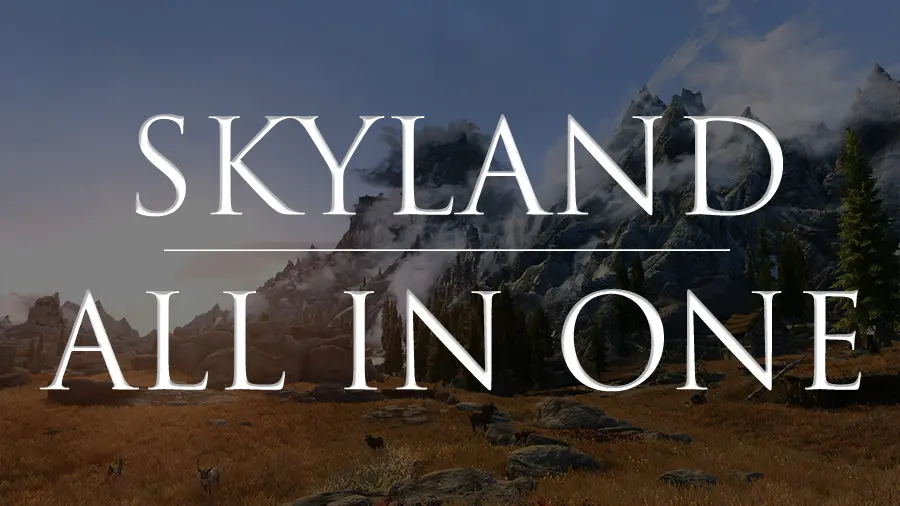 It's finally here! Skyland AIO. All the Skyland mods in one simple FOMOD package.
Delivered in 2k/2k textures, Skyland AIO will cover cities, holds, landscape, dungeon, LODs, water color and much more.

PLEASE ENDORSE.
What it Covers:
• Farmhouses, Towns, Villages
• Markarth
• Riften
• Solitude
• Whiterun (dirt or cobblestone street options available)
• Winterhold
• Road Signs (Plus optional patches for Point the Way and Cutting Room Floor)
• Standing Stones
• Dark Brotherhood Door
• Stockades
• Caves (Rock, Mud,a and Ice)
• Dwemer Ruins
• Imperial Forts and Dungeons (With included .esp patch fixing the mismatched western watchtower)
• Mines
• Nordic Ruins
• Ratway
• Ships
• Shacks
• All landscape textures throughout Skyrim and the DLC.
Whiterun Hold
The Rift
The Reach
Volcanic Area
Glaciers, Ice, Ice Floes
Coastal Areas
Frost Marsh
Mountains
Bridges
Roads (paved or dirt options available)
Snow
Caves
Mines
Standing Stones
Solstheim
Dirtcliffs
and more...
• 3 Mountain Options, including Granite Mountains!
• Skyland Watercolor in blue, green, or slow green with compatibility option for RW2 (place .esp file below
all
RW2 files)
• Landscape LOD's
• Orc Architecture
• Grass Mod color matching option available



What This Mod Does:
Bundles all Skyland mods into an easy FOMOD installer.
Install and Load Order:
Install normally and Place below SMIM, grass/flora mods (some contain landscape textures), and mods that alter architectural meshes. Place the Skyland Watercolor ESP below any water mods, including RW2. If you do not like the Skyland Watercolor Normal map, you can hide it in the mo2 file tree under the data tab. Place the Imperial Forts and Dungeons ESP file where you place your Towns and Home ESP's.
What does Imperial Forts and Dungeons ESP do?
In the vanilla version of the game, the western watch tower is created with two meshes. The bottom half is Ivy/Moss Tower and the top half is Ice Tower. Obviously, when you get texture mods, this can become quite obvious. Especially with Skyland. So the Western Watchtower has been adjusted to have the whole tower constructed of the Moss/Ivy tower meshes and no Ice.
IF YOU RUN AN ENB:
Turn off EnableWater in the enbseries.ini or in the enbseries section of the ENB menu.
Compatible With:
Everything. Before you ask, yes it can be used with JK. It will work with other texture mods, but you need to place this mod below them.