File information
Created by
BH - Sovereign
Virus scan
Some manually verified files
About this mod
An iconic WW2 infantry weapon.
Requirements

Permissions and credits

Translations

Changelogs

Donations
~ Consider endorsing if you liked the mod, thanks in advance ~
Custom 1st & 3rd Animations
Custom Models and Textures
Compatible with Tactical reload
Compatible with Side Aim Framework w/ Custom Canted Animations
3 Sights Options
12 Muzzle Options
2 Mag Options
2 Ammo Options
4 Base Material Options
9 Furniture Material Options
Damage Modifier
Optional file for Lvl list, weapon starts spawning when player reaches level 20. You can buy it from the traders, and it's also craftable at Chemlab under "Weapon - G43" category.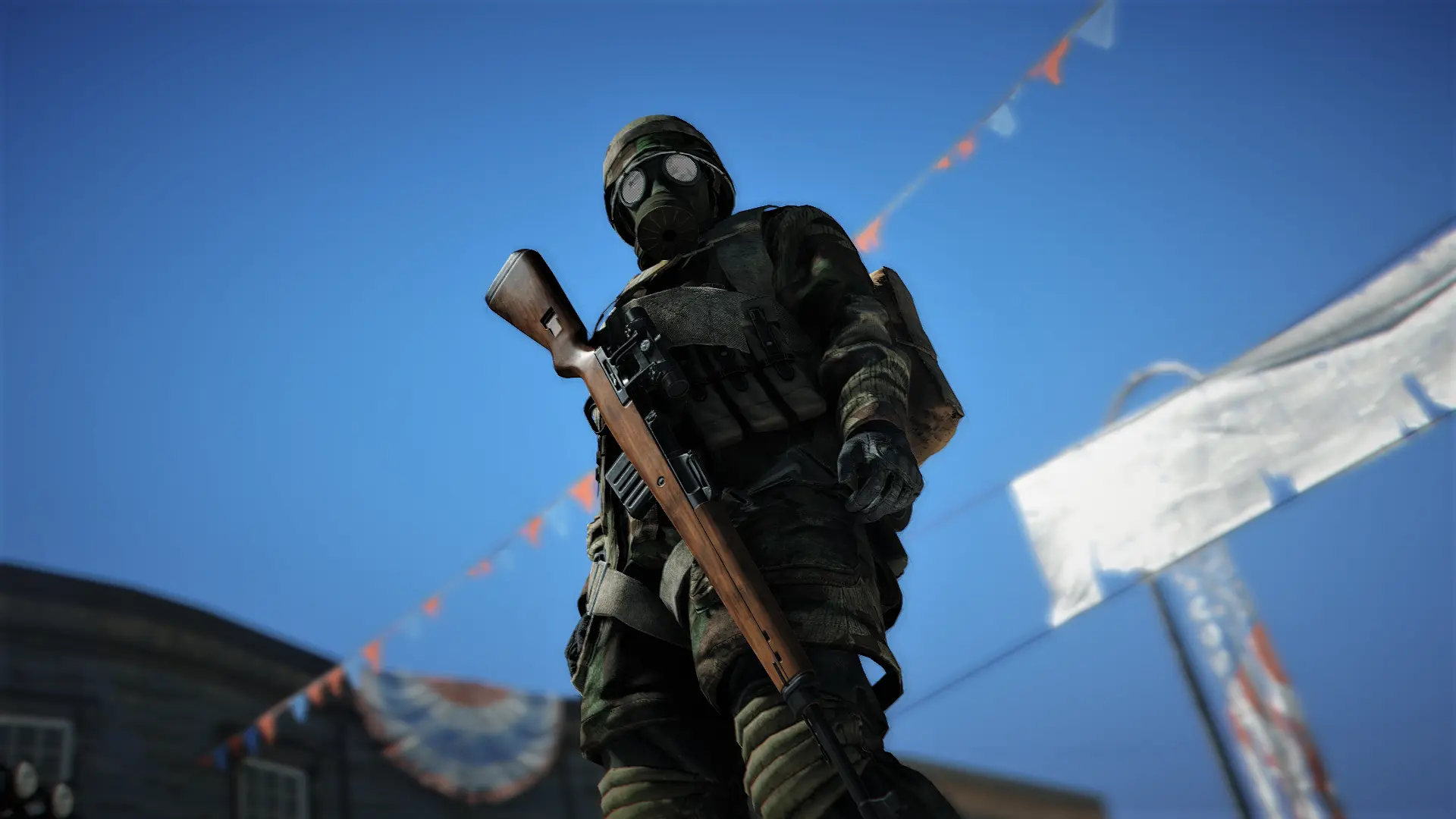 Armament - Ammunition and Ballistics Overhaul (REQUIRED)


Tactical Reload (Optional)

Side Aim Framework (Optional)

Q: 
See Through Scope?
A: 
Nein, but you're welcome to make one :D
Q: 
Bullets/custom materials/custom cubemaps are in pure black and are matte af how to fix? 
A:
I've personally run into this issue while putting it all together, my situation was resolved by installing
this cubemap fix (Black Codsworth and windows fix)

Q:
 Animations still lookin' stiffy why?
A:
 I gotta improve somehow ;l
Q:
 How do I get the Side Aim functions to work?
A:
 You will need the Side Aim Framework for them to function, currently it's available on my server under permission from the original author until further notice.
Got questions regarding my mods? Join my server and let's talk about it:)

CLICK TO JOIN : MOJAVE FOB
点击加入服务器:莫哈维前哨站
- Bolt will not move fast enough when rapid firing in 3rd (I think this is an engine issue but if you know the fix pls lmk)
- Sometimes the equipping and unequipping animations will glitch for 1/5 seconds (Again if you know the fix to it pls tell me I think its becuz I reached the maximum time limit on equip animations' blending)
You do not need to ask me for making translations/patches for this mod. I allow it as long as the main file is NOT included and under the circumstances that this original page will be fully linked as a requirement. Only console porting will be the exception of including the main files, but make sure intact credit information is present.
Main Implementation -
Sovereign

Other Implementation & Animations & Custom Materials & Sound Edits - 
Broodahood

Gewehr 43 Base Model & Textures - 
Huy Pham
, kindly provided by
GoldenDarknezz
7.92x57mm Mauser Ammo Model & Textures -
TheBigLidowski
, also kindly provided by 
GoldenDarknezz

K98 Bayonet Model & Textures - 
michaelkarel29
Legion & Cordura suppressors provided by 
Ardent117
Some Muzzle Compensators & Suppressors provided by 
Subleader100
Cubemaps - 
ajhakra


Special thanks to 
Sovereign 
and 
CADAVVER
 for helping out with animtextdata:)
Beta Testing
Sovereign
Bingle
GoldenDarknezz
Ardent
CADAVVER
Winter
Little Light
SmolMakarov
Catss
AA-12
PanzerKaii
RocketBunny
GELUXRUM
662
BAWANGSONG
摸了鱼
Rabbbbit
Screenshots
BH
Bingle
CADAVVER
SmolMakarov
Lilttle Light
PanzerKaii
662
All Programs/Tools Used
Creation Kit
FO4Edit
Bodyslide and Outfit Studios
Nifskope
Material Editor
Blender
3DS MAX
Substance Painter
Photoshop
Audacity
Wavosaur
Archive2
Elrich
IceStorm's Toolbox
xTranslator
Notepad++
MO2