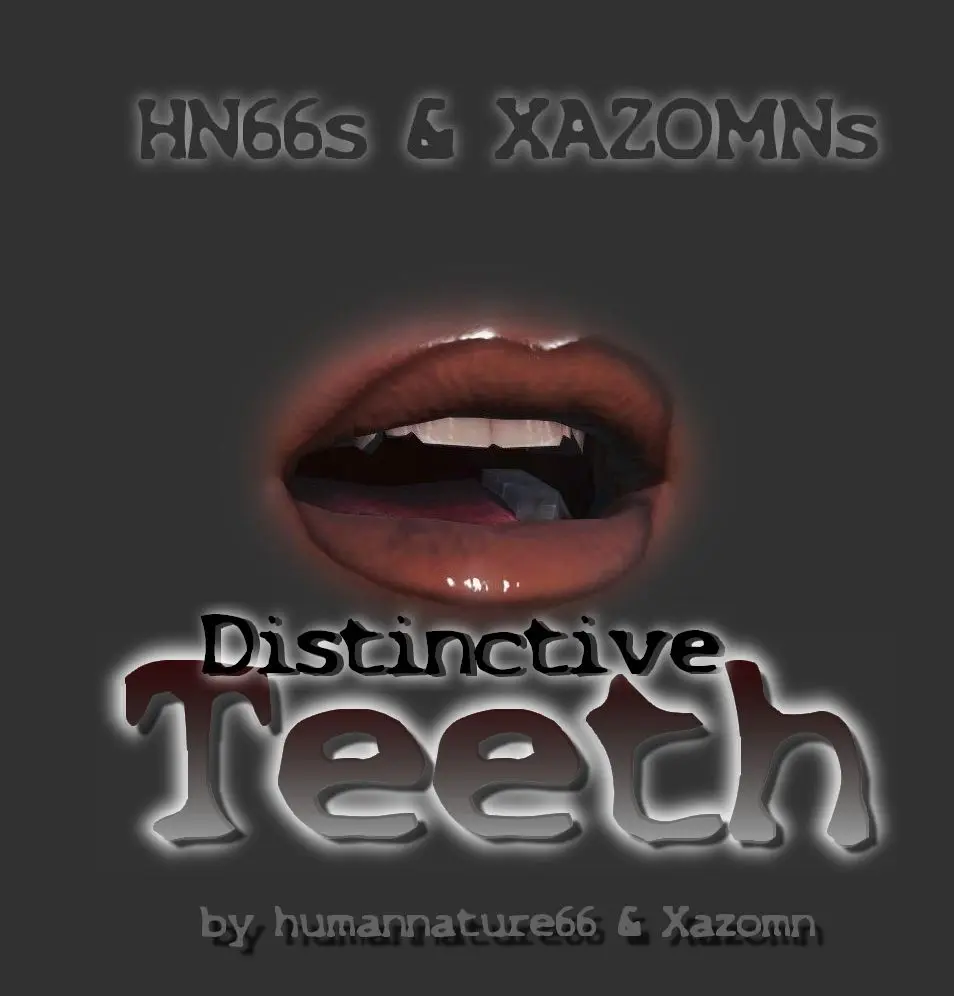 HN66s & XAZOMNsDistinctive Teeth for FO4

Version: 1.00
Date: 01-01-2017
Category: Mesh-replacer
Requirements: Fallout 4
Author: Humannature66 &
Xazomn
********************************************************************
--------------------------------------------------------------------
>>Initial release vers.: 1.00 (01.01.2017)<<
--------------------------------------------------------------------
Description
===========
This mod replaces the teeth in your game.
The teeth-line is changed to accentuate the front- and corner-teeth, and Xazomn's photorealistic teeth-texture adds shine and wet shimmer.
This little mod isn't worldshaking, as you will only notice it while talking or when using face-animations & -expressions.
But maybe a few folks might find it usefull tho.
It's a matter of taste of course; in this case MY personal taste, as I like that little 'overbite'-look. (hn66)

Anyway, enjoy.
Installation
============
- Use NMM for installation of the newest version.
- On manual installation, just copy & paste the contents into the designated folders.
Uninstallation
==============
- Remove the contents of this mod.
Recommended mods
===================
For facial expressions I recommend the use of
Dave's Poses
Also check my other mods
========================
HN66s and XAZOMNs Distinctive Teeth for FO4
HN66s and XAZOMNs Long EyeLashes for FO4
HN66s Classical Plain Rings
HN66s EasyGirl Outfits for CBBE - Bodyslide
HN66s Plain Earrings for FO4
HN66s French Nails for FO4
HN66s Moons and Planets
HN66s SIRIUS.12 Assault Suit -CBBE-
FAQ
===
Q: Does this affect also NPCs ?
A: Yup, it does. But you might not really notice it on them.
Q: Wow, why does she look like a damn rabbit?! LOL !!
A: Ouch, that did hurt. Go & don't come back.   
Help
====
if u need technical help with this, use the thread or contact me via pm;
(hn66)
CREDITS
=======
Human Commons Realistic Teeth by Xazomn 
http://www.nexusmods.com/fallout4/mods/12336/?
(These teeth-textures are sexy as hell!)
BodySlide and Outfit Studio by Ousnius and Caliente.
http://www.nexusmods.com/fallout4/mods/25/?
(i pushed the teeth-mesh thru OS to get them working at all.)
Ousnius for essential help and valuable info.
http://www.nexusmods.com/fallout4/users/4291759/?
(You can google the whole net for some hours. Or just ask Ousnius ;)  )
Niftools Team for Nifskope
http://www.niftools.org/
(Thx for your creative minds)
Bethesda for creating Fallout 4;
Xazomn for the teeth-texture.
Humannature66 for the teeth-mesh;
Used softwares
==============
NIFSkope - http://www.niftools.org/
Blender - http://www.blender.org/
DXTBmp - http://www.softpedia.com
Photofiltre - http://photofiltre.softonic.de/
Gimp - http://www.gimp.org/
NO reuploads here or on other sites without our permission!
Nothing of this stuff is resource material and may NOT resubmitted without our written consent!
This includes, but is not limited to derivatives!
In ALL cases give credits to all those named above!
greetz Humannature66 & Xazomn