Ljoss ReLUX for Cathedral Weather - Lexy's LOTD Official ENB Preset
Ljoss ReLUX for Cathedral Weather - Lexy's LOTD Official ENB Preset
File information
Created by
Sthaagg Memnochs
About this mod
A complete rewrite of my previous preset, code optimized to get the best possible quality without sacrificing performance. Supports Night and Predator vision and all vanilla effect. Include real time snow cover effect.
Requirements

Permissions and credits

Changelogs
Ljóss ReLUX

Official Lexy's Legacy of the Dragonborn ENB preset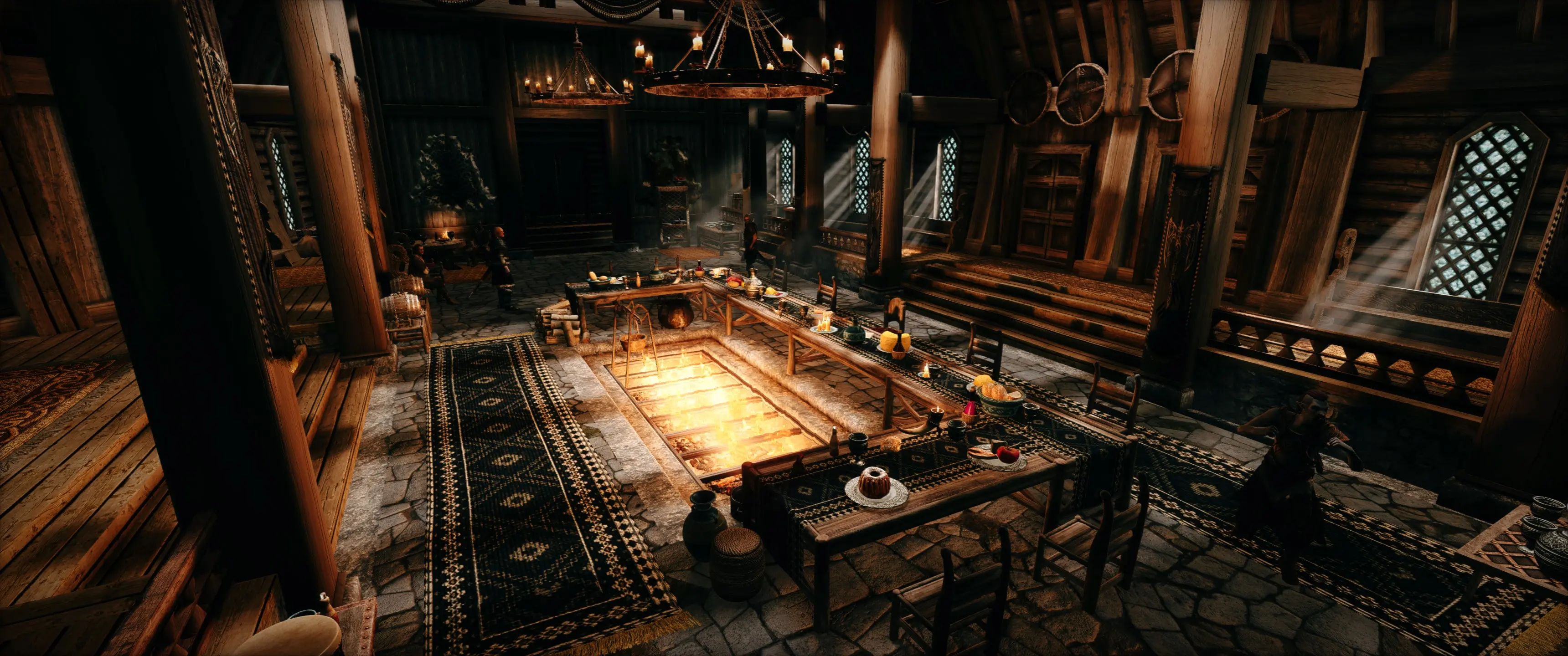 ENB Preset especially designed for Cathedral Weather
I am pleased to present the new version of ljóss. I have done a complete code rewrite of my previous ljóss preset to improve its overall performance.
The full version makes full use of the available effects and offers a much better quality than my previous edition.
Balanced and Performance version are available if you need to save fps, check differences below.
Although this preset was created to be used with
Lexy's Legacy of the Dragonborn
, it can be used with any mod setup as long as the list of required mods is respected:
Ljóss includes a complete tutorial to help you easily set it up for your screen configuration and taste.
Each outdoor weather uses a separate configuration, most places use their own unique preset.
You can either just play and enjoy, or customize it completely to get your own unique and beautiful preset.
In addition, many advanced tools are included:
Customizable AGCC
ColorLabs
Advanced ENB Output Effects Editor
A fully customizable Tonemap
LUT support
Difference between version :Balanced
:
Allows to gain about 10 fps more than
Full
version at the cost of a minor quality loss
Most noticeable is the loss of the "Dual Sun Ray" which you can easily re-enable by activating the EnablePrepass (enbseries)
Dither is disabled (enbeffect.fx)
AA is fully disabled (enbpostprocess.fx technique is set to Ljoss No AA)
Temporal bloom sample is divided by 2 (enbpostprocess.fx)
Note:
If you face too much fps loss during rain, disable EnableRainWetSurfaces (enbseries)
Performance
:
Allows to gains about 10 fps more than medium version, quality loss is noticeable but i tried to mitigate it.
Changes are same as Balanced
Use Game's ambiant occlusion instead of ENB's one (enbseries + games ini)
Rain Wet surface is disabled (enbseries)
Skylighting is disabled (enbseries)
Installation:
To fully enjoy my preset, I strongly advise you to read
my article
to calibrate your screen properly.
Install ENB Binaries
Go to ENB Dev
At the bottom of the page, click the link for the last version.
At the bottom of the new page, click the download link.
When the file has downloaded, open the Wrapper Version folder enclosed in the archive and extract ONLY the files d3d11.dll and d3dcompiler_46e.dll.
Place them into the main Skyrim Special Edition directory.
Install preset
Download and unpack the preset
Copy every thing into your Skyrim SE folder
INI Tweaks
Skyrim.ini
[Display]
fGlobalBloomThresholdBoost=5.0000
fSAOBias=0.5000
fSAOExpFactor=0.220
fSAOIntensity=12.0000
fSAORadius=850.0000
fSAOValueDiffFactor=0.3000
Skyrimprefs.ini
[Display]
bDrawLandShadows=1
bEnableImprovedSnow=0
bFXAAEnabled=0
bIBLFEnable=0
bIndEnable=0
bSAO_CS_Enable=0
bSAOEnable=0
bShadowsjavascript-event-stripped1
bTreesReceiveShadows=1
bUse64bitsHDRRenderTarget=1
bUseTAA=0
bVolumetricLightingEnable=1
fGamma=1.0000
iVolumetricLightingQuality=2

IMPORTANT
: If you use
Performance
version you must set
bSAOEnable=1
in
Skyrimprefs.ini
and
Cathedral Weathers.ini
too.
Setting up HDMI Full Range:
A special step is required for users that connect their GPU and monitor via an HDMI cable.
For Nvidia users:
Go to your Nvidia Control Panel (right click on your desktop).
Then go to "change resolution" and find "Output Dynamic Range" and change it to "Full". (If it is greyed out press "Use NVIDIA color settings" first.)
For AMD users:
If you're using a AMD/Radeon graphics card you need to do a similar tweak, but you have to change the display pixel format instead. This can be done by selecting "RGB 4:4:4 Pixel Format PC Standard (Full RGB)" instead of the default "RGB 4:4:4 Pixel Format Studio (Limited RGB)" inside of AMD Catalyst.
Game setup:
Do the tutorial outside (no in interior cell)
Set Cathedral weather night to your liking (Dark / Normal / Brighter)
Wait 10-20 sec to let game reflect change
Adjust night setting (Color brightness (night)
Do the same for interior
Enjoy !




Special thanks to :
Thanks to Lexy's team for being such good test guinea pigs!
Adysss who kindly took his time to explain things to me and who allowed me to optimize this preset and to use some of his work.
rudy102 who authorized me to use these weather presets and to rework them.
People from Enbseries Discord who help me
Credits:
Cantregisterlol for its LUT files from LUT - overall color enhancement for all ENBs
napoleonofthestump for its LUT files from RevoLUTion
Kingeric1992: Countless Shaders and code in mutiple files
Phinix (Advanced ENB Output Effects Editor)
The Sandvich Maker (Customizable Tonemap, ColorLabs, Reforge UI)
Adysss
(Customizable Tonemap, Shader conversion, Bloom etc...)
Ceejay.dk (many shaders)
skysan4298
for the lens effect
MartyMcModding
Autor of Mastereffect and many other Shaders
JawZ
Boris for its ENB
12AiN
for his rain texture from his
Viven Rain for ENB
mod