File information
Created by
Zira
About this mod
Combines Awesome Potions Simplified's models/textures with CACO or Apothecary's new potions and effects.
Requirements

Permissions and credits

Translations

Changelogs
A PATCH FOR:
Awesome Potions Simplified
 by 
Revoith

Don't forget to endorse it!
+
Complete Alchemy and Cooking Overhaul (CACO)
 by
kryptopyr

Don't forget to endorse it!
OR
Apothecary - An Alchemy Overhaul
 by
SimonMagus
 and
DeltaRider

Don't forget to endorse it!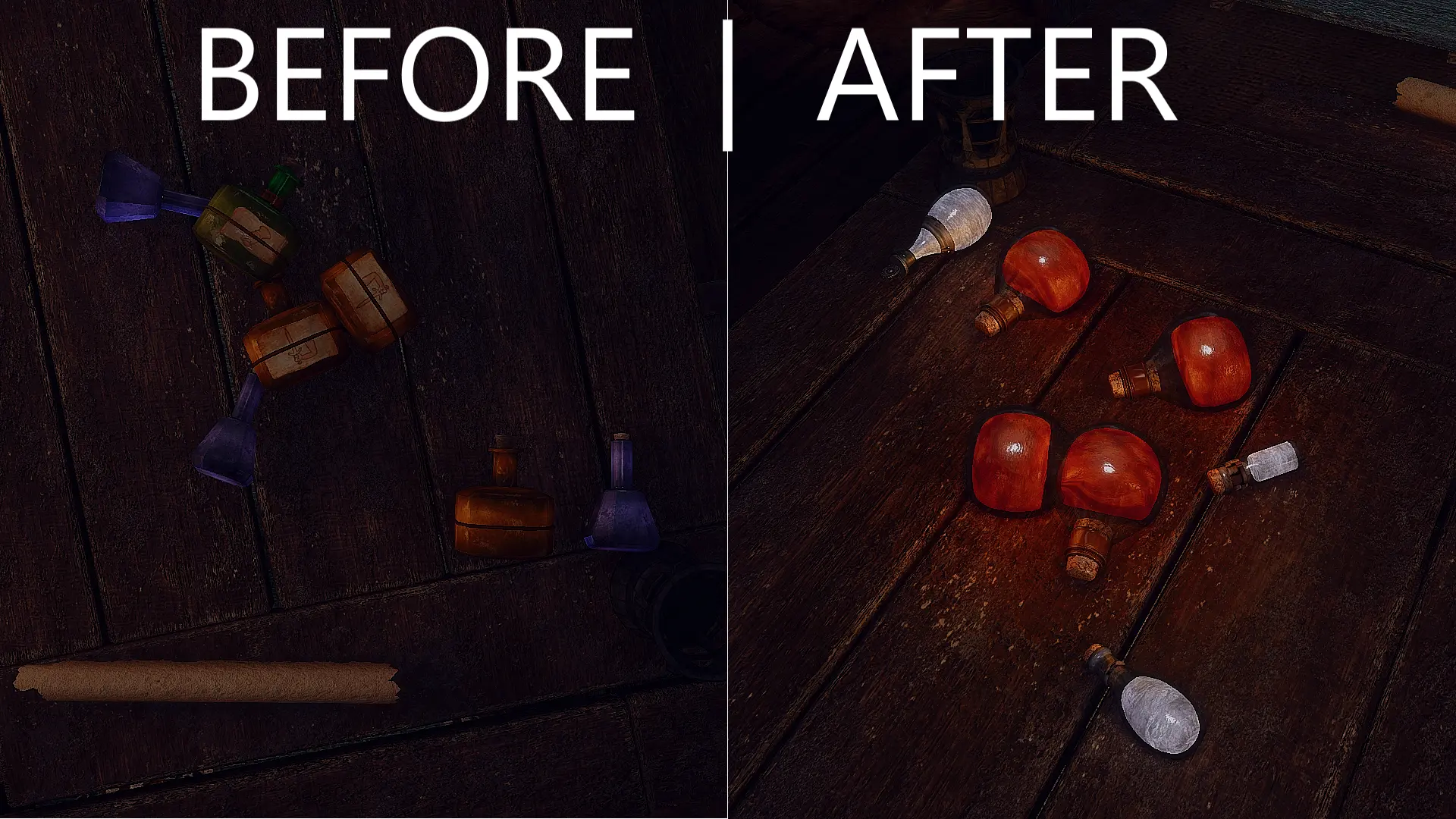 Not much to explain here, and it's not important if you just want to grab-and-go.
TLDR:

Required
: CACO or Apothecary
Meant to be used with: Awesome Potions Simplified
Install
: Each is a single ESPFE plugin, so just install it normally and it won't count towards your plugin limit.
For Those Who Care for an Explanation
APS and CACO/Apothecary are
partially incompatible
. This is because, even though
APS uses vanilla mesh paths
 for its improved models (making it more compatible than most), CACO
changes that pathing to non-vanilla
for a significant amount of potions and also
adds several new potions that don't use vanilla models
, such as the Potion of Night Eye. There are also 2 records that conflict. Apothecary has the same problem, but on a smaller scale, as only about a dozen of its potions use unique mesh paths.
As a result, no matter how you sort the plugins, if you use either of these alchemy mods alongside APS,
you will get a mix
of APS's potion models and the unique ones added by the other mod.
What these patches do is copy over any potion records from CACO or Apothecary that use non-vanilla meshes, then they revert or alter the mesh path to a matching vanilla one instead. As such, the patched potions will be "fixed," inheriting APS's models in-game while also retaining all of the alchemy mod's changes to potion names/effects/etc; the best of both worlds.
More mods/tweaks/patches:

   

   

   

   
 
 

 
 [+1ComingSoon...]
That's all.
Good luck, have fun, and stay safe.