About this mod
Allows the player to meditate with Paarthurnax on every shout, providing new unique powers and adding immersive feeling.
Permissions and credits

Changelogs

"
Rotmulaag: Immersive Meditations on the Words of Power
" is an adaptation of
series of lore-friendly texts
under the same name, published on subreddit
/r/teslore
by user
ddaybones
.
With this mod The Last Dragonborn can meditate with Paarthurnax on
27 words
(instead of vanilla 3: Fus, Feim and Yol), each meditation giving a unique
power
directly boosting either a given shout or other statistics.
(
Some powers have options managed by MCMenu, to accommodate to different playthroughs and mods)
.
The mod allows you to meditate only on shouts you know (
which fixes a minor plothole - one does not have to activate any of the word walls of "Become Ethereal" shout, and still be able to meditate on "Feim
")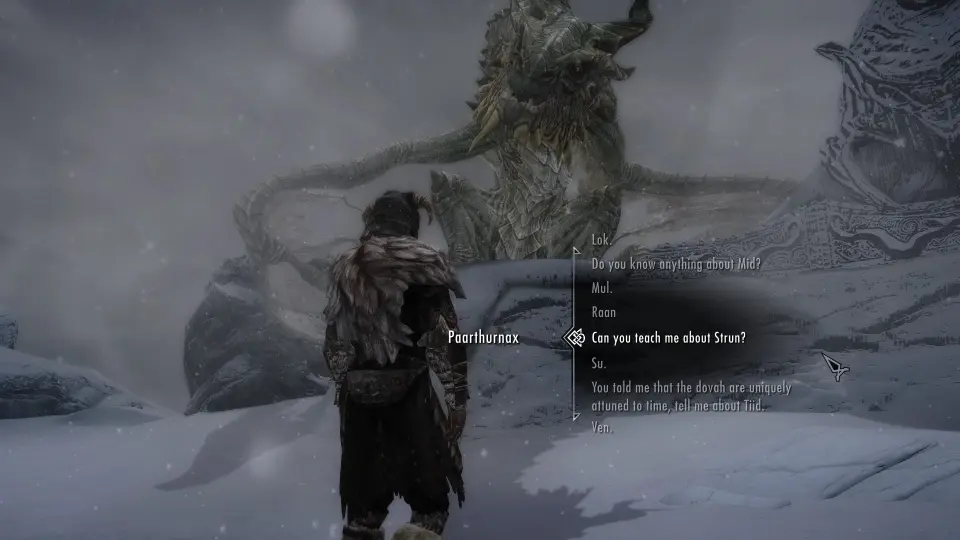 Meditating on the words of power now features also... meditation! While listening to Paarthurnax's voice, your character assumes one of the Greybeards meditation poses, screen fades to black and after meditation is over, your character gains a new piece of knowledge from the Way of the Voice. 
(
The meditation scene and its duration is configurable via MCM. Fair warning for Chesko's Frostfall users: sitting on the top of the icy mountain for extended period of time is perhaps not the best idea).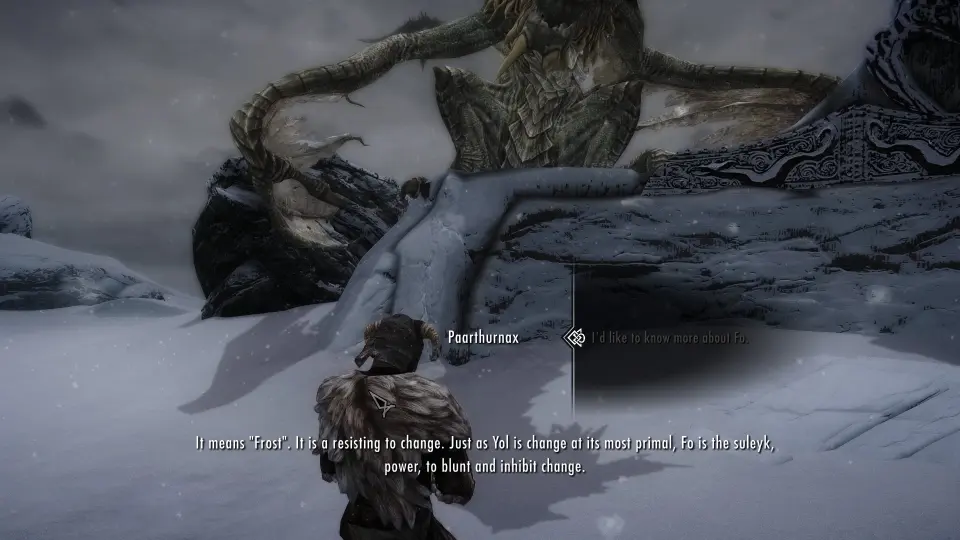 Your character will also start an in-game journal, preserving the knowledge of the Greybeards. After hearing each meditations,
the text of it appears in it, in the order you've heard them,
making it a unique item from the role-playing point of view!
Once it is completed, the player will be able to choose and swap powers as they will, without the need to return to Paarthurnax.
(One can also choose option in the MCM to be able to do that after learning all three words of a given shout.)

Current Version: 1.4


I am slowly coming back to modding, porting my mods to SE version. This version is a direct file of LE, properly ported to SE, open for translation, currently with Polish and English strings. My most sincere thanks to mcguffin, author of xTranslate, and Dreifels for helping me solve a puzzling conundrum with Polish diacriticals not showing properly, and further proving to me what a horrible port Skyrim Special Edition is. If you'd like to check my adventures into WAT.jpg, click here and read from the bottom.
I have spent waaaaaaay too much time on this one mod, and as of now, I consider to be finished, unless something in it will twist your PCs, and will need a bugfix. I will see what mods that have SE version need patches, and that will be all for Rotmulaag. Finally!
Changes in Version 1.3:
1.3 is the first version for Skyrim Special Edition (SSE). It can be downloaded from Bethesda net (PC) (Xbox1)
Rewards have been changed: now, powers can be acquired any time, as long as you have listened to the meditiation; listening to all of them gives you +20% shout recovery bonus.
1.3a is up, with fixed audio, thanks to observations by superspaceface at Nexus and arashiikageshini at Bethesda.net. It turns out that the oh-so-amazing BSA packer build into Creation Kit skips audio files when packing BSA. It forgets about String files as well, but that I have noticed. What a horrible piece of... software.  
Icebreaker now works with the Dragonborn Frost power
MCM is obviously not working; all the options are launched from the book, Paarthurnax's Teachings. Open the book, close it, and a menu will appear.  
The mod is now open to translation: it contains strings for English and Polish. If you'd like to translate it, contact me so I can include your translation.
Changes in Version 1.2:
Added one more keyword to make some patches easier to make,
Added patch for Konahriik's Priviledge and fixed one for Improved Dragon Shouts
(2015-04-10) Fixed patch for Skyrim Redone, now it correctly boosts the slow time potion and affects Sneak perk "Ambush"
(2015-04-19) Added patch for ERSO-03 module of Enhanced Mighty Dragons
(2015-05-6) Better vampires Update 6.7 gets rid of the ML version, and as a result the ML patch is obsolete. Use the regular patch.

Changes in Version 1.1:

Changed the bonus for "Wings Spread Far" from 25% to 15%, per request
Fixed all the patches, thanks to very insightful observation by DrMonops
The patches have also been cleaned for ITM records

Requirements:


Mod Configuration Menu (MCM, 1.4 onward with SKSE and SkyUI) features:


Status-tracking of the mod and its quest,
Options regarding the meditations scene, which can be turned off or tweaked, if necessary,
Options changing certain powers to suit known gameplay overhauls,
Debug mode.

Compatibility & known issues:

Fully compatible with:
Patches (will be re-added once I see which mods are ready for SSE):
(without them both mods will work, but mine won't fully execute its power - see article Patches for more info)

Unconfirmed/Unknown/In testing:
Requiem - initial tests seems it's safe to use, might need patch to make some of the powers fully useful; I've never played this overhaul, would appreciate if someone experienced with it checked if there are anything that might slip my eyes while skimming over the records

See Article Patches and comments to read more and check if the mod is being patched/tested.
Please note that the patches are a work in progress as well, especially with game overhauls like SkyRe or Perma.
If you find any incompatibilities, please notify me.

Potentially incompatible:


Any mod that changes Paarthurnax's meditations dialogues (see Article Modified Files to read more)
If you find any problems, please refer first to the walkthrough, and if you think it is my mod's fault, please contact me.


Authors:


ddaybones - author of texts and an inexhaustible source of inspiration,
piotrmil - creator of mod, who would wish to thank all other co-authors for superb work and congratulate them on surviving a constant stream of my mails and messages nagging them to work faster,

Voice actors:

Translations:


Polish: Przetłumaczone MCMenu, dialogi przetłumaczone. Ktoś chętny do poudawania Pana Kleksa?  



(feel free to contact me if you'd like to translate this mod into your language. Ddaybones has given me permission to translate his texts)


Recommended mods and programs:

Frequently Asked Questions (FAQ)

Can I install it on a existing save?
Yes, I found no problems installing it on both clean saves and heavily-modded characters.

How to uninstall the mod?
Go to the MCMenu debug options, and click Remove all powers under the Debug options. That will safely remove any powers added. 
I cannot meditate on Summon Durnehviir, Soul Tear, Call Dragon, Dragonrend or Call of Valor
That is because these shouts' meanings are unknown to Paarthurnax. You will have to find their creators. Ask Paarthurnax once about them, and go find them! (or look up the walkthrough section).
I cannot see the power in my "Active powers" list
Not all powers are constant. Some of them, like Eternal Spirit, works only when certain shout effect is in place, or you are holding a certain weapon, like with Weapon Guard.

My characters is writing an invisible book!
It sometimes happens, I blame Bethesda for buggy idle animations. It usually happens when the game has to force you from the first to third person perspective. Starting the meditation in TPP works.



List of powers:
(spoilers!)
Walkthrough/Troubleshooting  (spoilers!)