File information
Created by
Gandaganza and ToosTruus
About this mod
This is the ported version of Realistic Boat Bobbing from Gandaganza.
Requirements

Permissions and credits

Translations

Changelogs
CHECK MY OTHER FILES FOR SKYRIM SPECIAL EDITION!!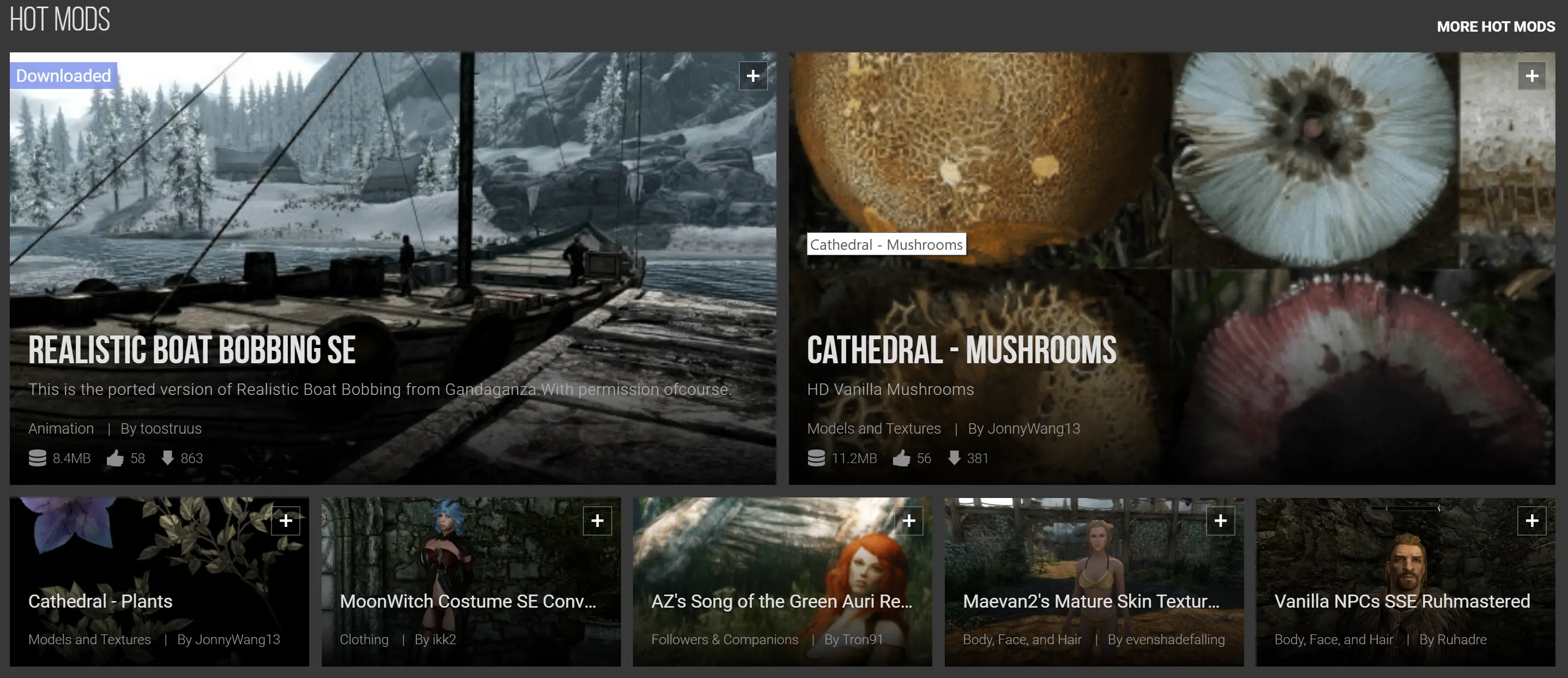 Description
Ever wondered why boats don't bob while in water? Bethesda made a great job adding idle animations to boats but unfortunately never added them to the game due to clipping issues. Gandaganza fixed it!! Now you can enjoy the gentle bobbing while not staring at the clipping objects!
Completely Lore-Friendly and Immersive. More details below.

Files to download and compatibility
MAIN FILE
* Realistic Boat Bobbing SE
OPTIONAL
* RBB - SMIM Meshes
* RBB - NSUtR Patch (Morthal's Rowboats)
PATCH HUB PAGE
* Be sure to check 
Realistic Boat Bobbing Patches.
 All patches and addons below are available here.
ADDON'S
* RBB - Falskaar
* RBB - Wyrmstooth
PATCHES
* RBB - USSEP Patch (Not needed when using RBB - JK's Skyrim Patch)
* RBB - JK's Skyrim Patch
* RBB - Quaint Raven Rock Patch
* RBB - Telengard Patch
* RBB - Oakwood Patch
* RBB - Better Docks Patch
MISCELLANEOUS ( Obsolete! Check
Realistic Boat Bobbing - Row Boats
)
* Realistic Boat Bobbing SE - Row Boats (Comes with FOMOD with patches. Make sure you have Static Mesh Improvement Mod installed!!!)
Youtube Reviews
Note: Videos below are NOT up-to-date, most bugs/glitches and many features have been added since.
Mod Notes
Using the animation from Bethesda as a base, Gandaganza redid the boat's animations and created a secondary one to make sure that boats that were in the same area did not bob in sync. After that, all he did was make so that every object on the boats followed the boat's bobbing so that there were no clipping issues. In some cases, boats were slightly moved to avoid annoying clipping with the docks but not all were covered - this was due to pre-existing clipping and so it will only be changed (or not) upon feedback.
Some positioning issues were also fixed, like the barrel in Dawnstar clipping through the boat.
All boats that had objects on top of them were individually modified to keep the maximum amount of detail. Non-essential objects that do not have a workaround to make them bob, such as clutter (i.e. brooms) were removed to prevent further issues.
This mod has been cleaned in SSEEdit and every record has been checked to prevent dirty edits.