File information
Created by
SpartanC17 and TechAngel85
About this mod
Dragon Cliff Manor is a player home mod built near the base of the Throat of the World. Hearthfire family support.
Permissions and credits

Changelogs
DRAGON CLIFF MANOR SE
Welcome home...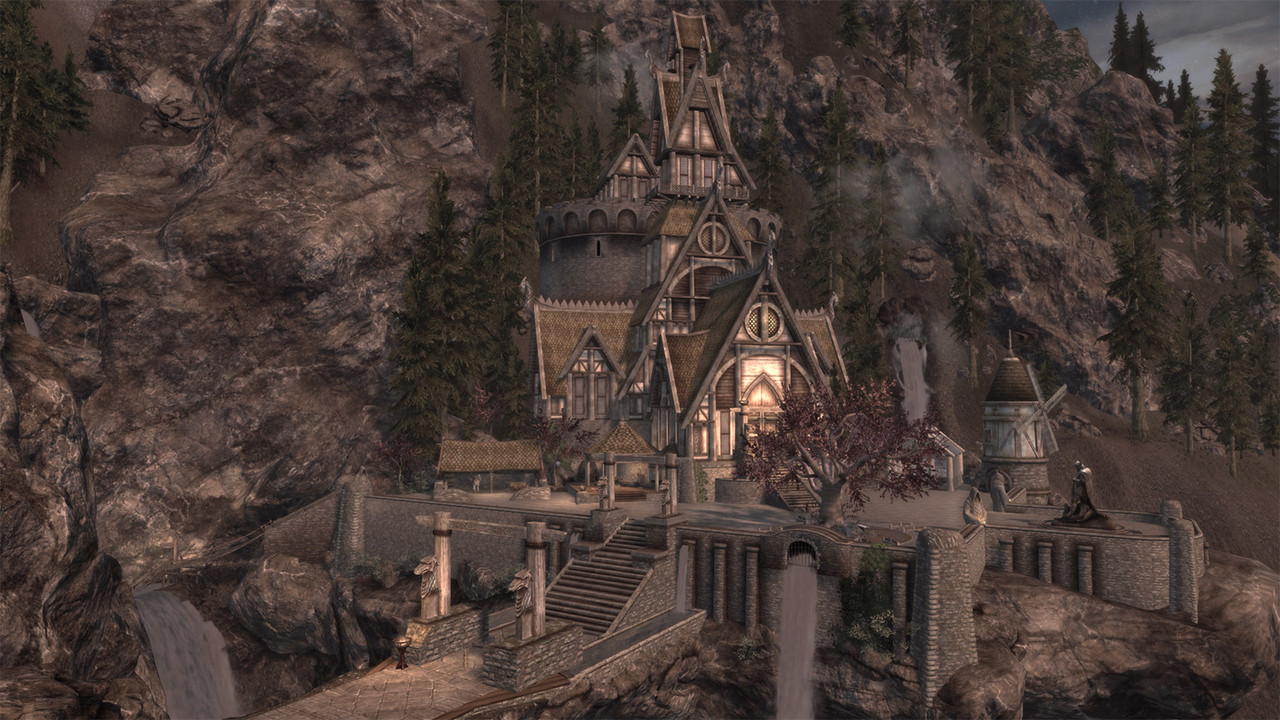 DESCRIPTION
First, this is not originally my mod. It's a port of the mod for Skyrim found here (see credits below):
http://www.nexusmods.com/skyrim/mods/39018/?
Dragon Cliff Manor is a player home built near the base of the Throat of the World; a location that, hopefully, stayed true to Bethesda's original design strategy of an epic world. Although the manor employs a very familiar Whiterun theme, the layout is unique, large and open. The most convenient way to get to the house is to start at Lost Knife Cave/Hideout and follow the path up the mountain. Eventually, the Manor will come into view when looking up on the right side of the path. Keep following the path until the Manor is reached. Map markers are included once the Manor is discovered.
My (TechAngel85) initial goal of cleaning up the mod while correcting issues has expanded into a full overhaul to build a homestead worthy of the Dragonborn. This, however, is going to be a long-term project. There is plenty of work to do until I feel the mod is a working homestead.
Once I feel that goal has been (mostly) achieved, then I will release Dragon Cliff Manor as v1.0. Until that time, users should expect the mod to be transforming and updating. This means I won't guarantee it will continue to work on saved games between updates. If you don't want to accept that risk, I suggest tracking the mod and wait for the v1.0 release. Note the v1.0 release will be at some unknown time in the future.
Features
Crafting Stations: alchemy, baking, cooking, blacksmith, enchanting, fishery, grinding mill, smelting, tanning, wood chopping
Greenhouse with 36 planting soils to grow your crops
Stable with horse and cow that produces milk once a day
A basic auto-sort system with 14 custom storages located throughout the manor
Barrack with space for up to 5 followers
Bedroom for Housecarl
Children's room with space for use to 4 children
Community pool
Kitchen complete with a chef NPC (just for fun)
Library with a view and custom displays
Master Bedroom with a pool and balcony
Armor mannequins
Several weapon racks
A few weapon plaques spread around
Teleport orbs and ladders to get around faster
Hidden Snow Elf Sanctuary with magical alchemy garden
Fully NAVMESH'ed for everyone to get around
Auto-Sorting
The manor has a simplistic auto-sorting storage system. Custom storage containers are placed throughout the house to support the system. Some are new custom containers, while others were existing decorative clutter that was repurposed as a container for the system. The following containers are available:
Storage name | location | what is stored
Alchemy | Study | ingredients
Armor  | Library Foyer & Barracks | armor
Wardrobe | Master Bedroom | clothing
Firewood | Kitchen | firewood
Pantry | Kitchen | food
Raw Food | Kitchen | uncooked meats
Jewelry Box | Bedroom | gems and jewelry
Key | Housecarl | keys
Miscellaneous | Study | currently unused. Once implemented, it will be used to sort unrecognized item to.
Potion | Study | poisons and potions
Scroll | Study | scrolls
Smithing | Blacksmith Station (exterior) | ingots and ores
Soul Gem | Study | soul gems
Weapon | Library Foyer & Barracks | ammo and weapons
The
Master Sorting Chest
, is found in the main foyer, to the right as you enter the manor. All users need to do is dump their items into the chest. The system will activate once items are placed in the chest. Then it will pause until the chest is closed to allow users to remove accidental moves. Once the chest is closed, the script will systematically sort the items to the above storage containers. The sorting is a bit broad due to using item types (Forms) and keywords. However, this means mod-added item will sort, assuming they have the correct form and/or vanilla keywords.
COMPATIBILITY
Not compatible with:Compatible with:
It should be compatible with just about everything except mods that edit the same exterior cells. Textures will change with any texture mods installed. The follow mods have specific compatibility build in:
Version Scheme
Major.Minor.Hotfix
Major = changes to assets such as new or updated meshes, scripts (if applicable), textures, etc.
Minor = compatibility updates, patch updates, larger bug fix rollouts, betas, etc.
Hotfix = hot-fixes, single bug fixes, update to installer code, etc.
INSTALLATION
Install with your mod manager
Sort with LOOT
Generate LOD
This step is optional, but you won't see the house from a distance unless you do.


Highly Recommended Mods
SHOWCASE



(by original author)