File information
Created by
Xgrufijury
About this mod
Adds a drivable cart and portable craft wokplaces, storage and camping equipment to the game. You can drive, and your Follower rides in the cart.

Fuegt dem Spiel eine fahrbare Karre, eine portable Handwerker Ausruestung, Lagerplatz sowie eine Camping Ausruestung hinzu. Du kannst den Karren bei den Staellen Weisslauf finden. Lies das Bu
Requirements

Permissions and credits

Translations
Dragonkiller Cart


- four different cart models -
- you can transport four followers -
- producible camping equipment -
- producible craftsmen equipment -
- producible storage equipment -
- producible training dolls and Targets -

Adds a drivable cart and producible portable craft wokplaces, storage and camping equipment to the game. You can drive, and your Follower rides in the cart. Call the cart and read the books that are in the cart (cart menu -> more -> cargo -> cart cargo). All items can be activate, by that you drop the item out of your inventory. An exception is the cooking pot. The cookin.g pot must be placed over the fire menu. Tent poles and salt barrel (give you 10 x 5 servings) can buy in Riverwood and by the traveling khajiit.
First Person on the Cart:
Use the Mod
Immersive First Person View
. You can toggle First Person on the cart on/off.
FAQ:
where can i find this cart?
At the mod start, you receive the spell "Cart summon" ... use it.
how do you get the book... its not in my inventory or anywhere else?
The books are in the cart inventory. Use the cart menu "more/cargo"
how do i make a harness?
Read the cart book and note the menu after reading. Enable the recipe in this menu (this is also true for all other books). Go to a tanning rack and crate a "Dovahkiins - Harness". Put this item in the horse inventory over the cart menu. Use "Tether Horse" on the cart menu.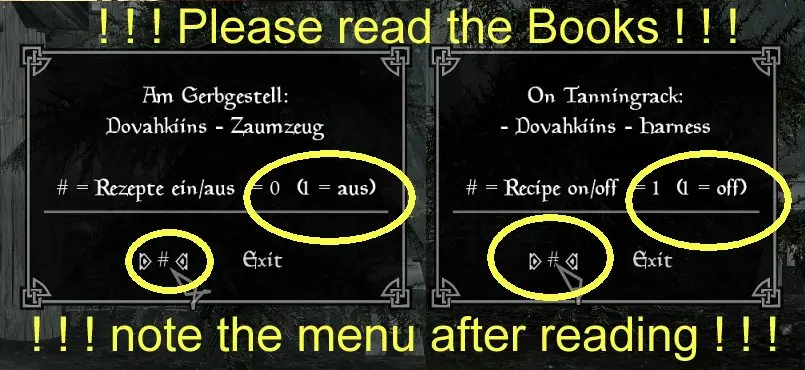 Drachentöter Karre
- vier verschiedene Karren Modelle -
- du kannst vier Begleiter transportieren -
- herstellbare Campingausrüstung -
- herstellbare Handwerker Ausrüstung -
- herstellbare Lagerausrüstung -
- herstellbare Trainings Puppen und Zielscheiben -
Fügt dem Spiel eine fahrbare Karre, eine herstellbare portable Handwerker Ausrüstung, Lagerplatz sowie eine Camping Ausrüstung hinzu. Die Karre kann Waren und Begleiter transportieren. Rufe die Karre zu dir und lies die Bücher, die sich in der Karre befinden. Alle herstellbaren Items lassen sich aktivieren, in dem du sie aus deinem Inventar fallen lässt. Eine Ausnahme bildet der Kochtopf. Dieser wird über das Menü der Lagerfeuer aufgestellt. Zelte brauchen Zeltstangen. Diese kannst du in Flusswald so wie bei den Fahrenden kaufen.
Ego Perspektive auf der Karre:
Benutze die Mod
Immersive First Person View
. Damit kannst du echte Ego Perspektive auf der Karre ein/aus schalten.
FAQ:
wo finde ich die Karre?
Bei Mod Start bekommst du eine Kraft ""Dovahkiins Karre rufen" ... benutze sie.
wo sind die Bücher... sie sind nicht in meinen Inventar oder sonst wo?
Die Bücher sind im Karren Inventar. Benutze das Karren Menü "mehr/Ladung"
wie mache ich ein Zaumzeug?
Lies das Karren Buch und beachte das Menü, dass erscheint, nach dem lesen. Aktiviere das Rezept in diesem Menü. Benutze ein Gerbgestell und stell "Dovahkiins - Zaumzeug" her. Lege dieses Item ins Pferde Inventar über das Karren Menü. Benutze die Funktion "Pferd anspannen" im Karren Menü.
* The Books....Die Bücher *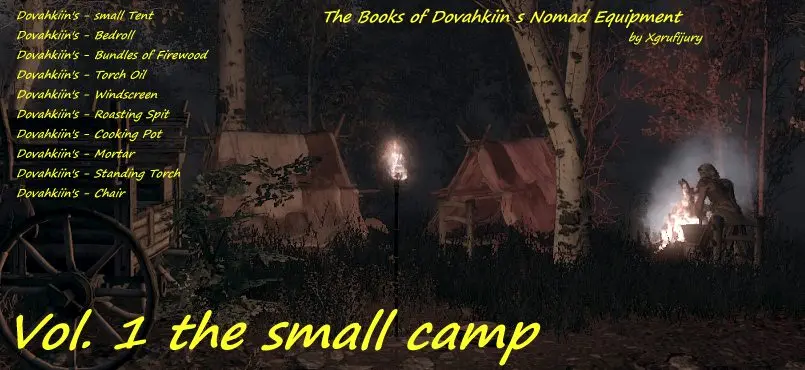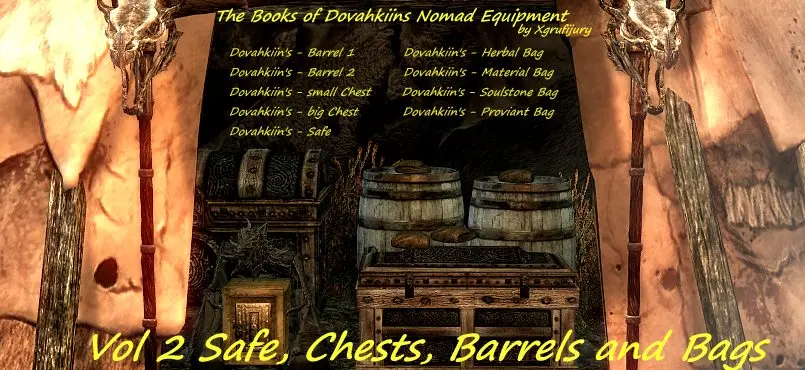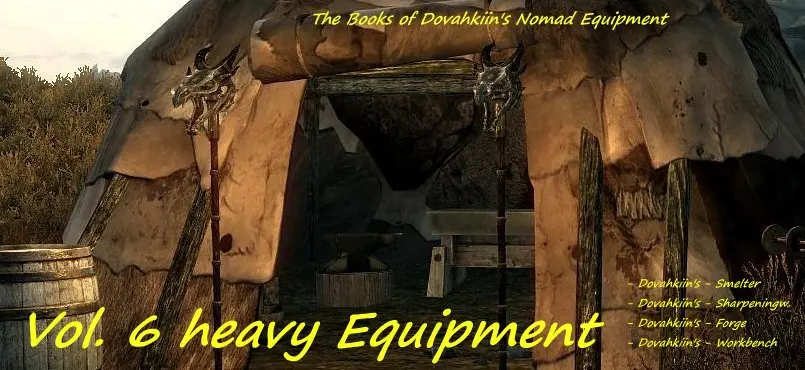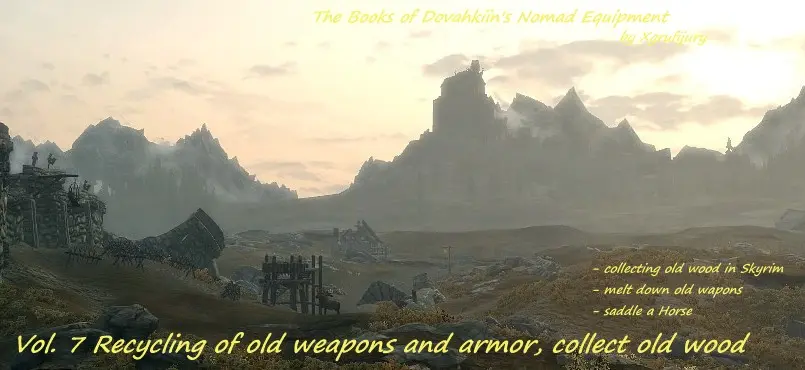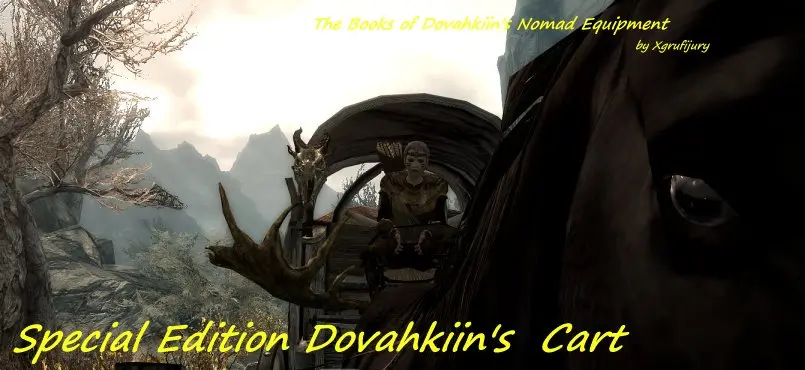 The PlugIn has Support for
- Dawnguard
- HearthFires
- Dragonborn
- Hypothermia
- Frostfall - Hypothermia Camping Survival
- Imp's More Complex Needs
- UFO_-_Ultimate_Follower_Overhaul
- Extensible_Follower_Framework
- Amazing follower tweaks
- Vilja
- and many other
Cart Physik settings
The cart settings will automaticaly work if you have my ini file (xgfPferdeKarren.ini) installed.
if you want also us my camera settings you can this integrate in my xgfPferdeKarren.ini
[Cart]
fWheelAngDamp=0.1100
fMass=230.0000
fFriction=100.0000
fGravMult=7.0000
Camera Settings(Optional: You can Add this to your Skyrim. ini or xgfPferdeKarren.ini)
[Camera]
fActorFadeOutLimit=-100
fOverShoulderPosY=0.0000
fOverShoulderPosZ=0.0000
fOverShoulderPosX=0.0000
fOverShoulderCombatAddY=0.0000
fOverShoulderCombatPosZ=0.0000
fOverShoulderCombatPosX=0.0000
fOverShoulderHorseAddY=0.0000
fOverShoulderHorsePosZ=0.0000
fOverShoulderHorsePosX=0.0000
fMouseWheelZoomIncrement=0.050
fVanityModeMaxDist=1000.0000
fVanityModeMinDist=155.0000
fMinCurrentZoom=0.001
UnInstallation
- make sure your horse carries the original saddle
- Remove all your Items for the Cart Storage System (Cart, Horse Bags, Car-Barrel, Cart-Chest)
- Remove all Cart Items from your Inventory
- Save the game
- Delete the Files (xgfPferdeKarren-en.esp, xgfPferdeKarren-en.bsa)
- Remove the Cart Physik settings in your Skyrim. ini
if you want, my other Skyrim mod.
Clouds for Skyrim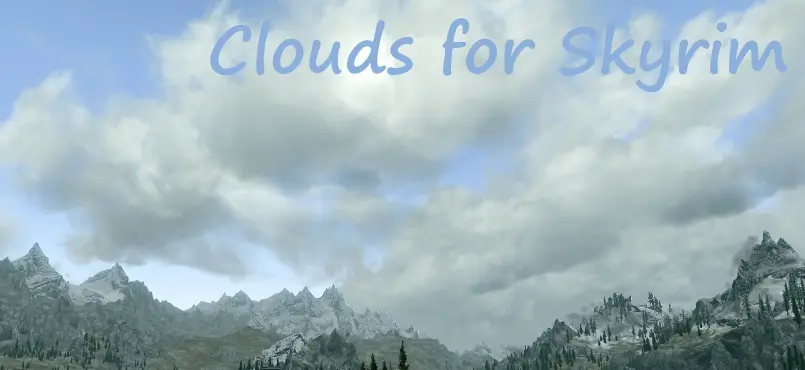 Adventure Rucksack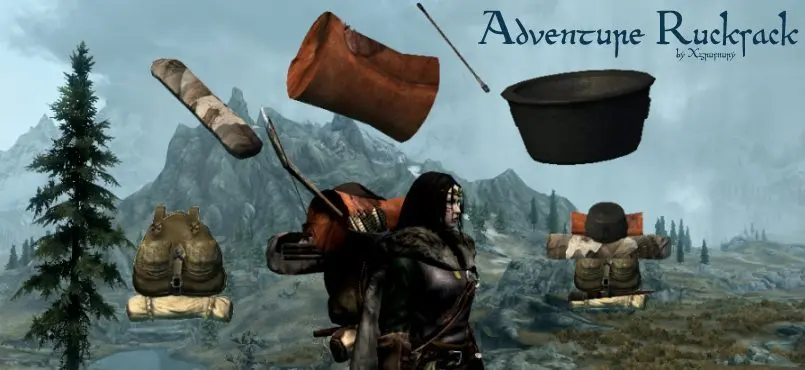 collecting Firewood.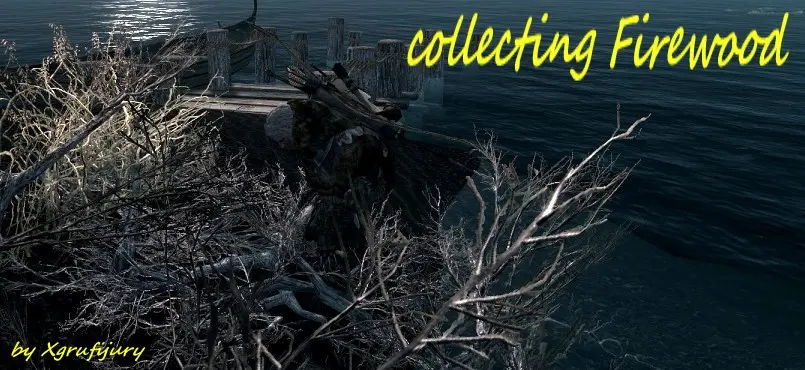 Dragonkiller Cart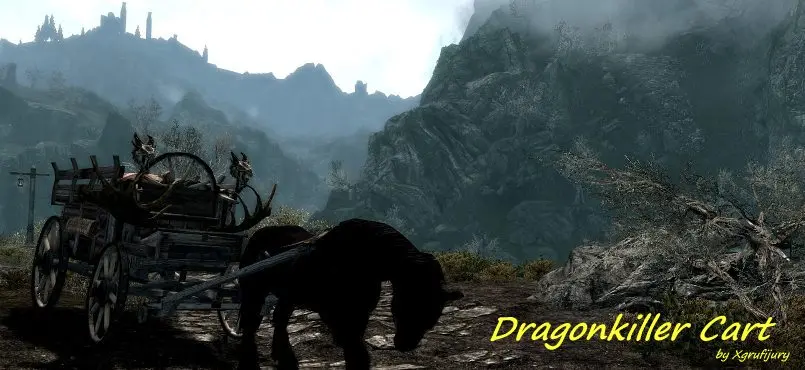 The Books of Dovahkiin s Nomad Equipment. This is the same PlugIn as Dragonkiller Cart. The same PlugIn with a other integration.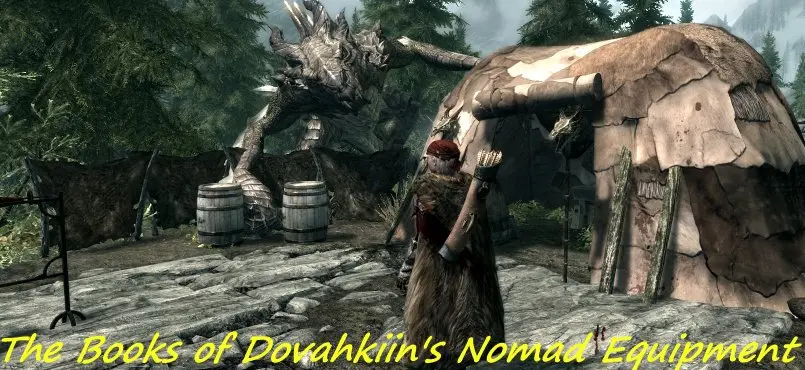 Dog Laika Reloaded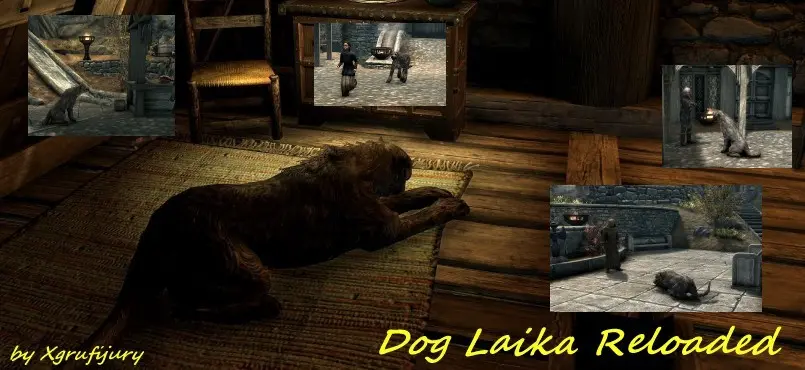 Dovahkiins Safe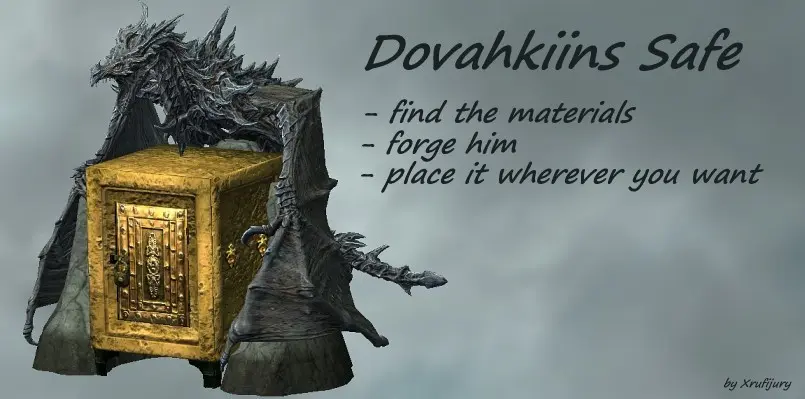 Asky - almost like a real dog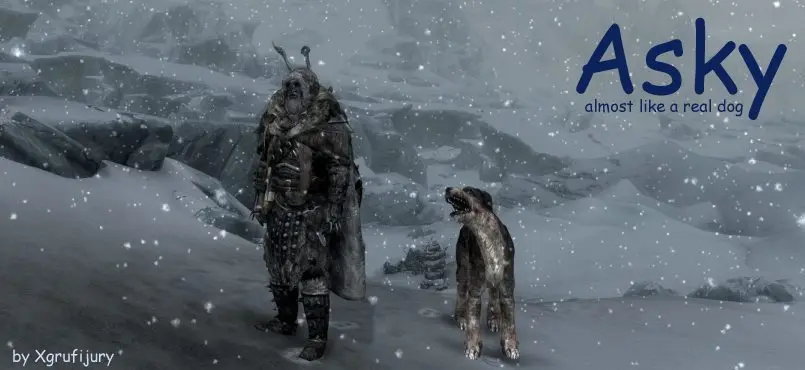 Version History
Version 2.5
- Find book VIII, then you can craft training dummies and targets.
(DKC User: the book is in the cart inventory)
- new Power Spell: Dova. lie down
- new Power Spell: Dova. sit down
- new Power Spell: Dova. build a Campfire
(the "bundle of firewood" no longer exists)
- Follower system revised. Support now 4 follower.
(all seats must now be assigned/deleted by the player)
- get on/get off revised
Version 2.40
- four new bags (more info in book 2)
- seating on Dovahkiin's - Bedroll
- new power "Dovahkiins Equipment Mode"
Version 2.31
- all Items named now Dovahkiins - ..
- Dovahkiins - Safe
- Dovahkiins - smal tent
- Dovahkiins - Mortar
- Dovahkiins - Cooking Pot
- small Tent Poles
- large Tent Poles
- Salt - Barrel
- cart summon power summon also the horse, if tethered.
- new Menu after reading a book
- 7 neue Book's (can finde in the Cart)
- recipes to melt down weapons
- new power saddle a horse
- new power collecting wood
- Hypothermia support (dynamic)
- Frostfall - Hypothermia Camping Survival (dynamic)
Version 1.87
- Follower system changed for more options.
- Follower Ai check removed
- Quest Follower such as Serana and also Vilja can now use the cart (a Follower must be CurrentFollowerFaction(0) or a PlayerTeammat)
- a new Campfire
Version 1.86
- new main script
- new Chair script
- new bedroll inventory nif
Version 1.85
- the last script optimizations
Version 1.84
- various script optimizations (Campfire-, Torch-, Workbench-, Startup-, Cart- script)
- a new Campfire. Now a patch is needed for Hypothermia support
Version 1.83
- a new switch on the cart submenu. you can hide alle recipe exept consumables
- better campfire prozedur
- better Arokh prozedur
- a new spell. you can select the first cart passenger
- a mod own horse bag (the default horse inventory is not longer in use by my mod)
- the follower will not more rise up, if there in a waiting status.
- Removed: more support for UFO Ultimate Follower Overhaul. If you on the cart, your follower riding a horse.
Version 1.82
- more support for UFO Ultimate Follower Overhaul. If you on the cart, your follower riding a horse.
- a little fine tuning on the menu text
Version 1.81
- Fix a small script issue (2 x Harness from Battle Function)
Version 1.8
- Camp Equipment added
- Material Storage Area added
- Horse Armors by Mystikhybrid - Gabriel Gullbergh added
Version 1.7
- made new textures. They should now be displayed correctly for all
- with the necessary materials, you can create from any craft place, a mobile version. Hard to bear but still useable thanks the cart, wherever they go.
Version 1.6.2
- I had to remove the lights again, because they do not work properly.
- modified dragon skull model
- automatic reconfiguration when you load a saved game
- Status display in the Main Menu
Version 1.5
- first step of my multiple follower mod support
- option for select cart speed
- Automatic reconnect on cell load event (does NOT work when loading a save game if you're in the same cell)
- normal dismount -> character will always be placed behind the cart, and the horse forward.
- battle descend -> character will always forward placed, the horse behind the cart.
- all procedures were optimized, work faster
- a little better menu
Version 1.4
- new Menu now also for 4/3
- change between 4 different Models
- use the Power Cart Rep. if needed (see the letter in the Cart Inventory)
Version 1.3
- the cart have a map marker
Version 1.2
- completely new "go into Battle" procedure. Faster for you, better for the horse and car.
- better tethering (resetting horses ai and move it first to car)
- you can now craft horse saddle, imperial and shadowmere saddle
Version 1.1
- first Release
Credits

My Credits go to Mystikhybrid - Gabriel Gullbergh for the Horse Armors and to Bethesda for the amazing Game.