Asky - almost like a real dog
Asky - almost like a real dog
File information
Created by
Xgrufijury
About this mod
Asky is not a follower. Aksy is your dog .. almost like a real dog.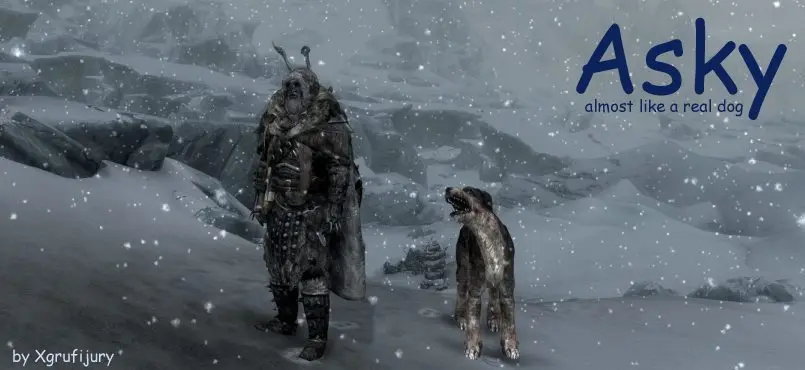 Asky .. almost like a real dog
I've heard that you're looking for a dog as an loyal companion. Asky's deed of ownership and his dog blanket lie on a bale of straw at Pelagia Farm. The Farmer wants to throw his things away. Asky ran away from home weeks ago. The Farmer treated him really lousy. Maybe you can find and feed him. Start trying it westwards of Greenspring Hollow.
HowTo find and play Asky
Asky .. fast wie ein echter Hund
Wie ich hörte, sucht Ihr einen Hund als treuen Gefährten. Askys Besitzurkunde sowie Hundedecke liegen bei einem Strohballen auf dem Pelagiahof. Der Bauer will die Sachen wegwerfen. Asky ist ihm schon vor Wochen abgehauen. Er war nicht wirklich gut zu Asky. Villeicht könnt ihr Asky ja finden und füttern.Versucht es westlich der Grünquelllichtung.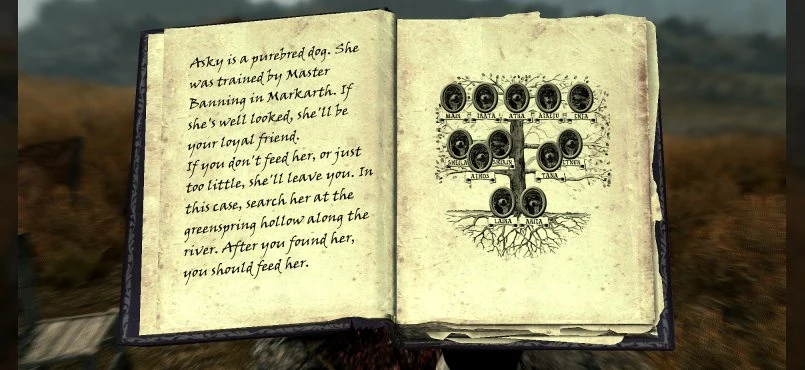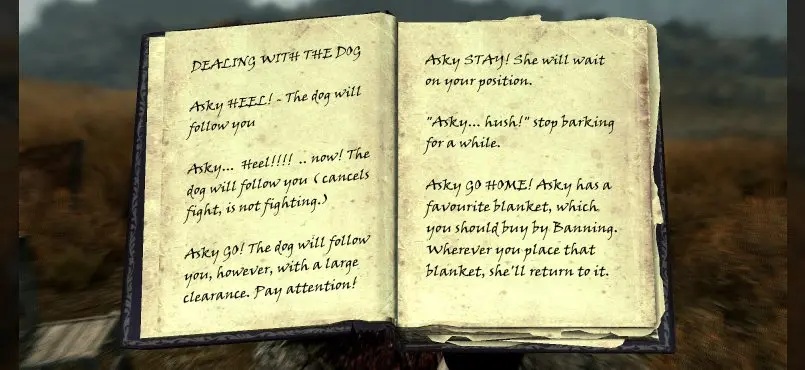 Credits
My Credits go to AlienSlof for the nice Dog Textur and also to Bethesda for the amazing Game.
if you want, my other Skyrim mod.
Clouds for Skyrim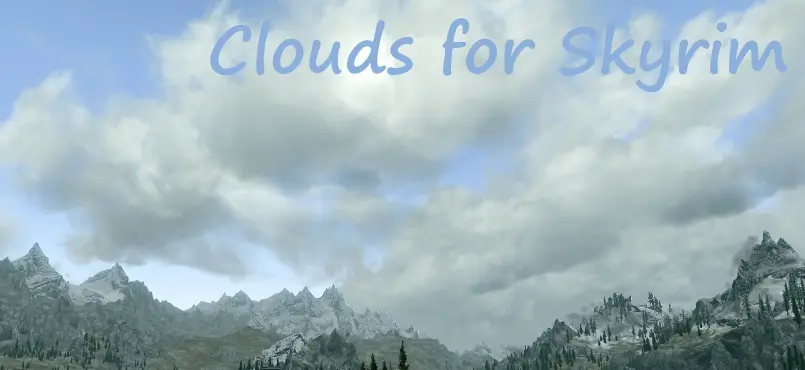 Adventure Rucksack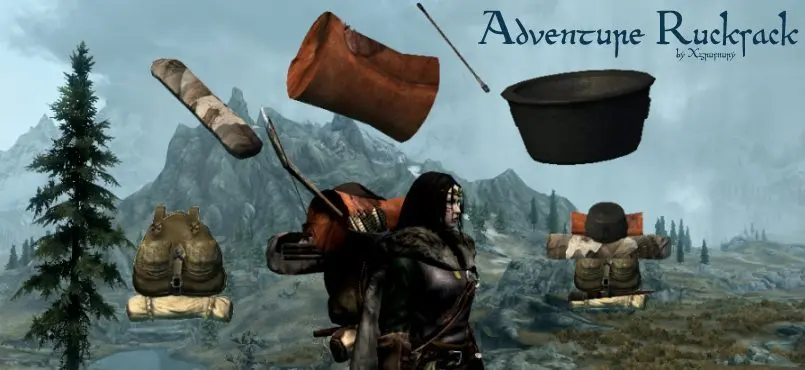 collecting Firewood.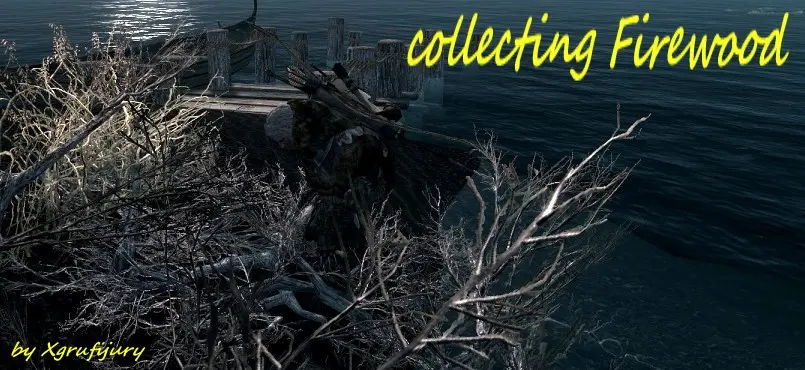 Dragonkiller Cart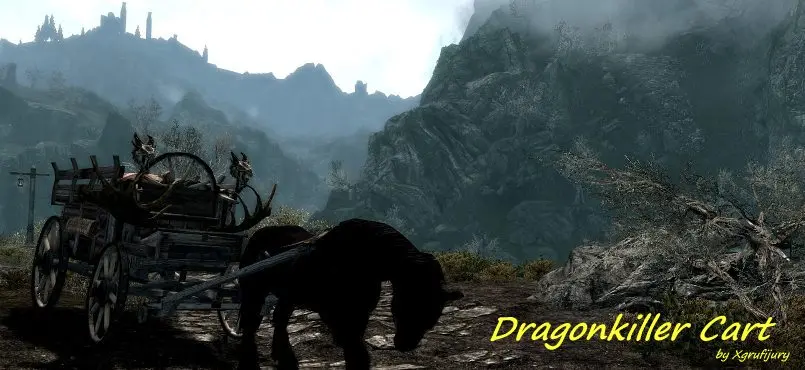 The Books of Dovahkiin s Nomad Equipment. This is the same PlugIn as Dragonkiller Cart. The same PlugIn with a other integration.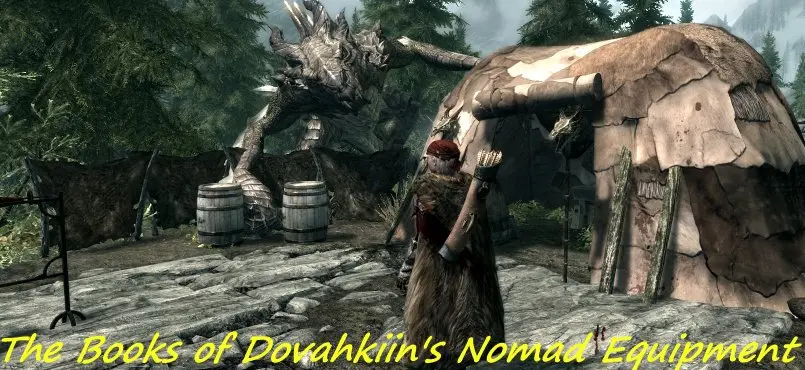 Dog Laika Reloaded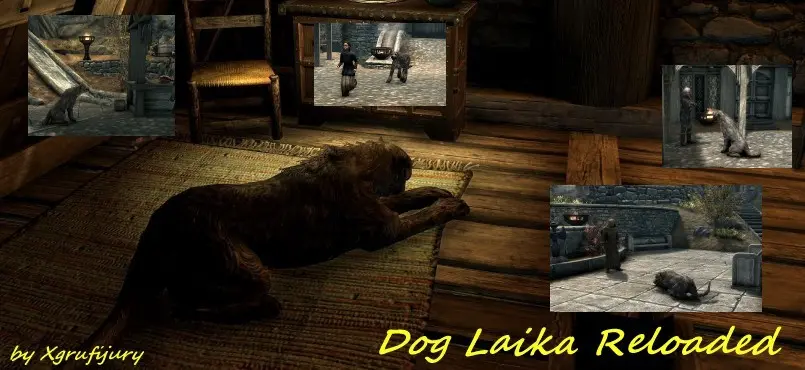 Dovahkiins Safe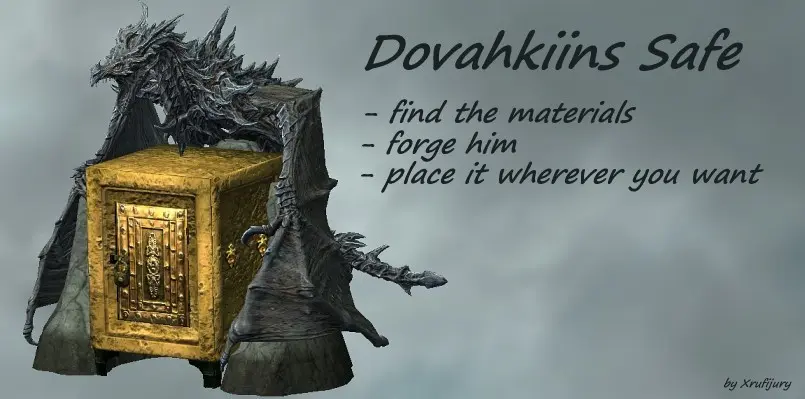 Asky - almost like a real dog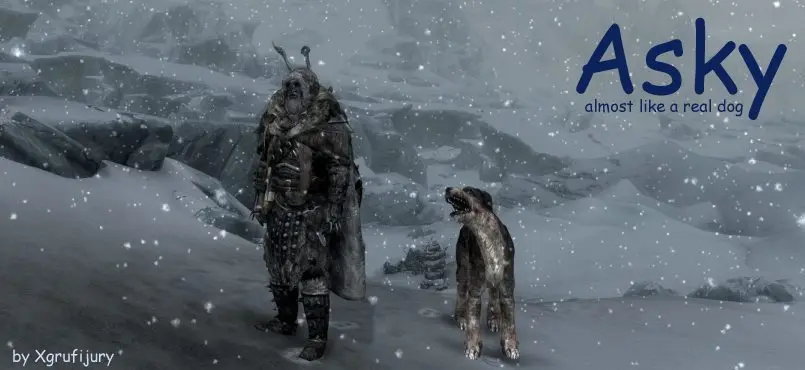 Version History:
Version 1.5
- a bug when entering a city fixed
- a bug in the bowl script fixed
- new command menu
- new single command (Asky... Heel! / Attack!)
- new single command (Asky... Focus)
- option to stop the update Skript (Nutrition)
Version 1.4
- Aksy run free optimized
- Askys - Feed Bowl added
Version 1.32
- various scripts optimizations
- Asky should be easier to find
- Asky better adapted its speed to player
Version 1.31
- Aksy can run free in town
- When one Asky commands to wait, it will no longer engage in the fight.
Version 1.3
- new PlugiIn Start Szenario
- Asky ignores now hits of friends.
- you can Asky move to you
- Asky automatically heel if you go to a Town.
Version 1.2
- new Command "Asky ... hush!"
- better book Translation (En Version)
Version 1.1
- fix the Sneak System
- new command menu.
- Control over Askys fighting behavior
Version 1.0
-first Release