File information
Created by
KodiakJ
About this mod
Introducing the deadly Turkina Omni Mech.
Requirements

Permissions and credits

Changelogs
Turkina Lore
Entering service during the Battle of Tukayyid with Clan Jade Falcons Turkina Keshik the Turkina quickly superseded the Dire Wolf in the Jade Falcon ranks as their principal Assault Omni Mech. The Turkina is a resilient mech with 18 tons of standard armour allowing it to shrug off heavy weapons fire, it is a fearsome assault mech, with 42 tons of pod space that allow the chassis to carry an array of weapons creating some of the most deadliest configurations seen on a mech of its size. Turkina is also equipped with 3 Jump Jets hat allow it to leap up to 90 meters and re-position its self allowing it to off set its poor manoeuvrability.
Hardpoints
The Graphic below shows Hardpoints for each Turkina Variant.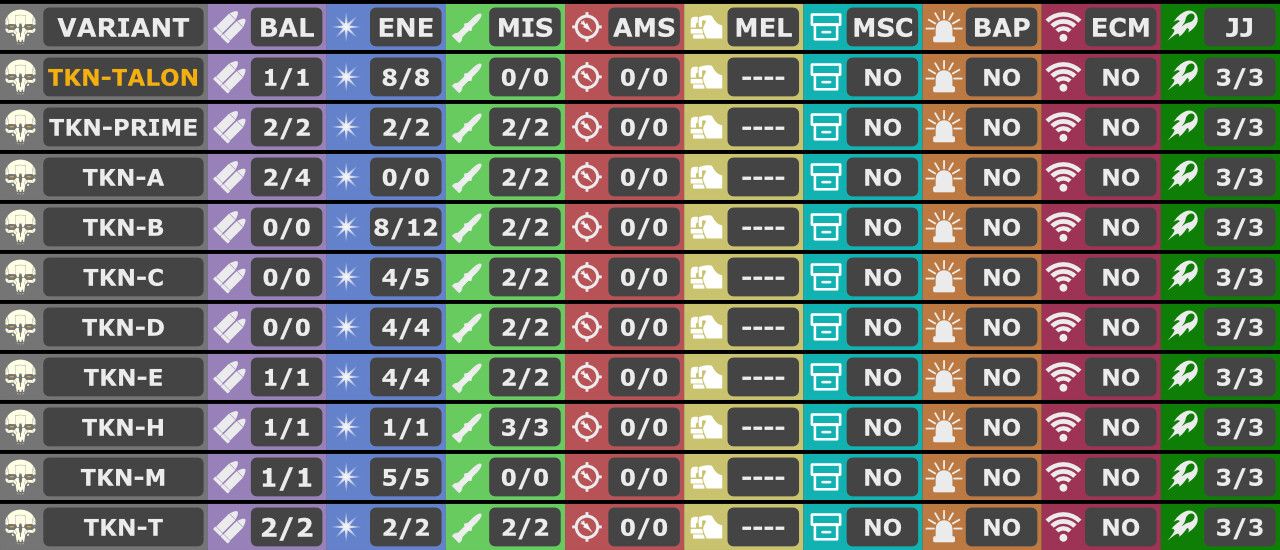 Creator Notes
A Personal favourate of mine the Turkina was always a fun mech to use in Mechcommander. As the chassis has never found its way into the simulator side of the game I thought it would be a nice addition to MechWarrior 5.
The Turkina features
10 variants, 9 Standard 1 Hero,
12 Patterns, 6 Clan, 5 Standard, 1 Hero.
Custom Animations
Custom Cockpit
Yet Another Mech Lab Compatability
Credits & Links
You can download more of my Mechs following the Links below.
Fire Moth
DragonSlayer Vanilla Edition

DragonSlayer YAML Edition
Arthur
Thanks to the Asset Bundle Community for their general help with these projects they've provided very helpful insigts, technical support and shoutouts much apprecaited. :)
Thanks for downloading my mod If you like my work please consider supporting me on my Ko-Fi page linked below. You can also find my work on Arstation and Gameplay on Youtube.
KodiakJ Artstation
Ghost Bear Productions