File information
Created by
LupusYondergirl
About this mod
Sixteen unique quilts, striped wool, plaid wool, and crochet blankets- with single and double bed options for each. Optional add-on provides a 'my bed' version of each one as well. Since at the end of a long day, no one wants to find some filthy settler curled up in their bed.
Requirements

Permissions and credits

Changelogs

Donations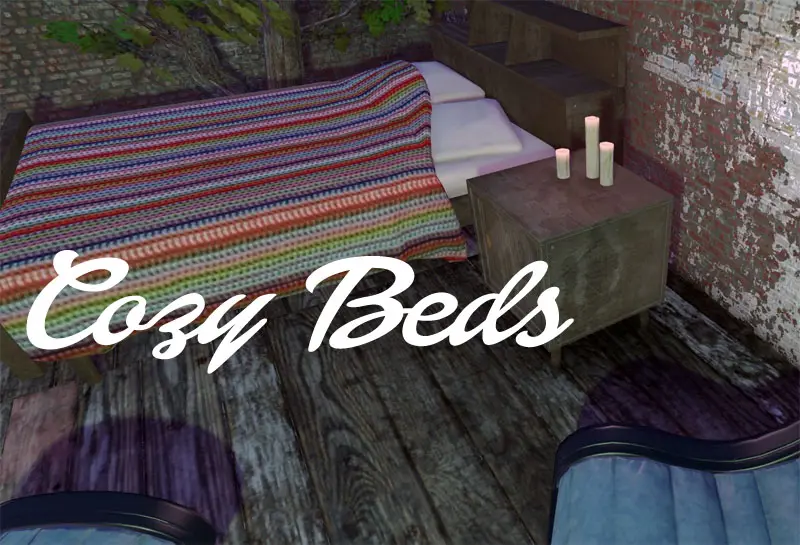 A happy medium between the shiny yellow "apocalypse, what apocalypse?" pre-war bed and the urine soaked nightmare hobo mattress post war options. Because blankets are probably not going to be one of those high tech luxuries that end up lost to time. 
4/11:
Double bed thing should be fixed for real this time, as should any issues with the 'my bed' version.
Update notes, 3/14
I'm about 99% sure I fixed the issue with double beds showing as just 1 bed.  If not, I'd really appreciate anyone more skilled with the tools than I am pointing me in the right direction, since I am at a loss.
The my bed esp no longer redirects to the standard version.
(I literally learned to use FOEdit when I first made this mod like six weeks ago, so I apologize for the errors.  I'm totally 100% just winging it here)
Barring any errors or bugs I missed, this will be the final version- any updates will be done as part of my upcoming furniture mod, Old World Plaids.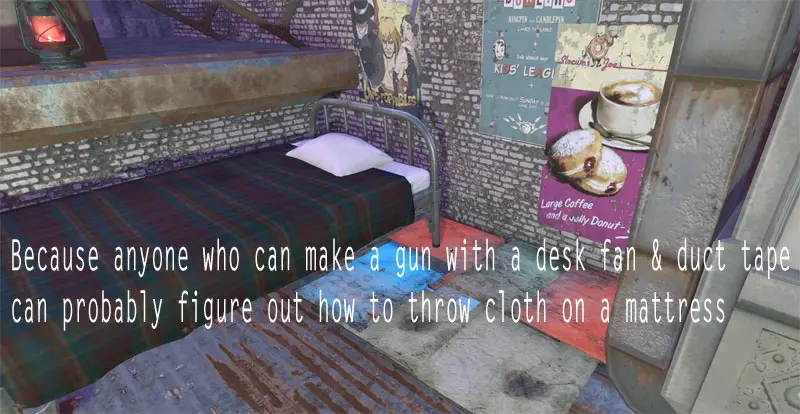 (floor shown is from my other mod,
Under Foot
, also on Nexus.  It adds rugs with wood and metal textures and normals, so you can put down a floor in the places where tiles won't work and fake NPCs into thinking there is navmeshing for mod-added structures)