The WH-77 Modular LSW REDUX
---------------------------------------- 

Im back. I have learned how to 3dsMax, and thus I return with gifts. 
No more Nifskope Lego.
No more recycled vanilla assets.
I present to you the WH-77 as it was always meant to be; with scratch built meshes and textures, material swaps, scripted leveled list injection, and all the bells and whistles that you have come to expect from a skibadaa weapon mod.
Total mods include:
5 Barrels, 4 Stocks, 6 Mags, 5 Materials, 13 sights that include 2 see through combat scopes (Thanks Henkspamadres!!), 3 muzzles, 14 recievers with 6 in 5.56, 4 in .308, and 4 in 5mm. And on top of that there are 4 ammo types, and a deployable bipod attachment on 3 of the barrels.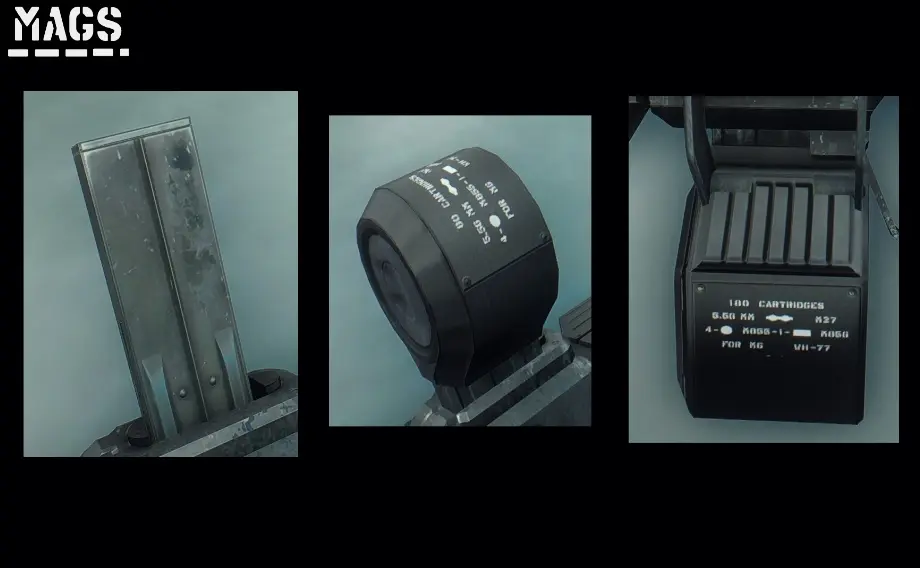 Also worth mentioning is some changes to how the weapon works in game. Its no longer an unstoppable god weapon from the get go. Base damage is now 5 higher than the vanilla assault rifle, and the maxed out 5.56 reciever will be moderately more powerful than a maxed out assault rifle.
5mm is now the most powerful caliber for this weapon, with the .308 recievers in between. The 5mm recievers are OP with a base 10% armour penetration on top of the best damage, so you will need maxed out gun nut and commando perks to unlock them.

The 5mm recievers now have the same damage as the .308 ones do. 
The ammo types are meant to replace the need for armour piercing recievers, it made more sense to me that way. So now instead of 2 recievers having AP, you have 4 ammo types that can be assigned alongside any receiver. If you use LOADS however this becomes redundant so I have made an extra esp that has the system removed for use with LOADS. 
Concerning Consoles:------------------------------------
An Xbox version will be coming to Bethesda.net shortly. Should be a day or two, but trust it is coming!
The Xbox version is up on Bethesda.net! PRAISE THE LORD, FINALLY!!!
Get it
here
.
Installation:
--------------------
1. Make sure that your game is set up to play mods.
2. Download the main file.
3. Install with your mod manager of choice OR extract the contents of the archive to your 
    Fallout 4 "Data" Directory.
4. Activate "Skibs-WH77Redux.esp", it can go anywhere in your load order. 
4a) If you are using "Loads of Ammo: Switchable ammunition types" by TheTalkieToaster then make sure to use   the replacement esp available from the downloads page. Install it over the main file and say "Yes" when asked to overwrite.
5. Start the game.
6. Smoke some fools.
The weapon will spawn on raiders, gunners, supermutants, in loot chests and in shop inventories from level 20 onwards. If you must have one immediately though you can spawn one via console.
To do this first open the console and type:
help wh-77 4 weap
This will show you the item code for the wh-77. Once you have the code then type:
player.additem xxxxxxxx 1
Where xxxxxxxx is the 8 digit item code.
Compatibility:-----------------------   

This file is not compatible with "Perk Options" by Makanar, it will cause ctds whenever you try to look at the gun in the workbench if used together.


Replacement esp's that provide compatibility with the following mods are available in the downloads section under "optional":
Loads of ammo: Switchable ammo types
by TheTalkieToaster
New Calibers
by BrowncoatGarrus
AWKCR
by valdacil
A visible weapons compatible holster model for the WH-77 is available
here
The see through combat scopes are fully standalone, but if you want to use them alongside the framework that will work as well.
There is no need for a merged patch as all leveled lists are now added via injector script, its just plug and play now.
Credits: -------------       

Bethesda for Fallout 4 and the CK.

henkspamadres for the use of his see through combat scopes.

Millenia for his 3dsMax tutorials.

AutoDesk for 3dsMax.

The Nifskope team for Nifskope.

The xEdit team for F4Edit.

Me, for making the mod.

You, for downloading it.


Self Promotion:
--------------------------

If you liked this then check out my other mods:

IF-54 Battle Rifle REDUX

.223 Revolver REDUX

Laser Bolt FX


IF-88 Tactical shotgun REDUX