File information
Created by
Sirillion
About this mod
Enhanced UI for 7 Days to Die - A19.6

Replaces the user interface for the menu, in-game HUD and UI with a more horror like experience that according to my opinion is better fitting for the game.
Requirements

Permissions and credits

Changelogs

Donations
// Greetings, fellow survivors!
Welcome to the new and improved SMX modlets for 7 Days to Die - Alpha 19.
With this modlet series my goal is to give the entire 7DTD user interface an extreme makeover and refashion it into how I believe the user interface for the game should be experienced. The mod consists of several modlets which can be broken down into three separate mods. These are all stand alone and can be used alone or, as is the intention, together with the other two. These three mods combined is what makes the SMX experience complete!
Please be advised that SMXlib is a library modlet that all the other modlets fetch assets from. Because of this it is a mandatory modlet that is required to be installed regardless of which SMX mods you want to use.
There are also optional downloads, like the bigger backpack modlets, the target health bar modlet and the third forge slot expansion.
I hope you will enjoy to play 7DTD using the SMX modlets. And if you do, please consider endorsing it, have fun! :)
// Terms of Use
You are allowed to use this modlet as is for your own personal use and/or on a server you run and/or administrate.
You are under no circumstance allowed to distribute any SMX and/or ZMX branded modlets without written consent from the developer.
If you wish to distribute SMX and/or ZMX branded modlets as part of your own project and consent have been given you are required to do so in such a way so that all the files of the SMX and/or ZMX modlet or modlets in question remain unaltered and you cannot under any circumstance claim credit for creating the modlet or modlets or any of the files provided with it/them.
If consent is given you are required to make the changes as a new modlet that injects into the modlet in question and keeping load order in mind it is to be named so that it loads AFTER the original modlet. The original modlet shall be distributed as is with no change to its files what so ever.
If consent is given it is only given on a case to case basis and those that receive consent cannot pass that consent on to another party or project. Nor will the consent pass on to other creators that opt to include consented work into their project.
You are not allowed to use any of the assets bundled with SMX and/or ZMX branded modlets in other projects. This restriction applies to all files that the SMX and/or ZMX modlets consist of.
You are required to seek special consent from the developer should you wish to make changes to any asset files provided with the SMX and/or ZMX branded modlets.
You are required to inform the developer when your project that contains any SMX and/or ZMX modlet or modlets have been made available to the public.
// SMXhud // The HUD replacement modlet...
SMXhud is SMX as you know it from Alpha 16 first remade into a modlet and tweaked for Alpha 17 & 18 and now further enhanced for Alpha 19. The purpose of SMXhud is to take the in-game HUD into a more horror like and gritty art style all while trying to stay as informative as possible while not being intrusive on your gameplay.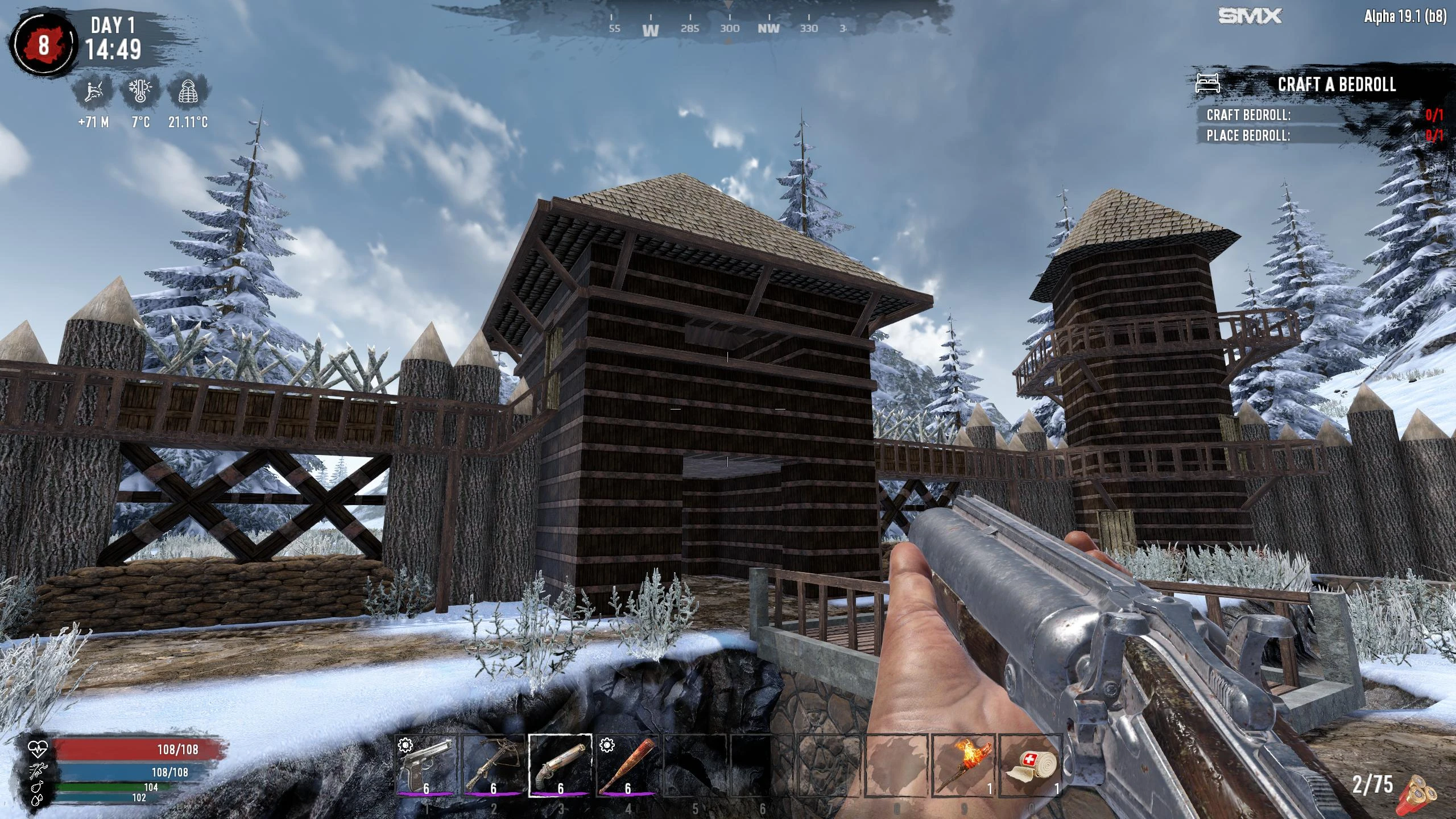 SMXhud - The base HUD conversion.
ZMXhudCPTHB - Enables the Target Health Bar for SMXhud. (Install optional modlet ZMXhudCPTHB to get the target health bar)
// SMXmenu // The MENU replacement modlet...
SMXmenu is a menu conversion modlet. It was made to extend the art style of SMX into the menu UI's of the game and even though it was made to supplement SMXhud it will also work stand alone for those that just want to modify their menu UI's.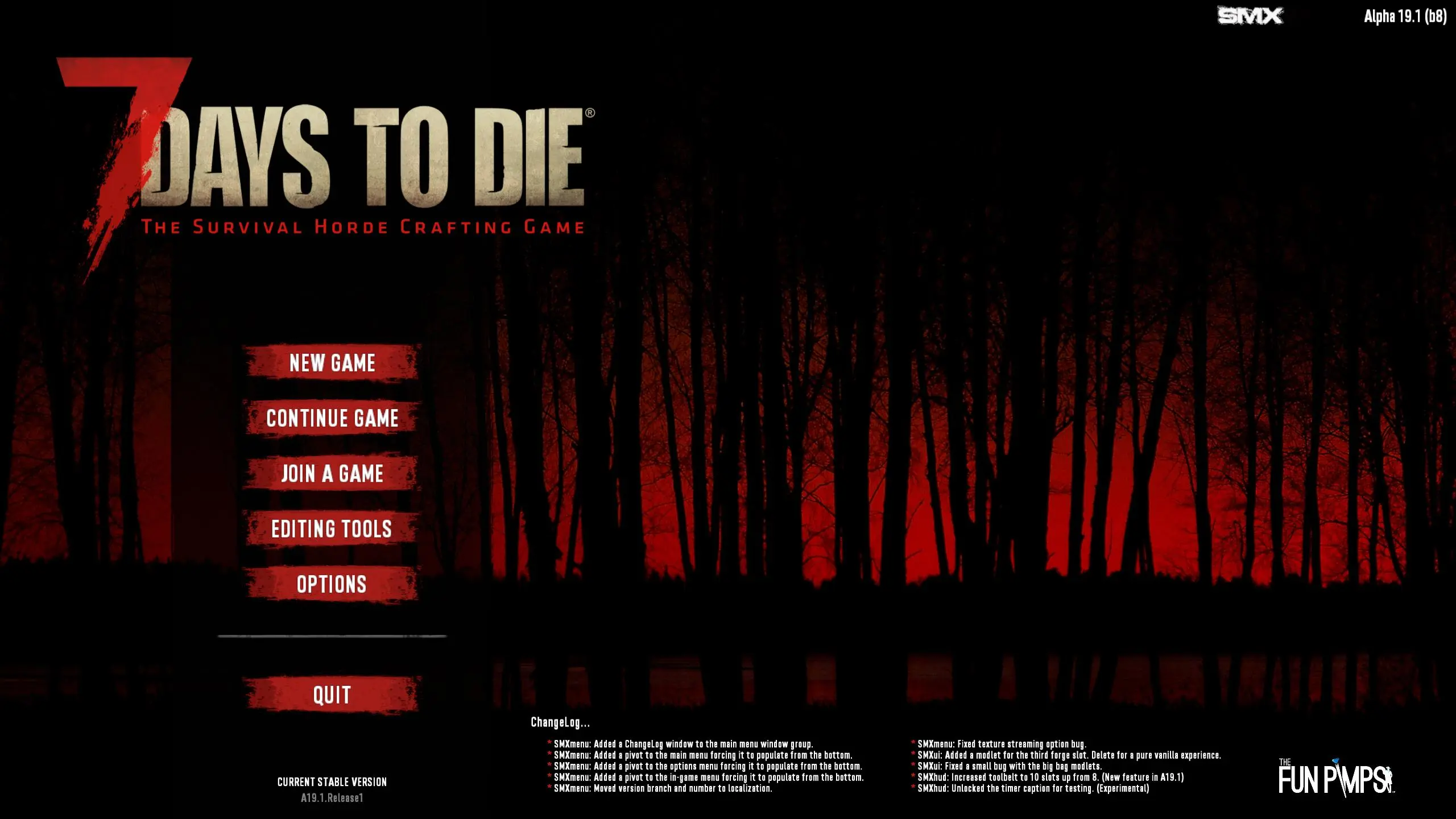 SMXmenu - The Main Menu conversion.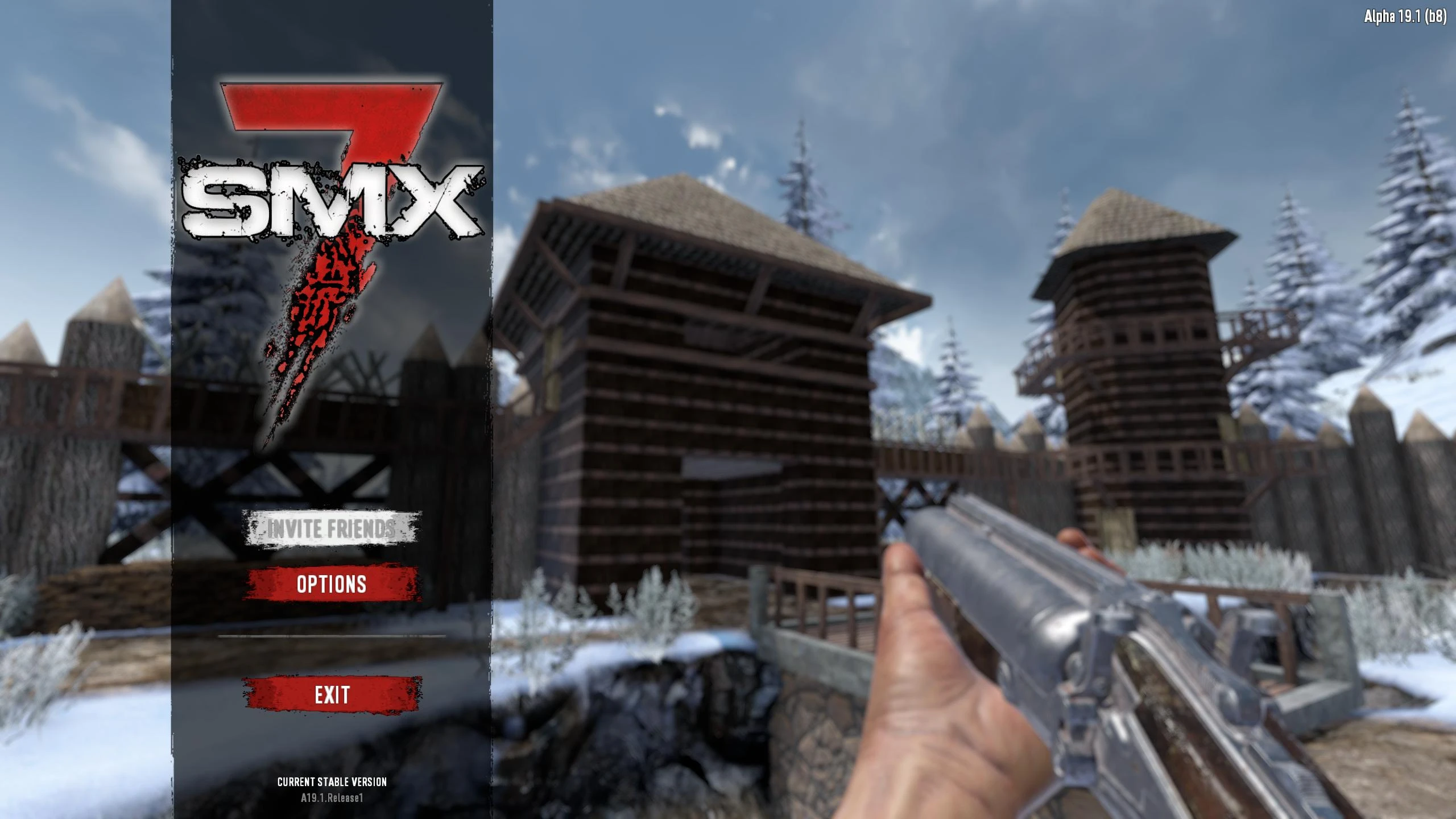 SMXmenu - The In-Game Menu conversion.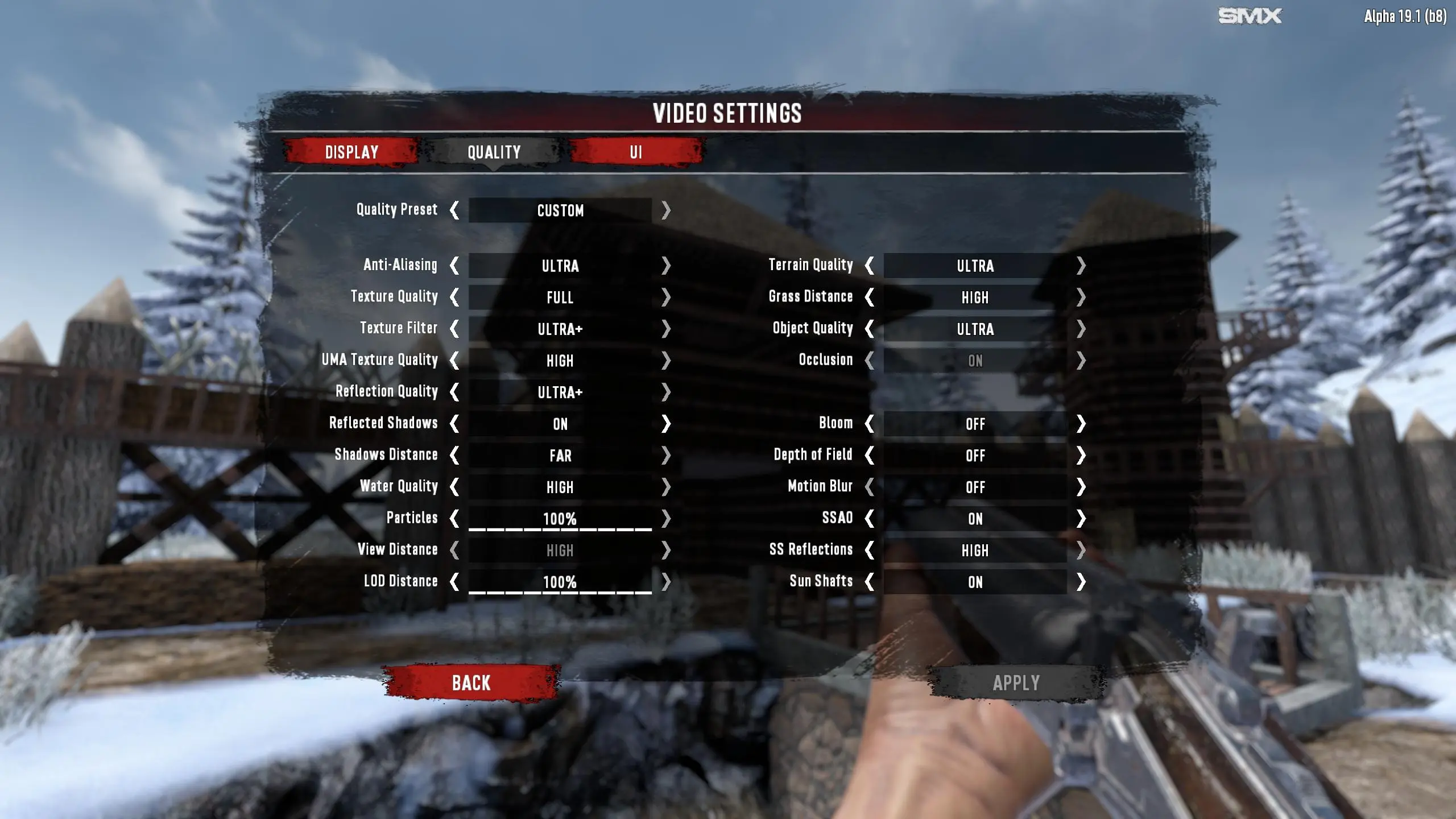 SMXmenu - Video Settings Window.
// SMXui // The UI replacement modlet...
SMXui is an extension of SMXhud and SMXmenu and will bring the art style over to the rest of the user interface. I've tried to maintain as close a relation to the vanilla interface as possible but I have also granted myself some artistic freedom when it comes to some areas. It deviates from vanilla with the fifth crafting queue slot which I added to make it fit the overall design better. The other changes I made are all optional like the third forge slot and the 63, 99 and 110 slot big bag conversion modlets for those that want a bit bigger bags.
SMXui - The forge with the third forge slot enabled. (Install optional modlet ZMXuiCPTFS to get the third forge slot & ZMXuiBBM to get the bigger backback)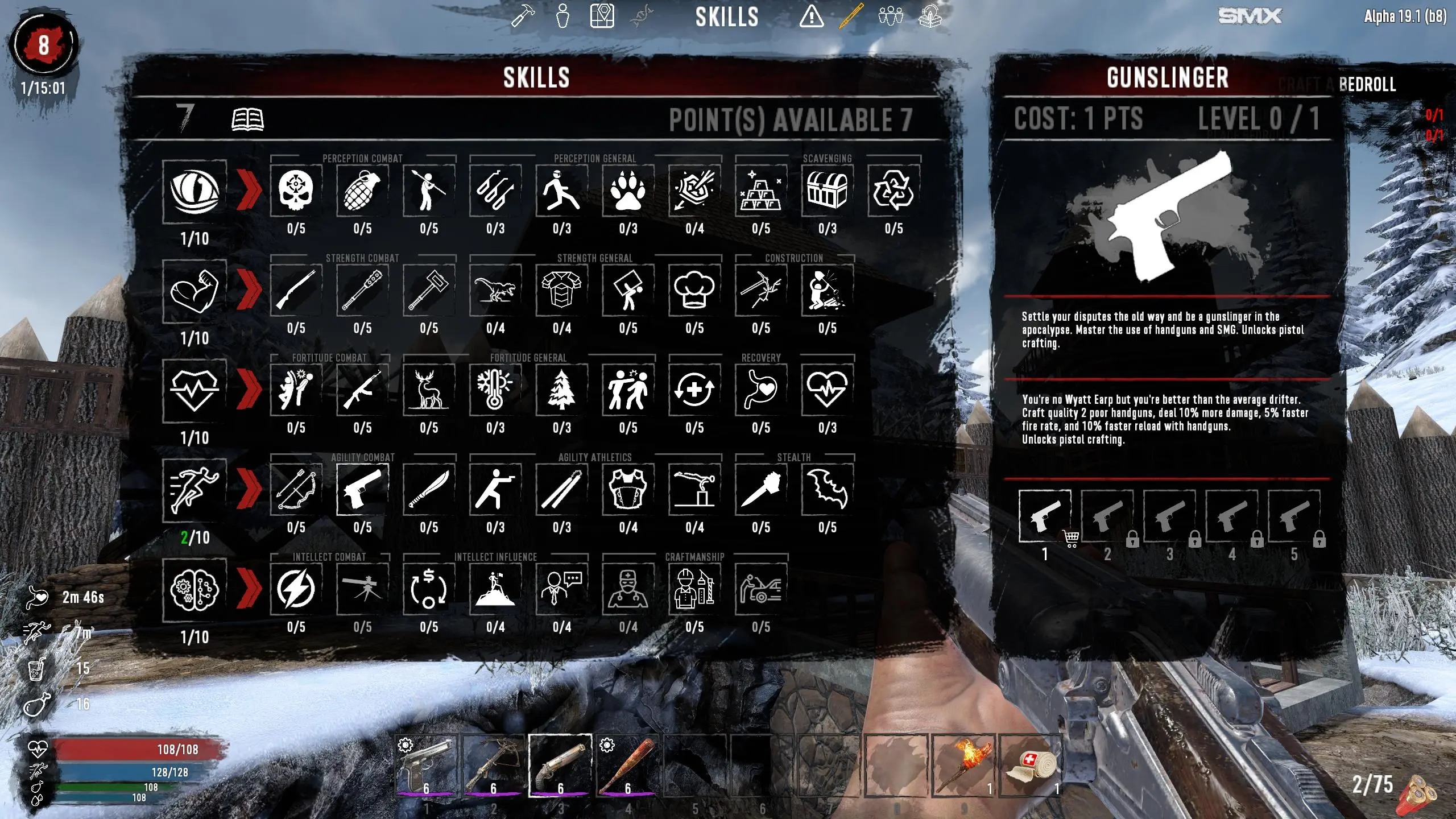 SMXui - Totally reworked skills windows. The goal was to make it look like a talent screen.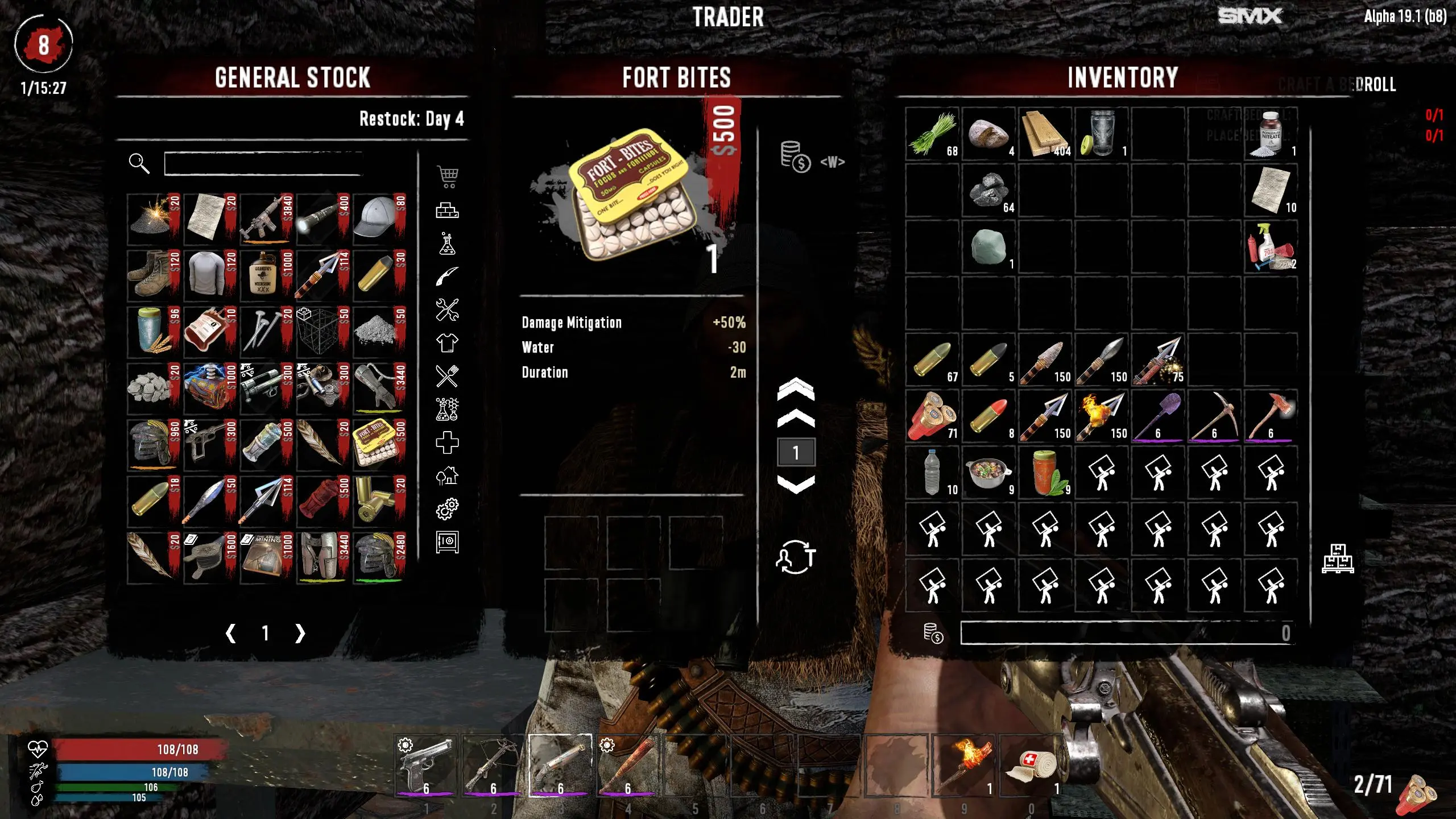 SMXui - Trader Window.
// Install and remove
Before installing please read the stickies in the POSTS section for the most updated information!
Download the modlets you want to use from the FILES tab to the right. ( !! Remember that SMXlib is mandatory !! )
Decompress the modlet using WinRAR or a compatible compression tool, like 7Zip.
Copy or move the Mods folder into your 7 Days to Die installation folder. Overwrite if prompted.
Verify the install by checking that the ModInfo.xml file is located in this hierarchy: "\Mods\modletname\ModInfo.xml"
Remove by deleting the modlet folder in question inside the Mods folder.
// Support SMX Development
All SMX branded mods and/or modlets will forever be free of charge and available for everyone to download and enjoy. I do however from time to time get questions from users on how they can donate to me and support the SMX development. The purpose of this link is nothing more than a way for me to cater to those that want to make a donation. You should under no circumstance feel obligated to do so, but if you do decide to do it I want you to know that is comes greatly appreciated.
Donation or not I would like to extend a thank you to all that download and use the different SMX mods, I hope you enjoy them as much as I do making them.
If you feel like making a donation to support the development of the SMX branded modifications, click the image below.